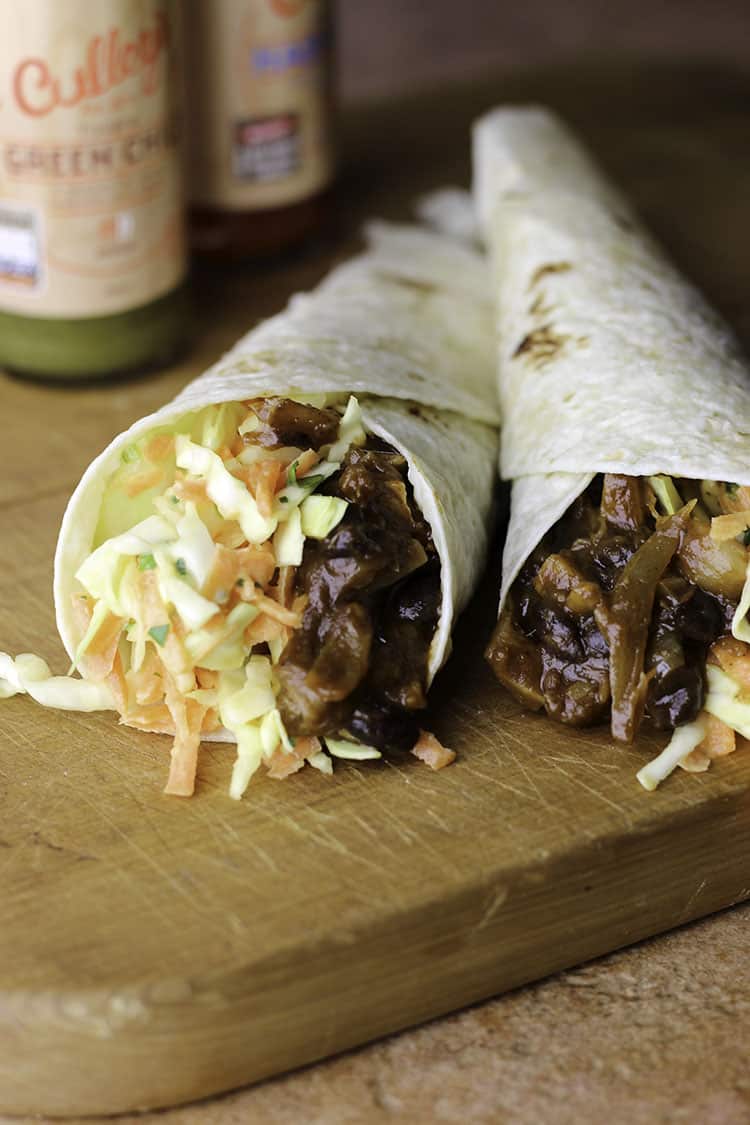 Jackfruit and black bean wraps. Say what now? Jackfruit is a tropical fruit which lends itself particularly well to faking it as meat. Faking it as pulled pork, more specifically. I can confirm this is not a hallucination caused by sleep deprivation, and this is indeed lip smacking delicious.
I've been seeing lots of recipes for jackfruit lately, from plain old jackfruit pulled pork, to Korean inspired crockpot bulgogi jackfruit. Time to get on the jackfruit train before it leaves without me.
I have no idea what pulled pork actually tastes like, but jackfruit absolutely mimics what i've observed of its texture. Cooked with bbq flavours it's a really delicious, if slightly disconcerting, meat-like meal. I would LOVE to know what a meat eater thinks of this trickery. If you're that person, and you cook this, let me know.
Jackfruit is good for you. It's low in fat and high in fibre, vitamins and minerals. It is fruit, after all. It of course doesn't have a lot of protein though, which is its one shortcoming in the fake meat stakes. So i've put it with black beans here to compensate, and that worked out awesome.
I served this spicy bbq jackfruit and black bean filling in tortillas with a simple slaw dressed with mayo, lime juice and coriander. Add some extra chilli sauces and you have a simple but damn tasty meal. It would also be excellent in sliders or tacos. I have a second can of jackfruit in the cupboard and think i'll be doing exactly that with it next week.
You can easily find canned jackfruit in Asian green grocers or supermarkets. You want young, green jackfruit in water or brine. You *do not* want ripe jackfruit in syrup, which would be sickly sweet and entirely the wrong texture. It's only a few dollars a can, so a really cheap and fun experiment to try something totally new.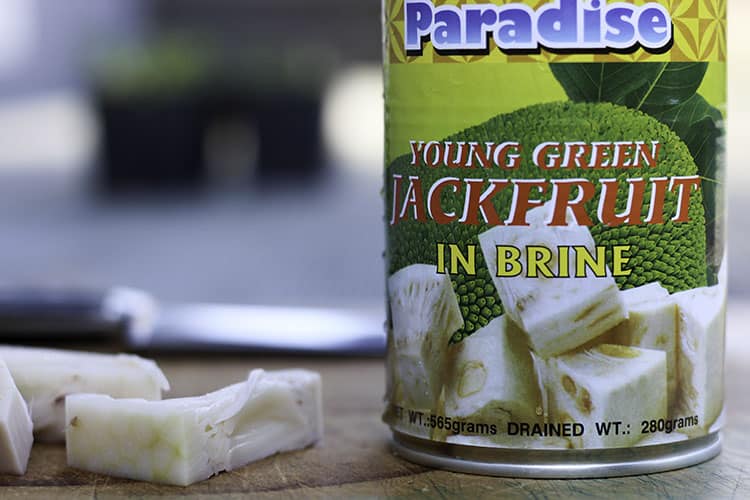 Get the recipe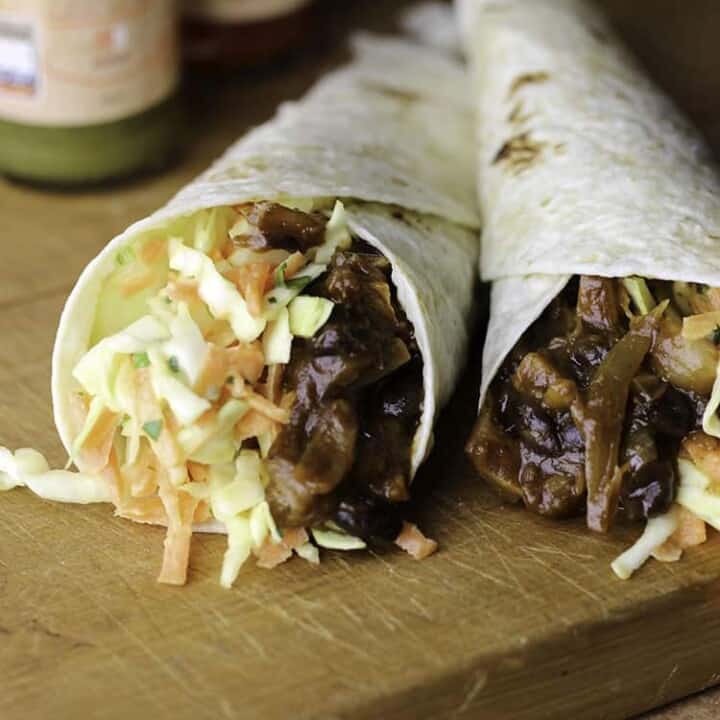 INGREDIENTS
For the jackfruit and black beans:
1

can green jackfruit

drained and well rinsed

1

can black beans in chilli sauce

1

tablespoon

vegetable oil

1

onion

sliced into thin strips

2

cloves

garlic

crushed

1

teaspoon

brown sugar

1

teaspoon

ground cumin

1

teaspoon

smoked paprika

½

cup

bbq sauce

(I suggest a smoky one)

1

cup

vegetable stock
For the coleslaw:
Cabbage

finely sliced

Carrot

grated

Fresh coriander

finely chopped

2-3

tablespoon

mayonnaise or vegenaise of your choice

Juice of 2-3 limes

Salt to season
To serve:
Your choice of wraps, slider buns or tacos
INSTRUCTIONS
Slice each chunk of jackfruit in to one or two pieces, and cut off any tough core (there was no tough core in my can, but keep an eye out for that). Remove the seeds as you go.

Heat oil in a large frypan over medium heat. Add onion, garlic, jackfruit, sugar, cumin and paprika. Stir until everything is beginning to colour a little.

Add bbq sauce and stock, and stir to combine. Cook over a low heat for 5-10 minutes, until the sauce is reducing and becoming sticky and glossy. Use two forks to shred the jackfruit a bit more.

Add black beans and heat through. I only used half a can - but by all means use the whole can if you're hungry.

Set the jackfruit and black beans aside until you're ready to serve.

There's no science to making coleslaw. Slice and grate as much cabbage and carrot as you think you need. Dress it with mayonnaise or vegenaise of your choice, some fresh lime juice and chopped coriander. Pop it in the fridge until you're ready to eat.

Serve with your choice of wraps, sliders or tacos.