This nutritious and satisfying salad is a meal in its own right, and so simple with three ingredients in the salad, and four in the punchy curried tahini dressing.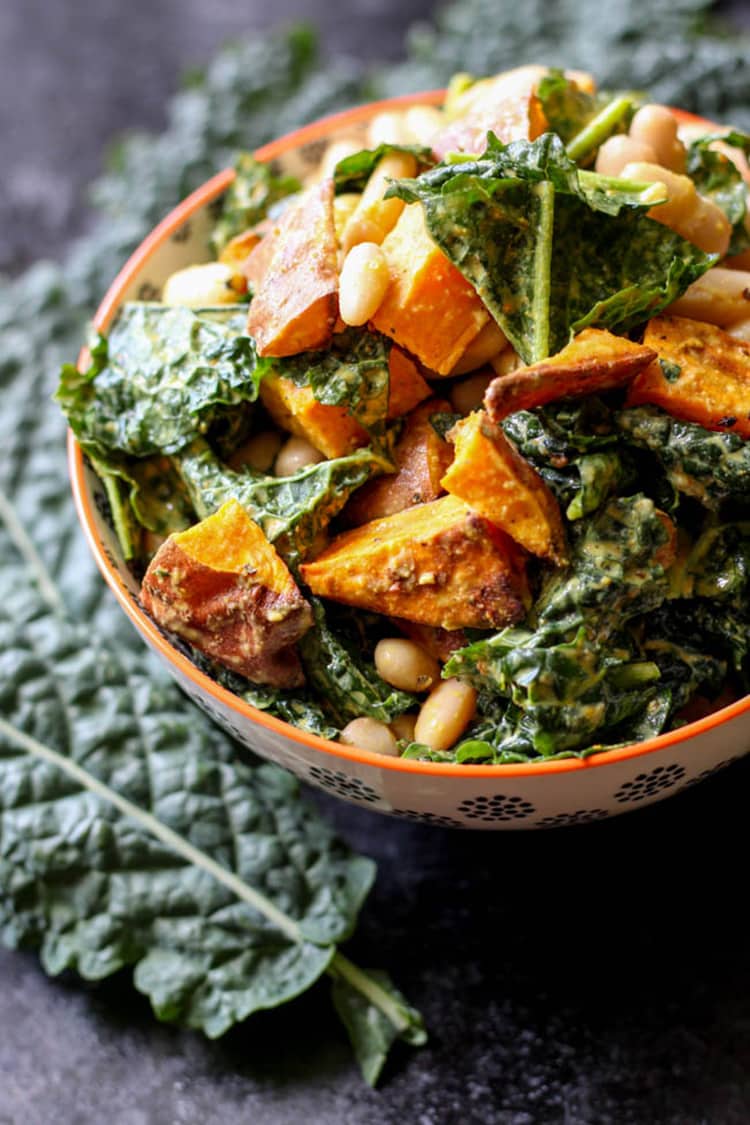 I have an ocean of cavolo nero, or lacinato kale, growing in my garden right now. I may have gone a little overboard when I sowed a good sprinkle of seeds straight into the garden. Considering that in previous years 2-3 plants at a time has been enough to meet my kale needs... Um yes. There may be a few kale recipes coming your way!
I'm quite enjoying the kale as it is right now, fairly young with smallish leaves the size of my hand. They're a little sweeter and more tender than they are from the fully grown plant, and they're perfect in salads like this one.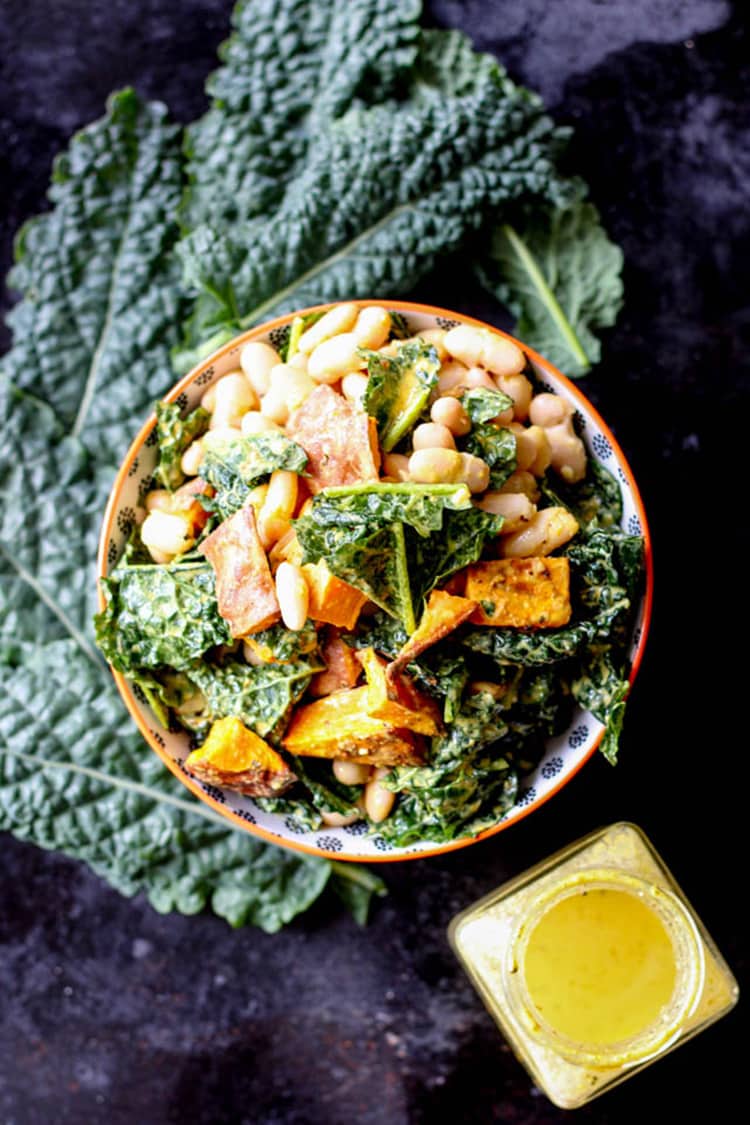 If you don't already eat kale, you might be sick of hearing about it and I don't blame you. It's definitely been a fad food for a while now but there's good reason. Kale is extremely nutrient dense. It's very high in vitamins A, C and B6, as well as calcium, manganese and potassium. It's also a good source of protein, iron, fibre and a range of other nutrients.
So it's indisputable that finding ways to get kale into your diet is beneficial. I enjoy it in salads, soups and anywhere you'd eat cooked spinach. I also really love kale chips. Let's not kid ourselves that they're anything like a potato chip, but they are incredibly moreish and such an easy way to smash through a huge pile of kale leaves.
In this salad I've roughly chopped the raw leaves and massaged them with some salad dressing to encourage them to soften and sweeten up a bit. Never heard of massaging your kale? You've been missing out! Read more about that here.
Together with the kale, roasted orange kumara (sweet potato), cannellini beans and a curried tahini dressing make for a substantial salad which is seriously high in protein, fibre, calcium, iron (43 per cent of RDI!), and vitamins A and C.
This recipe will serve one as a filling meal by itself, or two as a side dish or light meal.
Get the recipe
INGREDIENTS
For the salad:
1

small orange kumara

(sweet potato), approximately 200g

2

handfuls of kale leaves

(approximately 2-3 cups, chopped)

1

can of cannellini beans

drained
For the dressing:
¼

cup

freshly squeezed lemon juice

1

tablespoon

tahini

1 ½

teaspoon

curry powder

1

teaspoon

nutritional yeast

optional

Salt and pepper to taste
INSTRUCTIONS
Preheat oven to 200C fanbake.

Wash, dry and cube the kumara. I left the skin on as I love how crispy and chewy it gets around the edges.

Either toss the kumara with a little oil of your choice, or spray it with a thin coating of olive oil, then season and roast for 15-20 minutes or until soft and golden brown.

While the kumara is cooking, make your dressing.

Put dressing ingredients into a jar with a lid and give it a good shake to emulsify. Or mix in a small food processor bowl until well combined. Taste and adjust seasoning to your liking.

Wash the kale and roughly slice into 2-3cm strips. In a mixing or salad bowl, tip about half of the dressing over the kale and give it all a good massage with your hands for a few minutes. This ensures the kale is really well coated with the dressing, and also encourages it to soften and sweeten up a bit which makes it more pleasant to eat raw. The volume of the kale will shrink down a bit too.

Add the cooked kumara and cannellini beans to the kale, and toss together with the remaining dressing.

Serve straight away if you're starving, or pop it in the fridge for later. Kale is a sturdy green which will stand up to travelling in a packed lunch just fine.
RECIPE NOTES
Nutrition information doesn't include oil used for roasting the kumara. It's up to you what type, and how much oil you choose to use.
NUTRITION INFORMATION
Calories:
669
kcal
|
Carbohydrates:
120.1
g
|
Protein:
26.9
g
|
Fat:
9.7
g
|
Saturated Fat:
1.7
g
|
Fiber:
24.1
g
|
Iron:
7.7
mg
Nutrition Facts
Kumara, kale and cannellini salad
Amount Per Serving
Calories 669
Calories from Fat 87
% Daily Value*
Fat 9.7g15%
Carbohydrates 120.1g40%
Protein 26.9g54%
Iron 7.7mg43%
* Percent Daily Values are based on a 2000 calorie diet.