A sharp, tangy and spicy bbq sauce recipe to use up that seasonal glut of loquats.
So what do you do when life gives you loquats? Give a wry smile and make some sauce. I was pretty amused to find loquats in my mailbox last week, but also really happy to try cooking with something new. The salsa was definitely a success but barely made a dent in the pile of loquats I had, so I turned my hand to sauce.
This barbecue sauce follows a fairly traditional sauce recipe - lots of fruit, vinegar and sugar, and a few spices. The flavour is very sharp and tangy, fruity, a little bit spicy and pretty delicious. So far I've used it in a tofu marinade, and in the typical way alongside (vegetarian) sausages. I can't comment on what type of meats it would suit but I'm sure it would do the job just fine.
This is a pretty vinegary tasting sauce, which suits my taste. If you like your sauces a bit mellower I'd recommend adding an extra half a cup of brown sugar. You could also change the flavour profile by swapping out the malt vinegar and using cider or wine vinegar instead.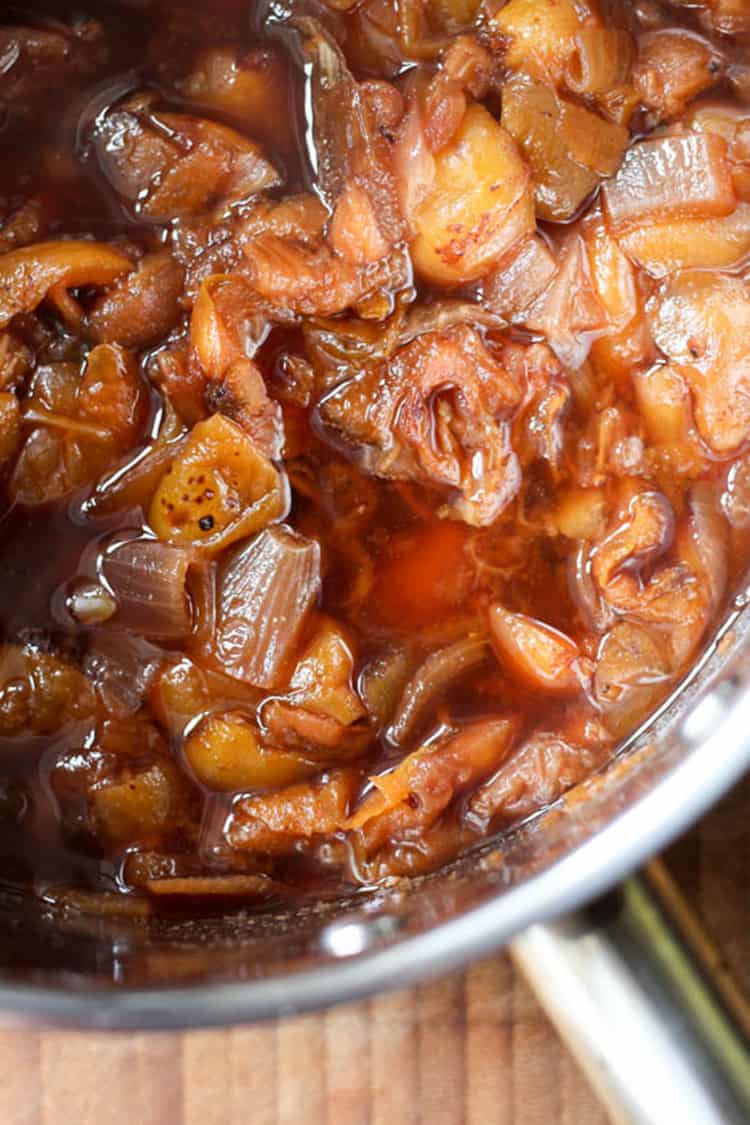 If I had room, I wouldn't mind a loquat tree. They're quite attractive, almost tropical looking trees and the fruit has a unique flavour which I really rather like. My suburban backyard is planted to the max with trees though, so looks like I'll just have to rely on random mailbox deliveries to get my loquat fix. Long may they last.
Get the recipe
INGREDIENTS
900

g

loquats

1

cup

soft brown sugar

3

cups

malt vinegar

1

onion

chopped

2

cloves

garlic

½

teaspoon

salt

½

teaspoon

black pepper

¼

teaspoon

cayenne pepper

6

cloves

whole

or ½ teaspoon ground cloves
INSTRUCTIONS
Prepare loquats by washing them, cutting them in half and removing their stones. The loquats will lose about a third of their weight once stoned (900g of whole fruit = 600g of fruit, stones removed).

Add loquats and all remaining ingredients to a large saucepan.

Bring to a low boil, then simmer for about an hour, stirring occasionally. The liquid will have reduced quite a bit and the fruit will be collapsed and very soft.

Allow to cool slightly, then liquidise the sauce in your blender or food processor. Be careful, hot sauce really burns!

Pour into sterilised jars and seal.

Makes approximately 1 litre of sauce.
RECIPE NOTES
Nutrition information approximate, per tablespoon.
NUTRITION INFORMATION
Calories:
18
kcal
|
Carbohydrates:
4.1
g
|
Protein:
0.1
g
|
Fat:
0
g
|
Saturated Fat:
0
g
|
Fiber:
0
g