A refreshing rice noodle salad with mango and avocado, crunchy puffed black rice and a tangy lime and miso dressing.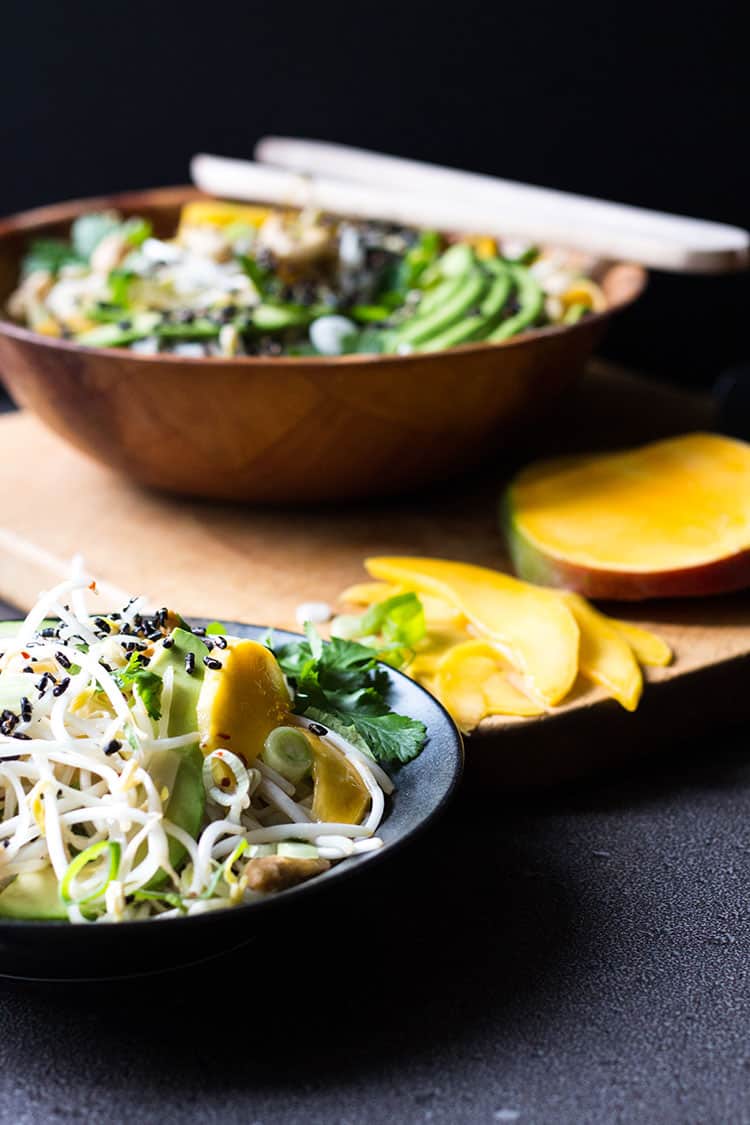 Winter in New Zealand is dragging on and on, and I for one am hanging out for some sunshine and lighter eating. Imported mangos are plentiful and cheap right now, and while I'm not thrilled about the associated food miles that come with them, they're juicy, delicious and embody the burst of sunshine I so badly need.
My girls and I are quite happy to share a mango for a snack any time of day, but I also have a real liking for enjoying them with savoury flavours. Their musky sweetness is a great partner with chilli and sharp salad dressings, a combination that is guaranteed to hit the spot for me every time.
In this salad I tossed rice stick noodles with bean sprouts, spring onions (scallions), coriander (cilantro), thinly sliced mango and avocado. A tangy lime and miso dressing with a hint of chilli marries everything together, with a sprinkle of cashews and puffed black rice added at the end for crunch. The dressing is adapted from one of my favourite recipes from Ottolenghi's Plenty, soba noodles with eggplant and mango. Thanks Yotam.
Choose a ripe but firm mango and avocado for this recipe so that they're easy to peel and slice, and don't disintegrate when tossed with the other ingredients.
Rice stick noodles
I always have a packet of Thai rice stick noodles lurking in the back of my cupboard. They cook quickly and can be used in stir frys, broths or salads. I tend to ignore the packet instructions and instead simmer them for a few minutes until they are just cooked (about 3-5 minutes). Yours might be different, so just keep an eye on them and taste often so that you don't overcook them. A quick drain and refresh under cold water and they're good to go.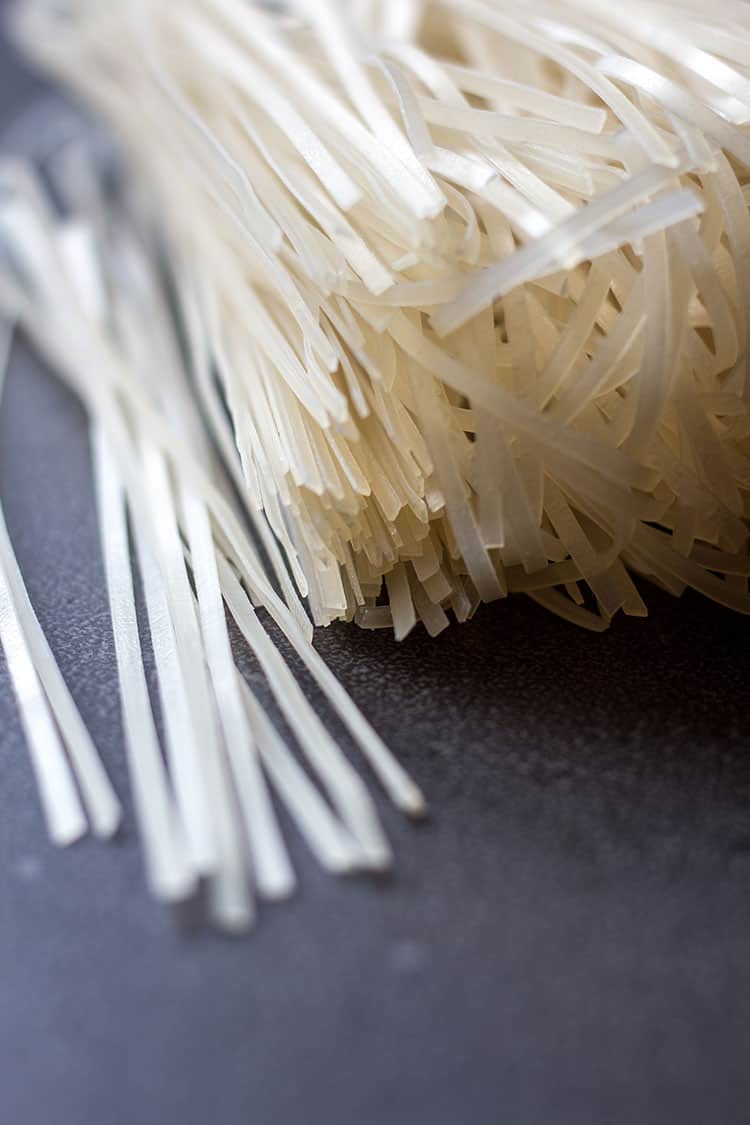 Puffed black rice
When I went digging in the cupboard looking for the rice stick noodles for this salad, I also found a forgotten bag of black rice. Lucky day.
Puffed black rice is made by frying the uncooked rice in hot oil until it puffs, then draining it on paper towels. It takes about 30 seconds in the oil to do its thing, and the result is nutty, toasty, crunchy little grains of rice that add texture, flavour and interest wherever you sprinkle them. It's key to have your oil hot, so test it with a few grains of rice before continuing with the rest. It won't puff up large like popcorn, but the grains will split open and increase in size a little.
I lightly seasoned the puffed rice with a sprinkle of salt before scattering it over this salad, where it provides a brilliant textural contrast. It's a moreish little snack that would be nice to pick at alongside a cold beer too, just saying.
If you can't find black rice you could garnish the salad with black sesame seeds instead, or just leave it out altogether.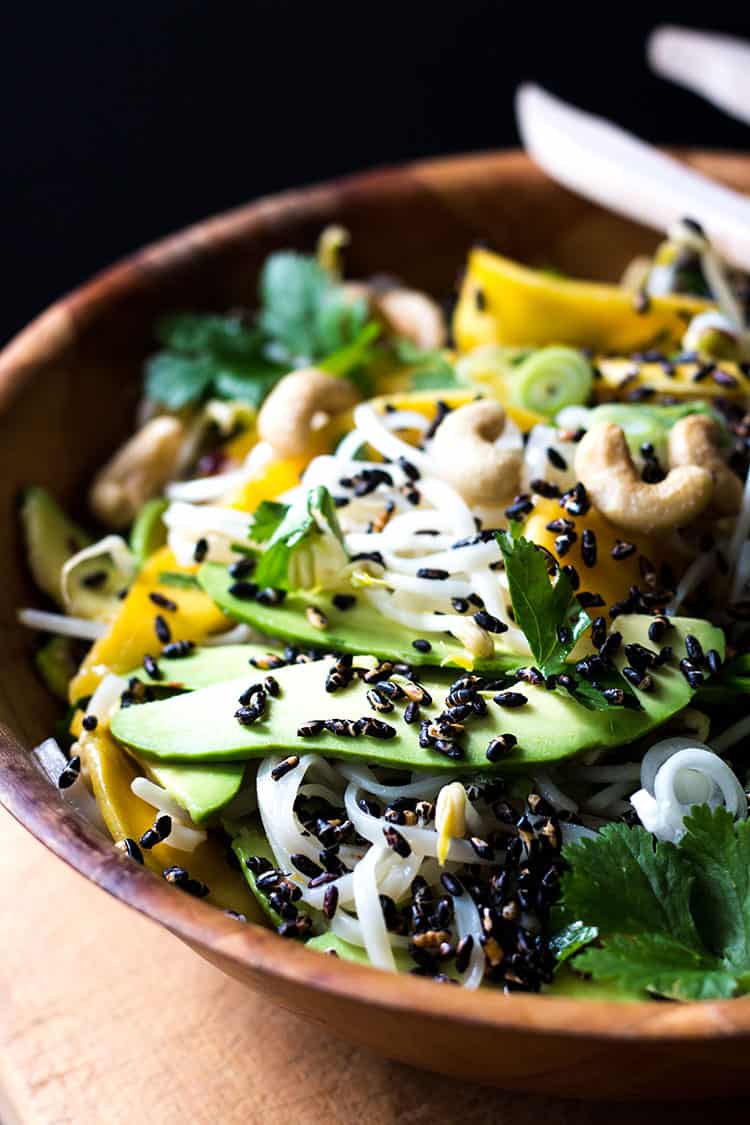 It must be that noodle salad time of the year
When I started writing about this recipe, I went on a trip down memory lane and realised it was also August last year that I made a Thai noodle salad with grilled pineapple. I must have been feeling the same about winter and my need for sunshine, which funnily enough resulted in a very similar salad this time round. Interesting to see how my appetite is so predictably influenced by my environment. Is it the same for you?
If sunshine was my goal with this salad, I consider it a job well done. This noodle salad is one of the best I've ever made.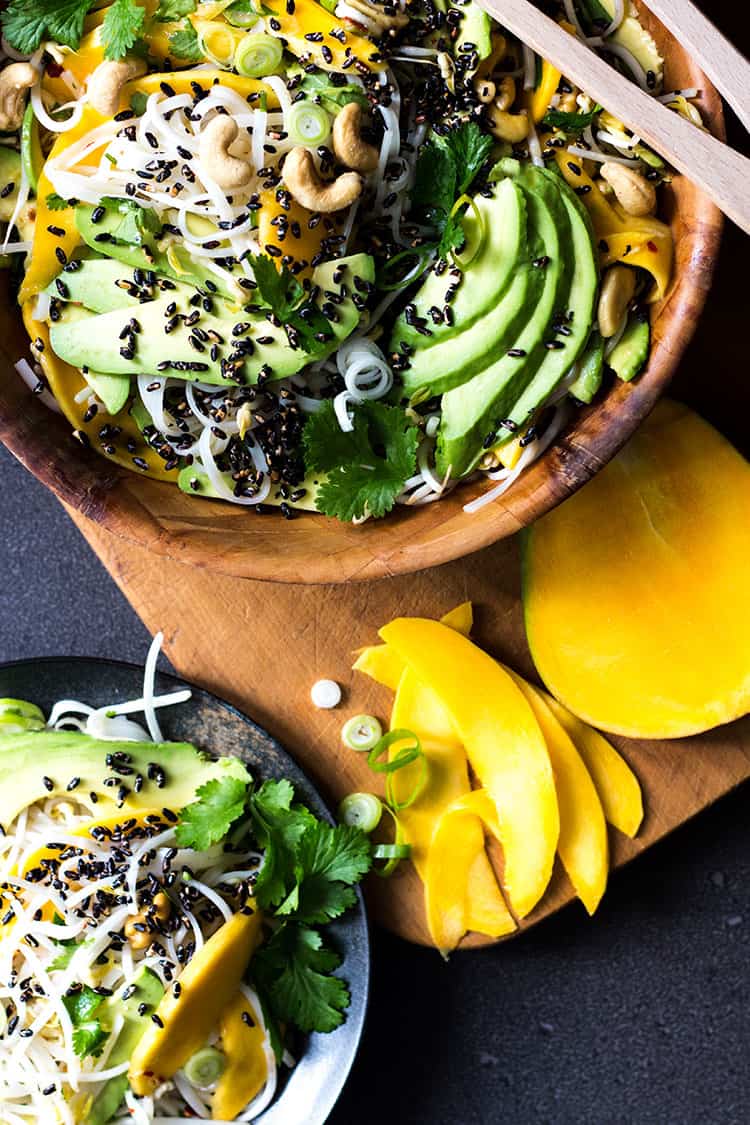 Get the recipe
INGREDIENTS
For the puffed rice:
¼

cup

black rice

1

cup

cooking oil

(I used grape seed oil)
For the dressing:
¼

cup

rice vinegar

2

tablespoon

raw sugar

or sweetener of your choice

¼

teaspoon

salt

2

cloves

garlic

crushed or finely grated

1

teaspoon

sesame oil

½

teaspoon

chilli flakes

1

lime

(zest and about 1 tablespoon juice)

1

tablespoon

shiro miso paste

(white miso paste - omit if gluten free)
For the salad:
Half

a packet of

rice stick noodles

(about 180g/6oz)

2

handfuls

mung bean sprouts

(about 250g/9oz)

1

mango

1

avocado

1

spring onion

(scallion) finely sliced

1

handful

coriander leaves

(cilantro) roughly chopped

½

cup

cashews
INSTRUCTIONS
Start by making the puffed rice. Heat the oil in a small saucepan until very hot. Don't walk away, hot oil is dangerous. Test the oil by dropping in a few grains of rice, if it's hot enough the rice will crackle and spit straight away. Once you're happy the oil is hot enough, add the rest of the rice and swirl the pan for 20-30 seconds until the crackling has died down. Drain the rice through a sieve (reserve the oil for another use), then spread out on paper towels to drain any excess oil. Sprinkle with a little salt.


To make the dressing, warm the rice vinegar, sugar and salt in a saucepan, stirring until the sugar and salt are dissolved. Turn off the heat and add the garlic, sesame oil and chilli flakes. Once the mixture has cooled, pour it into a small jar or sealable container, add the lime zest, juice and miso paste, then shake to combine.

Cook your rice stick noodles in boiling water for 3-5 minutes, until just cooked. Keep an eye on them and taste often - you don't want to overcook them.


Drain noodles and refresh under cold water, drain again then add to a large mixing bowl.


Remove skin and stone from the avocado then slice thinly.

Slice the cheeks (sides) from the mango, peel them, then slice thinly.

Add avocado, mango, sprouts, spring onion (scallion), coriander (cilantro) and cashews to the mixing bowl with the noodles. Pour over the dressing, then use your hands to gently mix everything together.

Scatter with puffed rice, then serve immediately.
RECIPE NOTES
Serves four as a meal, or more as a side dish.
If you can't find black rice, substitute with black sesame seeds to garnish (don't puff them), or leave it out altogether.
Use a ripe but firm mango and avocado so they're easy to peel and slice, and don't disintegrate in the salad. 
The heat level of the dressing is mild, if you like it hot you could easily double the quantity of chilli flakes. 
Dressing adapted from one of my favourite recipes from Ottolenghi's Plenty, soba noodles with eggplant and mango. Thanks Yotam.
NUTRITION INFORMATION
Calories:
644
kcal
|
Carbohydrates:
104
g
|
Protein:
22
g
|
Fat:
20
g
|
Saturated Fat:
2
g
|
Sodium:
526
mg
|
Potassium:
3202
mg
|
Fiber:
13
g
|
Sugar:
20
g
|
Vitamin A:
4095
IU
|
Vitamin C:
365.6
mg
|
Calcium:
775
mg
|
Iron:
27.7
mg