Loaded with vegetables, this mushroom and lentil vegan spaghetti bolognese sauce is a delicious and familiar go-to family meal that will be enjoyed by everyone.
A friend's nine year old daughter has just declared that she wants to go vegetarian. It may or may not have something to do with a chat between my oldest girl and her, that stuck in her mind. I'm quietly pleased but also know all about how tricky it can be to feed a family with a whole bunch of varying dietary needs or preferences.
Having a few straight forward, go-to family meals that everyone will enjoy is really important to make life easy, reduce stress and ensure healthy food is consumed with minimal fuss. I immediately recommended making a big batch of vegetable and lentil bolognese sauce to freeze in meal sized portions, either for the whole family or as individual serves. It's really easy to get a healthy meal on the table if all you need to do is cook some pasta and defrost some sauce.
Despite the fact this lentil bolognese is something I almost always have on hand, and make often, I didn't have it written down or recorded in any way. So here we go - this recipe is one of our absolute family favourites. It's comforting, familiar, cozy and really well balanced from a nutritional perspective.
All the vegetables
It's true, this vegan spaghetti bolognese is far from traditional and includes a lot of vegetables.
I always start with the traditional mirepoix combo of onion, carrot and celery, then add to it with garlic, mushrooms, herbs and spices. The finely chopped mushrooms really help create a 'meaty' texture and also add heaps of flavour.
If it's summer, I might add finely chopped red capsicum (bell pepper) and courgette (zucchini) too. In winter I tend to add handfuls of finely chopped spinach towards the end of the cooking time.
If there's an open bottle around, I'll add a splash of red wine (totally optional) before canned tomatoes, red lentils and vegetable stock.
There's a bit of chopping and cooking time needed, but once it's going you can leave the sauce to blip away on the stove without too much interference. I start checking after about half an hour, and add a little more water here and there to stop the sauce from sticking while it cooks.
After an hour or so, the sauce will be thick, glossy and richly flavoured - perfect with regular or gluten free spaghetti noodles, other pasta shapes, in lasagne, or even with vegetable spirals/zoodles for a lighter option.
This recipe is enough for two meals for my family of two adults and two younger children, so I freeze half each time I make it.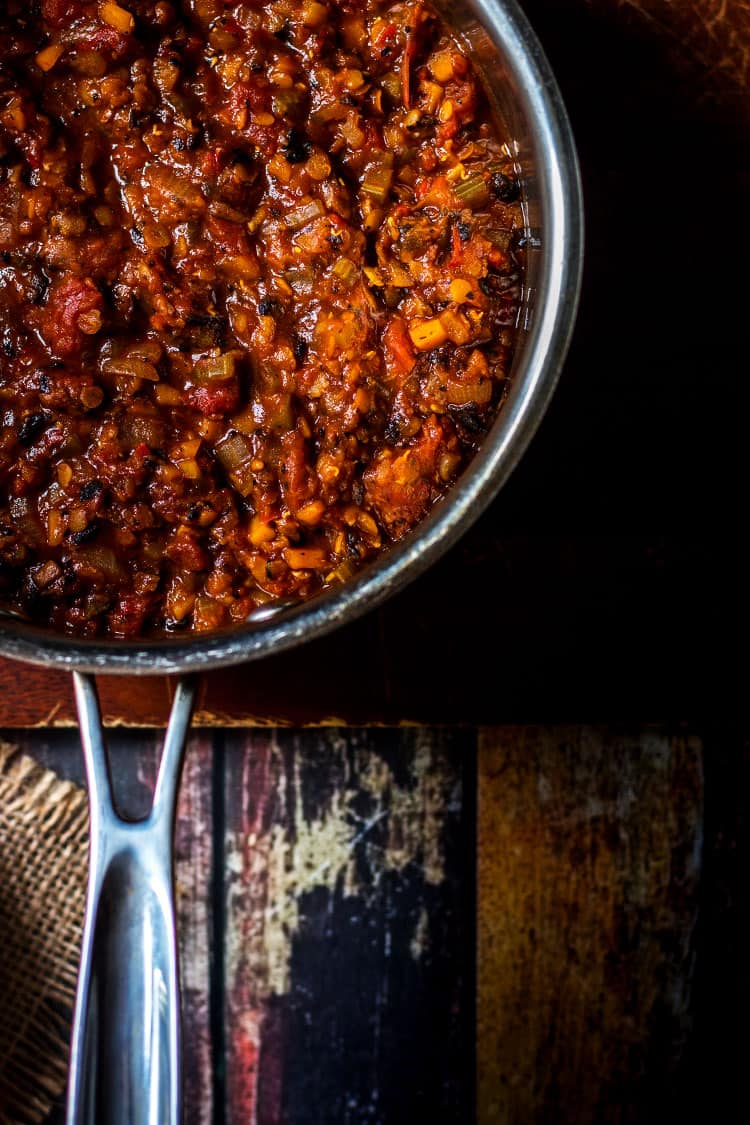 The secret ingredients
There are a few ingredients that are key to a really richly flavoured and well balanced vegetable bolognese sauce. Without these, the sauce will be fine. With them, the bolognese will be amazing.
Sweet and spicy smoked paprika adds a deep base note, that I reinforce with a few drops of liquid smoke. Liquid smoke is a liquid flavouring that is made by passing wood smoke through a chamber that captures and collects the vapour. The ingredients are literally smoke and water, and it is this smoky essence that is the ingredient in most storebought foods that have a smoky flavour.
I like to have liquid smoke in my pantry because just a few drops in some recipes is enough to add real interest and complexity to the flavours, without having to bust out a smoker or grill.
Is liquid smoke safe? Pretty much, yes. All smoke contains carcinogens (polycyclic aromatic hydrocarbons, or PAHs to be precise). We should avoid consuming too many PAHs for sure, but it's important to keep it in perspective and realise that the amount contained in a few drops of flavouring is pretty insignificant.
According to this excellent article, naturally smoked or barbecued meat contains significantly higher quantities of PAHs than liquid smoke, so personally I'm relaxed about using it from time to time.
In New Zealand you can buy liquid smoke from The Vegan Shop, and if you're elsewhere Amazon is your friend. A little goes a very, very long way - I think I've had my current bottle for about two years. If you're new to using liquid smoke, go light, you can always add more but you can't take it back out if you use too much. And too much tastes really bad, you have been warned.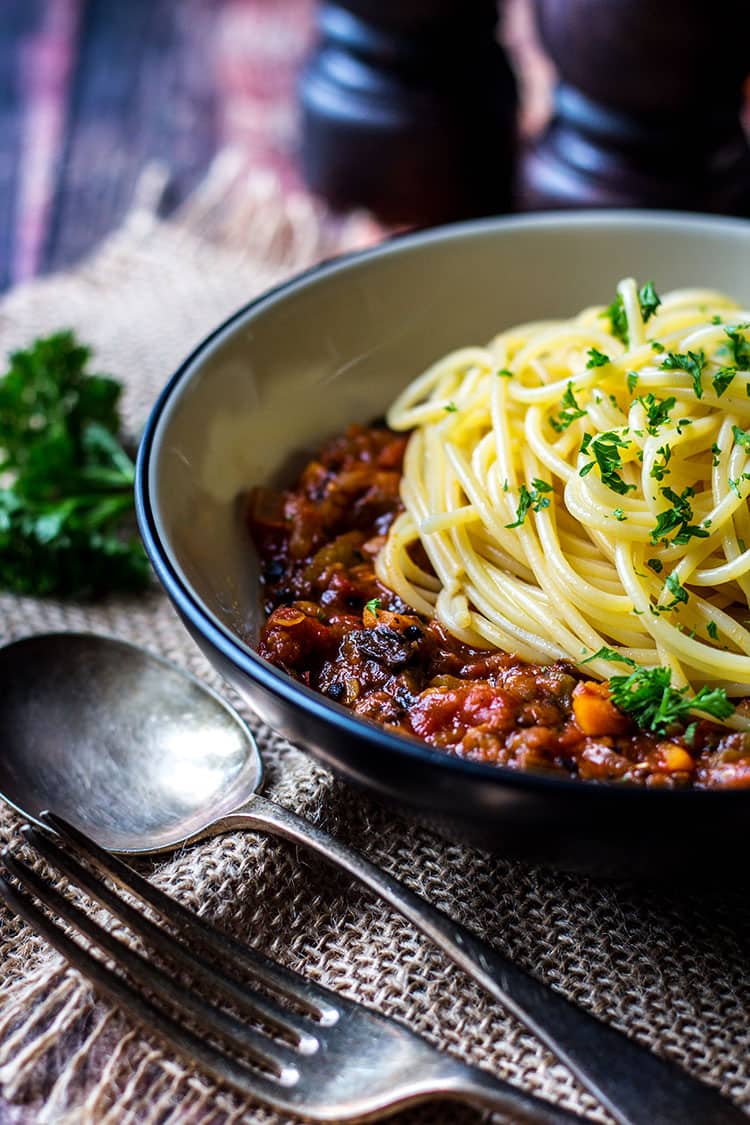 Get the recipe
INGREDIENTS
2

tablespoon

olive oil

1

onion

finely chopped

1

carrot

peeled and finely chopped

3

sticks

celery

finely chopped

2

cloves

garlic

finely chopped

8

button or brown mushrooms

finely chopped (about 120g/1/4lb)

1

red capsicum

(bell pepper) cored and finely chopped

1

teaspoon

dried sage

1

teaspoon

dried oregano

1

teaspoon

smoked paprika

¼

cup

red wine

(optional)

2

cans

chopped tomatoes in juice

2

cups

vegetable stock

½

cup

dried red lentils

¼

teaspoon

liquid smoke

(optional)

1

teaspoon

raw sugar

or sweetener of your choice

Salt and pepper

to season
To serve:
500

g

regular or gluten free spaghetti noodles

(about 1.1lb)

2

tablespoon

Finely chopped parsley
INSTRUCTIONS
Heat olive oil in a wide, deep saucepan or frypan (skillet). Add onion, carrot and celery and cook over a low-medium heat until softened, then add garlic, mushrooms, red capsicum, sage, oregano and smoked paprika. Season with a small sprinkle of salt to help the mushrooms release their juices. Continue to cook, stirring often, until golden and fragrant. This stage should take about 20 minutes in total.

Add the red wine, if using, and stir for a minute to allow it to evaporate off. Add the canned tomatoes, vegetable stock, lentils, liquid smoke and sugar, along with a little more salt and pepper. Bring to a gently blipping boil, or fast simmer, and leave to cook over a low heat for 45-60 minutes, stirring occasionally. From about 30 minutes onwards, I start to check more often and add more water here and there to stop the mixture from sticking or becoming too thick before the lentils and vegetables have cooked through. The amount of water you need will vary - I usually use about 2 cups of extra water in total.

When the sauce is done, it will be thick, glossy and richly flavoured. The lentils will have almost disappeared into the sauce, and the vegetables will be tender. Taste and adjust the seasoning with more salt and pepper if needed.

Cook spaghetti noodles according to packet directions, drain and serve with a generous ladle of bolognese sauce and a sprinkle of chopped parsley.
RECIPE NOTES
Nutrition information estimated based on 6 serves.
Serves 6-8 depending on appetite. This recipe is enough for two meals for my family of two adults and two younger children. 
NUTRITION INFORMATION
Calories:
471
kcal
|
Carbohydrates:
84
g
|
Protein:
17
g
|
Fat:
6
g
|
Sodium:
542
mg
|
Potassium:
844
mg
|
Fiber:
10
g
|
Sugar:
10
g
|
Vitamin A:
2900
IU
|
Vitamin C:
42.2
mg
|
Calcium:
88
mg
|
Iron:
4.1
mg