Crunchy iceberg lettuce cups with an Asian flavoured lentil and walnut filling, from Sam Turnbull's Fuss Free Vegan: 101 Everyday Comfort Food Favorites, Veganized.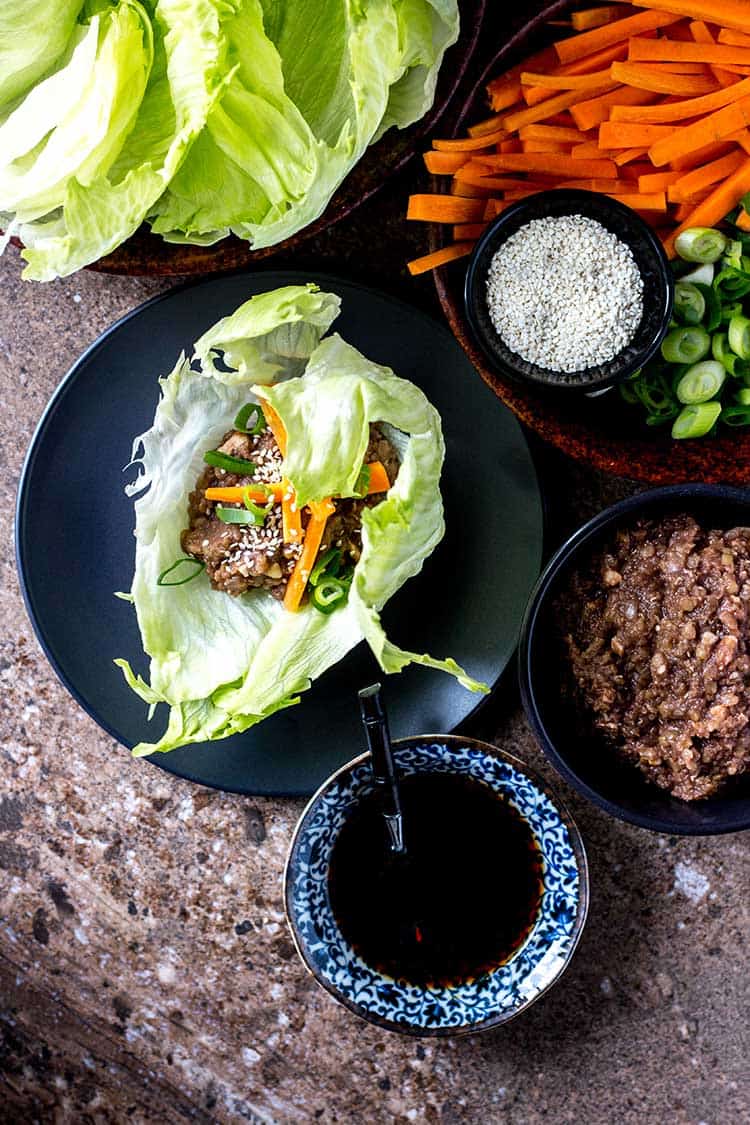 True happiness is cookbooks arriving in the mail, in this case all the way from Canada. I was delighted to receive a copy of Sam Turnbull's new cookbook, Fuss Free Vegan, for review.
Sam is the creator of It Doesn't Taste Like Chicken, a vegan blog focused on easy, straight forward, yet drool-worthy food that will satisfy everyone. I've gotta say, Sam is a girl after my own heart. An art director before going full-time with her blog, she did all the recipe development, writing and photography for her book, and even designed her own font. DESIGNED HER OWN FONT. I love this kind of attention to detail, which is reflected throughout with quirky design features and illustrations incorporated on the recipe pages, alongside bright and inviting photography.
Fuss Free Vegan drew me in right from the start with Sam's honest and funny introduction. Even though I've never met Sam, I could almost hear her chatty voice in my head. There are plenty of home truths that made me laugh out loud, like how much she initially didn't want to be vegan, and how much she dislikes kale, quinoa and other 'weird vegan food'.
And that is really the heart of this book. These recipes aren't weird, they're comfort food favorites that have been reworked to succeed without the use of meat, dairy and eggs. Reliable recipes for basics like cupcakes, scones and frosting sit alongside pizza, soups and salads. An entire section is dedicated to veganized staples like mayonnaise, sour cream and cheese. In between there are plenty of quick and easy weeknight dinners that don't compromise on flavour whatsoever.
I'm definitely going to be giving the melty, stretchy life changing mozzarella a go. The 15-minute peanut noodles are calling my name, and I'm utterly fascinated by a recipe for rice paper bacon. In almost all cases, I already have every ingredient this book calls for in my pantry (alongside my kale and quinoa, haha).
I can see myself turning to this book as a reference, for quick inspiration, and even handing it over to my daughter to either choose meals or make the easiest ones herself as she becomes more confident in the kitchen.
Whether you're simply looking to incorporate more plant-based meals in your diet, or you're actively vegan (or just getting started), Fuss Free Vegan gives you everything you need to confidently prepare normal meals everyone will love. Know someone who'd love it? Add it to your Christmas shopping list.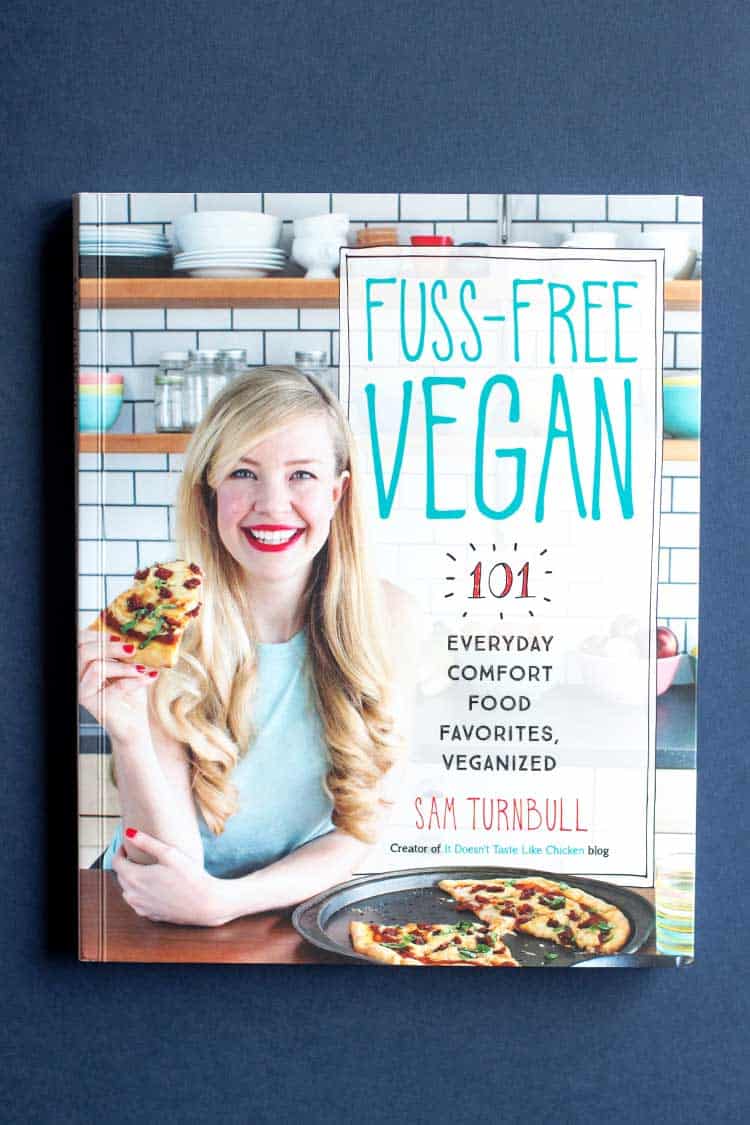 Oh mommy umami lettuce wraps
Today I'm sharing Sam's recipe for crunchy iceberg lettuce cups with an Asian flavoured lentil and walnut filling.
I was instantly drawn to this recipe, which uses simple Asian flavours to elevate quick-cooking and ultra-affordable red lentils into a delicious meal. I already had everything except the iceberg lettuce, which was easily enough fixed.
From thinking about them, to eating them, these were incredibly quick and easy to make. In fact I slightly overcooked my lentils, so could have even shaved a few minutes off for a slightly more al dente result. I was concerned my lentil mixture was too wet, but after it had a chance to sit and cool for a little while it thickened up and was just right for wrapping in lettuce.
Taste as you go when adding the sauce to the lentils to ensure you hit your preferred level of saltiness.
In her book, Sam laughs about become addicted to lettuce wraps and eating a whole head of lettuce a day. I laughed too. Then I made these, and now I can see the struggle is real.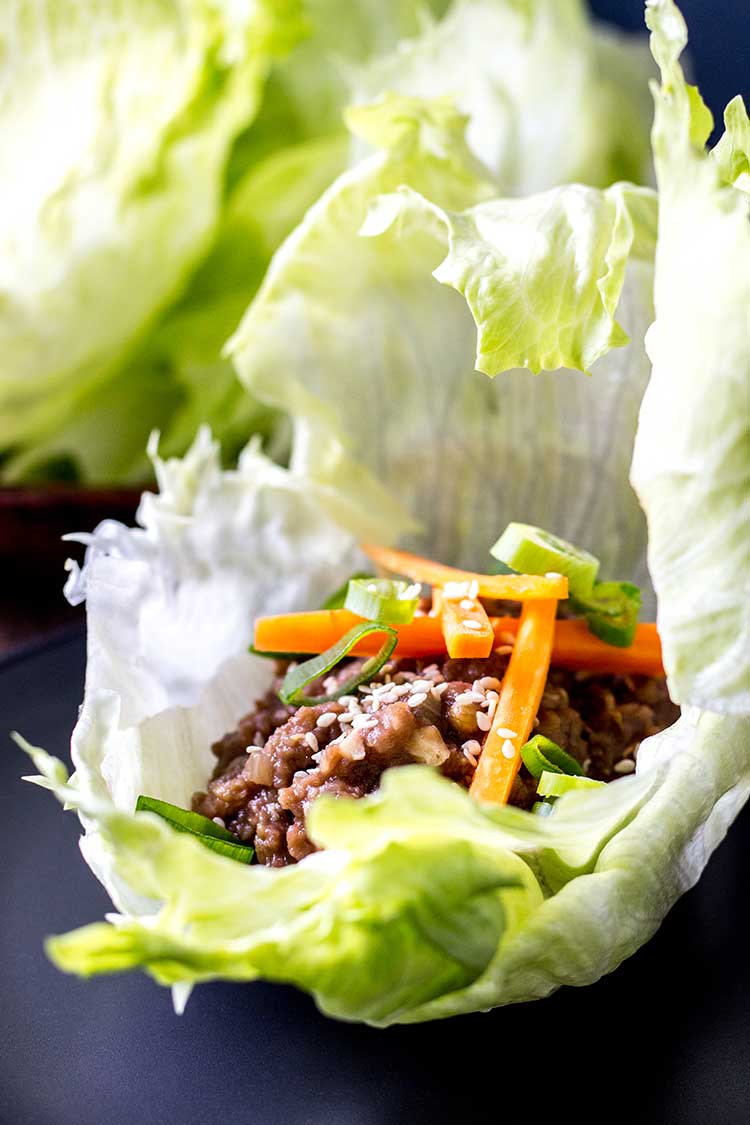 Get the recipe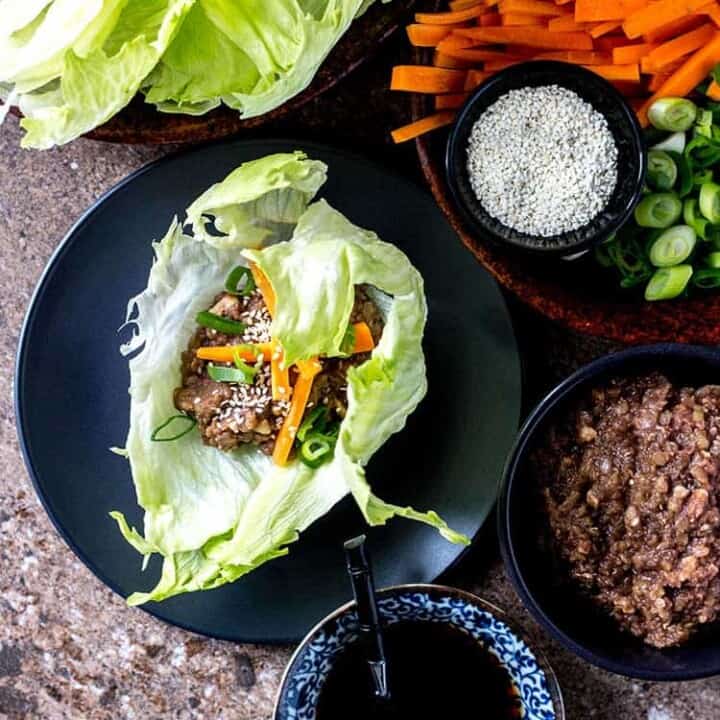 INGREDIENTS
For the sauce:
¼

cup

soy sauce

(gluten free, if preferred)

2

tablespoon

rice vinegar

2

tablespoon

agave or maple syrup

2

teaspoon

sesame oil

½

teaspoon

your favourite hot sauce (optional)
For the lentils:
1

tablespoon

light oil, like peanut or canola oil

1

yellow onion

, chopped

3

cloves

garlic

, minced

1

inch piece

fresh ginger

, peeled and minced

1

cup

red lentils

2

cups

vegetable broth

½

cup

walnuts

, chopped
To serve:
1

head

butter lettuce or iceberg lettuce

, leaves separated but kept whole

1

medium carrot

, cut into match-sticks or grated

2

green onions

, chopped

2

tablespoon

toasted sesame seeds
INSTRUCTIONS
For the sauce, in a small bowl, mix the ingredients together and set aside.

For the lentils, heat the oil in a frying pan over medium-high heat. When hot, add the onion, garlic, and ginger and sauté for about 5 minutes, until the onion softens and begins to brown.

Stir in the lentils and then the vegetable broth. Turn the heat to medium-low, cover, and simmer for about 10 minutes, until all the broth is absorbed and the lentils are cooked. Stir in the walnuts and about half of the sauce mixture, or to taste.

To serve, take a leaf of lettuce, fill it with the lentil-walnut mixture, top with carrot, green onions, and sesame

seeds, and spoon as much sauce as desired over it all. Fold it like a taco and munch away!
RECIPE NOTES
Excerpted from Fuss Free Vegan: 101 Everyday Comfort Food Favorites, Veganized. Copyright © 2017 Samantha Turnbull. Published by Appetite by Random House®, a division of Penguin Random House Canada Limited. Reproduced by arrangement with the Publisher. All rights reserved.
NUTRITION INFORMATION
Calories:
415
kcal
|
Carbohydrates:
48
g
|
Protein:
18
g
|
Fat:
18
g
|
Saturated Fat:
1
g
|
Sodium:
1311
mg
|
Potassium:
873
mg
|
Fiber:
18
g
|
Sugar:
13
g
|
Vitamin A:
3550
IU
|
Vitamin C:
10.5
mg
|
Calcium:
141
mg
|
Iron:
5.6
mg
Disclaimer
I was gifted a copy of Fuss-Free Vegan: 101 Everyday Comfort Food Favorites to review. All opinions and words are my own.
Nutrition Facts
Oh mommy umami lettuce wraps
Amount Per Serving
Calories 415
Calories from Fat 162
% Daily Value*
Fat 18g28%
Sodium 1311mg57%
Potassium 873mg25%
Carbohydrates 48g16%
Protein 18g36%
Vitamin A 3550IU71%
Vitamin C 10.5mg13%
Calcium 141mg14%
Iron 5.6mg31%
* Percent Daily Values are based on a 2000 calorie diet.