Pretty Middle Eastern inspired pistachio bliss balls flavoured with the heady scent of freshly ground cardamom and freeze dried strawberries.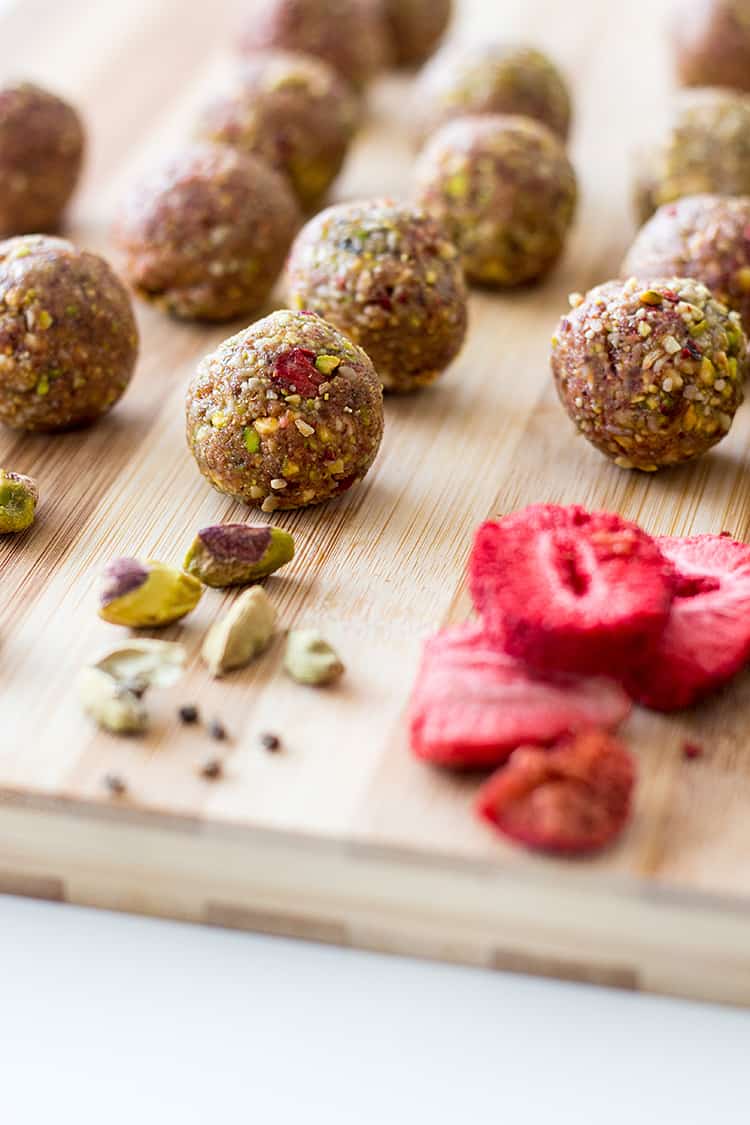 In my last post about making wontons I talked about Asian supermarkets being my happy place. Maybe that was too specific, because Indian supermarkets are ALSO my happy place. Lucky I have so many happy places.
But Indian supermarkets, and the spice aisles... Take me there any day. I love opening the lids to the big bins of spices and just breathing in deeply. Close your eyes and you can almost be in India, except a suburban spice market in New Zealand is a little too quiet to be believable. I remember the first time I took my eldest daughter to one, when she was about three maybe, and her wonderment at all the smells too. She didn't just breathe them in, she put her head right into the spice bins before looking at me with wide eyes.
The cardamom bin is one of the headiest of them all, pungently floral and woody, while being delicate and fresh. It's one of my favourite spices, and I think, one of the secrets to achieving an authentic tasting home cooked Indian-style biryani or curry. I always include it in my lentil dal, where alongside cloves and other spices it adds just the right amount of complexity to the flavours of a very simple dish.
Here I've used freshly ground cardamom in these pretty pistachio-based bliss balls.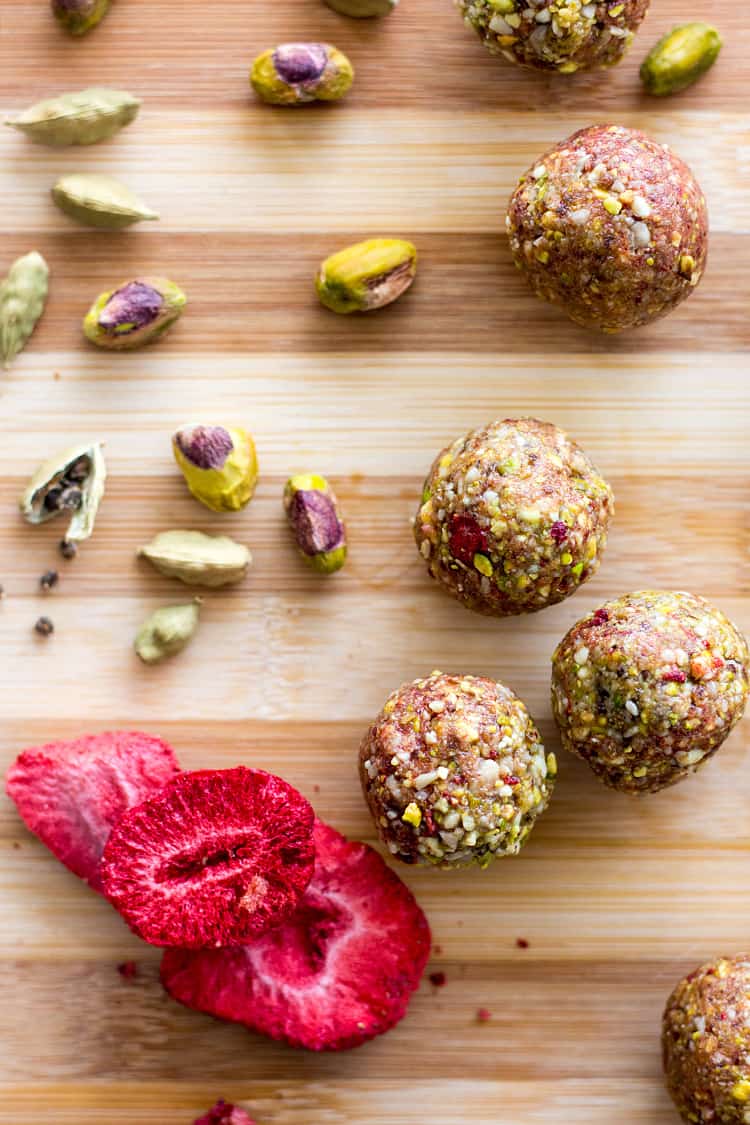 Grind your own cardamom
If you don't usually have cardamom pods in your pantry, this bliss ball recipe is a good reason to go and buy some. You can of course buy pre-ground cardamom at the supermarket but it's not the same at all. I have some, and after grinding fresh cardamom for this recipe I gave the pre-packaged stuff a sniff to compare. It smelt sweet and faintly spicy, not unpleasant but absolutely nothing like the intense fragrance of freshly ground.
My mortar and pestle sits in the pantry when it's not being used, and a few days later the fragrance of freshly ground cardamom still lingers to say hello every time I open the pantry door. Bliss.
Good friends
Pistachios and cardamom are friends as old as time, found together in baking and desserts throughout the Middle East. They're just right together, no explanation needed. Dates, cashews, sunflower seeds and coconut oil turn these old friends into bliss balls.
I had a bag of freeze dried strawberries on hand, so threw in a handful with very happy results. The strawberry adds a little sharp fruitiness and a lovely pink blush to the green of the bliss balls. So pretty, and so delicious! I used freeze dried strawberries from Fresh As (not sponsored, I love their products and buy them regularly).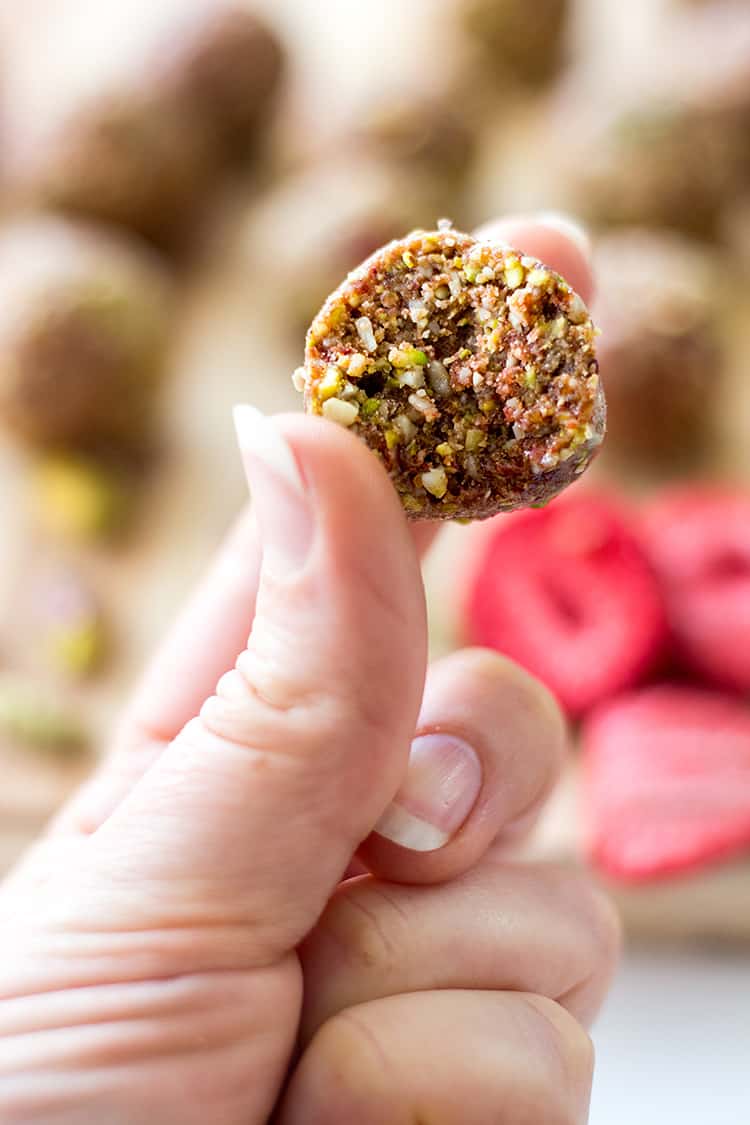 Bliss balls, or an alternative cheesecake base
This bliss ball mixture is utterly delicious in its own right, and it's also an excellent option for a cheesecake base. It works brilliantly with the flavours of my raspberry, lime and coconut cheesecake topping.
If you want to give this a go, one batch of bliss ball mixture is the right amount for half a batch of cheesecake topping and perfect to make six mini cheesecakes in a standard muffin pan (or 12 little bites in a mini muffin pan). Otherwise double the bliss ball mixture to go with a full batch of cheesecake topping for a full sized cheesecake made in a round springform pan.
Delicious, and insanely pretty, these would be perfect for a baby shower or similar celebration.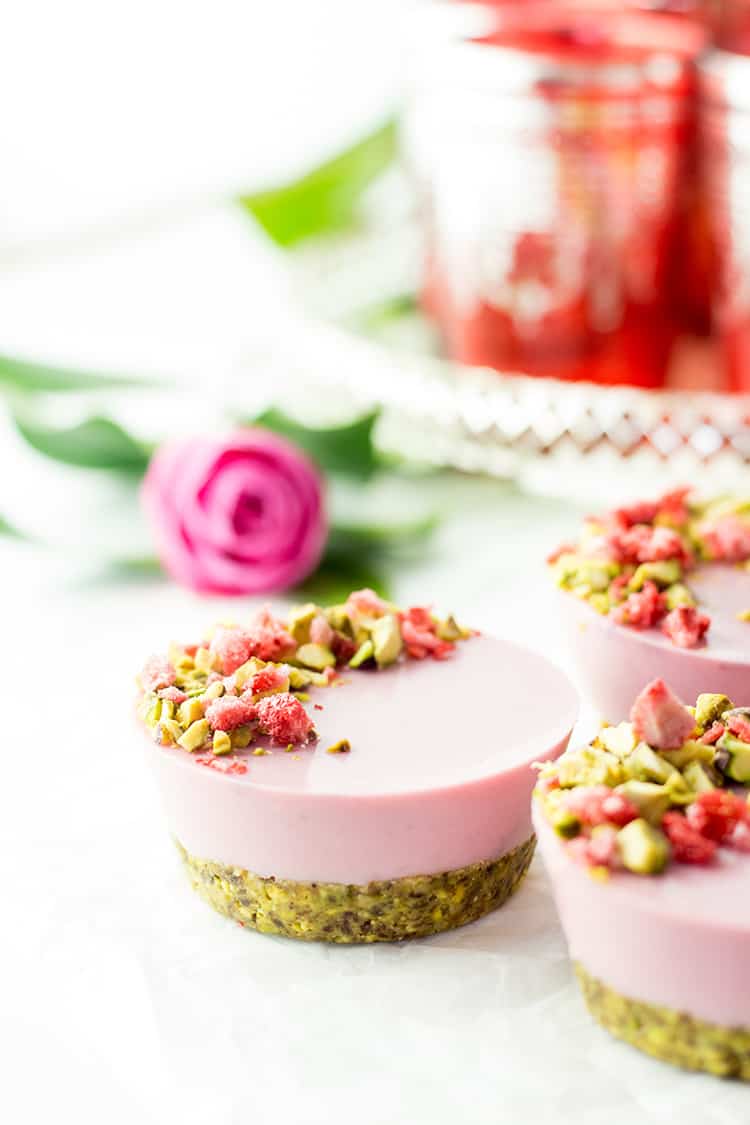 Get the recipe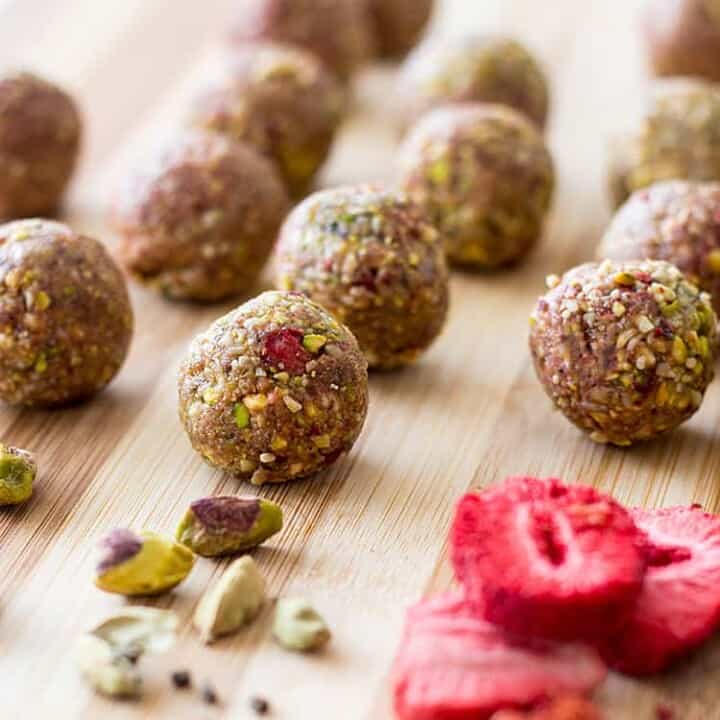 INGREDIENTS
½

cup

hulled pistachio nuts

¼

cup

cashew nuts

¼

cup

sunflower seeds

½

cup

dried dates

(about 12, roughly chopped)

½

cup

freeze dried strawberries

½

teaspoon

freshly ground cardamom

(I ground the seeds from six pods using a mortar and pestle)

2

tablespoon

coconut oil

melted if solid
INSTRUCTIONS
Put the nuts, seeds, dates and cardamom into the bowl of a food processor and blitz until the mixture is a small crumb.

Add the freeze dried strawberries and coconut oil and pulse until combined. You want the strawberry pieces broken up, but not completely disintegrated - it's nice to come across a larger piece of it in the mixture every now and then.

Roll into small balls and refrigerate until firm (at least half an hour)

Store in the fridge (or freezer).
NUTRITION INFORMATION
Calories:
73
kcal
|
Carbohydrates:
7.5
g
|
Protein:
1.5
g
|
Fat:
4.8
g
|
Saturated Fat:
1.9
g
|
Fiber:
1.1
g