Oven roasted stuffed tomatoes with quinoa, fresh basil and olives are a boldly flavoured side dish.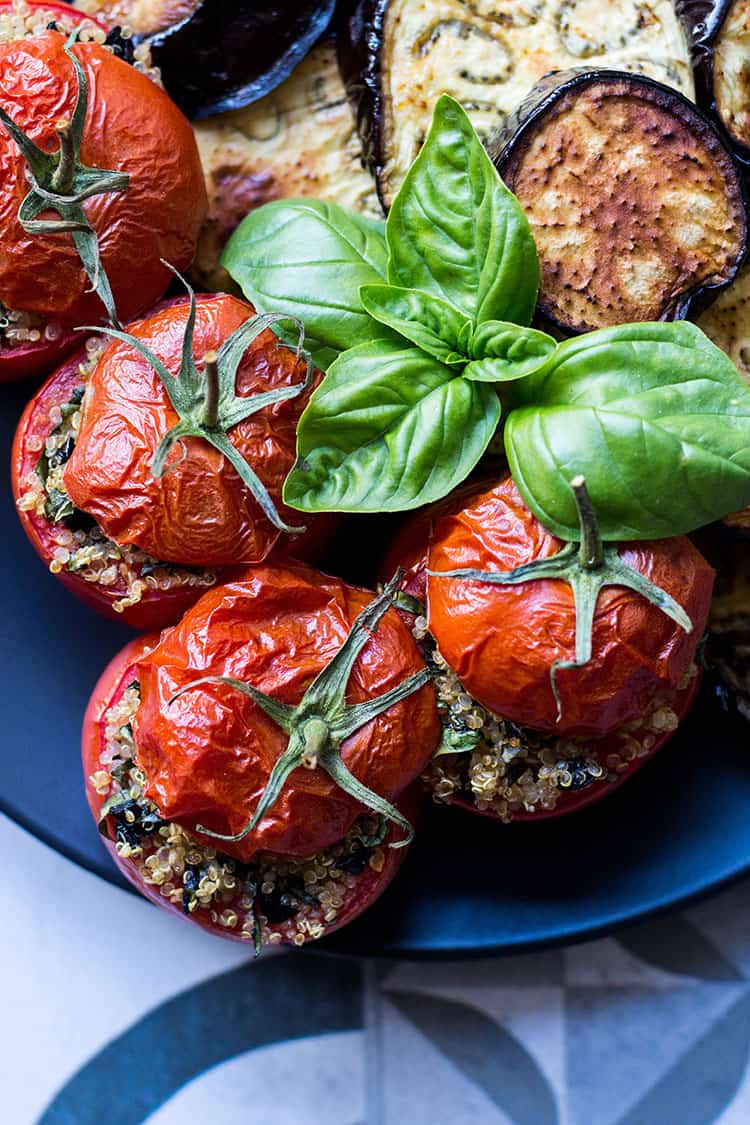 So it's apparently mid-Summer here in New Zealand, but I swear you wouldn't know it. This week we've experienced every season of the year, including a few downright grey, wet and quite chilly days. I'm unimpressed.
The weather hasn't stopped me from sticking to my exercise plans, I even ran in the rain with both kids a few days ago. The little one loved it, from her dry position inside the pushchair, and the big one (on her scooter) declared it "The worst thing that's ever happened to me". Well, if that's the worst thing that's ever happened to her, she's doing pretty well at life I reckon!
On those grey days, my typical summer salad meals just don't cut it. I need a little something more.
Oven roasted stuffed tomatoes
I had a bowl of large, perfectly ripe (almost over-ripe) tomatoes on my counter top so I decided to roast them with a flavoursome stuffing of quinoa, lots of fresh basil, some garlic and black olives. Use the best tomatoes you can get your hands on, they're the hero here (and don't even bother with under-ripe, watery out of season supermarket tomatoes - it won't end well).
The smell of these tomatoes roasting is just amazing. They're boldly flavoured, salty, garlicky, and the sticky sweetness of the roasted tomatoes is the perfect balance. Because there's no cheese involved, you don't need to take them as far as you otherwise might. The filling is already cooked, you're just roasting them for long enough to amalgamate the flavours and bring the tomatoes to their perfect, juicy best.
Serve these stuffed tomatoes hot or at room temperature with grilled eggplant or courgette, fresh green beans, roast potatoes, corn on the cob - any of these choices are great partners. I actually prefer them at room temperature, which also eliminates the risk of third degree burns from scalding hot tomato juice. We've all been there, right?
This is a really easy to pull together meal, especially if you already have cooked quinoa ready to go. I usually cook more quinoa than I need as it lasts in the fridge for 3-5 days with no trouble - making it an easily accessible ingredient for porridge, salad or other meals.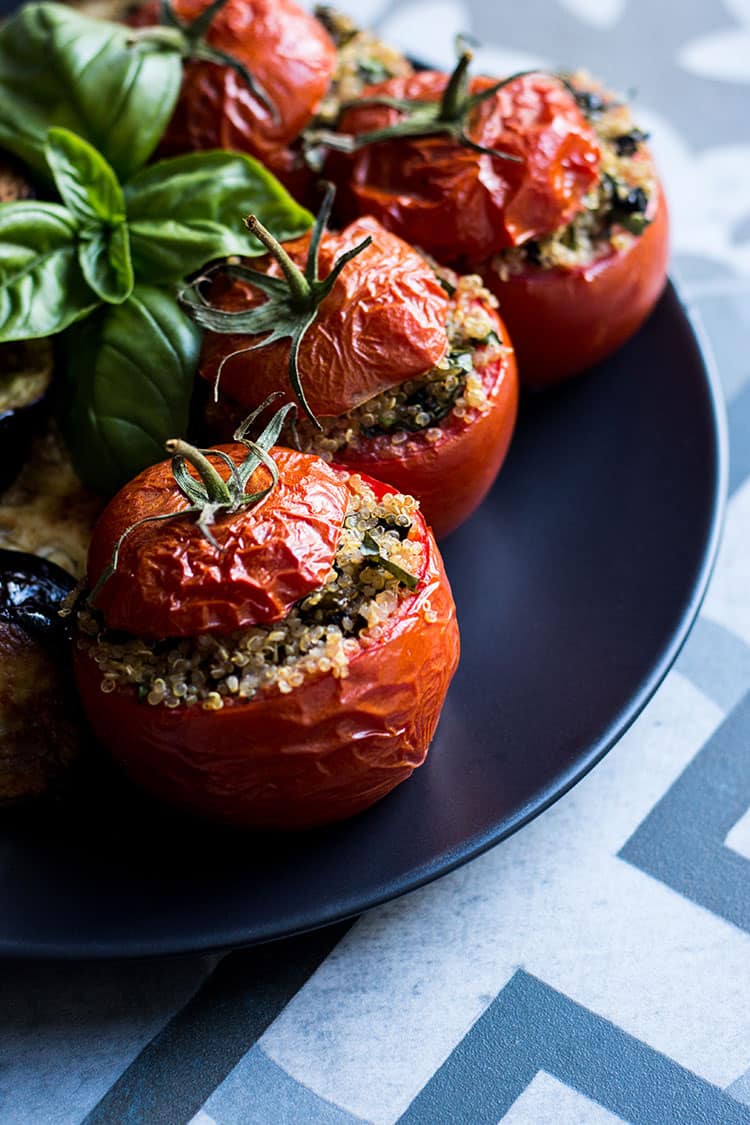 Get the recipe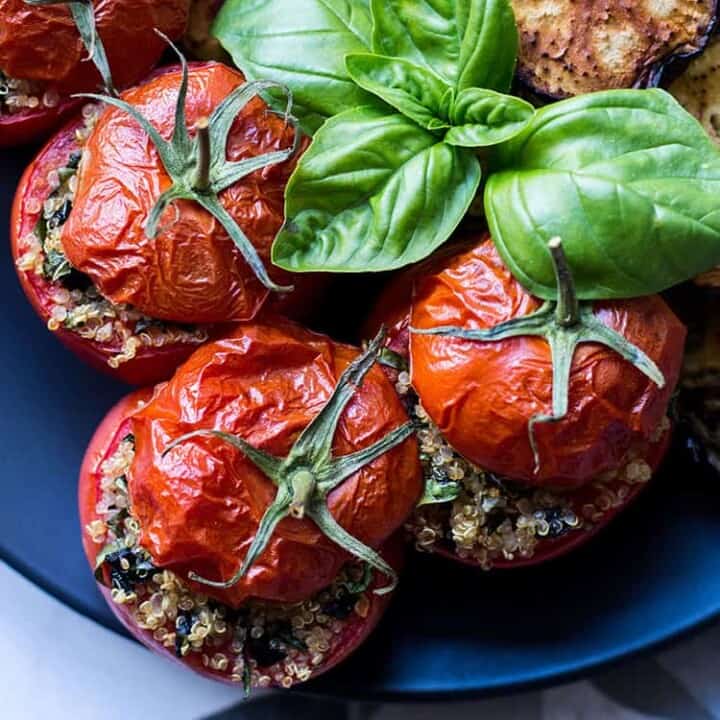 INGREDIENTS
4

large, ripe tomatoes

1

cup

cooked quinoa

2

teaspoon

olive oil

8

pitted black olives

finely chopped

¼

cup

fresh basil leaves

chopped (approximate)

1

clove

garlic

crushed or finely grated

Salt

to season

Pepper

to season
INSTRUCTIONS
Preheat oven to 180C (350F) fan bake.

Cut the tops off the tomatoes and set aside. Use a small knife and spoon to carefully scoop out the seeds of the tomatoes.

Put the cooked quinoa, olive oil, olives, basil and garlic in a mixing bowl and mix well to evenly distribute everything.

Season with salt and pepper to taste, remembering that the olives are salty so you won't need much salt.

Spoon the filling into the tomatoes, pressing it down with the back of a spoon as you go so that the tomatoes are quite firmly packed.

Put the stuffed tomatoes and tomato tops in a roasting dish and cook for 15-20 minutes, or until fragrant, soft and a little caramelised around the edges. The tomatoes will collapse if overcooked, so don't overdo it.
NUTRITION INFORMATION
Calories:
212
kcal
|
Carbohydrates:
31
g
|
Protein:
6.6
g
|
Fat:
8
g
|
Saturated Fat:
1.1
g
|
Sodium:
244.1
mg
|
Fiber:
6.2
g
|
Sugar:
7.3
g
|
Vitamin A:
650
IU
|
Vitamin C:
47.9
mg
|
Calcium:
60
mg
|
Iron:
2.7
mg
Nutrition Facts
Quinoa, basil and olive stuffed tomatoes
Amount Per Serving
Calories 212
Calories from Fat 72
% Daily Value*
Fat 8g12%
Sodium 244.1mg11%
Carbohydrates 31g10%
Protein 6.6g13%
Vitamin A 650IU13%
Vitamin C 47.9mg58%
Calcium 60mg6%
Iron 2.7mg15%
* Percent Daily Values are based on a 2000 calorie diet.