Chilled soba noodles tossed in a gingery, garlicky satay sauce and rolled in nori are a stunning alternative to traditional sushi rolls.
Scrumptious satay soba sushi on a sunny September day in spring? Try saying that six times fast. This rearrangement of some traditional Japanese ingredients into very untraditional sushi rolls is really delicious.
Soba noodles are made with buckwheat, a gluten free seed that's a good source of protein, fibre, B vitamins and minerals like manganese, copper, magnesium and phosphorus. The best soba noodles are made with 100 per cent buckwheat, which would make them an extremely healthy gluten free noodle option. They seem to be about as common as unicorns though, in this part of the world anyhow.
The lovely Hakubaku organic soba noodles I bought are 29 per cent buckwheat (the rest is wheat flour). So still a nutritious and delicious option, but unfortunately not gluten free.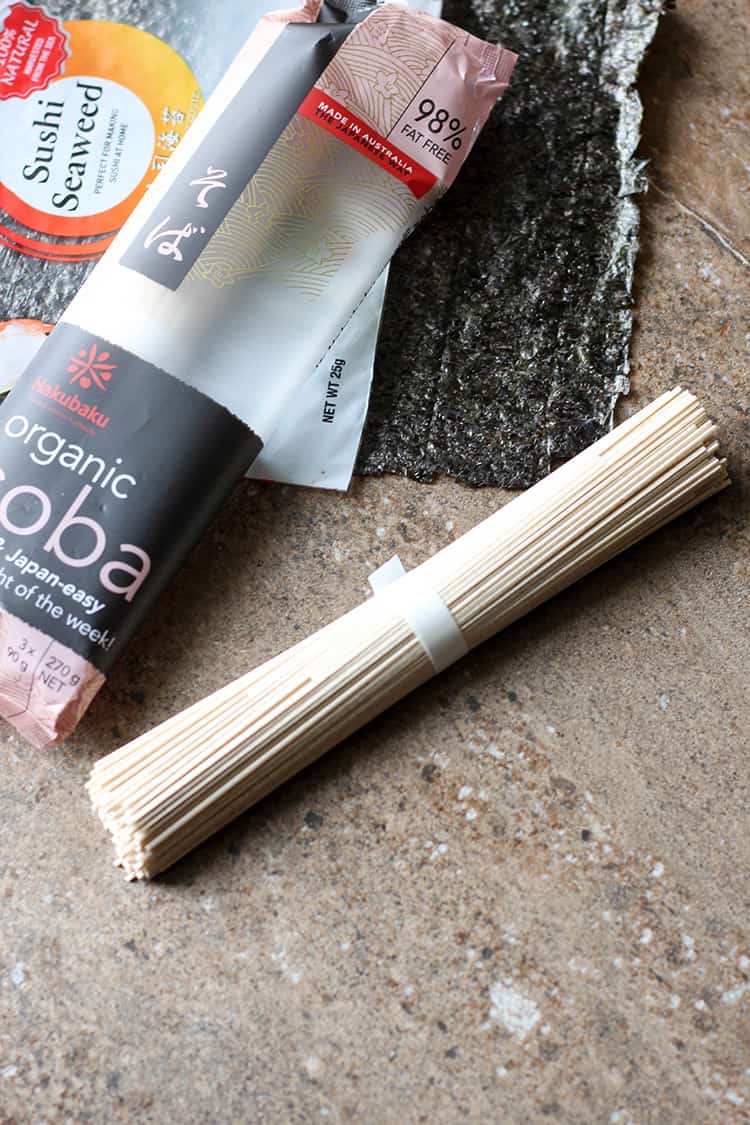 One of the things I love about this recipe is how quick it is to make, compared to cooking and cooling sushi rice. Soba noodles cook in 4 minutes and can be cooled quickly under cold water, which means these sushi rolls can be thought of, made and in your belly in about 20 minutes. Or thought of, made and in the fridge for work the next day in about 15. Gotta love that.
Using soba noodles in place of white sushi rice more or less triples the protein content too, which is a bonus for plant-based eaters.
I used perfectly ripe avocado in the centre of my rolls. Its cool creaminess was great with the satay flavours, but you could use anything you like really.
I used homemade almond butter in my satay sauce and have to say it was pretty amazing. Peanut or other nut butter will work fine too though, just use what you have.
This recipe is based on quantities to serve one person - just multiply it out if you're making this for more people.
Get the recipe
INGREDIENTS
For the satay sauce:
1

tablespoon

almond butter

or peanut butter

1

tablespoon

maple syrup

2

tablespoon

soy sauce

or tamari

2

tablespoon

rice vinegar

1

clove

garlic

grated or crushed

1

teaspoon

grated ginger
For the sushi rolls:
2

sheets of nori

1

bundle of soba noodles

about 90g of dry noodles

¼

of an avocado

thinly sliced
INSTRUCTIONS
Cook the soba noodles according to packet directions. Mine took 4 minutes to boil. Make sure you don't overcook them.

While the noodles are cooking, mix the satay sauce ingredients together in a small dish. If your nut butter is thick it might take a bit of mixing, but it will combine to become a smooth sauce in the end.

Once cooked, drain the noodles in a sieve and run under cold water to cool them down. Let them drain for a few minutes (you don't want soggy noodles!).

Put the noodles in a bowl and pour over about half of the sauce. Use your hands to toss it through the noodles, ensuring they're evenly coated. You really do need to use your hands because a spoon or other utensil would crush and break the noodles.

Assemble a sushi rolling mat with a sheet of nori on top, rough side up. Spread half of the noodle mixture evenly over the nori, leaving a gap of 2-3cm across the back edge. Line up avocado slices or other filling across the front edge.

Use your finger and some water to wet the back edge, then use the sushi rolling mat to help roll the sushi. Try to get the rolls as firm as you can, but remember this isn't rice and they won't be as firm as a typical sushi roll.

Repeat with the second nori sheet.

If you're eating straight away, use a sharp knife to slice each roll into pieces. If you're making these to eat later, or tomorrow, put the rolls in the fridge (covered) to chill until you need them. Chilling will help them firm up a bit more too.

Serve with the remaining satay sauce, for dipping.
NUTRITION INFORMATION
Calories:
609
kcal
|
Carbohydrates:
91.5
g
|
Protein:
21.9
g
|
Fat:
17.6
g
|
Saturated Fat:
2.6
g
|
Fiber:
6.2
g
Nutrition Facts
Satay soba sushi
Amount Per Serving
Calories 609
Calories from Fat 158
% Daily Value*
Fat 17.6g27%
Carbohydrates 91.5g31%
Protein 21.9g44%
* Percent Daily Values are based on a 2000 calorie diet.