Crunchy, savoury granola spiced with fennel, chilli, cumin and coriander is a delicious snack or topping for avocado toast, salads and soups.
In my last post I mentioned I don't do New Year resolutions, but I am making small changes this month and focusing on healthy, nutritious meals and more regular exercise.
I'm smashing it on the exercise front and have managed to run 3-4 times a week for the last month or so. It feels so incredibly good to feel fit and strong again and I'm hoping to keep it up. One of my old excuses was that it was too hard to run with a pushchair (therefore running required child-free time, which is very hard to find sometimes). So I got tough on myself and have conquered my hatred of running with a pushchair - I still don't enjoy it but a run is a run is a run. No excuses.
Nutritious meals are also going well. I eat pretty healthily most of the time anyway, so I've been concentrating on increasing the number of serves of fruit and vegetables I eat every day, reducing portion sizes of things like rice, bread and cereals, and making sure there's plenty of protein in my meals. This sort of balance works well for my body, sometimes I just need a reminder.
So all that said, it means I've been eating A LOT of salad lately. This savoury granola is absolutely perfect to have on hand to add a bit of texture, flavour and a healthy boost of good fats and protein.
Muesli + spices - fruit = savoury granola
I love adding seeds and nuts to salads. Usually I toast them plain, sometimes I use them raw, but I absolutely adore when they are toasted with extra flavourings. Making up a larger batch is such a good idea because there's absolutely no thinking required. Just open the jar and throw on a handful. Done!
I used a mixture of whole grain oats (jumbo oats), buckwheat, cashews, and pumpkin, sunflower and sesame seeds. A potion of olive oil, a little maple syrup and some aquafaba works as a sticky coating to help the spice blend of fennel, chilli, coriander, cumin and cayenne stick to everything. Twenty minutes in a hot oven and everything is shiny, crunchy and toasty delicious.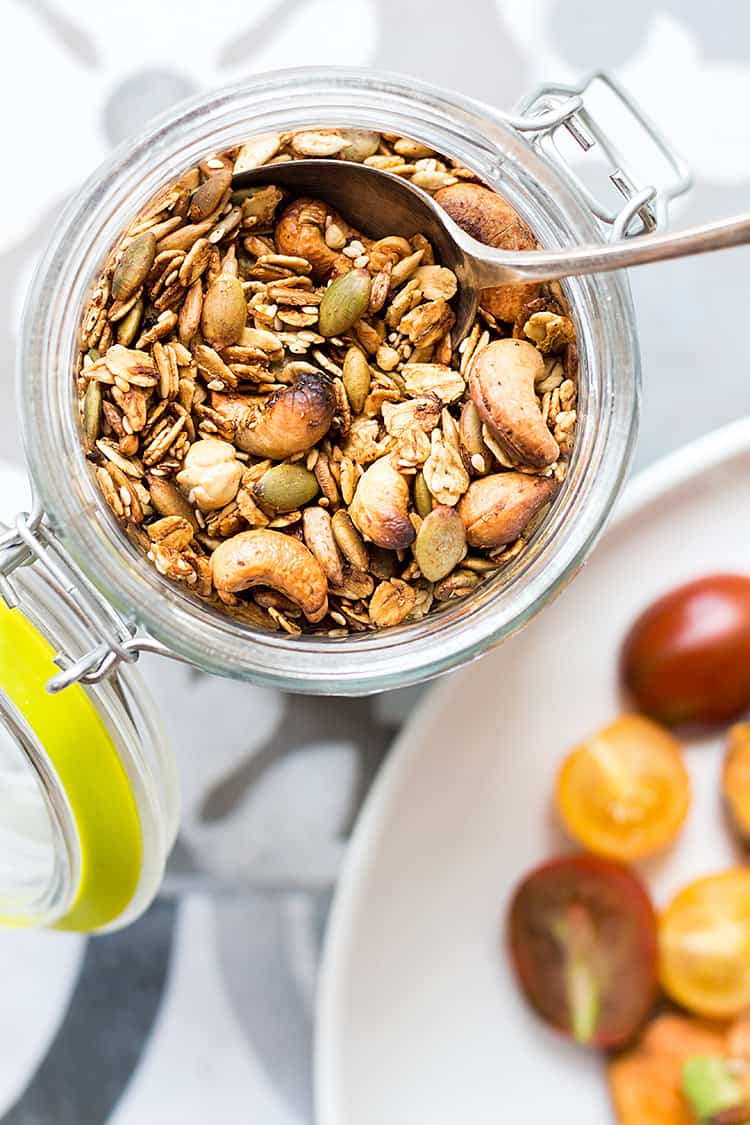 Use savoury granola on all the things
Seriously, do it. This stuff is fragrantly spiced, with just a little kick of chilli (add more if you like) and it goes with just about everything.
Throw some on leafy green salads or put a decent scoop into a quinoa or grain salad. If it's soup weather for you, try adding a dollop of sour cream or yoghurt and a sprinkle of savoury granola to make your bowl more interesting. It'd also work brilliantly with a roast vegetable salad.
And let's not forget avocado toast, it's like a match made in heaven. I was so very happy with this plate of sweet potato toast topped with avocado and savoury granola for my lunch. Yummmmm!
Get the recipe
INGREDIENTS
For the spice blend:
2

teaspoon

fennel seeds

2

teaspoon

cumin seeds

1

teaspoon

coriander seeds

½

teaspoon

chilli flakes

(use more if you like it hot)

½

teaspoon

salt

½

teaspoon

black peppercorns

¼

teaspoon

cayenne pepper
For the granola:
1

cup

wholegrain oats

(jumbo oats, gluten free if required)

½

cup

cashews

½

cup

buckwheat

¼

cup

pumpkin seeds

¼

cup

sunflower seeds

2

tablespoon

sesame seeds

1

tablespoon

olive oil

1

tablespoon

maple syrup

¼

cup

aquafaba

(the liquid from a can of chickpeas - acts as an alternative to egg white)
INSTRUCTIONS
Preheat the oven to 220C (430F) fanbake.

Use a mortar and pestle or spice/coffee grinder to roughly grind all the spices together until fragrant and somewhat broken down (but not a fine powder).

Mix oats, cashews, buckwheat, and pumpkin, sunflower and sesame seeds together in a mixing bowl.

Mix olive oil, maple syrup and aquafaba together then pour over the granola ingredients. Stir to coat everything well.

Add the spice mixture then stir again, making sure everything is evenly coated.

Pour mixture out onto a lined baking tray, then bake for 15-25 minutes until deep golden brown, checking often and stirring regularly (granola burns very easily). Mine took 22 minutes, and I stirred the mixture 3-4 times.

Remove from the oven, allow to cool completely, then store in a jar or airtight container.
RECIPE NOTES
Makes approximately 2 ½ cups, or 40 one tablespoon serves. 
Nutrition information estimated per tablespoon serve. 
NUTRITION INFORMATION
Calories:
47
kcal
|
Carbohydrates:
5.6
g
|
Protein:
1.8
g
|
Fat:
2.2
g
|
Saturated Fat:
0.4
g
|
Sodium:
29.9
mg
|
Fiber:
0.9
g
|
Sugar:
0.5
g
|
Calcium:
10
mg
|
Iron:
0.5
mg
Nutrition Facts
Savoury granola with fennel and chilli
Amount Per Serving
Calories 47
Calories from Fat 20
% Daily Value*
Fat 2.2g3%
Sodium 29.9mg1%
Carbohydrates 5.6g2%
Protein 1.8g4%
Calcium 10mg1%
Iron 0.5mg3%
* Percent Daily Values are based on a 2000 calorie diet.