These crispy, mildly spiced cauliflower fritters packed with coriander are a delicious side or snack with drinks.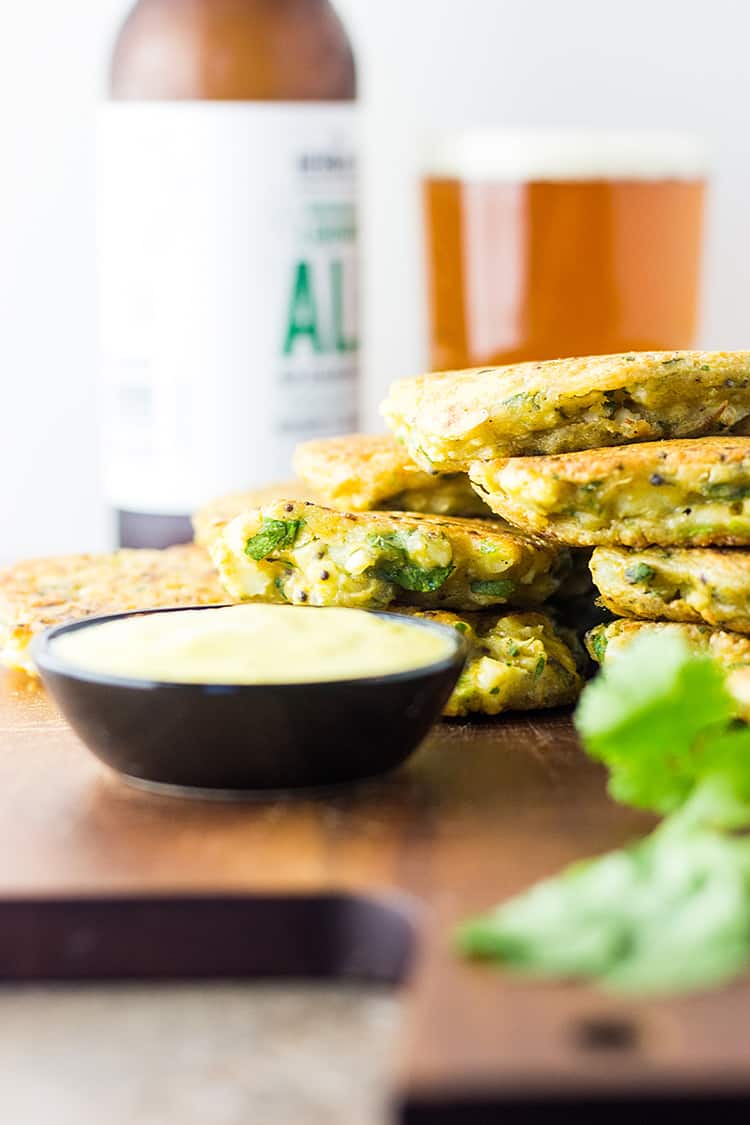 Vegetable fritters are a go-to meal in our house when inspiration and ingredients are running low.
They're also brilliantly kid-friendly. When my eldest girl was a toddler I discovered that she'd eat pretty much anything if it came in fritter format, making fritters a great solution for getting a variety of vegetables into an easy meal for picky eaters.
Chickpea flour
I favour using besan, or chickpea flour, as my fritter base because it's high in protein, performs well without eggs in the batter, and crisps up beautifully when fried. Even if it's not something you usually buy, you've probably had it every time you've ordered pakora or bhaji from your favourite Indian restaurant.
Chickpea flour is easy to find at bulk whole foods stores (Bin Inn if you're in New Zealand), or from an Indian supermarket (I like Khyber Spices, in Hamilton).
Versatile cauliflower
Cauliflower, how many ways do I love you? So. Many. Ways. Cauliflower works brilliantly with spices, and that remains true in this recipe. These spiced cauliflower fritters are loosely Indian influenced, but they're only mildly spiced and definitely more of a fritter than typical fried Indian snack.
I finely chopped a small head of cauliflower (or you could pulse it in a food processor, until you have small pieces), then loaded the mixture with chopped spring onion (scallion) and coriander (cilantro), fresh ginger, garam masala and black mustard seeds. Besan flour, baking powder and water form a thick batter which holds it all together, and fries up beautifully.
Cauliflower fritters: tasty snack or easy meal
Serve these spiced cauliflower fritters to your mates alongside a few cold brews and keep everyone happy. Whip up a mayo, aioli or a cashew based sauce to serve on the side. Add a bit of curry powder if you fancy. Or use your favourite store bought sauce.
Served with a colourful salad, these are also a great family friendly lunch or dinner.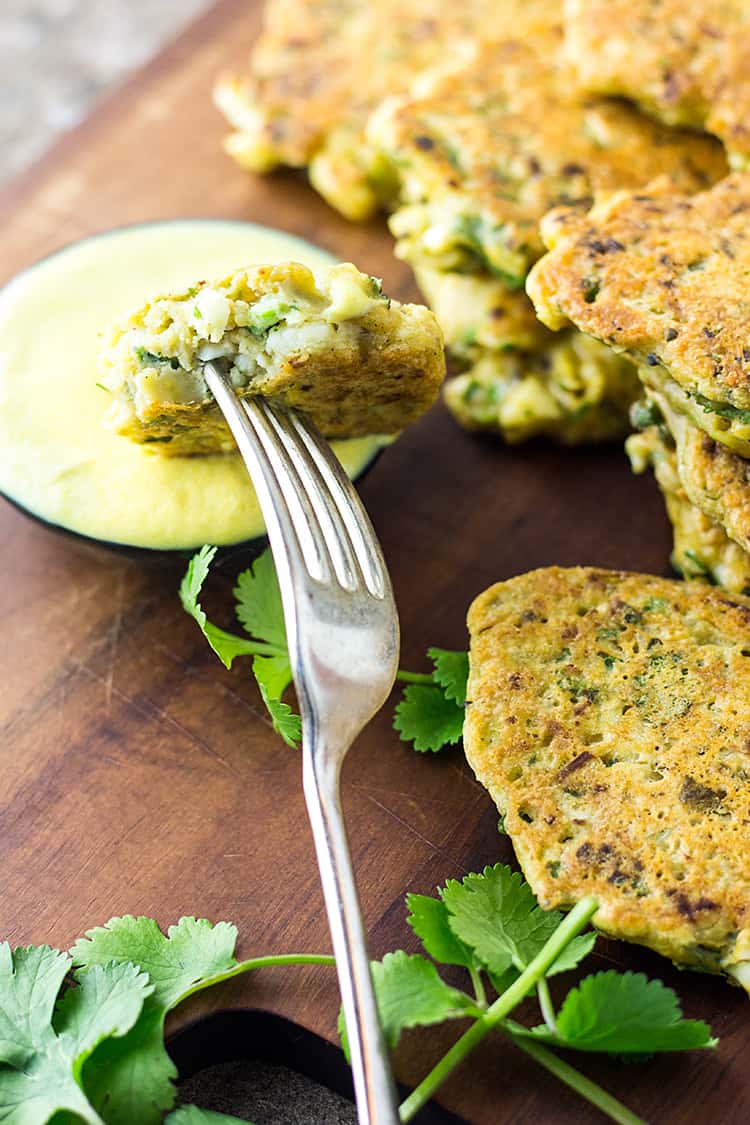 Get the recipe
INGREDIENTS
1

small head of cauliflower

finely chopped or roughly blitzed in a food processor, approx. 400g/0.8lb

1 ½

cups

chickpea flour

½

cup

coriander

(cilantro) finely chopped

1

spring onion

(scallion) finely sliced

1

teaspoon

baking powder

(gluten free if required)

1

teaspoon

fresh ginger

finely grated

1

tablespoon

garam masala

1

teaspoon

black mustard seeds

½

teaspoon

salt

1-2

pinches

cayenne pepper

optional

1

cup

water

Cooking oil

for pan frying
INSTRUCTIONS
Heat a large frypan (skillet) over medium heat and add a little cooking oil of your choice.

Mix all ingredients in a large mixing bowl. Cayenne is optional - add it if you'd like a little extra heat, or leave it out if you prefer mild.

Once the pan is up to heat (it'll sizzle if you flick a drop of water into it), spoon heaped tablespoonfuls of fritter mixture into the pan.

Fry until golden brown, then carefully flip and cook until golden on the other side.

Keep cooked fritters warm and cook in batches until all of the mixture is used up.

Makes 18 fritters.
RECIPE NOTES
Nutrition information doesn't include cooking oil - you decide how much or little you'd like to cook with.
Serve with your favourite creamy dipping sauce.
NUTRITION INFORMATION
Calories:
52
kcal
|
Carbohydrates:
10.8
g
|
Protein:
1.9
g
|
Fat:
0.7
g
|
Saturated Fat:
0.1
g
|
Fiber:
1.8
g
Nutrition Facts
Spiced cauliflower fritters
Amount Per Serving
Calories 52
Calories from Fat 6
% Daily Value*
Fat 0.7g1%
Carbohydrates 10.8g4%
Protein 1.9g4%
* Percent Daily Values are based on a 2000 calorie diet.