Mildly spiced buckwheat blini topped with cucumber, fennel and yoghurt are just the thing with a glass of bubbles, and just in time for party season.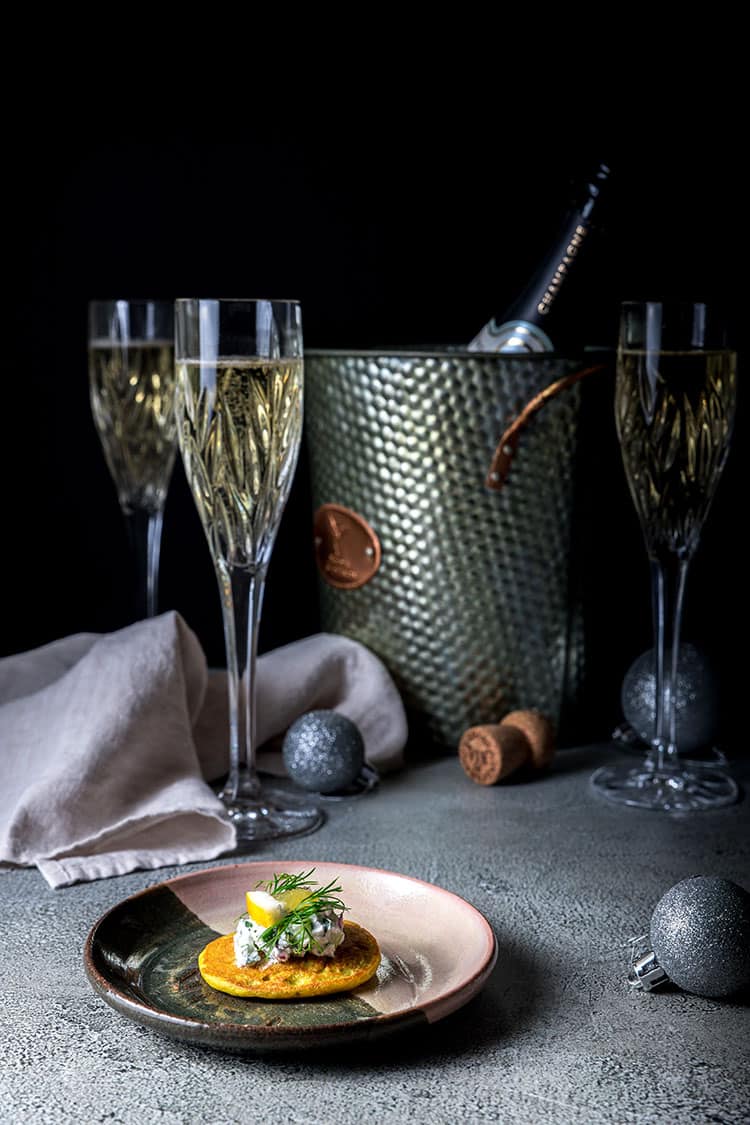 Do you sometimes feel like you blinked and lost a few months? I can't believe there are only a handful of weeks left before it's officially the end of the year. For us that means school's nearly out for summer, the temperature is going UP and party season is well underway.
I'm more than ready for the reset our summer break brings. 2019 has had its happy highlights, but it's also had more than its fair share of challenges for myself and many of the people close to me.
As my calendar for the rest of the year fills up, I'm looking forward to spending time with old friends and new. Reflecting on both the good and the bad this year has held, and putting it to bed. We'll share a celebratory glass and look forward to new opportunities.
Some of these social gatherings will be loud and public, while others will be private, intimate, in the homes of my closest friends. We'll all bring food to share, and enjoy the comfort that comes from time together.
Every year I like to come up with a little something new to bring along as a shared plate. This year it will be spiced buckwheat blini, with a refreshing little topping. They're very easy to make, can be done ahead of time, and they're just a little bit fancy.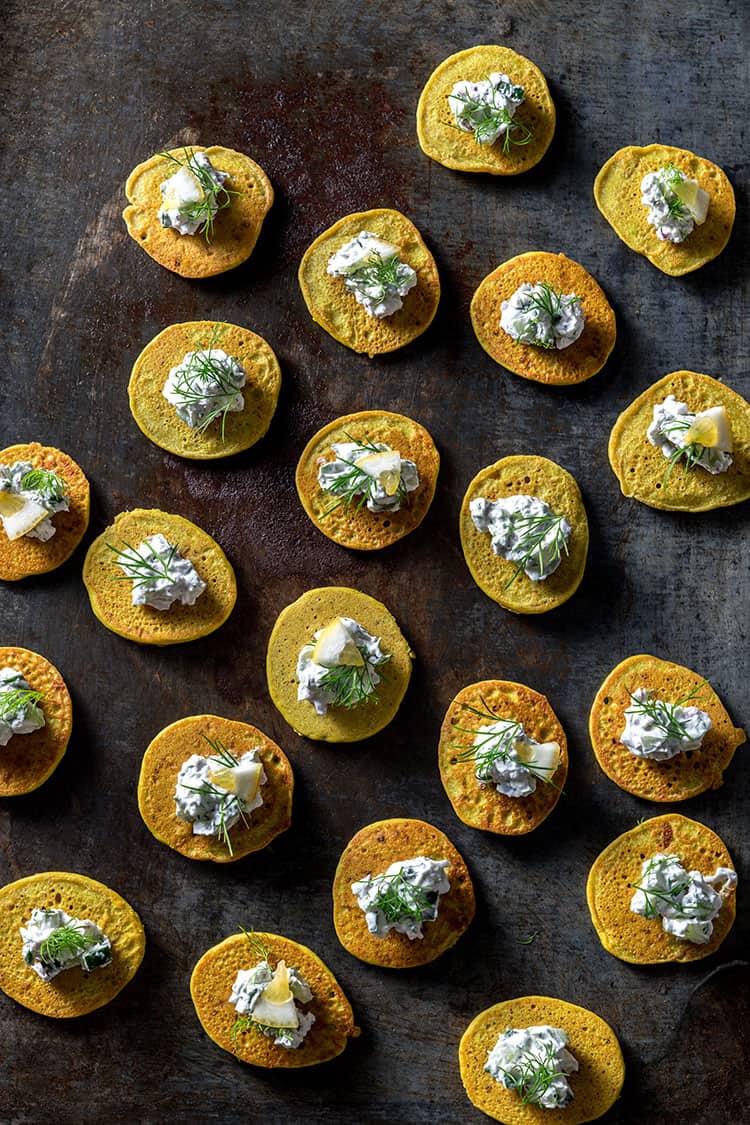 How to make home made vegan blini
Blini are a traditional Russian pancake. Outside Russia they're most commonly seen in miniature size and topped with caviar, smoked salmon or any number of other toppings. They're a classy hors d'oeuvre or appetizer, known for their truly excellent match with champagne.
Traditionally blini are made with wheat flour, buckwheat flour (or a combination of both), milk, egg and yeast. The yeast works the magic here, helping the batter become light and airy, and creating a more complex flavour.
Replacing the milk and egg to create a plant-based version of the original recipe was a cinch, and I decided to push the boat out and make these 100% gluten free too. I don't follow a gluten free diet, but I'm all for maximum inclusivity. Why not make something that can be enjoyed by everyone - especially in party season?
There are just a few simple steps to making these buckwheat blini.
Mix buckwheat and white rice flour with plant milk, yeast, spices, melted buttery spread and a touch of baking powder and salt.
Set aside for 1-2 hours for the yeast to do its thing.
Whip aquafaba until soft peaks form, then fold through the blini batter.
Cook blini in batches until golden on both sides, garnish with yoghurt topping, fennel fronds and lemon.
Serve with a lovely glass of sparkling wine or your favourite tipple.
I found white rice flour worked well here, creating a lighter batter than just buckwheat flour used alone. White rice flour is absorbent and calls for more liquid in the recipe, so I don't recommend swapping it out for other flours as each will require a different quantity of milk to achieve the right consistency.
Plain blini are fine, but more is more, right? I departed from tradition and spiced this blini mixture with mild curry powder and ground toasted fennel and coriander seeds. Together these spices are enough to add interest without being too spicy, as tested and approved by my two daughters.
The blini can also be made ahead of time, which is a lifesaver at this time of year. Ideally I'd suggest making them in the morning to serve later on the same day. You could also make them the day before, though they may dry out a little. Either way, they can be refreshed with a gentle warm in the oven for a few minutes, then topped and garnished when you're ready to serve.
A pretty blini topping and garnish
Blini are yummy in their own right, but they're also a vehicle for some sort of topping.
I kept it simple and topped these vegan blini with a mixture of coconut yoghurt, small diced cucumber, very finely chopped red onion and finely chopped fennel fronds. The topping is a creamy and refreshing contrast to the spiced blini, with a nice bit of texture from the cucumber.
Extra fennel fronds and small segments of lemon complete the picture. I adore the bright little pop the lemon brings, both visually and flavour-wise. If you don't like sharp flavours, just leave the lemon off.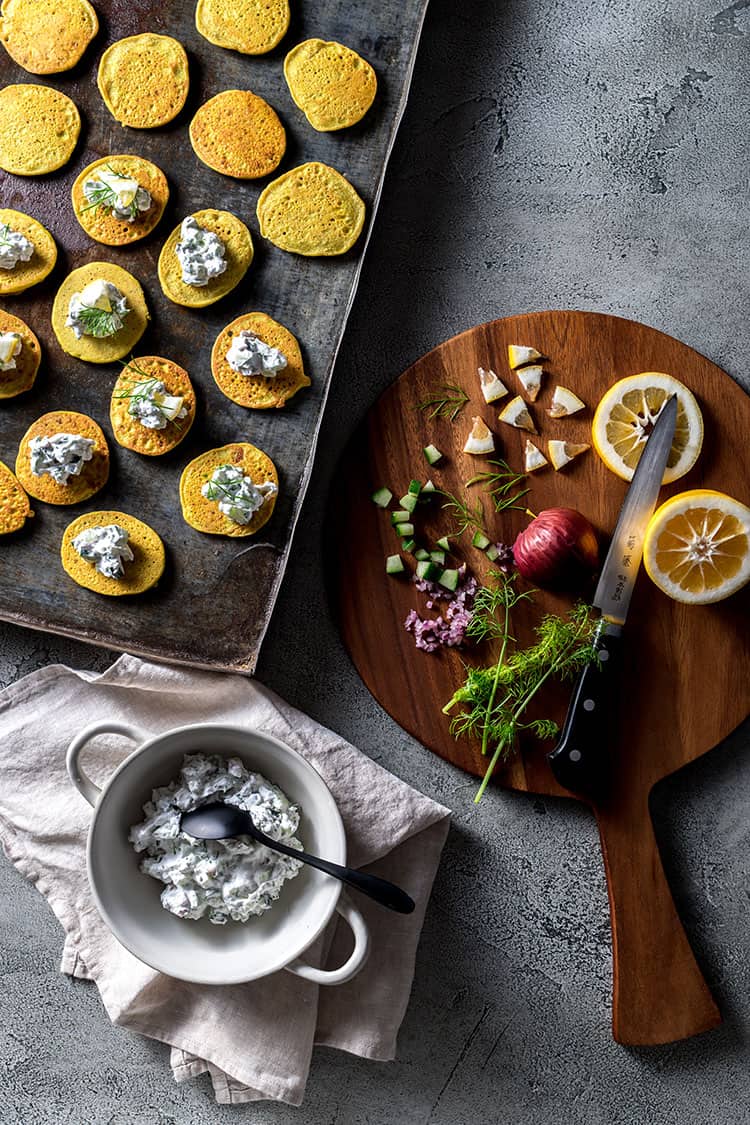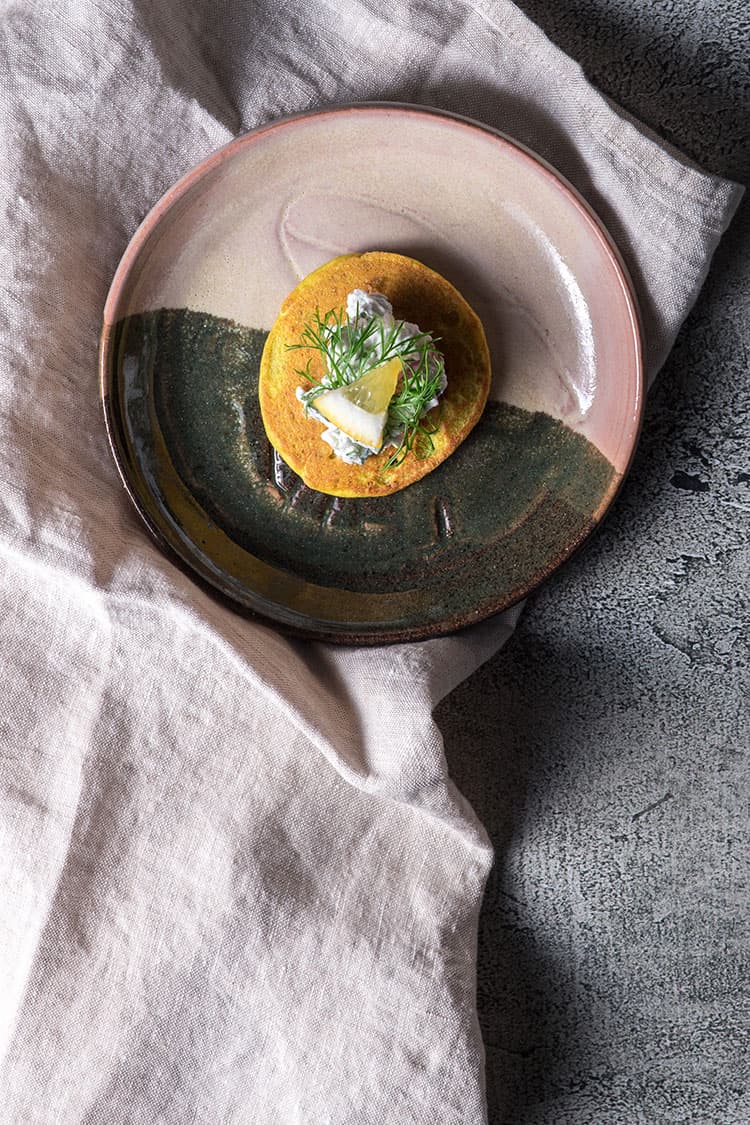 Get the recipe
INGREDIENTS
For the blini:
1 ½

cups

milk

of your choice (I used cashew milk)

1

teaspoon

active instant yeast

1

teaspoon

fennel seeds

1

teaspoon

coriander seeds

1

cup

buckwheat flour

⅔

cup

white rice flour

2

tablespoon

melted buttery spread

(see recipe notes)

½

teaspoon

salt

¼

teaspoon

baking powder

2

teaspoon

mild curry powder

3

tablespoon

aquafaba

(liquid from a can of chickpeas)

Oil for frying
For the topping:
1

cucumber

1

cup

coconut yoghurt

2

tablespoon

very finely chopped red onion

or shallot

2

tablespoon

finely chopped fennel fronds

plus extra fennel fronds to garnish

½

teaspoon

salt

1

lemon
INSTRUCTIONS
For the blini:
Use a microwave or saucepan to warm the plant milk up to blood temperature. Stir in the yeast and set aside for 5-10 minutes for the yeast to dissolve and begin to bloom.

Toast fennel and coriander seeds in a dry frypan for a few minutes, until fragrant. Grind in a spice grinder or mortar and pestle.

Measure flours, salt and baking powder into a large mixing bowl. Add the ground spices and curry powder. Stir the melted buttery spread into the milk and yeast mixture, then add to the dry ingredients and whisk until smooth. Cover the bowl and set aside in a warm place for 1-2 hours, until the batter has increased in size and you can see yeast activity going on (bubbles on the surface).

Whip aquafaba until soft peaks form, then gently fold through the blini batter.

Heat a frypan (skillet) over medium heat and add a little cooking oil to coat the surface. Spoon teaspoonfuls of batter into the pan, using the back of the spoon to gently shape the blini batter into rounds. Cook for 1-2 minutes on each side, until just golden. Be careful not to overcook them, they don't take long. By the time I had finished spooning batter into the pan, the first blini was ready to flip. Remove cooked blini to a baking tray and repeat in batches until all the batter has been cooked.

Pro tip: A bread and butter knife is easier to use than a full sized spatula for flipping these small blini.

If making ahead of time, let cool then store in an airtight container.
For the topping:
Cut the cucumber into small dice. I did this by slicing the cucumber lengthwise, cutting away and discarding the seeds, then dicing the remainder of the slices. In total you want about two cups of small diced cucumber.

In a mixing bowl, combine the cucumber, coconut yoghurt, red onion or shallot, fennel and salt.

If using, slice the lemon to create tiny segments. I did this by slicing the lemon into 5mm rounds, then cutting between the membranes to create tiny segments of lemon flesh and rind.

Top each blini with a small spoonful of yoghurt topping, fennel fronds and a tiny segment of lemon.
RECIPE NOTES
I used Olivani, an olive oil based buttery spread. 
Recipe makes approximately 50 blini.
Nutrition information is estimate, per blini, and does not include oil for frying - you decide how much you'd like to use. 
NUTRITION INFORMATION
Calories:
38
kcal
|
Carbohydrates:
4
g
|
Protein:
1
g
|
Fat:
2
g
|
Saturated Fat:
2
g
|
Sodium:
56
mg
|
Potassium:
51
mg
|
Fiber:
1
g
|
Sugar:
1
g
|
Vitamin A:
35
IU
|
Vitamin C:
2
mg
|
Calcium:
6
mg
|
Iron:
1
mg