Soul warming, restaurant style Szechuan eggplant stir fried and coated in a finger licking spicy sauce.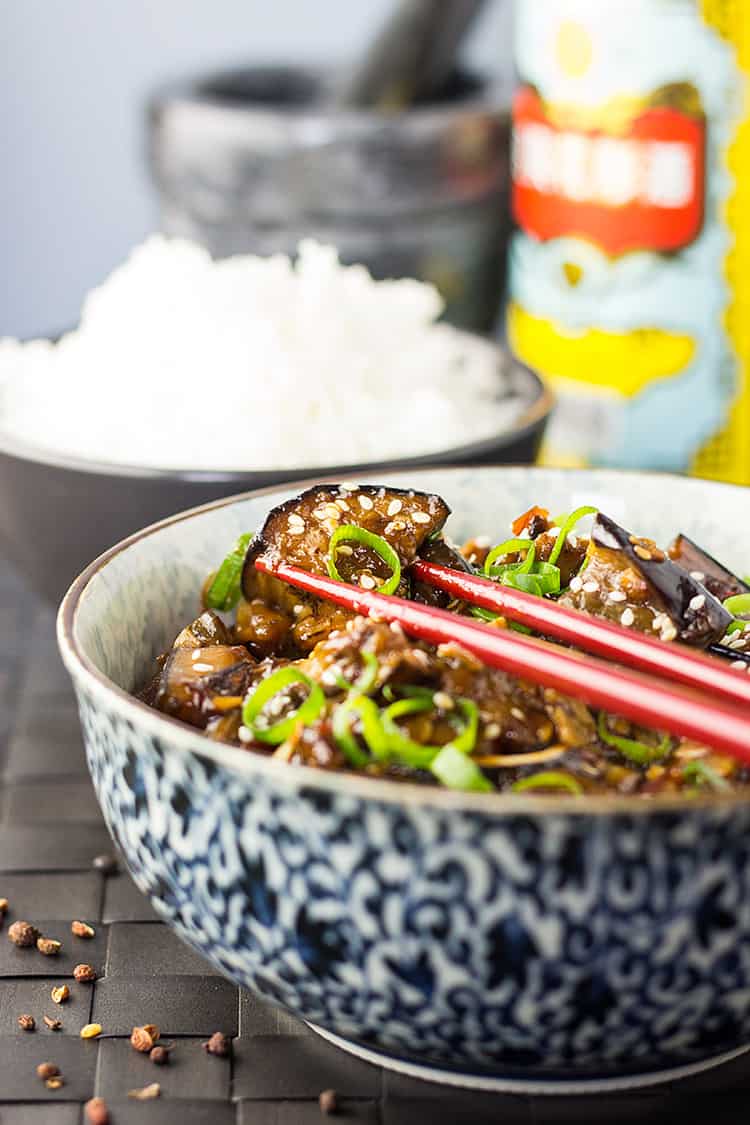 What is the right thing to say, or indeed - the right thing to cook, in a week that has seen a startling change in direction for politics in the US, and shattering earthquakes felt up and down the length of New Zealand?
I'm feeling shaken alright, and I slept through the most significant quake which happened just after midnight on Sunday. New Zealanders already share a deep sorrow for the significant pain and loss experienced by the people of Christchurch following the major earthquake in 2011. The people, and the city, are still rebuilding nearly six years later, and the aftermath will be felt forever. This week's rumblings are an ominous reminder of that time, and there's a palpable nervousness held by everyone I know. What if it happens again? What if this week's quakes are a forerunner to something worse?
For me, I've taken the earthquake, and the election, as an opportunity for reflection on what's important to me. I've held my children tight and strengthened my resolve to live the best life I can. To care, to share, and to make a positive difference wherever I can. And we can, we all can.
Like many other writers I know, I've found it difficult to move forward. To create a new recipe, to take photographs and write about it. It feels trivial, and by comparison to everything else going on in the world right now, it is.
So, I bought one perfect eggplant, and turned it into one soul warming, heart pleasing, comforting bowl of goodness. While I did it, I felt gratitude for all I have, for the amazing food I'm able to feed my family, for all the choices available to me in life. We're not all so lucky, and I know it.
Silky, spicy, fried Szechuan eggplant
Szechuan (or Sichuan, or Szechwan) is simultaneously a region of China, a style of cooking, and a type of pepper. The cooking features plenty of garlic, ginger and chilli, while Szechuan peppercorns have an intense fragrant, citrus-like but spicy flavour that produces a tingly sensation in your mouth. I love it.
There's a small but insanely popular Chinese restaurant in my hometown that specialises in spicy Szechuan style food. Their spicy Szechuan eggplant is one of my favourite things to order. Theirs comes as a chilled dish, with strips of silky fried eggplant swimming in a pool of intensely coloured and flavoured chilli oil. It's a flavour explosion and I can't get enough of it. I don't however feel too good about all the oil. When I say it's swimming in it, I'm not joking.
This recipe today goes lighter on the oil, using just enough to fry the eggplant until golden and tender, before adding garlic, ginger and ground Szechuan peppercorns to the mix. A combo of fragrant Chinese sauce ingredients is poured over and cooked for a few minutes until thickened, silky and luscious.
This Szechuan eggplant is a delicious side dish with rice and other Asian dishes, and perfect served with fried tofu (or other protein of your choice if you're not vegan or vegetarian).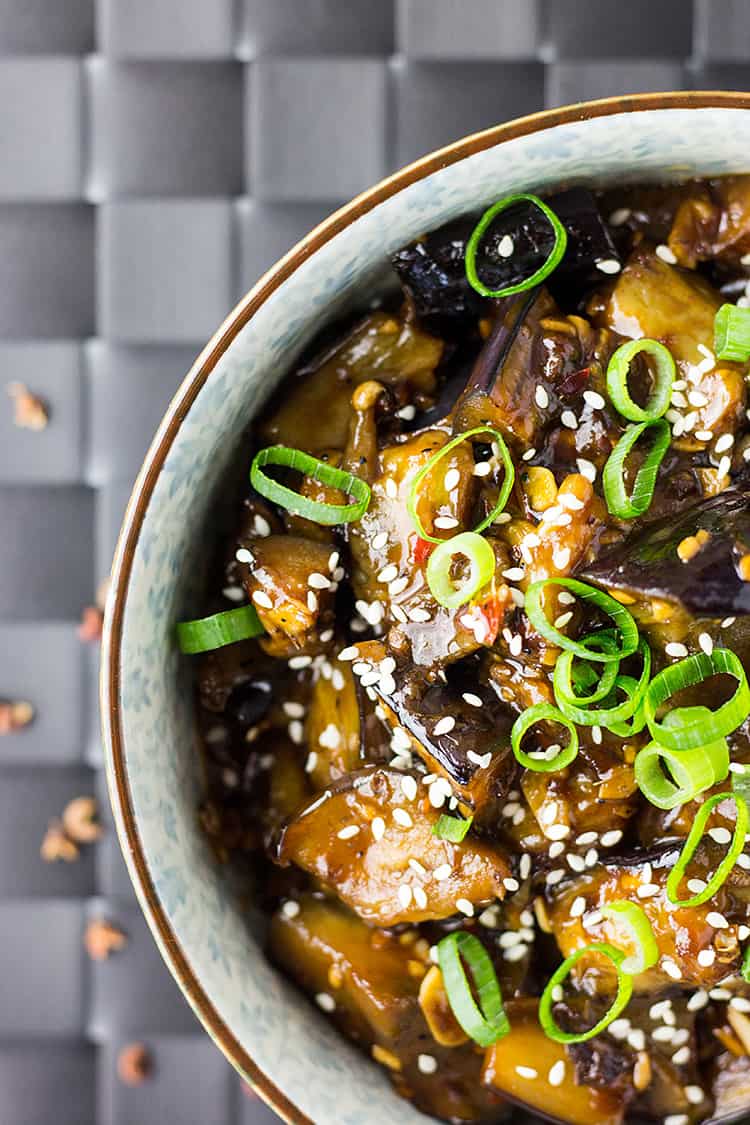 Get yourself to your Asian grocer
This recipe calls for a few more obscure ingredients that will definitely call for a trip to your local Asian supermarket. Once you're there, the ingredients are almost sure to be available (ask if you're not sure), and they're inexpensive, so go on and try something new. Asian supermarkets are one of my happy places, I love wandering the aisles and picking up something new to try.
So what will you need? There are four things in this recipe that you probably don't already have.
Chilli bean paste.
Black vinegar.
Shao hsing cooking wine.
Szechuan peppercorns.
The chilli bean paste is also known as toban djan, or doubanjiang. It's a blend of chilli and fermented broad beans, not dissimilar to Korean gochujang. Check out my gochujang recipes #1, #2 and #3 if you're into it. The chilli bean paste I bought has wheat in it, so not ideal if you're gluten free. If that's the case for you - just substitute with a teaspoon of chilli flakes, or a tablespoon (or more) of another hot chilli sauce of your choosing.
Black vinegar is inky black, with a complex woody, malty, smoky flavour. It's typically made from rice, but check the label if you're gluten free as it can sometimes contain wheat. It's strong stuff by itself, but it's a wonderful ingredient in sauces like this one, or in dipping sauces for wontons or dumplings. It definitely floats my boat in terms of that whole rich but sharp flavour profile. If you can't get it, you could substitute malt vinegar or balsamic vinegar - it won't be quite the same, but the recipe will still work.
Shao hsing (or shaoxing) wine is fermented from rice and used both as a drink and in cooking. It's one of the prettiest bottles in my pantry (in the picture at the top of this page) and I love using it in marinades and stir fries. It's another less common but inexpensive ingredient that adds an extra something special to your home cooking.
And finally, the Szechuan peppercorns. They'll be in the spice section, probably in a plastic bag. They look a bit like regular peppercorns, but a reddish brown colour. You can use them whole or ground in cooking. I ground them in my mortar and pestle for this recipe.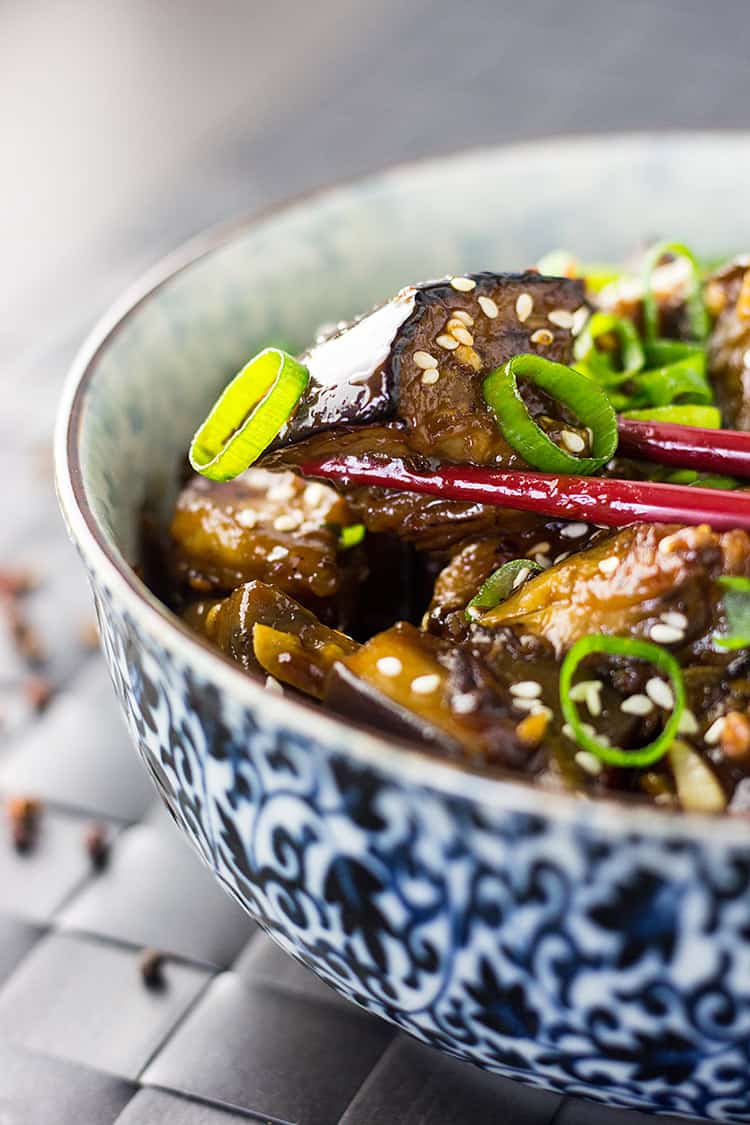 Get the recipe
INGREDIENTS
For the eggplant:
1

eggplant

(large)

2

tablespoon

cooking oil

1

teaspoon

sesame oil

1

tablespoon

fresh ginger

finely chopped

2

cloves

garlic

finely sliced

1

teaspoon

Szechuan peppercorns

ground
For the sauce:
1

tablespoon

soy sauce

or tamari if gluten free

1

tablespoon

black vinegar

or malt/balsamic vinegar if unavailable

1

tablespoon

shao hsing cooking wine

or dry sherry if unavailable

1

tablespoon

chilli bean paste

or 1 teaspoon chilli flakes or 1-2 tablespoon hot chilli sauce if gluten free

2

teaspoon

corn flour

(corn starch)

½

cup

water
To garnish:
1

spring onion

(scallion), finely sliced

sesame seeds
INSTRUCTIONS
Mix sauce ingredients in a small bowl or glass jug. Set aside.

Heat cooking oil and sesame oil in a wok or large frypan (skillet) over medium heat.

Chop eggplant into large chunks, then add to the pan. Cook for 5-10 minutes, stirring and turning often, until golden brown and cooked through.

Add ginger, garlic and Szechuan peppercorns to the pan and cook for 1-2 minutes, until fragrant.

Pour sauce over the eggplant and cook for another 1-2 minutes, stirring constantly, until the sauce is thick, glossy and coating the eggplant evenly.

Garnish with spring onion (scallion) and sesame seeds.
NUTRITION INFORMATION
Calories:
242
kcal
|
Carbohydrates:
20.7
g
|
Protein:
4.5
g
|
Fat:
17
g
|
Saturated Fat:
3.2
g
|
Cholesterol:
0
mg
|
Sodium:
818.8
mg
|
Fiber:
8
g
|
Sugar:
8.9
g
|
Vitamin A:
0
IU
|
Vitamin C:
8.3
mg
|
Calcium:
50
mg
|
Iron:
1.3
mg
Nutrition Facts
Spicy Szechuan eggplant
Amount Per Serving
Calories 242
Calories from Fat 153
% Daily Value*
Fat 17g26%
Cholesterol 0mg0%
Sodium 818.8mg36%
Carbohydrates 20.7g7%
Protein 4.5g9%
Vitamin A 0IU0%
Vitamin C 8.3mg10%
Calcium 50mg5%
Iron 1.3mg7%
* Percent Daily Values are based on a 2000 calorie diet.