Maghmour is a boldly flavoured Lebanese vegetable stew with plenty of garlic and spice, tender fried eggplant, chickpeas and the deep, musky flavour of dried mint.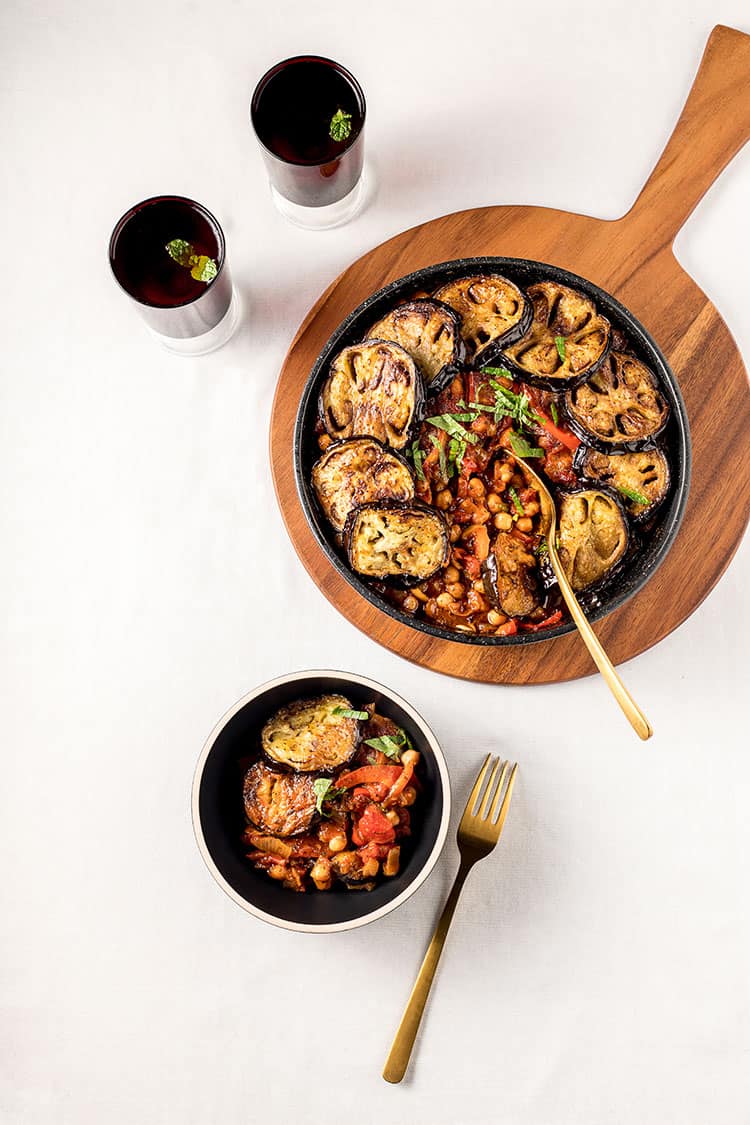 After meeting Tania Jones and the team at Home Kitchen a few months ago, I went along to their cooking classes and pop up restaurant to experience some authentic Afghan hospitality.
In my last post I shared the story of Home Kitchen's beginnings, and the team's recipe for Afghan vegetable dumplings. In this post, I share a little of head chef Nikbakht Danish's story and another delicious recipe, this time for maghmour - Lebanese eggplant and chickpea stew.
Connection, belonging and a new start
Home Kitchen head chef Nikbakht Danish, 32, spent some time talking to me about her experience of moving to New Zealand.
Originally from Bamyan, Afghanistan, she migrated to New Zealand with her husband and three children in 2013 as part of New Zealand's annual refugee quota. "At the beginning, everything was so hard. Communication, transport and the culture were all new. But there is so much opportunity for everyone in New Zealand. We learned English at Wintec and received so much support and encouragement. Now my children are learning two cultures and doing very well with school and sports."
Nikbakht helped start a women's bakery in Bamyan and volunteers at the refugee settlement centre in Hamilton, but her job with Home Kitchen is the first formal employment she has had. Nikbakht says working with Home Kitchen has already helped her a lot.
"For the first time I am out of the house every day. I'm learning to manage people, working with the team and independently. I have learned a lot, and I am still learning every day."
Nikbakht's dream for her family is to have their own business one day. "I would love to open an Afghan restaurant, to meet other people and introduce them to Afghan food. I want to be able to give other people the same chance I have been given, for a new start and a bright future."
When asked what the best thing is about working with Home Kitchen, Nikbakht says it is seeing people happy. "Seeing people happy, and realising that I am able to do something for other people. Connecting with people is my dream."
Nikbakht and the team at Home Kitchen are an absolute inspiration. Food has such power to bring us together and make positive change, and I just can't wait to see what's to come for everyone involved in this incredible social enterprise.
Lebanese eggplant and chickpea stew
Although the team at Home Kitchen hails from a number of countries, food served at the restaurant and cooking classes has been heavily influenced by Afghan and Arabic cooking. The catering menu includes food from Burma and Pakistan, and in future some Colombian dishes will be added to the overall repertoire.
Maghmour featured in the Home Kitchen tasting menu at their pop up restaurant over winter. It has bold flavours with plenty of olive oil, garlic and spice, tender fried eggplant and the deep, musky flavour of dried mint.
I haven't cooked much with dried mint before so I was really intrigued by how it is used here, and the completely different flavour profile it creates compared to more commonly used dried herbs. I love this dish a lot, and it makes fantastic leftovers too - the flavours just get better and better.
Forewarning - this recipe uses a significant quantity of olive oil - and more than I'd usually ever use in a recipe. I suggest you embrace the generous quantity of used here, it provides depth of flavour and a decadent finish to this traditional vegetarian dish.
Cayenne pepper is used to bring a bit of fire. You can leave it out if you're not a fan of spicy food, or adjust the quantity to suit your taste.
Try serving the maghmour alongside ashak for a sumptuous Middle Eastern inspired feast.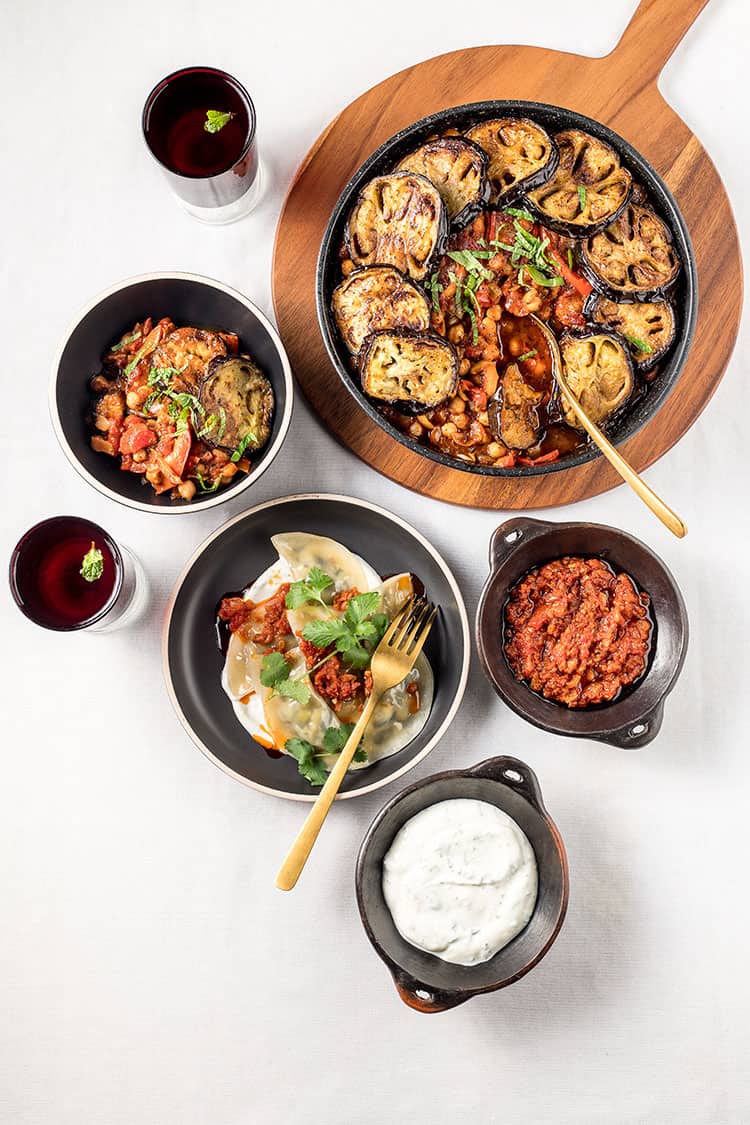 Get the recipe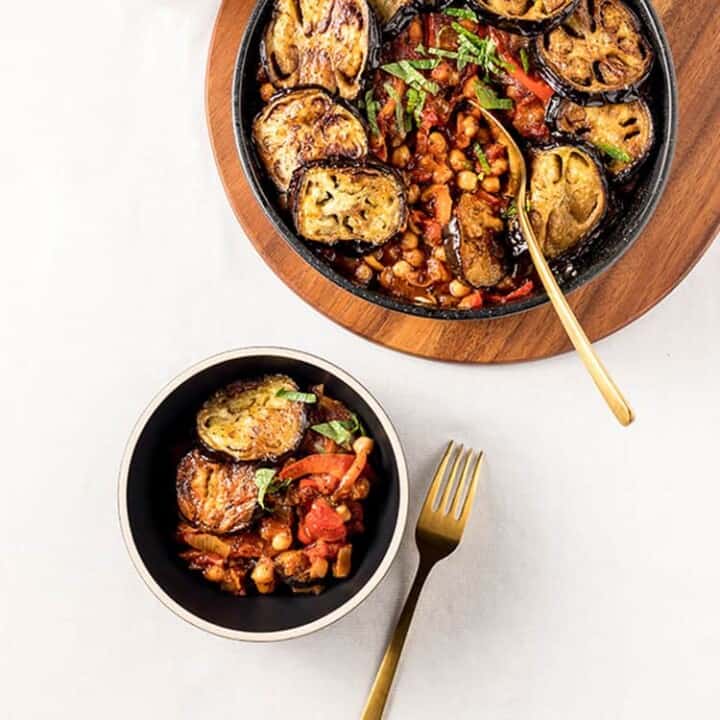 INGREDIENTS
2

eggplants

sliced

½

cup

extra virgin olive oil

+ extra for frying

1

large

onion

diced

5

cloves

garlic

finely chopped

2

red capsicums

sliced

1

tablespoon

tomato paste

1

tablespoon

dried mint

¼ - ½

teaspoon

ground cayenne pepper

(optional)

¼

teaspoon

salt

2

cups

cooked chickpeas

drained and rinsed if canned

2

cups

chopped tomatoes

fresh or canned

1

cup

water

Fresh mint or parsley to garnish

roughly chopped
INSTRUCTIONS
Preheat oven to 180C (350F).

Fry sliced eggplant in a generous amount of olive oil until golden on both sides. Set aside on a paper towel to drain excess oil. Repeat in batches until all of the eggplant is cooked. 

Add ½ cup olive oil to the pan. Fry onion and garlic until golden, then add sliced capsicum, tomato paste, dried mint, cayenne pepper and salt. Cook over medium heat, stirring, until flavours have combined – about 5 minutes. Add chickpeas, tomatoes and water and simmer for 15 minutes. 

In an oven dish, spread half of the chickpea mixture evenly and layer with half of the eggplant slices. Top with the remaining chickpea mixture and arrange the remaining eggplant slices on the surface. Bake in the oven for 15-20 minutes before serving. 

Garnish with fresh herbs and serve with rice or flat bread to mop up the juices. 
RECIPE NOTES
Nutrition information is estimate and does not include oil for frying - you decide how much you'd like to use.
This generous recipe will serve 8 easily, but you can halve the quantities for a smaller meal or enjoy leftovers for the next few days – they only improve in flavour.
Recipe published with permission of Home Kitchen. 
Story and recipe first published in the Spring 2019 issue of Nourish magazine. 
NUTRITION INFORMATION
Calories:
218
kcal
|
Carbohydrates:
20
g
|
Protein:
4
g
|
Fat:
15
g
|
Saturated Fat:
2
g
|
Sodium:
296
mg
|
Potassium:
568
mg
|
Fiber:
7
g
|
Sugar:
8
g
|
Vitamin A:
1269
IU
|
Vitamin C:
50
mg
|
Calcium:
63
mg
|
Iron:
2
mg