Perfect for the festive season, this sweet potato salad with pomegranate, pecans and barley is served with a punchy herb dressing.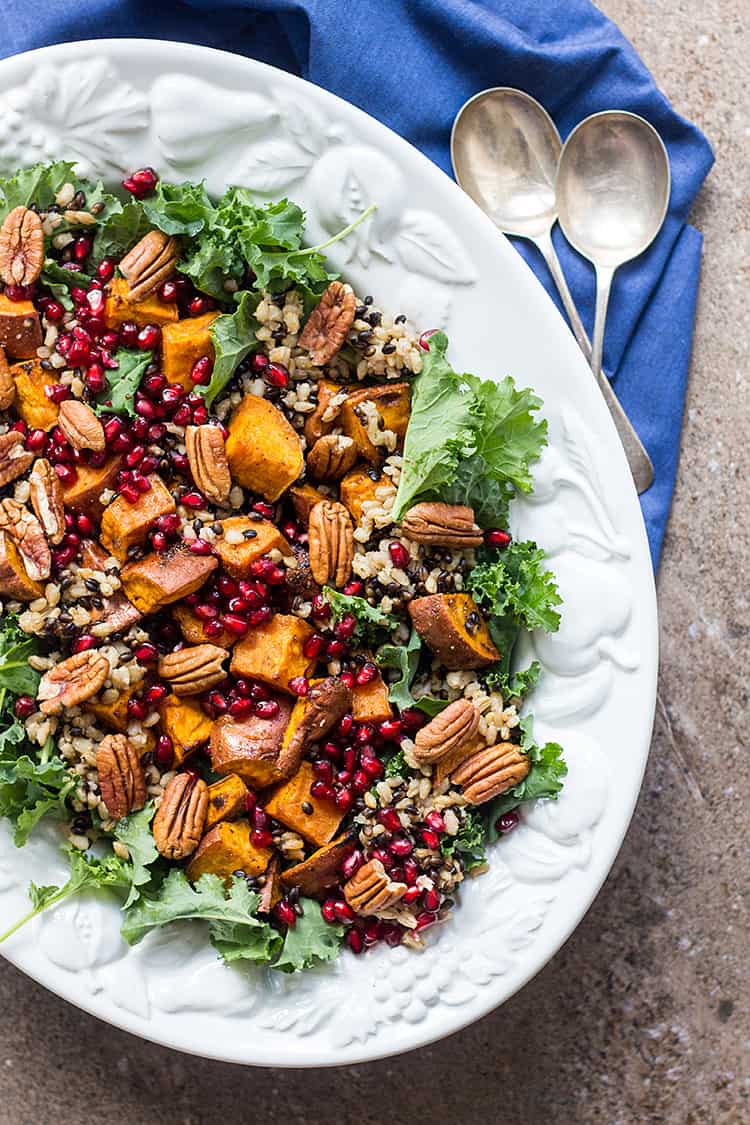 I finally started my Christmas shopping! I tend to put it off for as long as I can, until the dread of last minute crowds motivates me to get it together and write a list. Once a good list is in hand, it's all so much easier. This year I'm trying to make an effort to keep gift giving simple and affordable, because every year I wonder at the sheer volume of 'stuff' we gift to each other, as the people on the planet who least need anything. We do what we can to give locally and help balance that out a bit, but it can feel like a bit of a token effort at times.
Alongside the shopping list, is the inevitable Christmas menu list. Invariably it ends up with lots of crossing out and changing of the mind, right up until a few days beforehand when I need to buy the groceries to make it happen. Nice salads and freshly dug new potatoes are where it's at for me on Christmas Day, and I really enjoyed coming up with this pretty, festive salad for you to think about adding to your Christmas menu. What would you serve it alongside?
Sweet potato salad with all the fixings
I adore orange kumara (sweet potatoes) and there are already A LOT of sweet potato recipes on this blog. Haha. I'm sure I'm not alone in my love for their vivid orange, sweet flesh that lends itself so well to bold flavours. It's such a great ingredient to bulk up vegetarian and vegan salads, turning them into a substantial meal.
Today I roasted it with a little maple syrup, olive oil and ground cumin. Yummmmm! I could eat it just like that, go no further, and be a happy lady. Instead, I arranged it on a bed of baby kale, with a handful of cooked black and white barley, pecans and pomegranate. The black and white barley caught my eye in the dry soup ingredients area of the supermarket recently (in New Zealand supermarkets, near the King's soup mix). I really like its texture and flavour, and of course the black and white is pretty in soups and salads like this one. The pecans add a bit of protein, and the pomegranate adds sharp sweetness and beauty.
A punchy dressing
I flip flopped about what sort of dressing to serve with this. Creamy? Citrussy? I couldn't stop thinking about the flavours of chimmichurri sauce, one of my favourite sauces/dressings made with chopped fresh herbs, garlic, olive oil and red wine vinegar.
Why fight instinct? I made no changes to the classic recipe, other than blending it until smooth instead of keeping it chopped as usual. I have to say the bold herby flavours and sharp red wine vinegar undertones match beautifully with the hearty ingredients here and the sweetness of the pomegranate. It's a killer sweet potato salad that will be an excellent Christmas Day side dish.
Prepare ahead of time
I enjoyed this salad cold, but you could also serve it warm with the kumara straight out of the oven if you prefer.
If it's to be served cold, the prep can all be done ahead of time and each of the components stored separately in the fridge. Cook your barley and sweet potatoes, remove the arils (seeds) from the pomegranate, and make your dressing. Then it's a simple job of arranging everything and pouring over the dressing just before serving.
How to remove the pomegranate arils? I tried doing it this way instead of my usual whack with a wooden spoon method, and it was a little easier but still fiddly. There's just no getting away from the mess that pomegranate juice creates!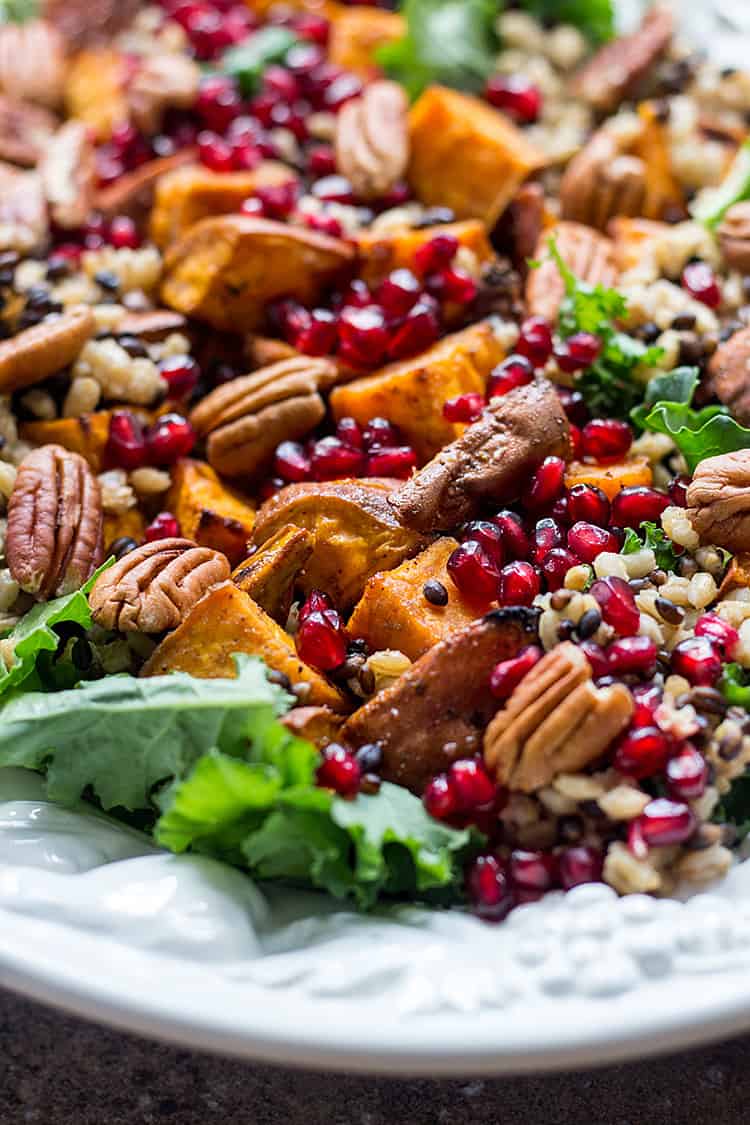 Get the recipe
INGREDIENTS
For the salad:
2

orange kumara

(sweet potatoes, approx. 600g)

1

tablespoon

olive oil

1

tablespoon

maple syrup

½

tablespoon

ground cumin

½

cup

pearl barley

(I used black and white, use plain white if unavailable)

1 ½

cups

vegetable stock

4

cups

baby kale

(approx.)

½

cup

pecans

(approx.)

½

pomegranate

arils/seeds removed
For the dressing:
½

cup

finely chopped parsley

2

tablespoon

finely chopped oregano

or substitute 2 teaspoon dried oregano

3

cloves

garlic

crushed or grated

¼

cup

+ 2 tablespoon extra virgin olive oil

(90ml)

2

tablespoon

red wine vinegar

½

teaspoon

chilli flakes

Salt

to season

Pepper

to season
INSTRUCTIONS
For the salad:
Preheat oven to 220C (430F) fanbake.

Add barley and vegetable stock to a saucepan. Bring to a boil, cover and reduce heat to a simmer. Cook for 30-35 minutes, or until tender and the liquid has been absorbed. After this time, if there is liquid remaining but the barley is cooked, drain in a sieve and allow to cool.

While barley is cooking, bake your sweet potato.

Wash and dry sweet potato before chopping into large chunks. I left the skin on, peel it if you prefer.


In a mixing bowl, toss sweet potato with olive oil, maple syrup, ground cumin and salt and pepper to season.

Spread sweet potato on a baking sheet and bake for 15-20 minutes, or until golden brown and tender. Remove from oven and cool.

Using a large salad bowl or platter, arrange baby kale, then top with sweet potato, barley, pomegranate and pecans. Pour over dressing to serve.
For the dressing:
Blend all ingredients until smooth. Taste and adjust seasoning as required.
RECIPE NOTES
Serves 4 under ordinary circumstances, and probably 8-10 alongside other dishes as part of a Christmas feast.
NUTRITION INFORMATION
Calories:
596
kcal
|
Carbohydrates:
67.5
g
|
Protein:
10.5
g
|
Fat:
34.5
g
|
Saturated Fat:
4.3
g
|
Cholesterol:
0
mg
|
Fiber:
14.6
g
|
Sugar:
16.5
g
|
Vitamin A:
8000
IU
|
Vitamin C:
136.1
mg
|
Calcium:
220
mg
|
Iron:
4.9
mg
Nutrition Facts
Sweet potato salad with pomegranate, pecans and barley
Amount Per Serving
Calories 596
Calories from Fat 311
% Daily Value*
Fat 34.5g53%
Cholesterol 0mg0%
Carbohydrates 67.5g23%
Protein 10.5g21%
Vitamin A 8000IU160%
Vitamin C 136.1mg165%
Calcium 220mg22%
Iron 4.9mg27%
* Percent Daily Values are based on a 2000 calorie diet.