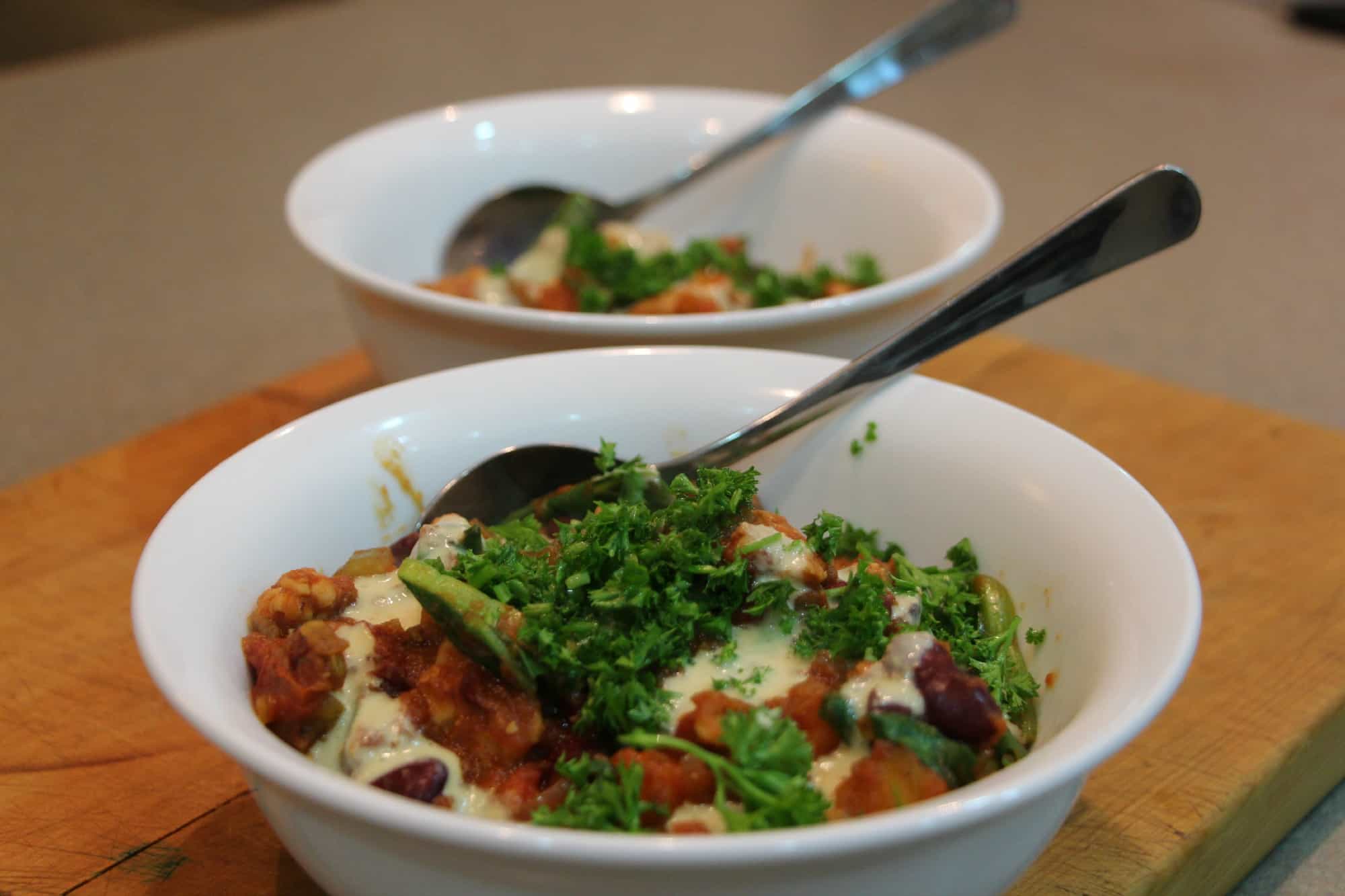 Gosh how I love a good one pot meal! This one ticks all the boxes, packed with protein and veges and very satisfying on a cold rainy winter's night. This is dead easy to make and once it's cooking you can walk away and leave it to do its thing.
A handful of spinach added just before serving gives it a fresh lift, and I also added a simple tahini sauce drizzled on top. It'd also be great with regular dairy sour cream, or a cashew cream. Now it's making me hungry again writing about it! It was really good. I'm already looking forward to take two with the leftovers tonight.
If you're feeding a crowd you could serve this with some nice crusty garlic bread, and it would also be easy to up the volume without upping the cost much by adding an extra can of beans and tomatoes.
Get the recipe
INGREDIENTS
For the chilli:
1

tablespoon

olive oil

2

onions

chopped

3

sticks of celery

chopped

1

carrot

chopped

1

cup

mushrooms

chopped

3

cloves

garlic

crushed

2

teaspoon

cumin seeds

1

teaspoon

fennel seeds

250

g

tempeh

crumbled

1

cup

vegetable stock

1

can kidney beans

drained and well rinsed

2

cans chopped tomatoes

1

tablespoon

maple syrup

2

leaves

bay

1

teaspoon

smoked paprika

chilli powder to taste

1-2

cups

chopped or baby spinach
For the tahini sauce:
2

tablespoon

tahini

Juice of 1 lemon

1

teaspoon

nutritional yeast

optional

Salt and pepper
INSTRUCTIONS
For the chilli:
Heat 1 tablespoon of olive oil in a large fry pan or deep pot, add chopped onion, celery, carrot and mushrooms. Add crushed garlic, cumin seeds and fennel seeds. Cook over a moderate heat for about 10 minutes, until fragrant and the veges have softened and begun to colour.

Add tempeh and give it a good stir through. I like to let it begin to colour in places. Add vegetable stock and allow it to bubble up and steam away. The tempeh will soak up a lot of liquid at this point.

Next add your kidney beans, canned tomatoes, maple syrup, bay leaves, smoked paprika and chilli powder to taste. I keep mine pretty mild to stop complaints from the big girl child but if I had my way i'd make it nice and spicy. I add about a ¼ tsp. Leave it to simmer for half an hour or so, until the flavours are well combined and your house is smelling amazing. You might need to top it up with another ½ to 1 cup of water if it dries out too much - keep an occasional eye on it.

When you're ready to eat, stir through your spinach and serve. I challenge you not to want seconds.
For the tahini sauce:
Mix everything together and give it a taste. Add more seasoning if needed, and water to thin it to your desired saucy consistency.