A silky and perfectly smooth vegan tomato soup made with roasted tomatoes and cashews, served with a spiced curry leaf topping.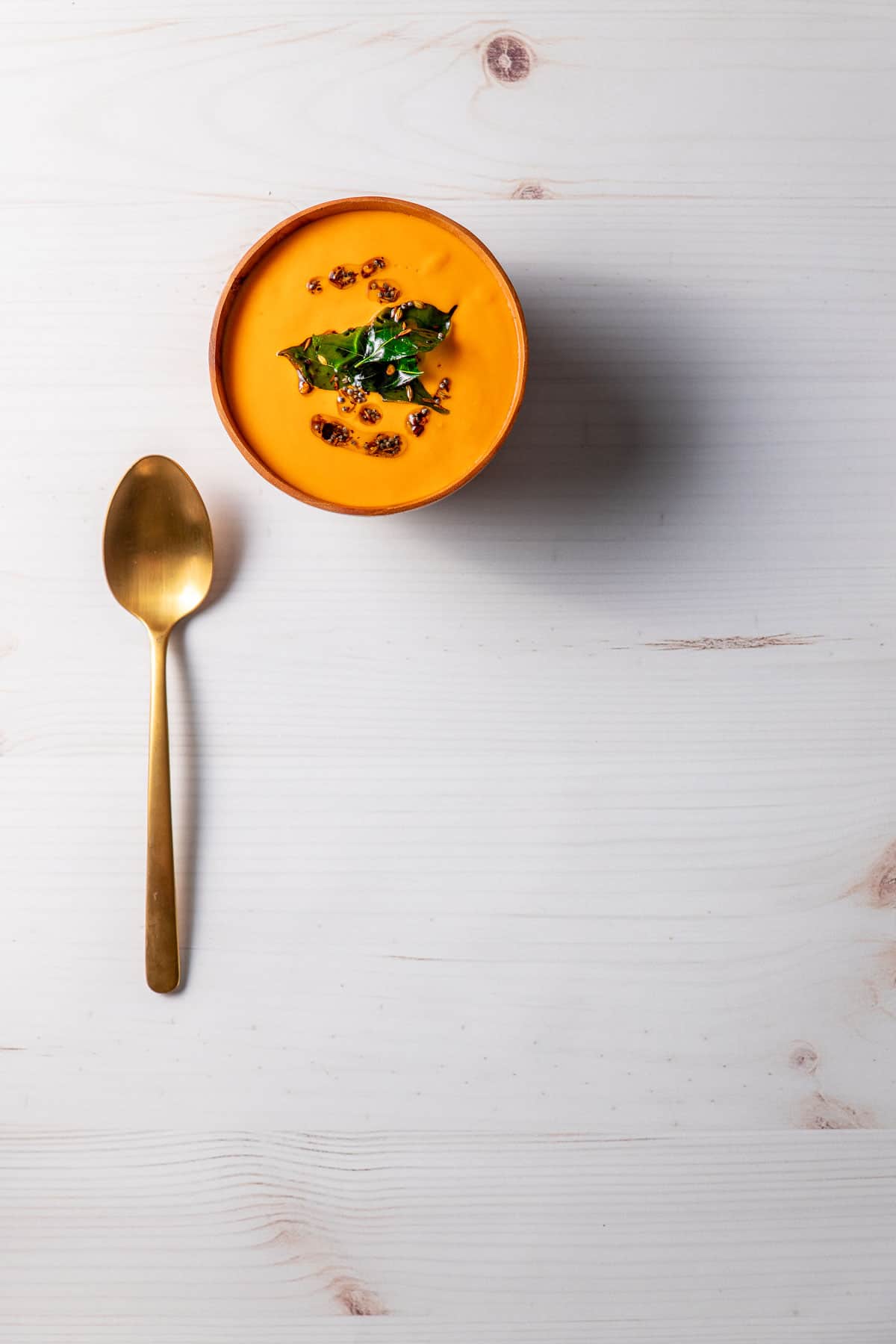 Each year, as summer days start to fade, I long for soup. Though I have to admit I have nothing against a nice bowl of soup on a sunny day either. There's just something about the whole comforting, healthy, meal in a bowl concept that really appeals to me.
Now that the leaves are turning and the days are cooler, I'm all in and soups are back on high rotate. Some of our household favourites here are black bean and corn nacho soup, cauliflower and walnut soup and a lovely light rainbow chard and leek soup.
I've just harvested the last of my tomatoes and pulled the plants from the garden to make space for something else. I haven't quite got it together to make or bottle tomato sauce, but instead turned my hand to tomato soup which is also an excellent way to use a lot of tomatoes.
A simple vegan tomato soup recipe
This simple tomato soup recipe is ideal to help use up a bounty of home grown tomatoes (or plentiful seasonal produce from the shops).
Roast a tray of tomatoes with a few cloves of garlic.
Soak cashews while the tomatoes are roasting.
Blend everything together with some vegetable stock.
Simmer and season to taste.
The result is a vibrantly coloured, creamy soup that tastes purely of full flavoured tomatoes.
A blank canvas
Think of this tomato soup recipe as a blank canvas that can be swung in any direction by adding spices or toppings to your heart's content.
Here I've taken inspiration from Indian tadka, serving the tomato soup topped with spices and curry leaves tempered in hot oil.
Alternatively, go your own way with a dollop of basil pesto or yoghurt, some croutons or chopped herbs.
Go ahead and lick the bowl when you're done. I won't tell.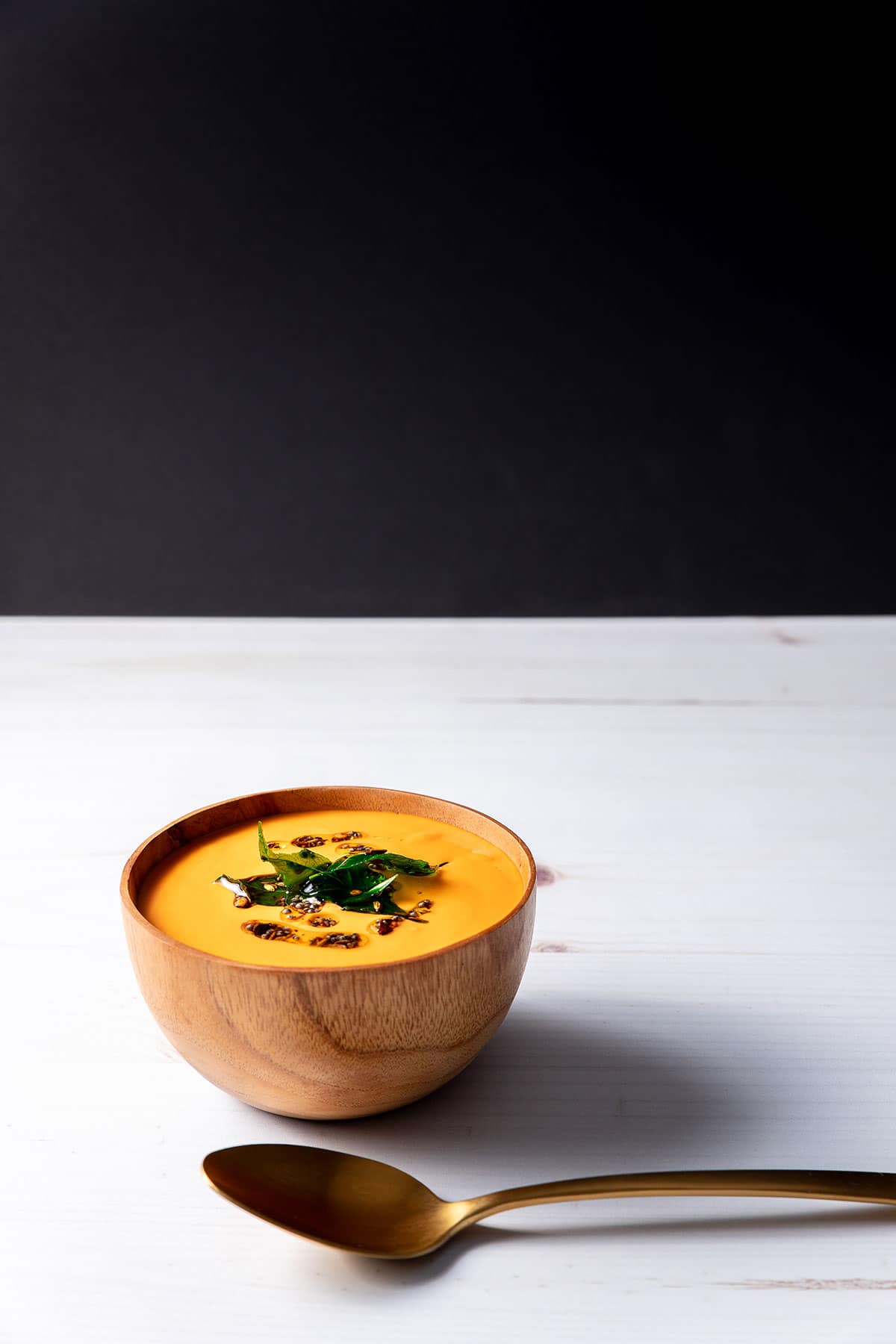 Frequently asked questions
What sort of tomatoes should I use?
Use what you have. Ripe, in season tomatoes will have the best flavour. For example, you could use cherry tomatoes, beef steak tomatoes, or a combination of heritage varieties - whatever is in your garden or available at your local greengrocer.
Can I use canned tomatoes?
Yes, with a few small changes you can use canned tomatoes instead.
Use three 400g/14oz cans of whole peeled tomatoes instead of fresh tomatoes.
Roast tomatoes for 20-30 minutes at a higher temperature (220°C/430°F) to achieve some browning (a little olive oil will help).
In the simmering step, reduce the vegetable stock to two cups. Once the soup is blended, adjust the consistency with more stock if necessary.
How long will tomato soup keep for?
Store tomato soup in a sealed container in the fridge for 3-4 days, or the freezer for three months.
Defrost frozen soup in the fridge for a few days if you have time, or sit the container in hot water to begin thawing then transfer the soup to a saucepan to reheat over low-medium heat, stirring often.
Do I really need a blender to make this soup?
Yes. If you want a smooth and silky soup you will need a blender to make this.
If you don't have one, you could try using a stick blender or blitzing the soup in batches in a food processor, but the cashews may not blend properly (which will result in soup with a grainy texture).
Get the recipe
INGREDIENTS
For the soup:
1

cup

raw cashews

1.5

kg

ripe tomatoes

(3.3 lb) about 12-13 medium sized

3

cloves

garlic

skin on

3

cups

vegetable stock

¼

teaspoon

salt

¼

teaspoon

pepper

½

teaspoon

sugar

½

teaspoon

white wine vinegar
For the spice and curry leaf topping:
2

tablespoon

cooking oil

(I used grape seed oil)

½

teaspoon

black mustard seeds

¼

teaspoon

cumin seeds

¼

teaspoon

fennel seeds

¼

teaspoon

chilli flakes

(or more if you like it hot)

20

fresh curry leaves

(approximate)
INSTRUCTIONS
Preheat oven to 180°C (350°F). Cover cashews with hot water and set aside to soak. 

Halve tomatoes and arrange cut side up on a lined baking tray with a rim. Poke garlic cloves between the tomatoes. Roast for an hour, until the tomatoes lose some of their moisture and start to colour in places.

Drain and rinse cashews. Remove skins from garlic cloves, then put the garlic, tomatoes, cashews and vegetable stock into a blender. Blend for a few minutes, until the soup is perfectly smooth and creamy. You may need to do this in batches depending on the size of your blender.

Pour the soup into a saucepan and simmer for 5-10 minutes.

Taste and add salt, pepper, sugar and vinegar to balance the flavour of the tomatoes – which will vary depending on their ripeness. Be amazed at how just a little acid (vinegar) can brighten it up, without tasting pickled. 

To make the curry leaf topping, just before serving heat oil in a small frying pan over medium heat. Add spices and cook, stirring, until the spices become fragrant and begin to sizzle and pop a little. Add the curry leaves and fry for another 30 seconds or so, until you can see them change colour and crisp up. 

Serve soup topped with a drizzle of the spiced oil and fried curry leaves.
NUTRITION INFORMATION
Calories:
328
kcal
|
Carbohydrates:
29
g
|
Protein:
10
g
|
Fat:
22
g
|
Saturated Fat:
3
g
|
Trans Fat:
1
g
|
Sodium:
876
mg
|
Potassium:
1122
mg
|
Fiber:
6
g
|
Sugar:
14
g
|
Vitamin A:
3728
IU
|
Vitamin C:
152
mg
|
Calcium:
79
mg
|
Iron:
3
mg