A comforting Moroccan inspired vegan tagine with ras el hanout spiced vegetables and olives, perfect for dinner on a chilly evening.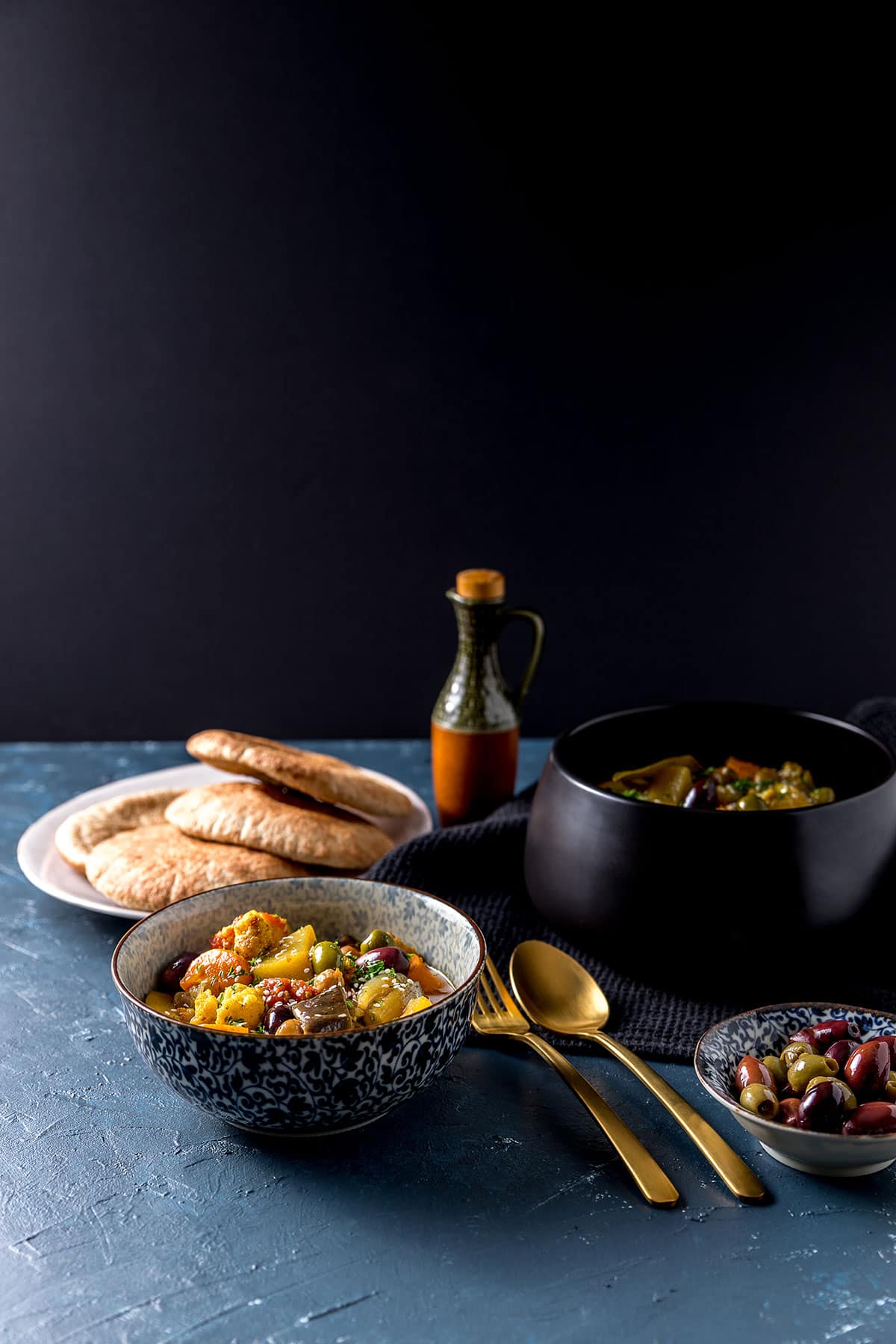 How is everyone doing out there? I don't know how to answer the question myself. My answer would change by the hour, by the day. It's been a surreal past month or so, watching 'normal' slowly, then quickly, unravel.
At a high level, I'm doing great. I'm at home with my family, staying safe, and we are all well. I can work from home, so paying the bills and keeping food on the table aren't problems here. I know that's not the case for so many people right now, and I'm grateful.
On a personal note, I'm a bit of a social introvert. I love spending time with other people, then refuelling by spending peaceful time alone. I'm getting neither of those things, and I'm finding that really difficult. Of course I adore my children, but being with them 24 hours a day is a lot. I miss being alone, I miss my Mum, and I miss my friends. My kids miss school, sports and their friends (and I'm sure they'd be keen for some time away from their bossy parents too). I can't wait for some kind of return to normal - as soon as it's safe to do so - and for everyone to get back to school, work and the other things that are important to us. The uncertainty is exhausting.
I'm focusing on one day at a time and trying not to think about the bigger picture for now. The future wellbeing of the world is deeply worrying, but outside of my control. One thing I know for sure, there's nowhere I'd rather be than New Zealand right now.
One silver lining to this crazy situation has been all the home cooking. Thank goodness I know how to feed my family. I've been churning out sourdough loaves, hearty soups and pancake breakfasts like there's no tomorrow. I've also learned that I'm much happier when there's a full vegetable drawer to turn to. Hooray for vege box delivery.
When the vegetable drawer is full, this warming vegetable tagine is just the ticket. It's a flexible recipe and a great way to use up different odds and ends. The end result is a glorious, golden bowl of fragrant deliciousness.
Jump to:
What's a tagine anyway?
Tagine are slow cooked savoury stews, named after the traditional cone-shaped cooking vessel used in Morocco and other north west African countries. A lidded casserole or slow cooker also does the job very well, so you can try this recipe even if you don't have a tagine at home.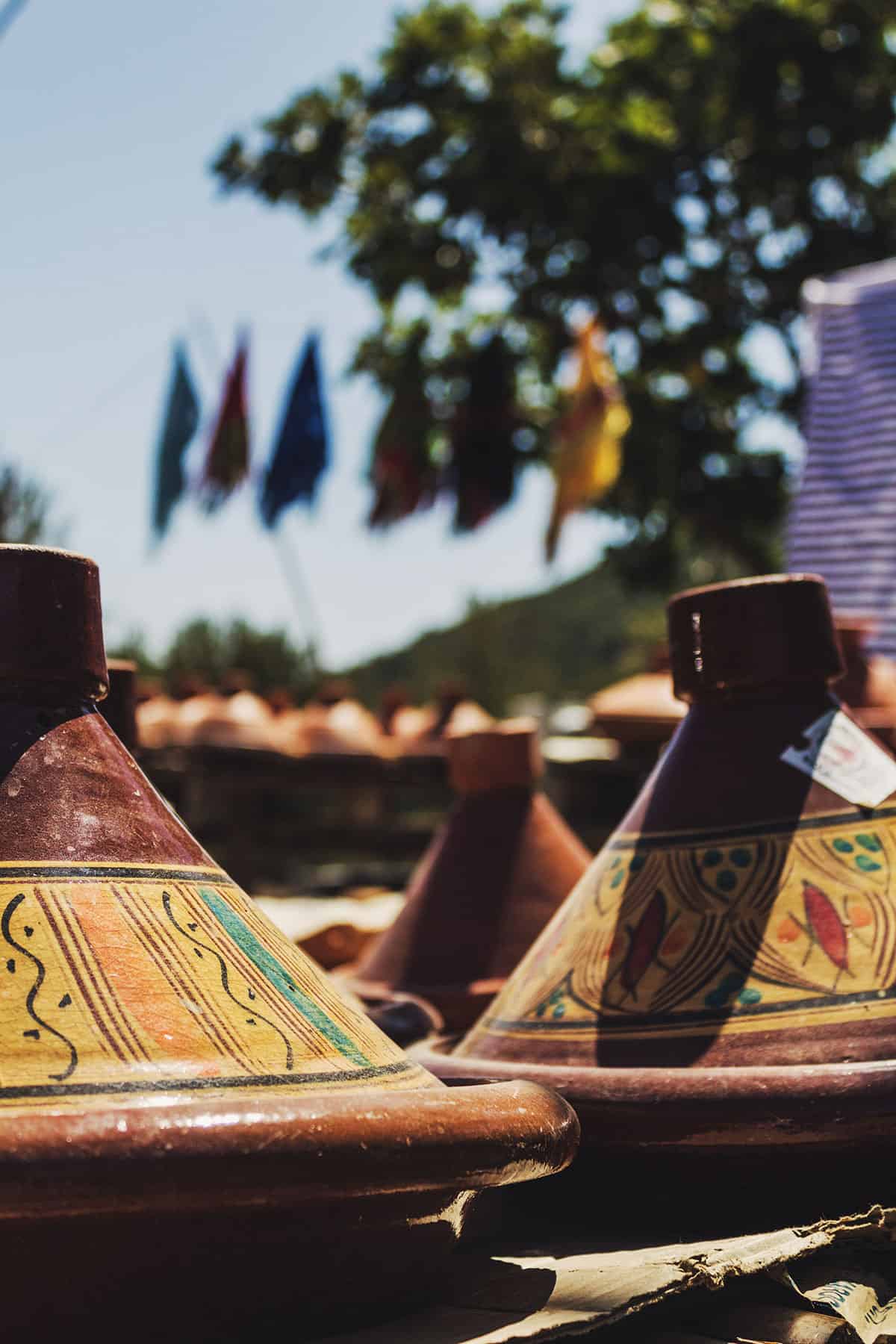 What's in a tagine?
Most tagine recipes layer meat, vegetables and sometimes fruit with spices, oil and water, before slow cooking to achieve a tender texture and richly flavoured cooking liquid that just begs to be mopped up with bread.
Vegetable-only tagines are also common - I tried a traditional seven vegetable tagine in Marrakesh about 10 years ago. It wasn't actually that memorable (a bit on the bland side), but it's stayed with me ever since because I knew it could have been, should have been, something delicious. It all comes down to the spices.
Preserved lemon and olives are often used in meat tagine recipes, but less so in vegetable tagines. I'm not sure why, when their burst of bright salty flavour is just as welcome in a vegan tagine. I've used olives and fresh lemon in this recipe - but if you have preserved lemon available go ahead and add some.
Make your own ras el hanout spice blend
This vegetable tagine is flavoured with a heady ras el hanout spice mix and studded with olives which provide a salty contrast to the tender vegetables.
Ras el hanout means 'head of the shop' in Arabic and every spice seller has their own signature blend. You can save time by buying ras el hanout or a simple Moroccan spice blend from the supermarket, but I encourage you to try making your own for the best results.
You'll need a well stocked spice shelf, but it's otherwise easy to make your own ras el hanout in a few simple steps.
Toast whole spices until fragrant: fennel, cumin and coriander seeds.
Grind toasted spices, then mix with ground paprika, ginger, cinnamon, turmeric, cloves, cardamom, white pepper and cayenne pepper.
Store in a small jar or airtight container. This recipe makes enough for two tagine meals.
This spice mix is warming, fragrant, a little sweet and spicy, but ultimately it's full flavoured and comforting. My children love this meal and we all enjoy slurping up the last of the golden liquid from our bowls. It's simply delicious.
Substitutions - use what you have
I used shallots, eggplant, potatoes, carrot, tomato, olives, cauliflower and chickpeas in this tagine, but it's a flexible recipe and you can change things up to use the vegetables you have. Just the kind of recipe we need right now huh?
To me the potatoes and olives are non-negotiable, they form the backbone of the tagine and it wouldn't be the same without them. You can however use whatever variety of potato or olive you have available.
Here are some other easy swaps you can make.
Swap shallots for regular onions, cut into segments or chunky pieces. Use red if you have them, but brown or white onions would also be fine.
Swap eggplant for zucchini, or leave it out entirely.
Add more carrot, this is an easy way to make the tagine go further.
Add capsicum (bell pepper) cut in chunky pieces, it would be right at home here.
If you don't have cauliflower, you could leave it out and increase the quantities of everything else.
Try adding other vegetables like pumpkin, turnip, parsnip or fennel bulb.
If you don't have a whole cup of olives available, just use less, but add a little salt to make up for it.
Use any canned bean instead of chickpeas - cannellini beans or butter beans also would work really well.
When making substitutions, keep in mind the relative cooking time of different vegetables. Zucchini will cook very quickly, so might be better added 10-15 minutes before the end of cooking time.
Try and use a similar ratio of vegetables to cooking liquid, and ensure vegetables that are essential to cook through properly (like potatoes) are well submerged at the bottom of your cooking dish.
If you have a crowd to feed you can easily increase the quantities here - just increase the quantity of cooking liquid and spices accordingly.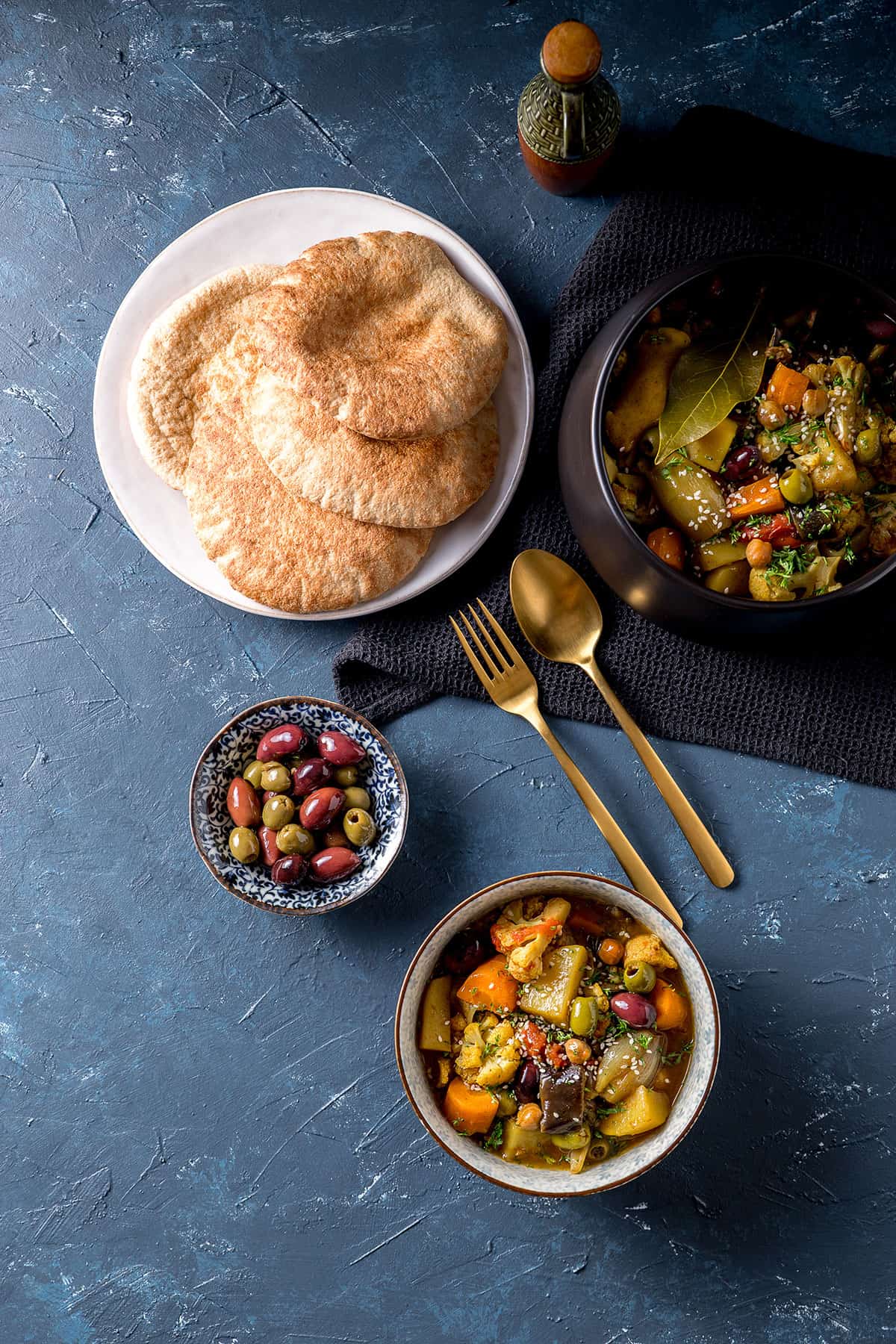 Get the recipe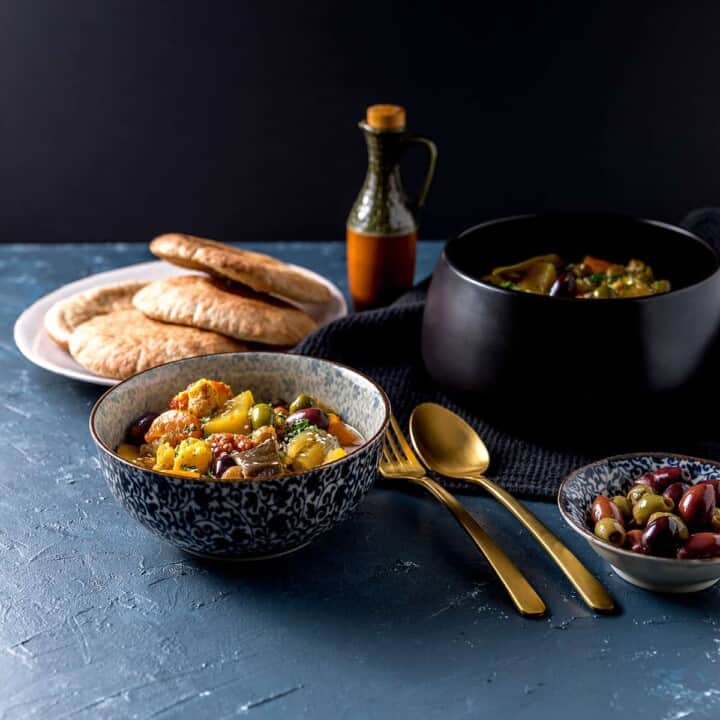 INGREDIENTS
For the ras el hanout spice mix:
1

teaspoon

fennel seeds

1

teaspoon

cumin seeds

1

teaspoon

coriander seeds

2

teaspoon

paprika

2

teaspoon

ground ginger

1

teaspoon

ground cinnamon

1

teaspoon

ground turmeric

½

teaspoon

ground cloves

½

teaspoon

ground cardamom

½

teaspoon

ground white pepper

¼

teaspoon

cayenne pepper
For the vegetables:
3

tablespoon

extra virgin olive oil

8

shallots

peeled and halved (or 1 chopped onion)

1

eggplant

2-3

waxy potatoes

1

carrot

1

tomato

1

cup

olives

½

head

cauliflower

½

cup

cooked chickpeas
For the cooking liquid:
2 ½

cups

vegetable stock

3

cloves

garlic

crushed or finely grated

2

tablespoon

ras el hanout spice mix

1

teaspoon

honey

or sweetener of your choice

1

bay leaf

1

strip

lemon peel

pith removed

Juice of half a lemon

Pinch

saffron threads

(optional)

¼

teaspoon

salt

Black pepper
To garnish:
Parsley

finely chopped

Toasted sesame seeds
INSTRUCTIONS
Start by making the ras el hanout spice mix. Toast fennel, cumin and coriander seeds in a dry frying pan until fragrant. Cool, then grind in a mortar and pestle or spice grinder. Combine with remaining spices and store in a small jar. This makes enough spice mix for two tagines. 

Preheat oven to 200°C fanbake. Cut eggplant, potatoes, carrot, tomato and cauliflower into even sized chunks, roughly 2-3cm. 

Heat olive oil in a frying pan and cook shallots until golden and tender. Remove shallots from the pan, then use the remaining oil in the pan to cook the eggplant until beginning to brown on all sides. 

While the shallots and eggplant are cooking, combine all cooking liquid ingredients in a saucepan and gently heat until just simmering and honey has dissolved.

Put the potato, carrot, tomato, olives, eggplant and shallots into a tagine or lidded casserole and stir or toss so they're evenly distributed. Arrange the chopped cauliflower and chickpeas on top – they don't need as much cooking. 

Pour the hot cooking liquid over the vegetables, put the lid on, then bake for 45-60 minutes or until the potatoes are tender. 

Garnish with chopped parsley and toasted sesame seeds. Serve tagine in bowls with crusty bread to mop up the juices, or with lemony couscous or rice. 
RECIPE NOTES
You can also cook this tagine in a slow cooker for 4-5 hours on high. I prefer the flavour and texture of the tagine when cooked in the oven, but happily use the slow cooker to have a cosy meal ready to come home to on a busy day.
Recipe first published in the Autumn 2020 issue of Nourish magazine.
NUTRITION INFORMATION
Calories:
369
kcal
|
Carbohydrates:
52
g
|
Protein:
9
g
|
Fat:
17
g
|
Saturated Fat:
2
g
|
Sodium:
1381
mg
|
Potassium:
1392
mg
|
Fiber:
14
g
|
Sugar:
15
g
|
Vitamin A:
3863
IU
|
Vitamin C:
57
mg
|
Calcium:
151
mg
|
Iron:
5
mg