This Thai-style coleslaw with a zingy lime and tamarind dressing and crunchy peanuts packs some serious flavour.
Thailand has to be one of my favourite holiday destinations, and the food is one very good reason for that!
Last time I was there I had a really memorable som tam bought from a street market on Koh Samui. The shredded green papaya salad was packed with tiny birds eye chillis and dried shrimp, and dripping in a pungent dressing with a lot of fish sauce in it. It was sold to me in a knotted plastic bag, which I carried nervously back to my guesthouse (who wants fish sauce spilling in their bag, I ask you?) to enjoy on the deck with a cold Singha beer. The authentic version of this salad is probably an acquired taste for some, but it rocked my world that day.
Here's the guesthouse deck. Love.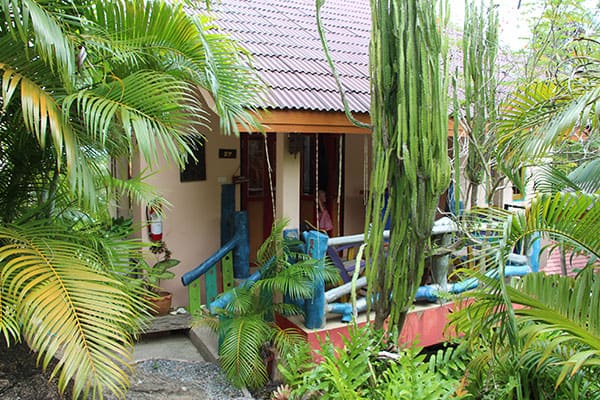 This recipe is a simplified version that uses ingredients more commonly available in New Zealand. I've left out the fish sauce to keep this vegan and a bit more familiar tasting, but if you like fish sauce then you could add 1 teaspoon to the dressing for a more complex taste.
Tamarind adds a delicious sour note to the dressing. The cheapest way to is to buy a block of tamarind, soak some in boiling water then push through a sieve (keeping the soaking water and sieved puree, and discarding the fibrous mess left in the sieve). You could also buy pre-prepared tamarind puree or paste. All options are available from Asian supermarkets, and from many regular supermarkets in New Zealand too. Pastes and purees vary in strength so i'd start by adding 1 tbsp, tasting your dressing then adding more if necessary.
You can turn this into a meal in lots of different ways. Here are some ideas.
Serve alongside a bowl of sticky rice.
Up the nuts, and add avocado to make it more substantial.
Cook and cool some vermicelli noodles and add them to the salad.
Add fried tofu or tempeh, or protein of your choice.
Serves 2-4, depending on what you have it with.
Get the recipe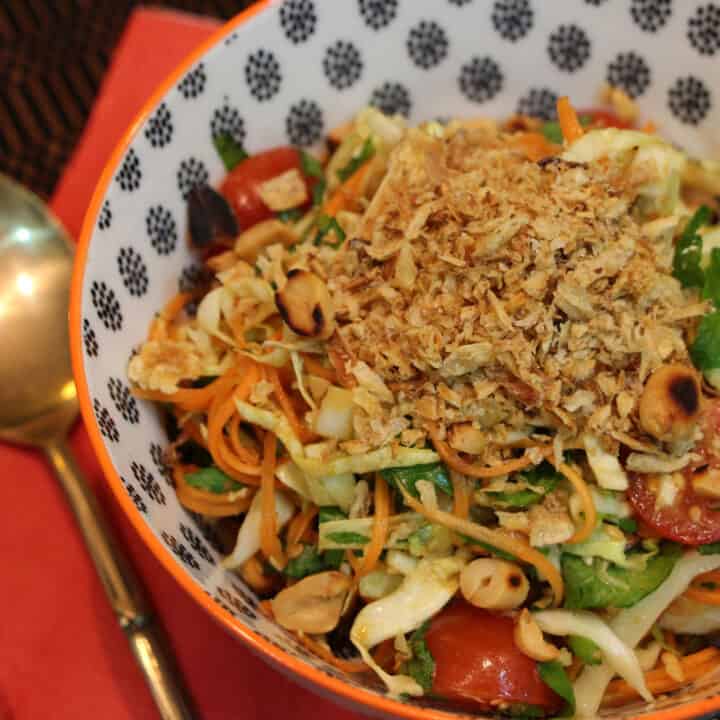 INGREDIENTS
For the salad dressing:
Juice of 2 limes

½

cup

tamarind pulp and water

(I soaked about ⅛ of a block of tamarind pods in ½ cup of boiling water then pushed through a sieve)

1

tablespoon

tamari

1

tablespoon

brown sugar

1

tablespoon

sesame oil

2

tablespoon

toasted sesame seeds
For the salad:
¼

of a cabbage

finely sliced

2

carrots

shredded or grated

10

cherry tomatoes

halved

Large handful of fresh coriander

roughly chopped

Large handful of fresh mint

roughly chopped

4

leaves

kaffir lime

very finely sliced (optional, I have a tree so they're easy to include for me, but don't sweat it if you don't have any)

¼-1/2

cup

roasted peanuts

roughly chopped, even better if you roast them yourself

1

red chilli

finely sliced (optional)

Packaged fried shallots
INSTRUCTIONS
For the salad dressing:
Mix dressing ingredients together and set aside.
For the salad:
Put everything except for the shallots in a big mixing bowl.

Pour over the dressing and give everything a good mix with your hands - messy but it really is the only way!

Leave it to sit while you're getting the rest of your meal ready, or put it in the fridge for later. The acid in the dressing will collapse the cabbage quite a lot, and you want it to. Once it's sat for a while it'll be soft and juicy, and totally delicious.

Serve topped with fried shallots. It's also excellent with a drizzle of sriracha chilli sauce...