A lush apricot meringue pie with a creamy apricot and cashew filling, and a billowy aquafaba meringue topping.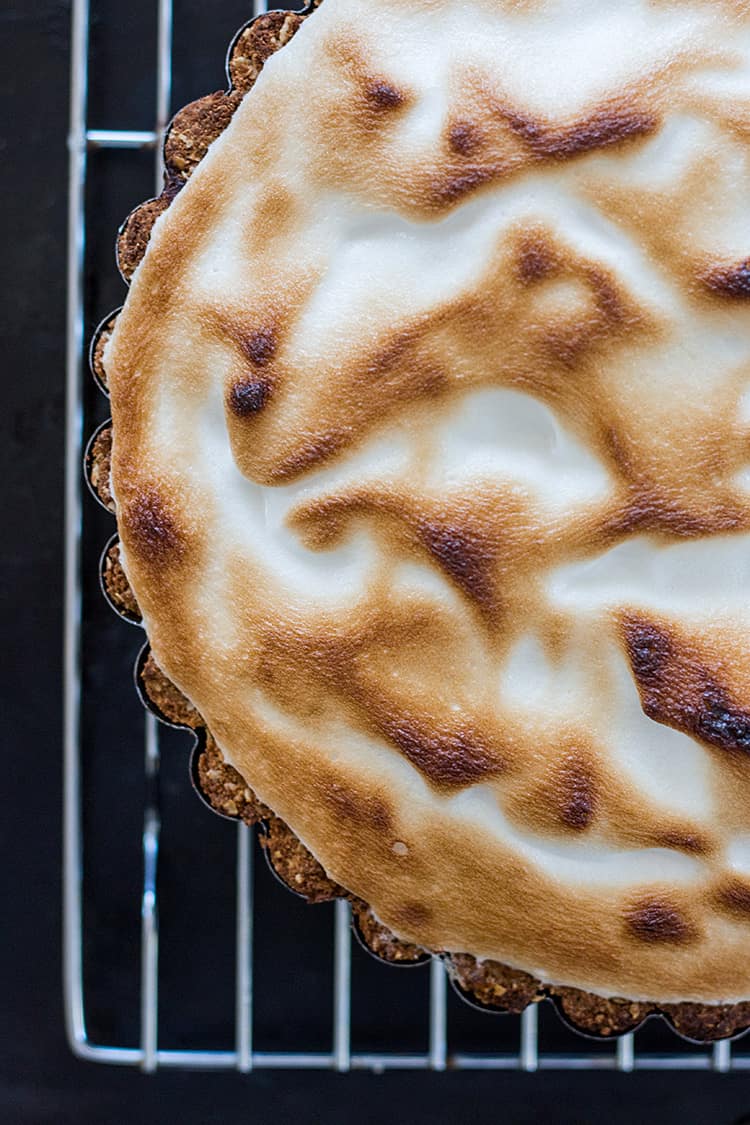 I spent a long time deciding what to call this dessert. It could have been an apricot cashew cheesecake meringue pie. It could have been an apricot and cashew tart with vegan meringue topping. There are quite a few variations, and none exactly roll off the tongue. So what we have here, folks, is an apricot meringue pie. Vegan. And gluten free. And a bit cheesecakey.
Right let's move on from its name! This lush dessert has a crumbly oat-based biscuit crust, a creamy filling made with dried apricots and cashews, and an aquafaba meringue topping.
If you're new to aquafaba, it's the liquid in a can of chickpeas. True story. I've been experimenting with it on and off over the past year, to varying degrees of success. It behaves similarly to egg white and is an amazing alternative ingredient to use in meringue, mousse, aioli and ice cream. Though it was an utter failure when I tried to make something like this with it. Today I used it as the billowy meringue topping for this lovely apricot meringue pie. The meringue only gets a few minutes in the oven to brown, so it doesn't set with the same marshmellowy thickness you might be used to in a traditional meringue, but it's still a lovely counterpoint to the rest of the dessert.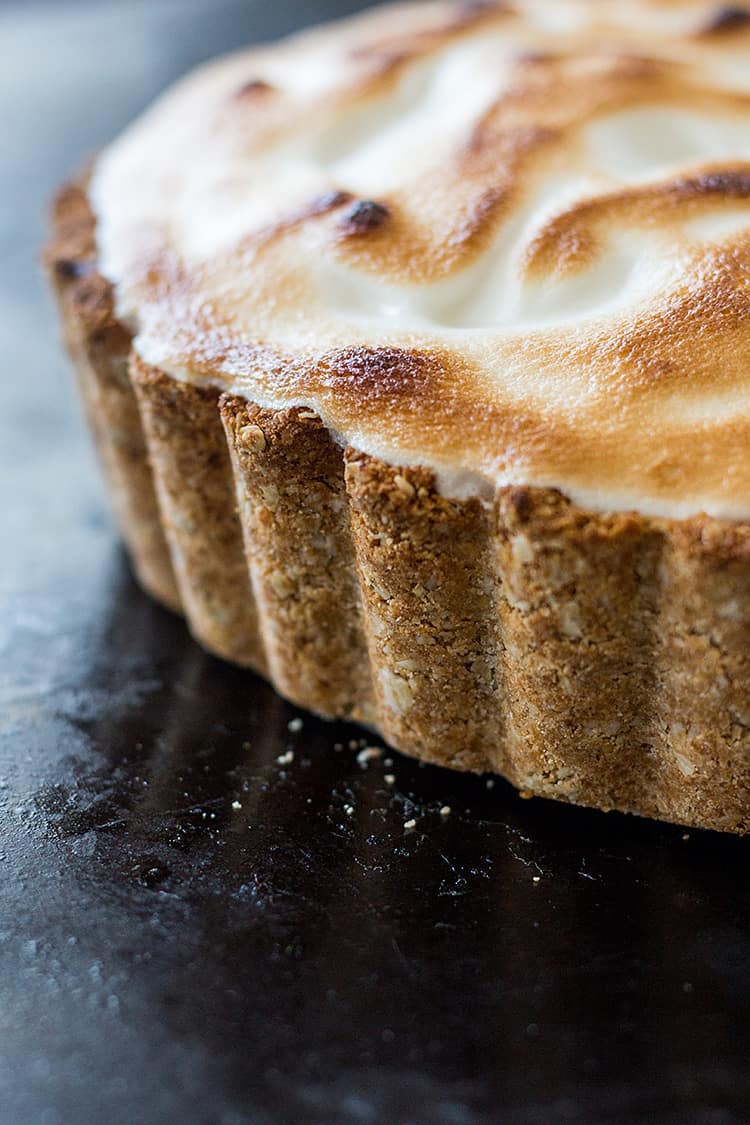 Apricot meringue pie
I thought about making a version of a traditional lemon meringue pie filling here, but it's basically eggs, butter and a lot of sugar, stabilised with a bit of cornflour. So, nah. This is the easiest plant-based alternative ever with only four ingredients in the filling (five if you count water).
I soaked raw cashews and dried apricots in boiling water for about 15 minutes before blending them with a little lemon juice and coconut oil, and enough water to reach a smooth but thick consistency. If you've got time on your hands you can soak the nuts and apricots overnight in cold water instead - up to you.
This apricot meringue pie filling is delicious, sweet and creamy, and a little tangy. Really lovely. You can serve it raw (chill in the fridge to set) or baked, as I did.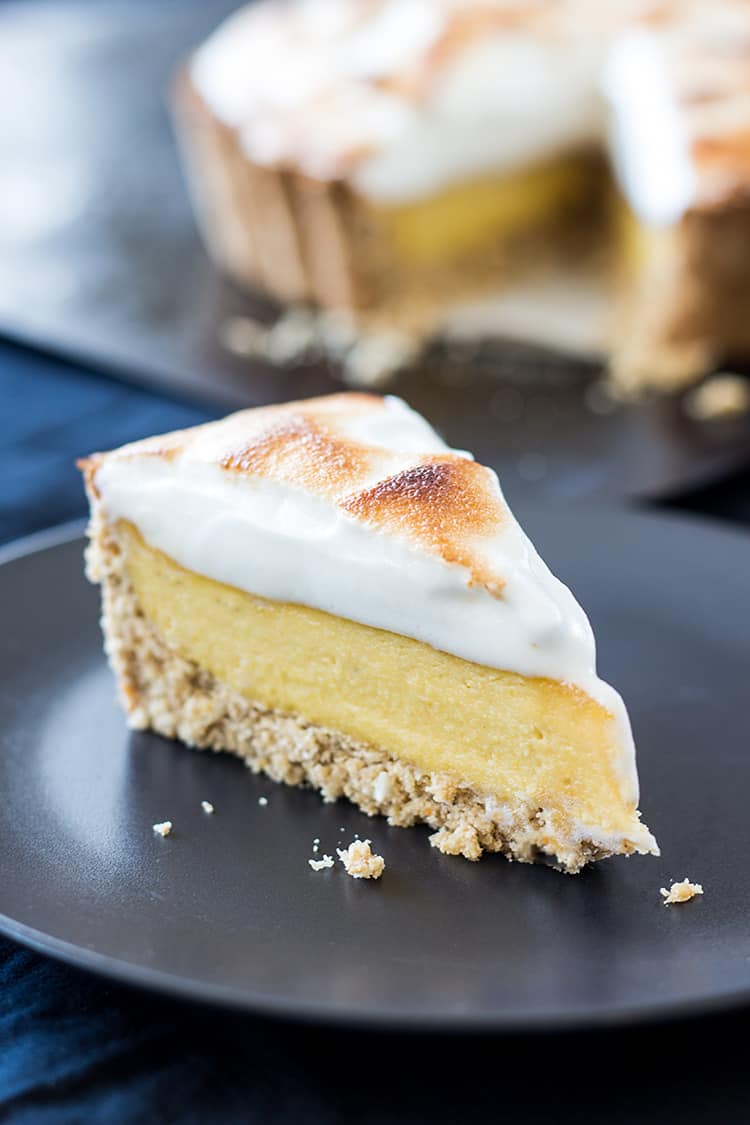 Choose your own bottom
Haha, if only we could, right? I don't think I'd go Kardashian style though, just sayin'. I digress.
I'm an okay baker but I'm the first to admit the science of baking isn't my strongest point in the kitchen. This base is pretty good though, it's biscuitty, crumbly, lightly sweet and quite coconutty. It is NOT a light and crisp pastry though, nor is it a melt in the mouth short pastry. If you'd prefer something like that, go ahead and use one of those things, or your own favourite pie crust recipe.
I baked this crust blind for 10 minutes until lightly golden, before adding the filling and baking for an additional 20 minutes. The same method should work with most pastries or crusts.
You could also go raw if you like, as the filling doesn't actually need baking. The base of my lime and vanilla vegan cheesecake or my grapefruit and black pepper vegan cheesecake would both work well. If you try it this way, just put the filled pie in the fridge to set for an hour or so before you do the meringue topping.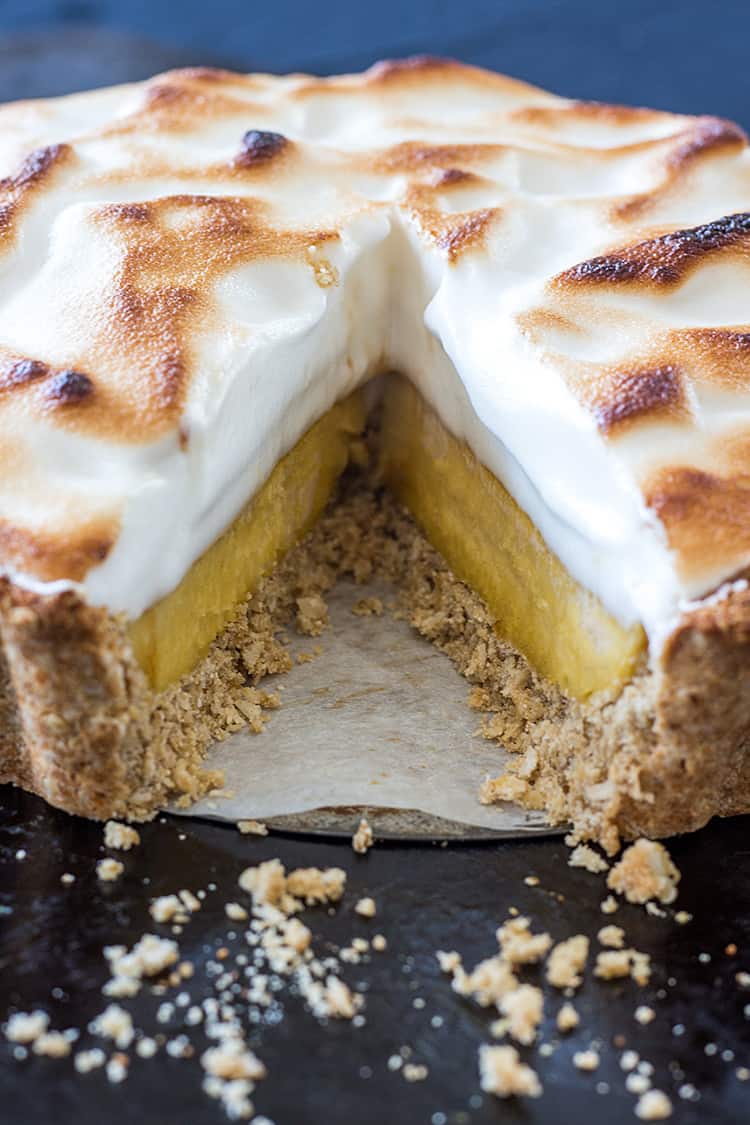 Get the recipe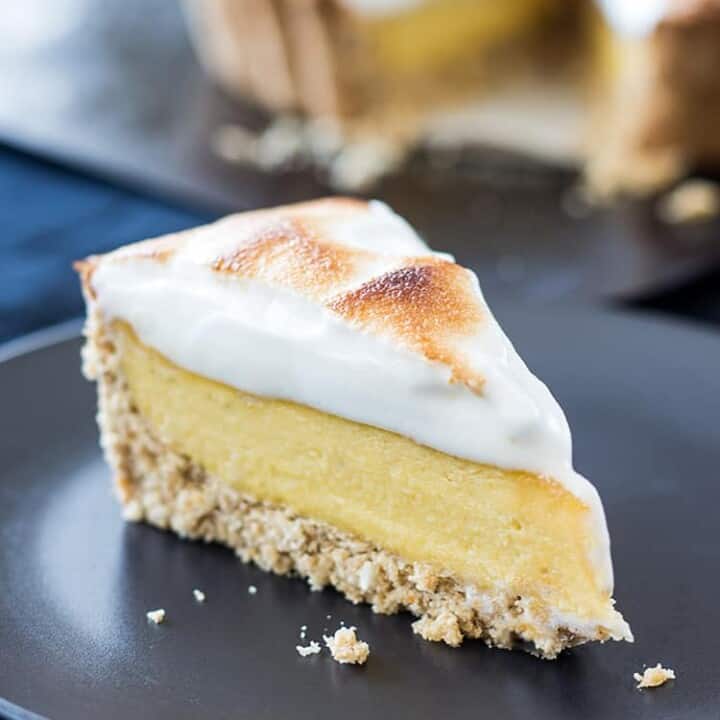 INGREDIENTS
For the base:
1 ½

cups

rolled oats

(gluten free if required)

½

cup

coconut flour

½

cup

dessicated coconut

¼

cup

coconut sugar

or sugar/sweetener of your choice

¼

cup

boiling water

6

tablespoon

coconut oil

melted if solid
For the filling:
1

cup

dried apricots

1

cup

raw cashews

2

tablespoon

coconut oil

melted if solid

2

tablespoon

lemon juice

Up to 1 cup boiling water
For the meringue topping:
¾

cup

aquafaba

(liquid from one 400g can of chickpeas)

¾

cup

caster sugar

1

teaspoon

natural vanilla extract
INSTRUCTIONS
Preheat oven to 180C (350F).

Line a 22cm (approx. 8.5 inch) spring form pie or tart tin with baking paper on the bottom, just to be safe.

Put dried apricots and raw cashews into a large bowl and cover with boiling water, set aside to soak for about 15 minutes.

Mix dry base ingredients together in a large mixing bowl. Add coconut oil and boiling water, and mix well with your hands until the mixture clumps together when squeezed.

Use your hands to press the mixture evenly into the bottom and sides of your pie tin. Finish with the back of a spoon or something smooth to get a smooth finish.

Bake for 10 minutes, or until lightly golden brown.

While the base is baking, drain apricots and cashews, then add to a high speed blender or food processor. Add coconut oil and lemon juice, then blend while adding boiling water, until the mixture is thick and completely smooth (I used ¾ cup of water).

Scrape filling into the pie base and spread evenly.

Bake for another 20 minutes, or until the filling feels set and is lightly golden on top. The crust should be darker golden brown, but not burned.

Remove from the oven and allow to cool to room temperature.

Turn the oven up to 250C (480F) and flick it to grill (broil).

Put the aquafaba into a large and perfectly clean mixing bowl (make sure it has no greasy residue).

Whip with an electric beater until thick and foamy, it'll take longer than egg whites but just keep going. Add sugar one or two tablespoonfuls at a time, and keep beating for another 10 minutes or so, until you've used all the sugar and you have a stiff, glossy meringue mixture. Add vanilla extract at the end and whip to combine.

Spoon dollops of meringue over the surface of the pie (or use a piping bag and do it daintily, if you prefer). I like to pile lots on and give it a pretty rustic finish. There'll be more meringue than you need - I had about ¼ of the mixture left over.

Put the pie in oven and watch it like a hawk! Seriously, don't walk away. It'll take 1-2 minutes to brown the peaks of the meringue, and it burns very easily! Take it out as soon as it's done.

Let the pie cool for 5-10 minutes before carefully removing the tin and serving.

This pie is best served right away, or at least on the day it's made. The base and filling are still just as nice the next day, but the meringue flops a little and isn't at its best anymore.
RECIPE NOTES
Prep time does not include cooling time.
NUTRITION INFORMATION
Calories:
470
kcal
|
Carbohydrates:
58.4
g
|
Protein:
8.1
g
|
Fat:
24.8
g
|
Saturated Fat:
14.7
g
|
Cholesterol:
0
mg
|
Fiber:
6.3
g
Nutrition Facts
Vegan apricot meringue pie
Amount Per Serving
Calories 470
Calories from Fat 223
% Daily Value*
Fat 24.8g38%
Cholesterol 0mg0%
Carbohydrates 58.4g19%
Protein 8.1g16%
* Percent Daily Values are based on a 2000 calorie diet.