A healthy plant-powered bowl of red rice, salad and Balinese style fried tempeh and peanuts with a fresh tomato and chilli sambal.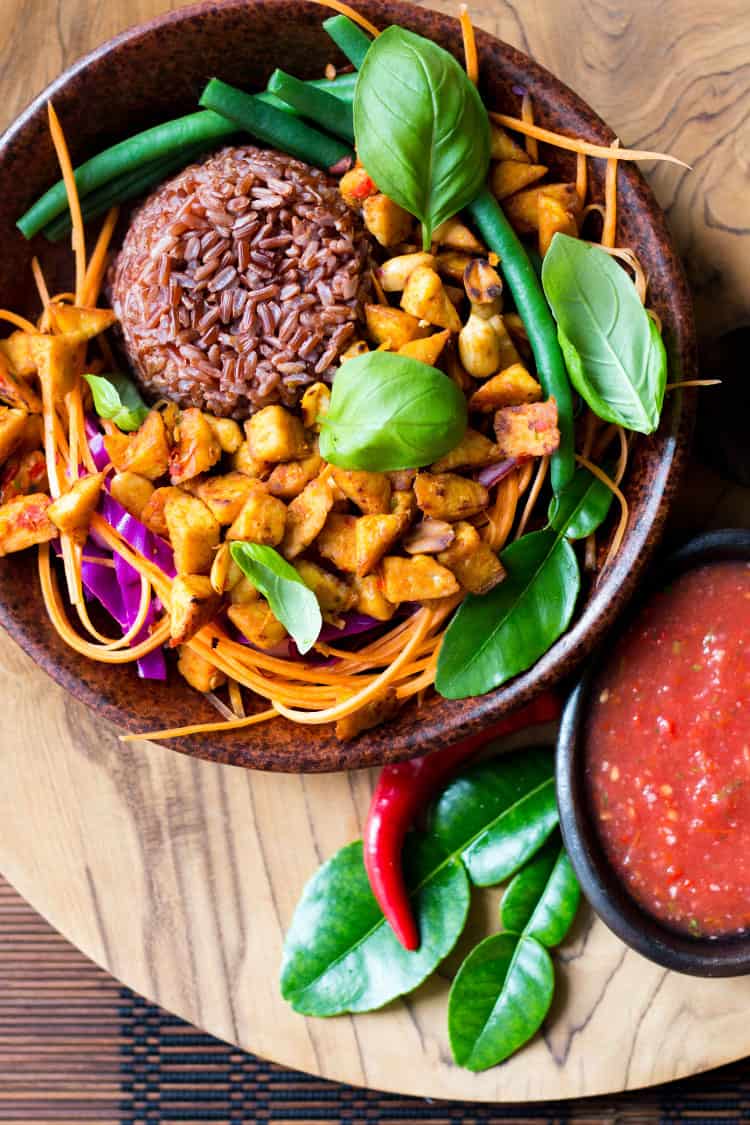 Was it all a dream? Having just spent an at times surreal seven weeks in Bali and Lombok I'm a little shell shocked to suddenly find myself back at home, on a rainy Autumn day in New Zealand. What seemed like such a long trip back when we planned it, went by with lightning speed and still left me longing for more.
We began our time in Bali with a month in a private villa in Canggu, an area well away from the tourist trap of Kuta and popular with expats. We found it a really cost effective and family friendly area to be, and with a kitchen included as part of the package it seemed ideal. Unfortunately reality doesn't always live up to expectation, and the kitchen we found ourselves with was so poorly equipped that anything more than basic breakfasts and fruit platters were a pain to prepare.
When food from roadside warungs could feed the whole family for $4-8 NZD we weren't too concerned, but the situation did force me to take a much longer than expected break from Quite Good Food. It was a good lesson in not getting upset about the things you can't control, and the silver lining was that we didn't hold back from sampling all of the very, very good food Bali has to offer.
Bali is a dream food destination
Bali is a funny place. Kuta is full of package tourists there to enjoy cheap beers and steaks in sports bars. Many Kuta restaurants are the stuff of 'Ramsay's Kitchen Nightmares' and it can be pretty tricky to find what I consider good food.
However, travel outside Kuta to places like Seminyak, Canggu and Ubud, and you'll find a plethora of both modern and traditional, healthy plant-based options including fresh juices, health tonics and kombucha, cold brew coffee, raw vegan desserts, smoothie bowls, killer salads, spicy noodle and rice dishes, veggie burgers, and of course, tempeh prepared 367 different ways.
About tempeh
Tempeh is a traditional Indonesian soy product made in a natural culturing and controlled fermentation process that binds whole soybeans into a block or cake form. Tempeh's fermentation process and retention of the whole bean make it high in protein, fibre and vitamins. It's stronger tasting than tofu, with a nutty, earthy flavour and firm texture that lends itself well to many uses.
I've probably eaten more tempeh over the past two months than in the rest of my life so far - it is absolutely ubiquitous in Indonesia as one of the country's primary protein sources. I was stunned by how inexpensive it is to buy - around $3,000 IDR (or 30 cents NZD) for a block which comes wrapped in banana leaves. That price was to buy it at a supermarket too, so it's probably even cheaper at local markets.
Tempeh is usually served in at least two or three different ways at each roadside warung: fried in large wedges, crumbled and fried until very crispy with chilli, or perhaps cut into small slices and fried with greens. I'm partial to all of those ways, and particularly enjoy it with gado gado (vegetables and peanut sauce) or fried with a spicy tomato sambal.
Make a quick and fresh tomato sambal
There are countless variations on Balinese sambal: red or green, cooked or raw, with or without ginger or oil, smooth or chunky. The list goes on.
The simplest sambal you can make is a quick fresh sambal with raw tomatoes. If you have a large enough mortar and pestle then make it by hand for the best results, otherwise do what I did here and throw the ingredients into your food processor.
The core ingredients for this tomato sambal are fresh tomatoes (the riper the better), shallots or red onion, garlic and chilli. I also added kaffir lime leaves (substitute with a little lime juice if you don't have any).
You'll have to use your own judgment on the amount of chilli to use - depending on how hot you like your food, and the strength of your chillis. I made this recipe for a friend who can't take much heat, so I used two large, mild, chillies. If I was making it for myself with those same chillies, I'd probably use about five. Even better, if you have different types of chillis available you could use a few mild chillis and 1-2 small hot chillis - combining chillis this way is what a traditional Balinese cook would do.
I blended everything together with one chilli, then tasted and added another. I'd suggest doing the same, you can always add more but you can't easily fix something that's too spicy to eat.
Once the sambal was ready, I fried tempeh and peanuts until well coloured then added a good splash of tomato sambal to the pan - around ⅓ of a cup. The liquid cooks away quickly and coats the tempeh and nuts with its fragrant spiciness. The remaining sambal can be served as a condiment with your meal.
Balance your bowl with rice and salad
Balance your bowl with rice and salad on the side. I used red rice, and worked with what I had for the salad, which was shredded red cabbage, carrot and blanched green beans. A light dressing of lime juice and sesame oil brings the flavours together with the rest of the dish.
Choose some fresh herbs for added brightness of flavour. I enjoyed a tempeh dish in Bali that came with piles of lemon basil, an astoundingly good combination with spicy flavours. I couldn't find any locally and don't have any in my garden right now, so I used regular basil in this dish. Mint, dill or coriander would also work.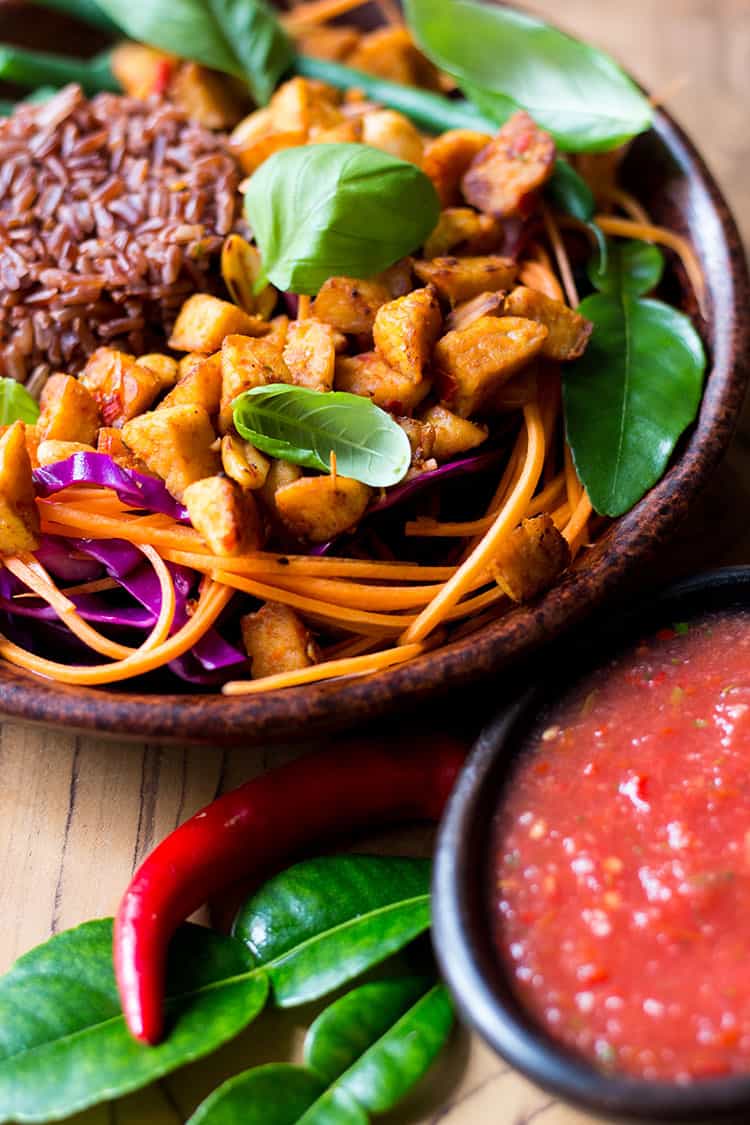 Get the recipe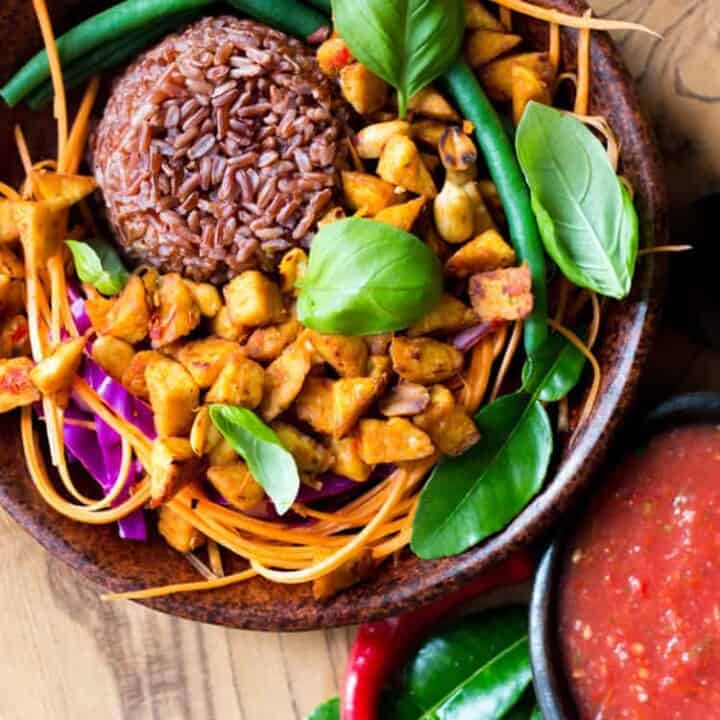 INGREDIENTS
For the tomato sambal:
3

tomatoes

2

shallots

or small red onions

4

cloves

garlic

2-5

red chillies

seeds removed

2

kaffir lime leaves

finely sliced

½

teaspoon

palm sugar

or soft brown sugar

½

teaspoon

salt
For the tempeh:
125

g

tempeh

(half a packet), sliced or crumbled into small pieces

¼

cup

peanuts

1

tablespoon

coconut oil
For the salad:
2

cups

red cabbage

shredded

1

carrot

shredded or grated

1

cup

green beans

(a large handful)

1

tablespoon

lime juice

(juice of half a lime)

1

teaspoon

sesame oil
For the rice:
1

cup

red rice

or brown

Handful

basil leaves

or fresh herbs of your choice
INSTRUCTIONS
For the tomato sambal:
Starting with one chilli, put all ingredients into a blender (or mortar and pestle) and process until reasonably smooth. Taste and add more chillies until the sambal is at your desired level of spiciness. Adjust seasoning to taste, with more salt or sugar.
For the rice:
Cook rice according to packet directions (usually takes about 30 minutes for red or brown rice).
For the salad:
While your rice is cooking, prepare your salad.

Bring water to a boil in a small saucepan. Blanch green beans for three minutes, then remove to a colander/sieve and run under cold water to cool immediately.

Put shredded red cabbage, carrot and beans into a mixing bowl. Pour over lime juice and sesame oil and toss to coat.
For the tempeh:
About five minutes before you're ready to serve, heat coconut oil over a medium-high heat in a large frypan (skillet).

Add tempeh to the pan and fry until golden brown.

Add peanuts to the pan and fry for another 1-2 minutes or until golden (but not burned).

Add a good splash of tomato sambal - around ⅓ of a cup and continue frying. The liquid will quickly cook away and coat the tempeh and peanuts.
To serve:
Serve Bali bowls with a portion of red rice and salad, top with the hot tempeh and peanuts, a handful of fresh herbs, and extra tomato sambal on the side.
NUTRITION INFORMATION
Calories:
781
kcal
|
Carbohydrates:
114
g
|
Protein:
29
g
|
Fat:
26
g
|
Saturated Fat:
9
g
|
Cholesterol:
0
mg
|
Sodium:
663
mg
|
Potassium:
1619
mg
|
Fiber:
10
g
|
Sugar:
16
g
|
Vitamin A:
8435
IU
|
Vitamin C:
155.3
mg
|
Calcium:
230
mg
|
Iron:
5.9
mg
Nutrition Facts
Bali bowl with tempeh, peanuts and tomato sambal
Amount Per Serving
Calories 781
Calories from Fat 234
% Daily Value*
Fat 26g40%
Cholesterol 0mg0%
Sodium 663mg29%
Potassium 1619mg46%
Carbohydrates 114g38%
Protein 29g58%
Vitamin A 8435IU169%
Vitamin C 155.3mg188%
Calcium 230mg23%
Iron 5.9mg33%
* Percent Daily Values are based on a 2000 calorie diet.