Sweet, sour, salty, spicy and savoury rojak is a delicious and refreshing Malaysian style fruit salad spiked with chilli and peanuts.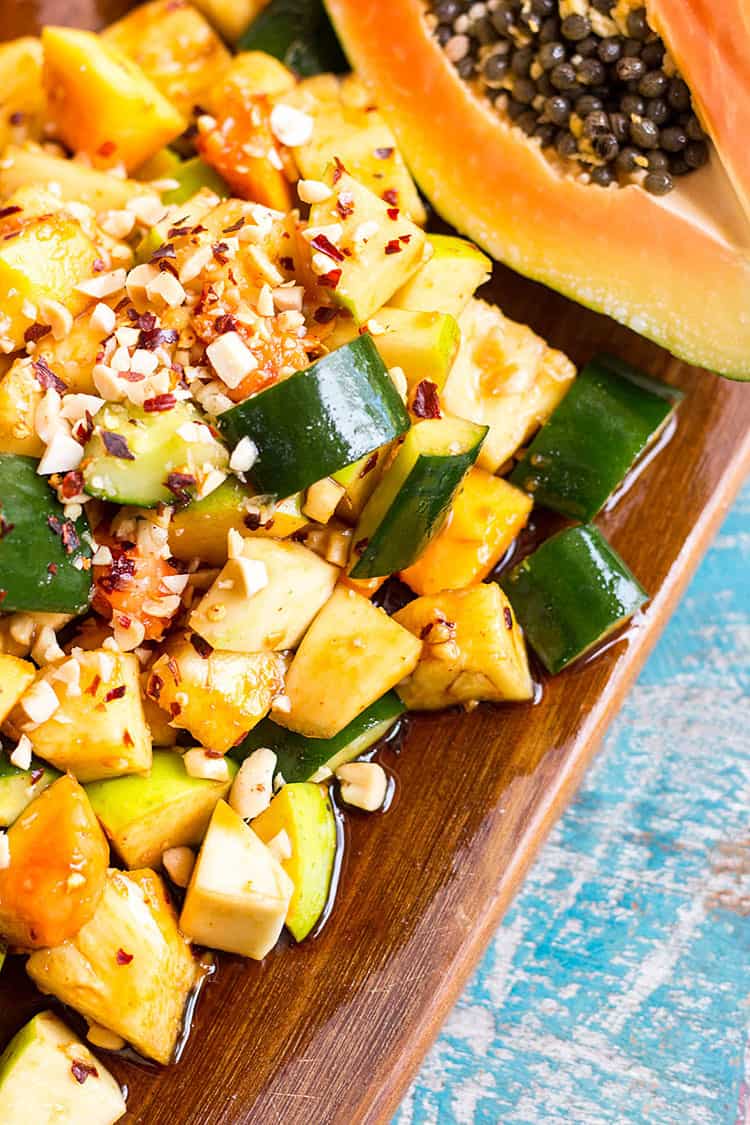 My little NZ family has been on the road for a little over a week now, beginning a seven week trip in Indonesia with a few days in Malaysia. It was our fourth time visiting Kuala Lumpur, and despite my initial misgivings about returning there yet AGAIN, I'd have to say the city is growing on me.
I think there's a common trap when travelling, to imagine that after a few days in a place you've gained an understanding of it and have enough information to make binary yes/no, like/dislike decisions based on a few impressions. It's natural, we're hardwired to put new things into boxes. I was guilty of putting KL into the 'Just another big Asian city' box when I had (and still have) really only experienced a little of what the city has to offer.
Any Malaysian will tell you the city is all about the food, and they'd be right. With the influence of the city's significant Malay, Chinese and Indian populations KL has developed a food scene all its own. It is admittedly a little challenging to find vegetarian or vegan meals at times, but we managed and enjoyed a few knock out meals ranging from modern healthy vegan to traditional pure veg Indian curries in Little India.
I was also incredibly excited by the fruit on offer, which gave me the opportunity for a few firsts. Ripe jackfruit was a delicious discovery, and the champion was the king of fruit: the polarising, love it or hate it durian. My Malaysian sister in law took us out one evening, I mentioned I wanted to try it before we left, and next thing I knew we were at a renowned road side durian stall with a $50NZD musang king durian in front of us. I was a bit nervous, what if I didn't like the incredibly expensive fruit in front of me? I shouldn't have worried. It was indescribably soft and creamy, with a flavour all of its own. It's very full on and very rich, very enjoyable and absolutely a luxurious treat. I'm still a bit puzzled about why some people are so offended by it (many Asian cities have 'no durian allowed' signs in public places).
Malaysian rojak
Rewind to the beginning of that evening, where we started with cold lemongrass sodas, fried snacks and Malaysian rojak - a delicious spicy fruit salad. The rojak we enjoyed included lots of crunchy and sharp fruits and vegetables: cucumber, bitter melon, green papaya, pineapple and something I didn't recognise - potentially jicama or some variety of pear. The fruits were coated in a thick and pungent, sweet and spicy sauce that contained A LOT of chilli, peanuts, some sort of soy base and  something a bit stinky - probably shrimp paste.
The overall effect was very refreshing: crisp and flavourful, savoury, salty and on the money with an ice cold drink alongside. I immediately started dissecting the flavours to think about how I could make it myself (without the shrimp paste).
My version: vegan rojak
I'm now in Bali, with tropical fruit and vegetables at my disposal, but a very under-equipped kitchen to work with. Whipping up a big platter of rojak to enjoy alongside afternoon drinks by the pool was still a breeze - this is a very simple recipe.
Working with what I could find, I used a combination of cucumber, pineapple, green mango, ripe papaya and green apple. Rojak actually means mixture, or eclectic mix, so use what you have and what you like - making sure you have crunchy, sweet and sour represented.
I used Indonesian kecap manis as the base for my sauce - it's almost certainly not in a traditional rojak recipe, but it's thick, sweet and salty and works very well here. You can easily find this in a supermarket at home for a few dollars. I added fresh lime juice, sambal (chilli sauce), dried chilli flakes and finely chopped peanuts to create a sweet, sour, salty, spicy and savoury sauce.
I prefer to enjoy rojak without any stinky fish flavours in there, but if you enjoy it you could probably get away with adding a splash of fish sauce in lieu of the more traditional shrimp paste.
Note: Despite the pictures here, I don't recommend serving this rojak on a board - there's a bit more sauce than strictly necessary and it'll run everywhere! I was working with what I had available.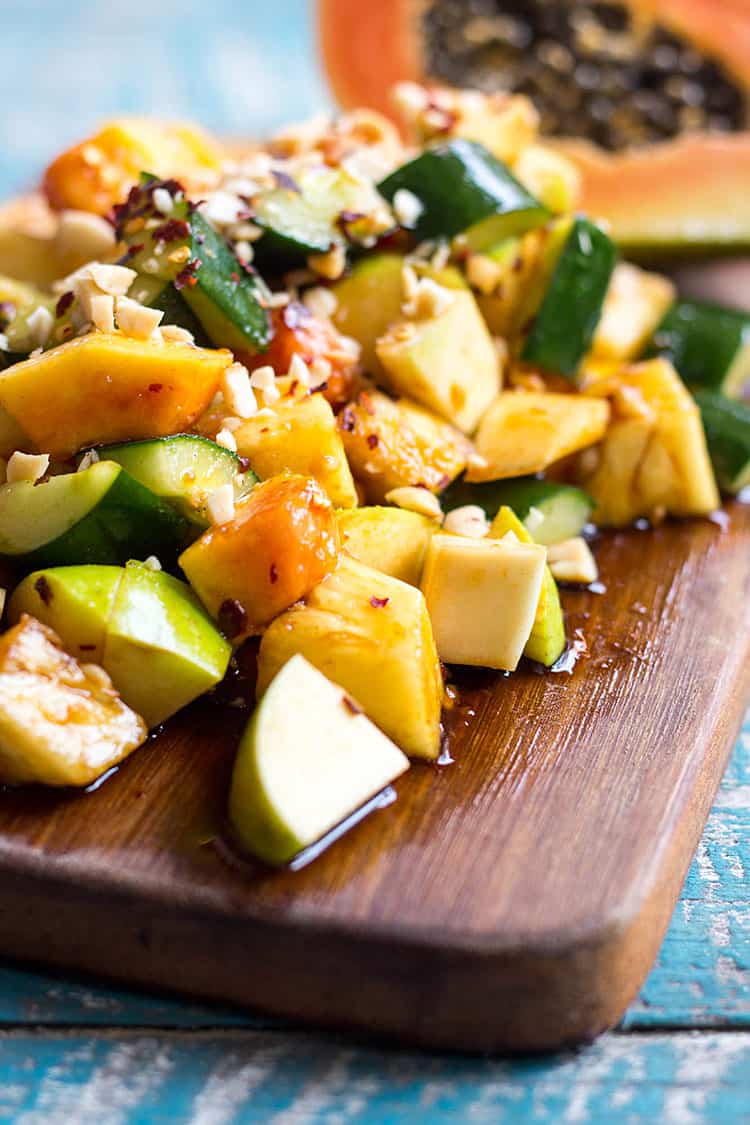 Get the recipe
INGREDIENTS
1

green apple

cored

1

cucumber

(small)

1

green mango

(small) skin removed

1

papaya

(small) skin and seeds removed

1

pineapple

(small) skin removed
For the sauce:
¼

cup

kecap manis

(Indonesian sweet soy sauce)

2

tablespoon

lime juice

freshly squeezed

3-4

tablespoon

peanuts

finely chopped

2

teaspoon

sambal or hot chilli sauce

1-2

teaspoon

chilli flakes

(red pepper flakes)
INSTRUCTIONS
For best results start with chilled fruit. Cut all fruit into even sized chunks and put into a mixing bowl.

Reserving some chopped peanuts for garnish, mix the remaining sauce ingredients together and taste. If you don't like things too spicy, start with less chilli flakes and sambal, adding more to taste. You may also like to add more lime juice. Keep in mind that the overall effect will be less spicy once it's diluted by the fruit salad.

Combine fruit and sauce in the mixing bowl, then tip out onto a serving platter or bowl. Garnish with reserved peanuts, and a little extra chilli flakes, if you like.

Serve with toothpicks or forks to pick at the fruit salad while enjoying an ice cold drink alongside.

NUTRITION INFORMATION
Calories:
212
kcal
|
Carbohydrates:
41.2
g
|
Protein:
5.6
g
|
Fat:
5
g
|
Saturated Fat:
0.7
g
|
Sodium:
888.9
mg
|
Fiber:
6.3
g
|
Sugar:
29.9
g
|
Vitamin A:
650
IU
|
Vitamin C:
166.7
mg
|
Calcium:
60
mg
|
Iron:
1.4
mg
Nutrition Facts
Rojak: Malaysian style spicy fruit salad
Amount Per Serving
Calories 212
Calories from Fat 45
% Daily Value*
Fat 5g8%
Sodium 888.9mg39%
Carbohydrates 41.2g14%
Protein 5.6g11%
Vitamin A 650IU13%
Vitamin C 166.7mg202%
Calcium 60mg6%
Iron 1.4mg8%
* Percent Daily Values are based on a 2000 calorie diet.