Home made black burger buns filled with drool-worthy crispy fried oyster mushrooms and spicy eggplant.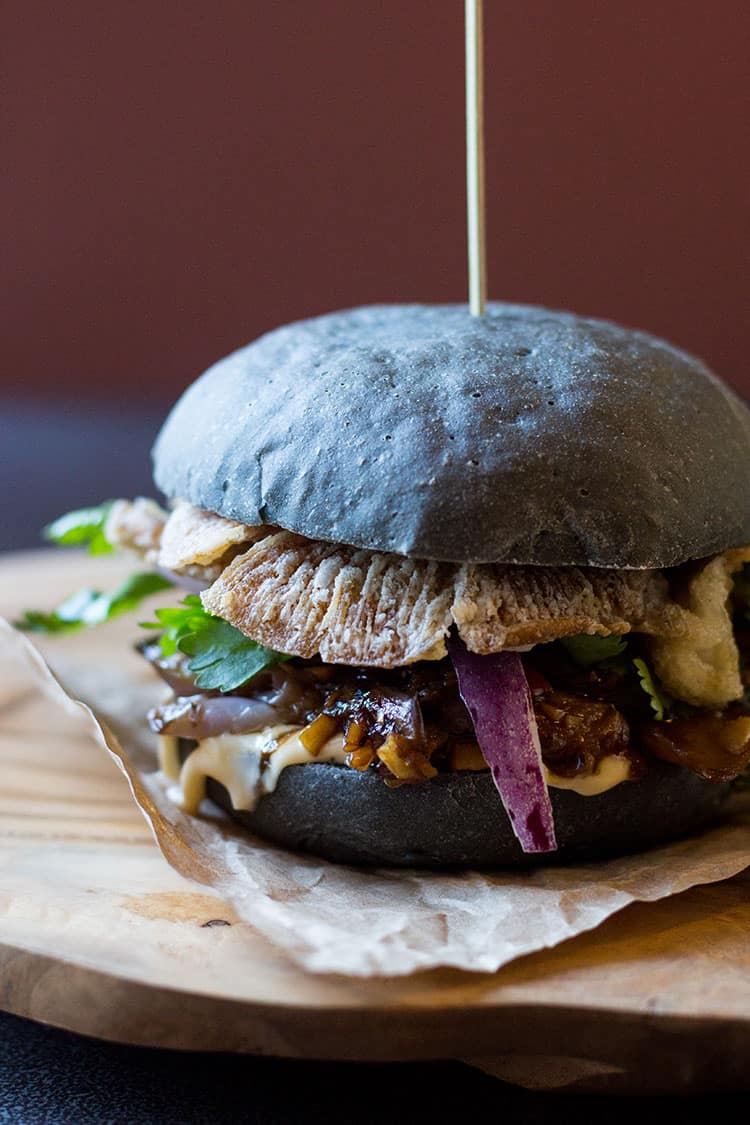 This black burger is so delicious, I've already added it to the menu of the imaginary restaurant I'd love to open one day!
It's a moody looking meal that delivers the big bucks in terms of flavour and manages to combine so many things I love into each tasty mouthful. Crispy, meaty-but-not-meat, fried oyster mushrooms and silky, spicy eggplant cooked with garlic, ginger and a touch of sesame oil are complemented with fresh coriander and red onion. A big smear of mayo or aioli and I'm in burger heaven.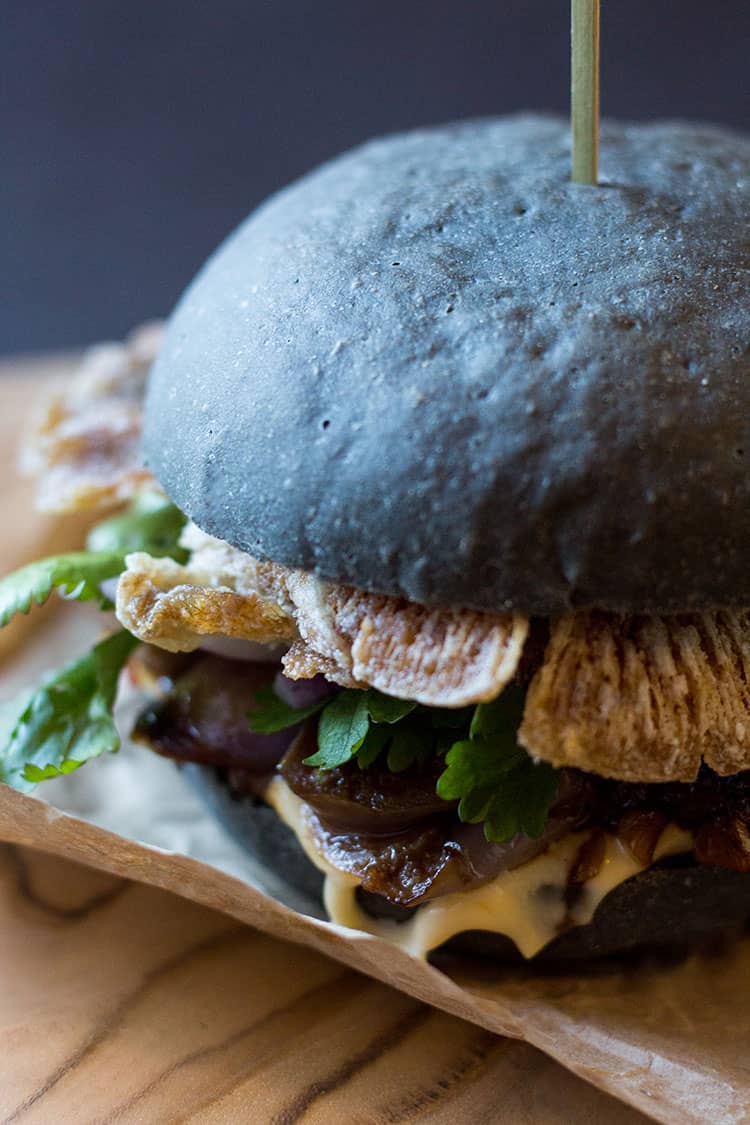 What the heck is a black burger, and why?
Really, it's just a bit of fun. I've seen black burgers on the menu in a few places lately and wanted to give it a go myself.
The black burger buns are created by adding activated charcoal into the bread dough. I like to think it tastes somehow different and better, but in truth if I was blindfolded I can't guarantee I'd be able to tell the difference. They just look cool.
If you're making these for friends then get your hands on some activated charcoal and give them a laugh with something that's a bit different. If you don't have or can't find the charcoal, don't worry, just leave it out.
Making your own buns does take a little time, but most of it is hands-off time to allow the dough to rise.
And, heaven forbid, if you don't want to make your own buns, the oyster mushrooms and spicy eggplant in this recipe would be totally delicious in any good store bought burger bun too.
And, what the heck is activated charcoal?
Don't go thinking I'm suggesting you add a lump of charcoal to your bread dough. It's nothing so ominous.
Activated charcoal is something you can inexpensively buy from pharmacies or even the health supplements department at the supermarket. It's a natural remedy that's used as an an antidote for drugs and poison, and for more everyday problems like bloating, gas, digestion issues and diarrhoea. Remarkably, the reason it's so effective is because of it's high absorbency - just one gram of activated charcoal has a surface area in excess of 3,000 m2 (32,000 sq ft) due to its extreme porosity. Crazy stuff.
I bought a jar of activated charcoal capsules to use in this recipe (and add to my medicine cabinet). I simply pulled the capsules apart and mixed the finely powdered charcoal in with the flour in my bread dough. I used 16 capsules, which I measured to be two teaspoons of activated charcoal powder (you can also buy jars of it in powder form). I found that quantity to be enough to achieve a fairly black dough.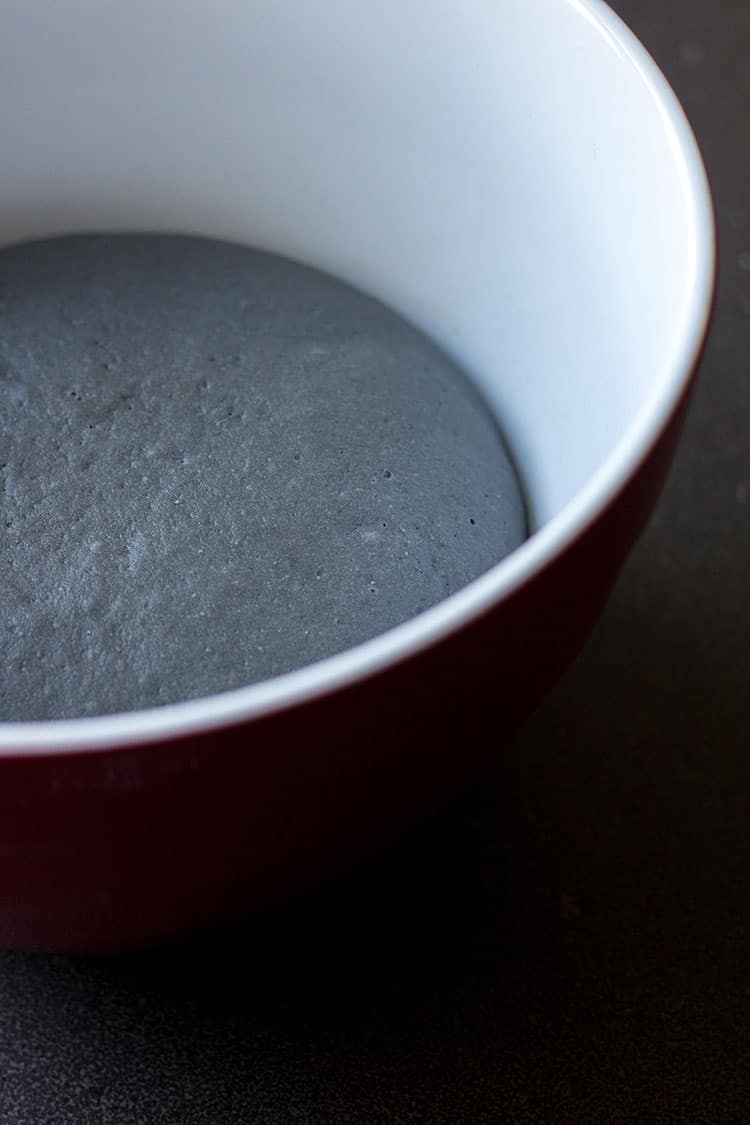 Now, on to the burger fillings
I love a good vege burger and often make my own patties, this black bean burger recipe is my favourite. Sometimes it's nice to have something simpler though.
I found these spectacular oyster mushrooms at my local Asian supermarket and knew they'd be absolutely perfect in a burger. I simply dredged them in seasoned cornflour (cornstarch) and shallow fried them until crisp. Delicious!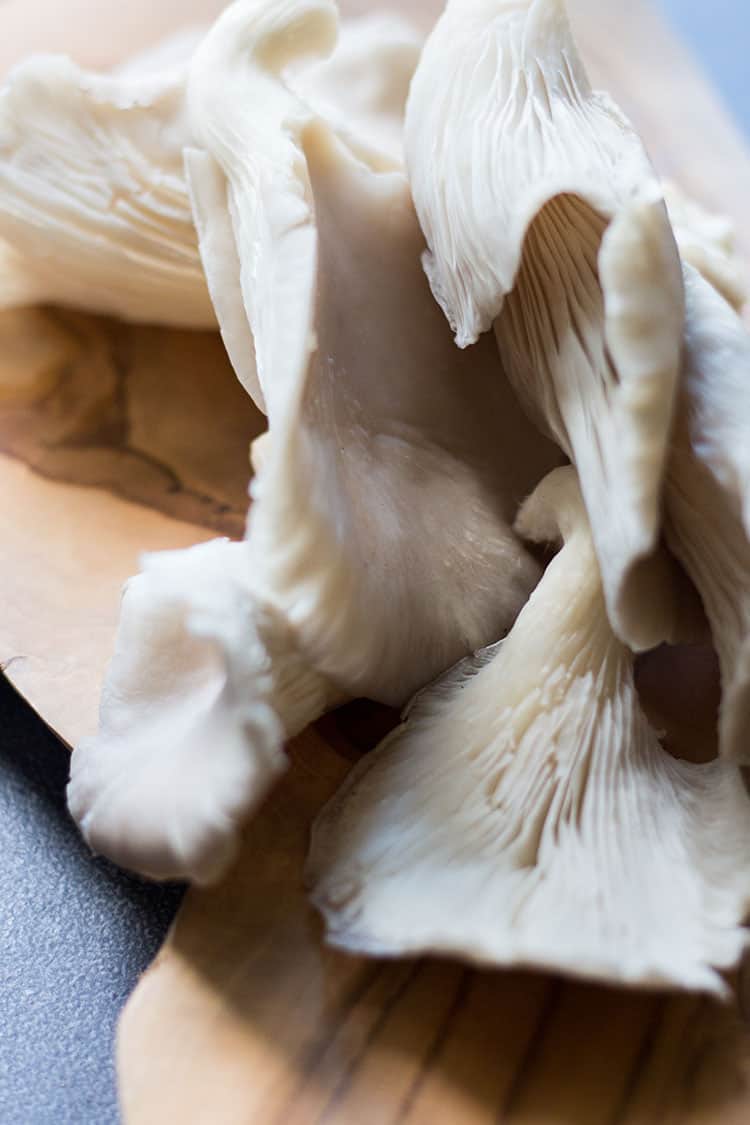 I also had a handful of skinny purple eggplant to use. They cook quickly and have a really melty, silky texture once cooked, so I fried them with garlic, ginger and fresh chilli and added some water to help them cook down until they were nearly falling apart. A splash of black vinegar adds sharpness (use any vinegar you like). The result is almost like a chutney or relish, inspired by Chinese flavours, which works brilliantly with the oyster mushrooms as a burger filling.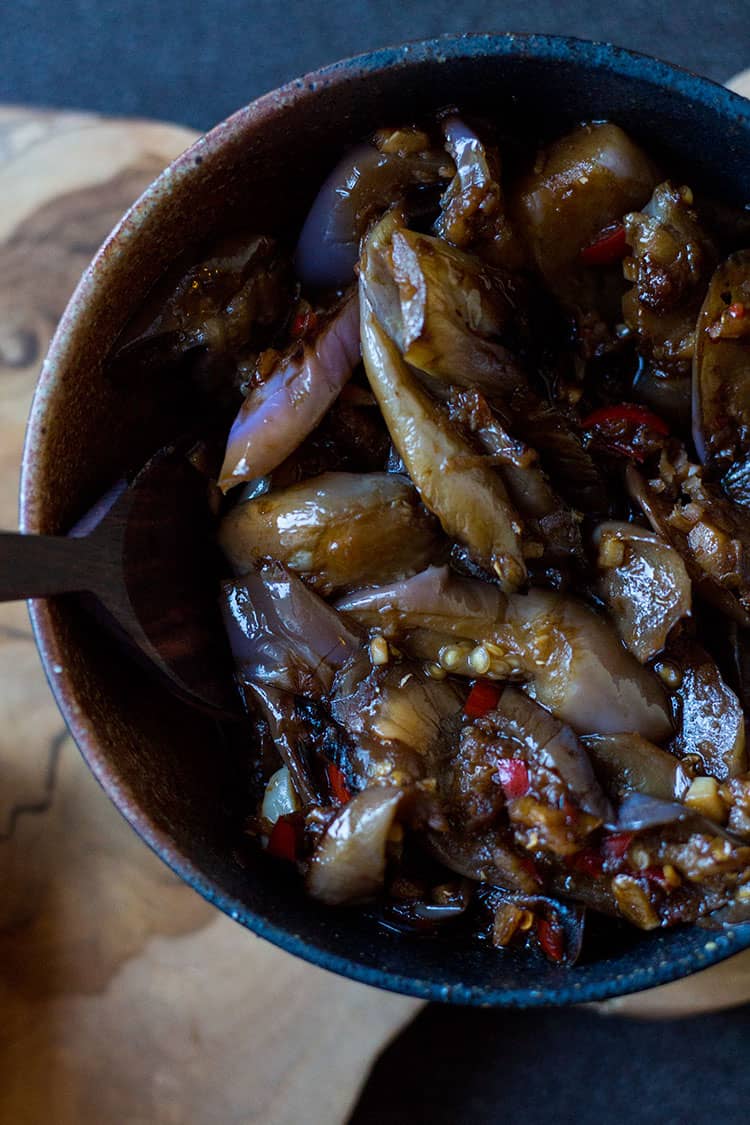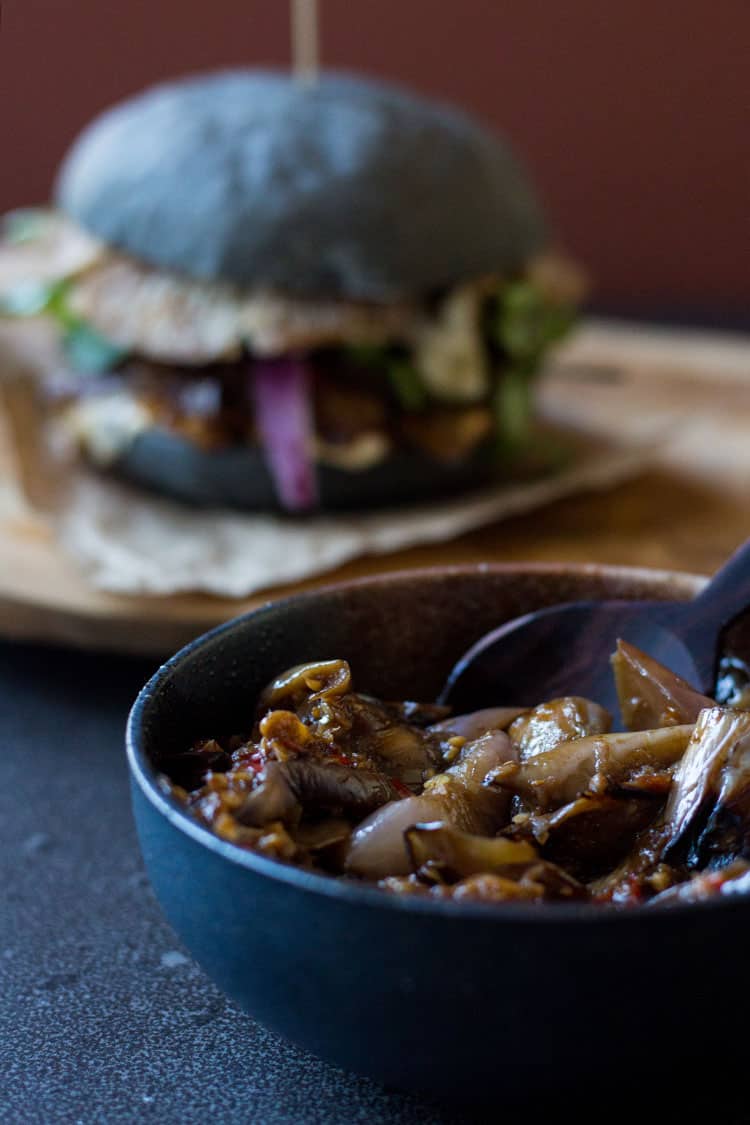 Get the recipe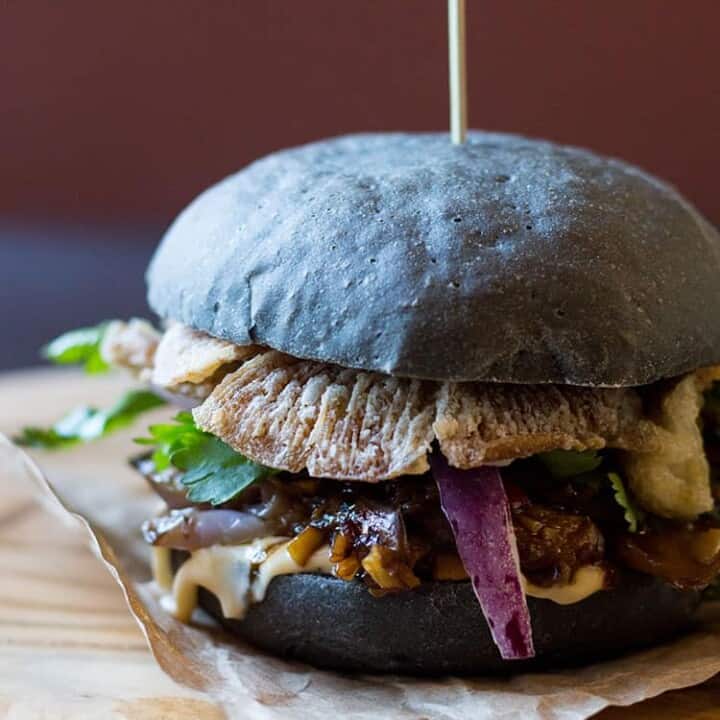 INGREDIENTS
For the black burger buns:
1

teaspoon

yeast

1

teaspoon

raw sugar

1

teaspoon

sesame oil

¼

teaspoon

salt

2

teaspoon

activated charcoal powder

2

cups

flour
For the spicy eggplant:
4

thin purple eggplant

(about 250g/9oz)

2

tablespoon

cooking oil

1

teaspoon

sesame oil

3

cloves

garlic

finely chopped

Finger sized piece

fresh ginger

finely chopped

1

fresh chilli

seeds removed, thinly sliced

⅛

teaspoon

chilli powder

(a pinch, optional)

1

tablespoon

black vinegar

or vinegar of your choice

1

teaspoon

sugar

⅛

teaspoon

salt

(a pinch)
For the oyster mushrooms:
8-12

oyster mushrooms

(2-3 per burger, depending on size)

½

cup

cornflour

(cornstarch) or rice flour

½

teaspoon

salt

½

teaspoon

ground black pepper

Cooking oil

for frying
To serve:
Fresh coriander (cilantro)

Red onion

thinly sliced

Your favourite mayo or aioli
INSTRUCTIONS
For the black burger buns:
Dissolve the sugar in ¾ cup of warm water. Add yeast, and set aside for 5-10 minutes until it starts to foam up a bit.

Mix flour, salt and activated charcoal together in a mixing bowl.

Stir sesame oil into the water and yeast mixture, then pour into the mixing bowl. Bring together into a dough.

Tip dough onto a floured surface and knead for 10 minutes, until the dough is smooth and elastic.

Put the dough into a lightly oiled bowl, cover with plastic wrap and set aside in a warm place to rise for an hour (or until doubled in size).

Preheat oven to 180C (350F) fan bake.

Remove dough from the bowl and use a knife to cut it into four even portions. Lightly knead each portion and form it into a smooth bun shape. Arrange buns on a baking tray and set aside for another 20-30 minutes to rise a little again before baking.

Bake buns for 20 minutes, remove from the oven and allow to cool a little before serving.
For the spicy eggplant:
Trim tops off eggplant and slice into thinnish pieces.

Heat cooking oil and sesame oil in a frypan (skillet) over medium-high heat. Add eggplant to the pan and cook until it is starting to colour.

Add garlic, ginger, sliced chilli and chilli powder. Cook, stirring, until fragrant and softened.

Add ½ cup of water, black vinegar, sugar and a pinch of salt. Cook for another few minutes until the water has mostly evaporated and the mixture is very soft, thick and glossy.

Set aside until ready to serve.
For the oyster mushrooms:
Mix cornflour, salt and pepper in a bowl.

Add a shallow layer of cooking oil to a large frypan (skillet) and bring to a medium-high heat.

One by one, dredge oyster mushrooms in the cornflour mixture and add to the frypan. Fry until golden brown on both sides (turning as needed). Remove from the pan and drain on paper towels.
To serve:
Slice burger buns open and reheat in a warm oven if needed.

Arrange buns with your choice of mayo or aioli, spicy eggplant, a handful of coriander leaves and sliced onion, and 2-3 crispy fried oyster mushrooms. Stab with a bamboo skewer to hold the burger together, if desired.
RECIPE NOTES
I used the powder from 16 activated charcoal capsules, equivalent to 2 tsp. 
Nutrition information does not include oil for frying oyster mushrooms - you decide how much you'd like to use. 
NUTRITION INFORMATION
Calories:
411
kcal
|
Carbohydrates:
47
g
|
Protein:
6
g
|
Fat:
22
g
|
Saturated Fat:
3
g
|
Cholesterol:
2
mg
|
Sodium:
629
mg
|
Potassium:
665
mg
|
Fiber:
8
g
|
Sugar:
12
g
|
Vitamin A:
470
IU
|
Vitamin C:
22.2
mg
|
Calcium:
80
mg
|
Iron:
2.1
mg
Nutrition Facts
Black burger with oyster mushrooms and spicy eggplant
Amount Per Serving
Calories 411
Calories from Fat 198
% Daily Value*
Fat 22g34%
Cholesterol 2mg1%
Sodium 629mg27%
Potassium 665mg19%
Carbohydrates 47g16%
Protein 6g12%
Vitamin A 470IU9%
Vitamin C 22.2mg27%
Calcium 80mg8%
Iron 2.1mg12%
* Percent Daily Values are based on a 2000 calorie diet.