An easy, nourishing breakfast of overnight oats with carrot, apple, sultanas, nuts and seeds, spiced to taste just like carrot cake.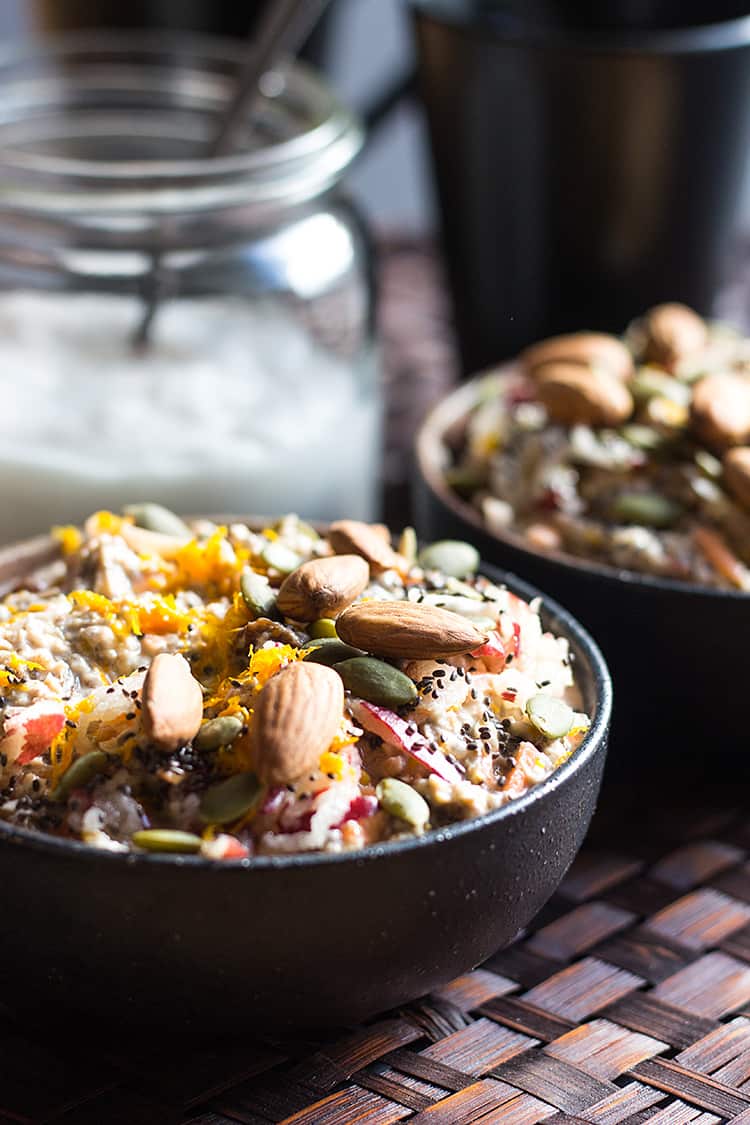 I spent at least 10 years' of my adult life as 'not a breakfast person'. Perhaps it's more accurate to say I wasn't a morning person (still true, sorry kids) and just didn't prioritise breakfast as an important part of my morning. Coffee on the run was more my style.
Once children became part of the mix, I started eating breakfast mostly as a way of setting an example. And I figured if I had to sit and watch a toddler throw food across the kitchen I may as well take the opportunity to eat. Now I can't do without it. If I have a decent, nourishing breakfast I have more energy, I'm more productive, and I'm less likely to make bad food decisions later in the day.
Overnight oats are one of my favourite breakfasts. They take five minutes to put together the night before, then no time at all to take out of the fridge and eat the next morning - leaving no excuses for a bad (or non existent) breakfast. I love overnight oats cold (especially in the warmer months), and they're lovely warm too, if cold oats just aren't your thing.
How do you like the idea of waking up to this in the morning? I reckon it's the next best thing to having a personal chef.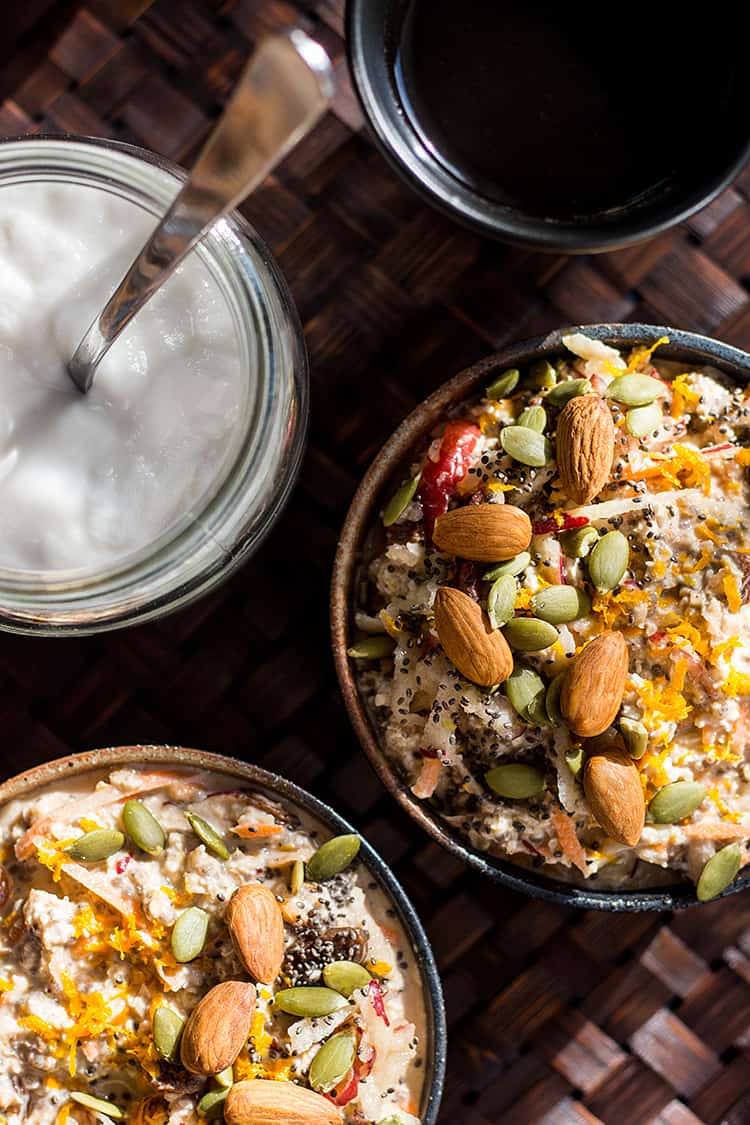 Easy overnight oats + carrot cake
The fundamentals of overnight oats are oats (naturally), milk of your choosing (I usually go for almond, coconut is lovely too), and some kind of flavouring. Chocolate and berries are a winner, as are dates and seeds.
This time I added grated carrot and apple, chia seeds, sultanas, carrot cake spices, orange zest, and extra nuts and seeds as topping. The end result is a sweetly spiced bowl of overnight oats that tastes remarkably like carrot cake, is loaded with nutrition and sneaks a serve of vegetables into breakfast.
Raw carrots in my oats, are you sure?
Sure I'm sure. Just as actual carrot cake doesn't really taste like carrots, same goes with this bowl of oats. The carrots do retain a little crunch, but I don't find that a problem at all. Obviously, if you don't like carrot cake, you probably won't like this either. But if you do... we're golden.
If cream cheese icing is essential to your love of carrot cake, then add a dollop of yoghurt on top and you'll find this breakfast experience edging closer and closer to the real thing. I used coconut yoghurt and couldn't have been happier.
Get the recipe
INGREDIENTS
For the overnight oats:
1

cup

rolled oats

(gluten free if required)

½

cup

grated carrot

(approximately half a carrot)

½

cup

grated apple

(approximately half an apple)

¼

cup

sultanas

or raisins or dried cranberries

1 ½

cups

almond milk

or milk of your choice

1

tablespoon

chia seeds

1

tablespoon

maple syrup

(optional)

½

teaspoon

natural vanilla extract

½

teaspoon

ground cinnamon

¼

teaspoon

ground nutmeg

¼

teaspoon

ground cloves

Zest of an orange
To serve:
10

almonds

or walnuts

1

tablespoon

pumpkin seeds

1

teaspoon

chia seeds

Orange zest

Coconut yoghurt

(optional)
INSTRUCTIONS
The night before, mix all overnight oat ingredients together well, cover and refrigerate.

The next morning, remove from the fridge and give everything a good stir.

Spoon into individual serving bowls (or keep the second serve for tomorrow), garnish with extra nuts and seeds, some more orange zest and a spoonful of coconut yoghurt if you like.
RECIPE NOTES
Nutrition information does not include coconut yoghurt.
NUTRITION INFORMATION
Calories:
399
kcal
|
Carbohydrates:
64.4
g
|
Protein:
11.3
g
|
Fat:
12.5
g
|
Saturated Fat:
1.4
g
|
Cholesterol:
0
mg
|
Fiber:
13
g
Nutrition Facts
Carrot cake overnight oats
Amount Per Serving
Calories 399
Calories from Fat 113
% Daily Value*
Fat 12.5g19%
Cholesterol 0mg0%
Carbohydrates 64.4g21%
Protein 11.3g23%
* Percent Daily Values are based on a 2000 calorie diet.