These vegan cauliflower tacos are oh-so-satisfying with oven baked cauliflower, smooth 'n smoky almond chipotle salsa, and a lime-zingy sweetcorn salad.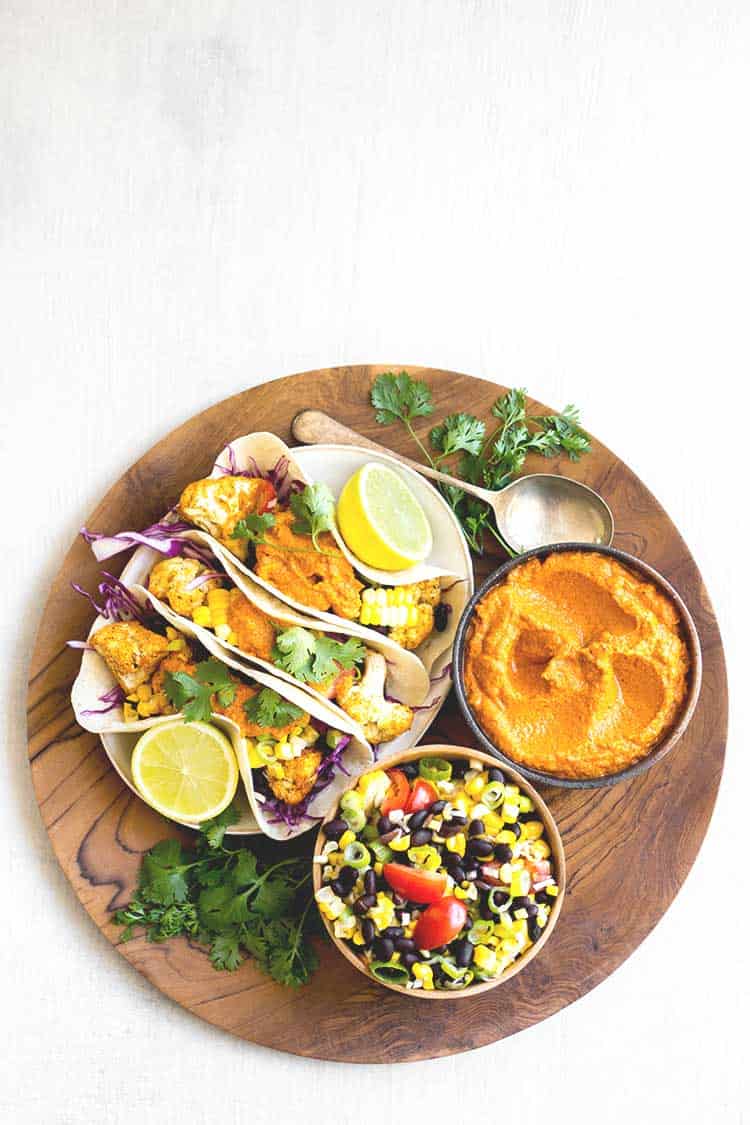 This time last year I was in Malaysia, experiencing durian for the first time and enjoying the delicious first days of a long travel adventure. This year, not so much adventure (yet!).
Mid-February marks the end of 'birthday season' in my house (four birthdays in four weeks), and my little sister and her family have been visiting from England for the last three weeks too. We've eaten a LOT of birthday cake, enjoyed countless bbq evenings and drank far too much wine. I'm feeling a bit deflated that the fun is over, and really missing the English side of my family already. Especially the snuggles with my little baby nephew.
I cheered myself up by making these yummy and oh-so-satisfying cauliflower tacos. They've been on my mind for a while, and their colourful, healthy, flavour-bomb selves were the perfect wake-up to my sad little slump.
Vege tacos are almost on weekly meal rotation here. They're the perfect easy mid-week dinner, and can be as easy as opening a can of chilli beans and organising a platter of salad and a packet of hard or soft tacos. Sometimes I make this mushroom based vegan taco mince for a change, but today I pushed the boat out and went for a three part platter of taco-tastic awesomeness.
Oven baked, spiced cauliflower.
Smooth and creamy almond chipotle salsa.
Sweetcorn, black bean and cherry tomato salad (or chunky salsa) with a squeeze of lime.
Layering up these three components with some shredded red cabbage and fresh coriander (cilantro), inside a fresh soft taco, made my tummy very, very happy.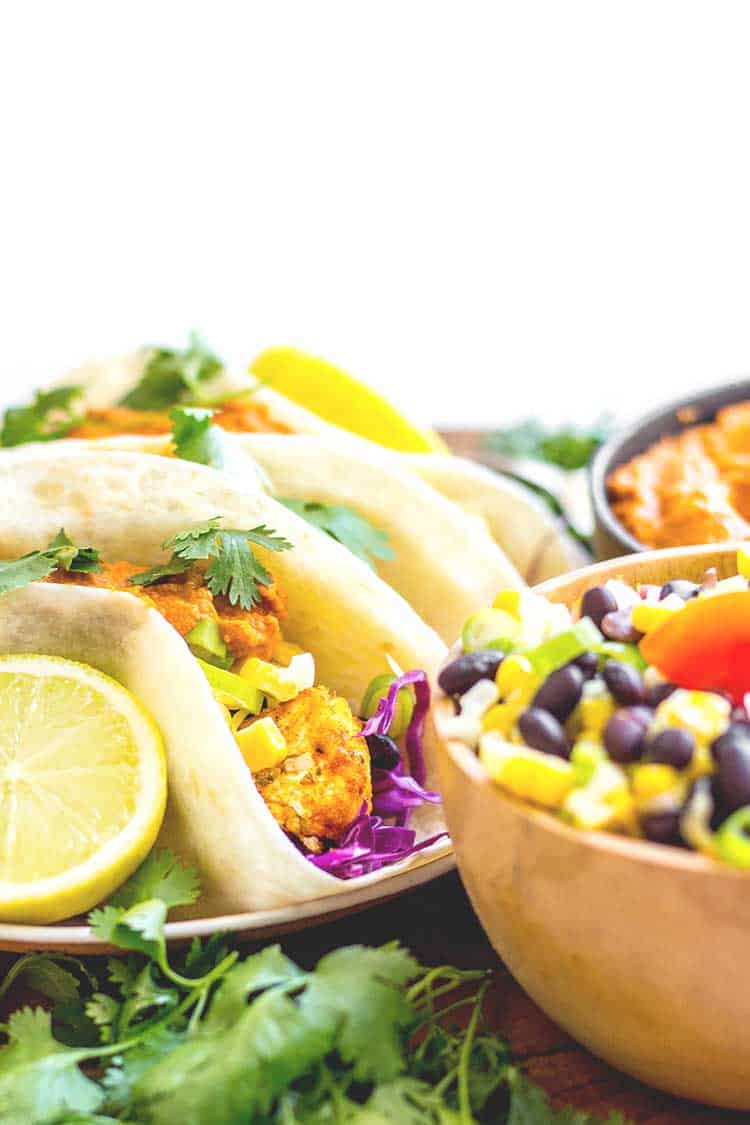 Oven baked, spiced cauliflower
I really enjoy oven baked cauliflower. It doesn't take long and it's a great way to inject a bit of variety into your standard everyday veg prep.
I shook damp cauliflower florets in a bag with a spice mix to coat them, sprayed the florets with a little olive oil, then roasted them until the cauliflower was colouring in places and fragrant. So yummy.
The spice mix isn't tricky - I mixed up some ground cumin, smoked paprika and oregano, some fennel seeds I'd smashed in the mortar and pestle, and a little salt. I stirred the spices through a little brown rice flour to help them coat the cauliflower, simple as that.
Smoky almond chipotle salsa
This smooth and smoky almond chipotle salsa is inspired by a Tastemade cooking show about Guerilla Tacos, a famous LA taco truck. I watched it a few months ago and the idea of adding roasted almonds to a spicy, tomato based salsa has been on my mind ever since.
My simplified version starts by roasting some raw almonds for five minutes, just long enough for them to gently colour and smell nutty and toasty. While they were roasting, I sauteed some onion and garlic with spices, around half a can of chopped tomatoes and a chipotle chilli. Once the tomato mixture had cooked down a little, I blended it with the almonds until a smooth and creamy salsa came together. I used canned chipotle chillies in adobo sauce, then stored the remainder in a glass jar in my fridge.
This almond chipotle salsa is delicious in ways that are hard to describe. It's fiery but not in a blow your head off way, and perfectly savoury in that kind of way that makes me salivate just thinking about it. If you're fearful of chilli, you could leave out the whole chipotle chilli and just add a little chipotle sauce to taste, start with half a teaspoon if you're nervous. If you know you like it hot, I'd still start with one chilli, then taste and add another one or two to suit your tastebuds. Tinker with the salt until you're happy too.
This salsa can be served any temperature. It's delicious with these cauliflower tacos, and I think it'd also make a fantastic addition to a grazing platter with vegetable sticks and other goodies.
Sweetcorn, black bean and cherry tomato salad (or chunky salsa)
Is it salad, is it salsa? I don't know. But this recipe already has one salsa in it, so I'm going with salad.
If sweetcorn is in season for you, I urge you to use corn kernels cut from a fresh cob - the sweet bursts of fresh sweetcorn are unbeatable here. If fresh sweetcorn is unavailable, then substitute with frozen corn kernels (blanched and cooled).
The sweetcorn kernels are mixed with black beans, cherry tomatoes and spring onion (scallion) and a squeeze of lime juice. Simple, fresh and healthy.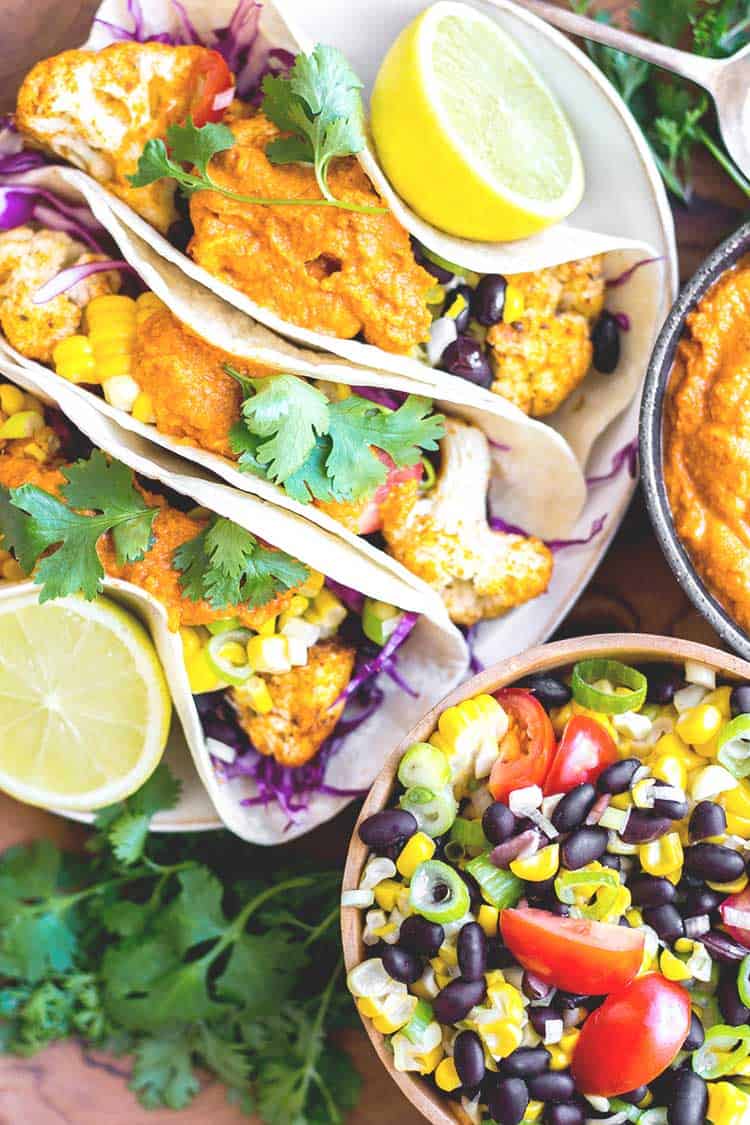 Get the recipe
INGREDIENTS
For the cauliflower:
1

head

cauliflower

cut into small florets

2

tablespoon

brown rice flour

1

teaspoon

ground cumin

1

teaspoon

smoked paprika

1

teaspoon

oregano

½

teaspoon

fennel seeds

roughly ground in a mortar and pestle or spice grinder

¼

teaspoon

salt

Spray oil
For the almond chipotle salsa:
¼

cup

almonds

1

tablespoon

cooking oil

1

onion

chopped

2

cloves

garlic

chopped

½

teaspoon

ground cumin

½

teaspoon

ground coriander

½

teaspoon

smoked paprika

1

cup

canned chopped tomatoes

(around half a can or just over)

1

chipotle chilli

(I used canned chipotle chillies in adobo sauce)

Pinch

salt

to taste
For the sweet corn salad:
1

cob

sweet corn

½

cup

canned black beans

(rinsed)

6

cherry tomatoes

quartered (or about ½ cup chopped fresh tomatoes)

1

spring onion

(scallion) whites finely chopped, greens thinly sliced

1

tablespoon

lime juice

(juice of about half a lime)
To serve:
12

taco-sized tortillas

(use 100% corn tortillas if gluten free)

¼

red cabbage

thinly sliced

Handful

coriander

(cilantro) roughly chopped

Limes

to squeeze (optional)
INSTRUCTIONS
If you're using raw almonds, preheat your oven to 200C (390F). Dry roast the almonds for 5 minutes, until lightly golden and smelling nutty and toasty. Remove and set aside to cool. If you're using pre-roasted almonds you can skip this step.

Turn the oven up to 220C (430F). If you want to serve the almond chipotle salsa cold, make it ahead of time, otherwise you can make it while the cauliflower is cooking.
For the cauliflower:
Mix the spices, salt and brown rice flour together. Using a plastic bag or sealed container, shake the cauliflower florets with the spice mixture until well coated. Tip them out onto a baking tray, spray with a little olive oil then bake for 15-20 minutes, shaking the pan every now and then. The cauliflower is done when it has browned a little around the edges and smells fantastic.
For the almond chipotle salsa:
Heat 1 tablespoon of oil in a saucepan, add the onion, garlic and spices and cook for 5 minutes, or until softened and fragrant. Add the tomatoes, chipotle chilli and salt, and cook for a further 5 minutes until the mixture has cooked down and thickened a little.

Scrape the tomato mixture into a blender, add the roasted almonds and blend until smooth. You'll need to stop and scrape down the sides a few times.
For the sweetcorn salad:
Bring a saucepan of water to the boil. Dehusk the corn cob, then drop it into the pan whole. Cook for 3 minutes, then drain and run under cold water. Use a large knife to slice the kernels from the cob and add them to a mixing bowl.

Add the black beans, cherry tomatoes, spring onion (scallion) and lime juice. Stir to combine.
To serve:
Warm the soft tacos according to packet directions. Serve with the thinly sliced red cabbage, fresh coriander (cilantro), cauliflower fresh out of the oven, almond chipotle salsa, sweetcorn salad and more limes for squeezing.
NUTRITION INFORMATION
Calories:
166
kcal
|
Carbohydrates:
26
g
|
Protein:
5
g
|
Fat:
5
g
|
Sodium:
334
mg
|
Potassium:
376
mg
|
Fiber:
3
g
|
Sugar:
4
g
|
Vitamin A:
405
IU
|
Vitamin C:
39.1
mg
|
Calcium:
75
mg
|
Iron:
2.2
mg
Nutrition Facts
Cauliflower tacos with smoky almond chipotle salsa
Amount Per Serving
Calories 166
Calories from Fat 45
% Daily Value*
Fat 5g8%
Sodium 334mg15%
Potassium 376mg11%
Carbohydrates 26g9%
Protein 5g10%
Vitamin A 405IU8%
Vitamin C 39.1mg47%
Calcium 75mg8%
Iron 2.2mg12%
* Percent Daily Values are based on a 2000 calorie diet.