Chocolate for breakfast? Don't mind if I do! These overnight oats are pretty much dessert for breakfast, but with nothing bad. A feel good way to start the day if ever there was one.
I have a newfound appreciation for breakfasts I can make the night before, especially when they take so little time to prepare. Five minutes of effort, throw it in the fridge, and I have healthy deliciousness to enjoy the next morning no matter how late I got up or how tired I am. This quick breakfast is also high in fibre, protein, manganese, magnesium and antioxidants from the oats, chia seeds, berries and cacao. What's not to love?
These chocolate oats taste just like coconut rough, only way healthier. I used Vitasoy tetrapak coconut milk and was pleasantly surprised to discover how low in fat it is. Decadent taste, no guilt. You could also use almond milk. You can easily make this breakfast portable too - simply layer the mixed ingredients into a jar or other container with sliced banana (make sure the banana is covered by the oats and it won't brown), top with chia jam you made earlier and it'll be good to go in the morning.
Chia jam is so easy and so healthy. It's a great way to enjoy something sweet, without the sugar, and a simple way to get more chia into your diet. It's delicious as a topping on these oats, and you can also use it anywhere you'd use regular jam. Use fresh berries if they're in season for you, or use frozen berries like I did. Easy and convenient. Still loving it.
Get the recipe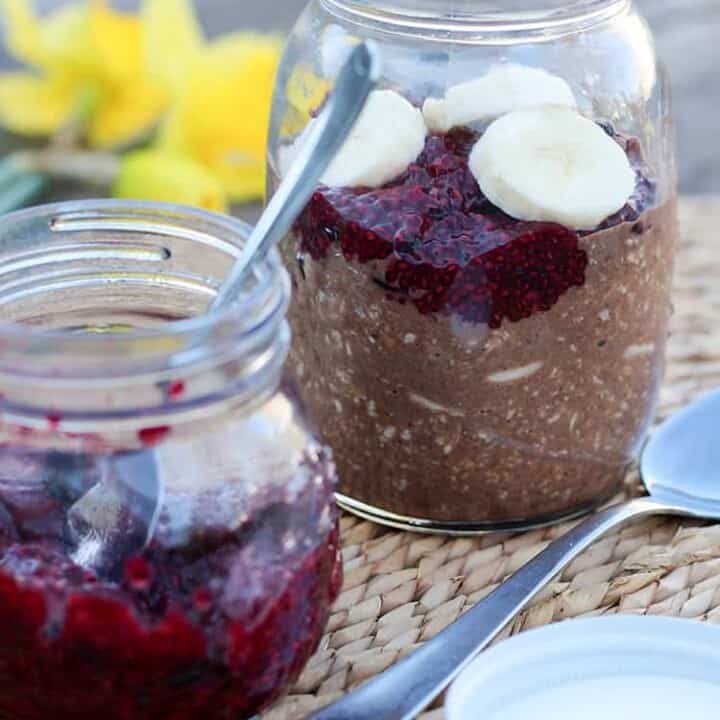 INGREDIENTS
For the chia jam:
1

cup

frozen mixed berries

thawed

2

tablespoon

chia seeds

1

tablespoon

maple syrup
For the overnight oats:
1

cup

rolled oats

1

cup

coconut milk

2

tablespoon

maple syrup

2

tablespoon

cacao powder

or cocoa

2

tablespoon

coconut threads

2

bananas

to serve
INSTRUCTIONS
For the chia jam:
Using a fork, squash and mash up your berries until they've released their juices. You don't want or need them to be smooth, just nice and juicy. You can use a blender if you prefer, but that's not something I consider a realistic option at 10pm at night. A fork will do fine.

Stir through the chia seeds and maple syrup, put the mixture into a jar or other container and pop it in the fridge until you need it. The chia jam will need an hour or two for the seeds to soak up the liquid and thicken.

When you're ready to use it, check the consistency and add a little water to loosen the jam to the level of thickness you enjoy.

Chia jam will keep for 1-2 weeks in the fridge, but isn't heated or preserved in the same way as regular jam so it won't last indefinitely.

Makes 1 cup (approximate).
For the overnight oats:
Mix everything except the bananas together in a container with a lid, and put in the fridge overnight.

In the morning, check the consistency and add a little more coconut milk if necessary. It's better to start with too little, and add a little more in the morning, rather than starting with too much - which is hard to fix.

Layer chocolate oats and sliced banana, and top it off with chia jam to serve.
RECIPE NOTES
Nutrition information estimated - will vary based on the type of milk used.
NUTRITION INFORMATION
Serving:
1
g
|
Calories:
469
kcal
|
Carbohydrates:
90.8
g
|
Protein:
10.9
g
|
Fat:
10.6
g
|
Saturated Fat:
3.4
g
|
Cholesterol:
0
mg
|
Fiber:
18.3
g
Nutrition Facts
Chocolate overnight oats with chia jam
Amount Per Serving (1 g)
Calories 469
Calories from Fat 95
% Daily Value*
Fat 10.6g16%
Cholesterol 0mg0%
Carbohydrates 90.8g30%
Protein 10.9g22%
* Percent Daily Values are based on a 2000 calorie diet.