This festive Christmas bread wreath with red and green pestos is satisfying to make and a beautiful addition to any holiday table.
Thank you for your patience. It's been four weeks since my last new recipe. That kind of pause usually only happens when I travel, but this time it's been all about work and life creating a perfect storm.
These last few months of the year are always busy ones, and this year is no different. I've wrapped up a few major projects, including writing and photographing a cookbook for a client. It was exciting and rewarding to produce a cookbook - something I've dreamed of for a long time. I did find myself having a few surreal 'I'm actually doing this' moments (interspersed with 'I'm an imposter and they're going to find out' moments, why do we do that to ourselves?), and I learned a few things. Mostly that I've held writing a cookbook at arms length for too long, as a sort of unreachable pinnacle, and that after years of producing all kinds of print publications in my day job I actually have all the skills I need.
As with any big project, the key was simply to start. If there's something you've dreamed of and been putting off as too hard or impossible, I urge you to break it down into small steps and take the first one. And then another. You might surprise yourself at just how far you can go.
And now it's December, and 'tis officially the season. I'm marking the beginning of Christmas recipe season with this festive Christmas bread wreath, which would be right at home on any holiday table.
How to make a bread wreath
I've seen a few recipes lately for sweet bread wreaths, made with an egg and butter enriched brioche style dough. Ingredients aside, that kind of loaf doesn't really have a place at my Christmas table. My Kiwi Christmas is all about platters, new potatoes, salads and berries, pretty much.
I do just adore the beautiful form of a wreath loaf though, so thought I'd give it a go myself. I love making home made bread, and particularly love bread with a filling or a little something extra. For this wreath loaf I chose to use red and green pestos, which are both delicious and perfectly Christmassy.
Making a home made bread wreath was actually far easier than I imagined. It begins with making an olive oil bread dough the usual way, and setting it aside to rise. After an hour or so I knocked the dough down and divided it into two equal portions.
I rolled the first portion out into a rectangle and smothered it with green pesto, then rolled out the other and smothered it with red pesto. My kale pesto and muhammara dip would be perfect to use here, or just use your favourite store bought pestos to save time.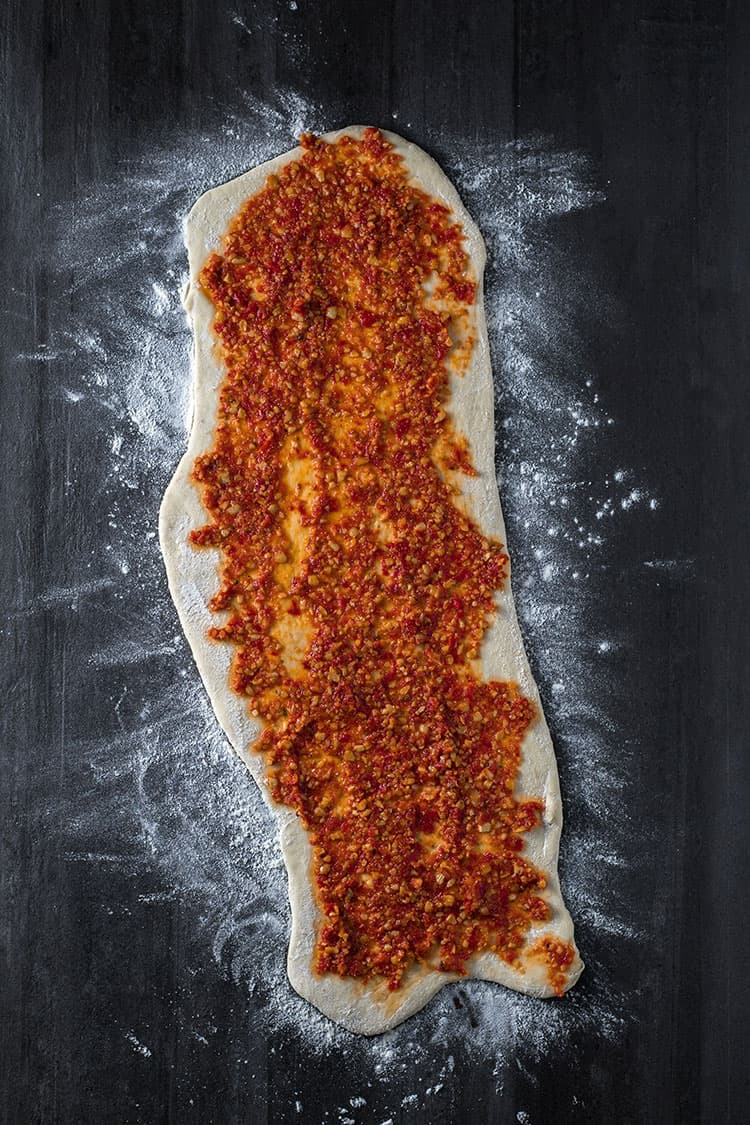 Each rectangle gets rolled into a long snake, then cut in half lengthwise. Then the fun begins, it's just like being a kid again.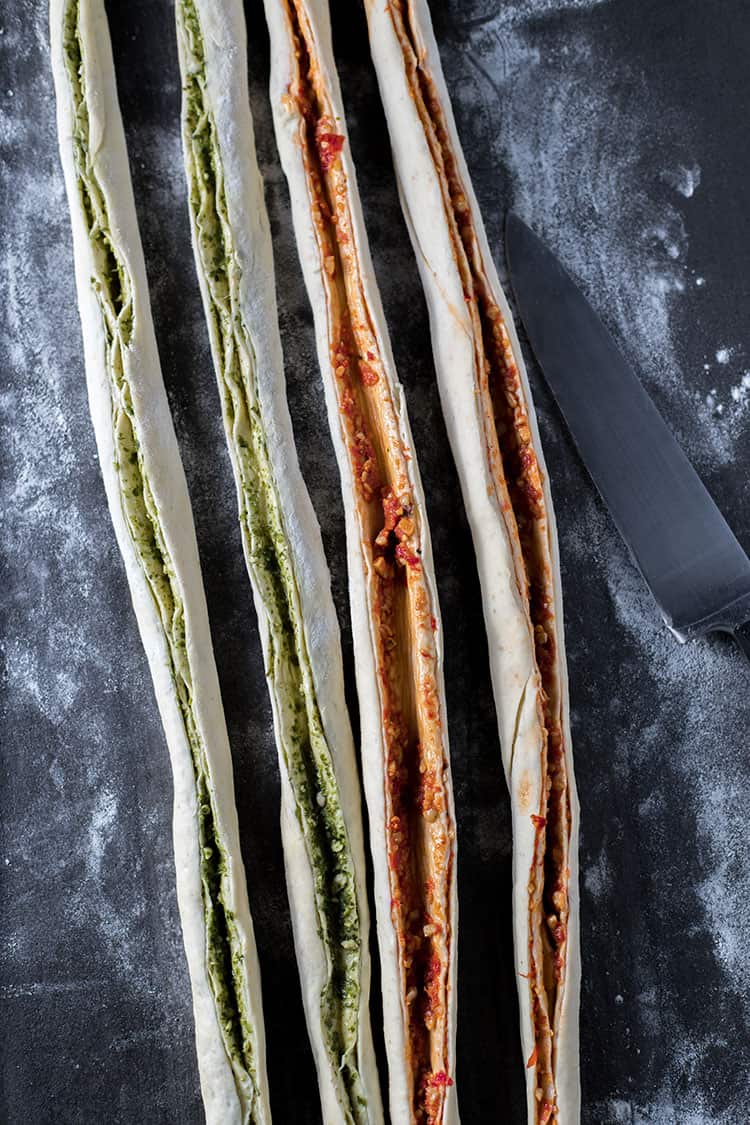 Take one green half-snake and one red half-snake and loosely twist them together, keeping the cut side up. Then form the twisted snake into a circle and tuck one end tidily under the other. It's best to do this directly on a baking sheet, as the uncooked wreaths are difficult to move once formed.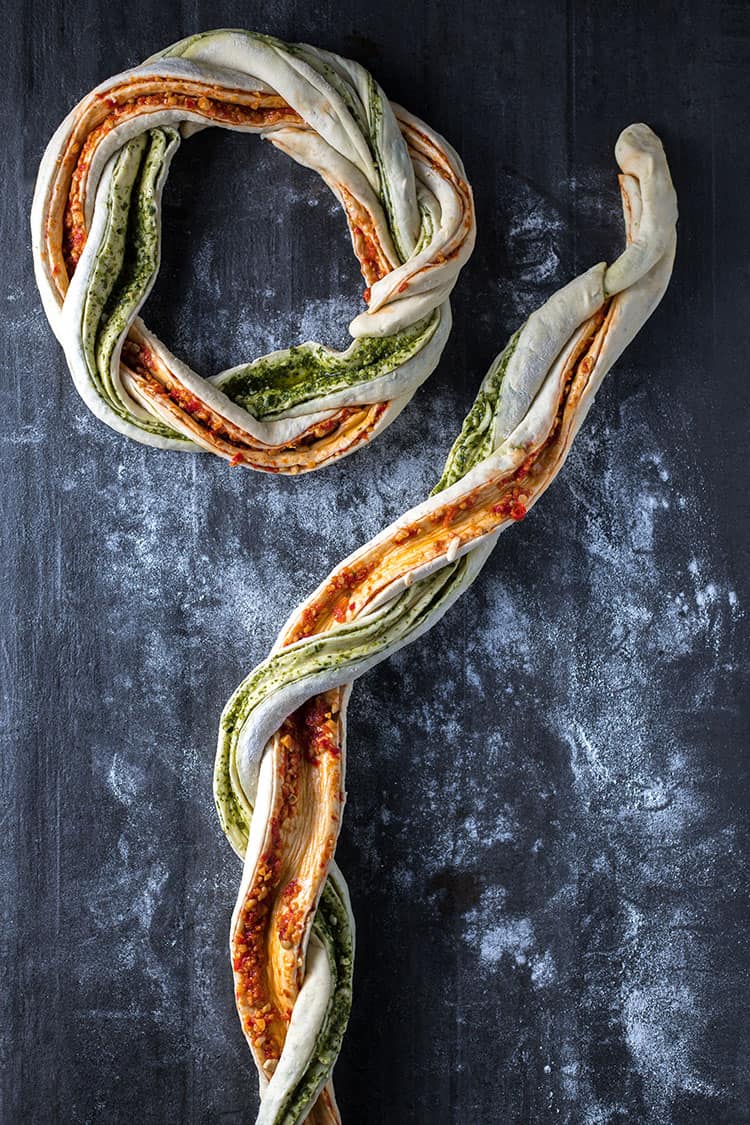 Once the wreaths are formed, set them aside to rise again then bake until golden brown.
The outside will be flaky and crisp where each layer of dough is exposed, while the inner will be soft and rippled with pesto in a very pretty way.
Serve the bread warm, preferably fresh out of the oven.
Merry Christmas xx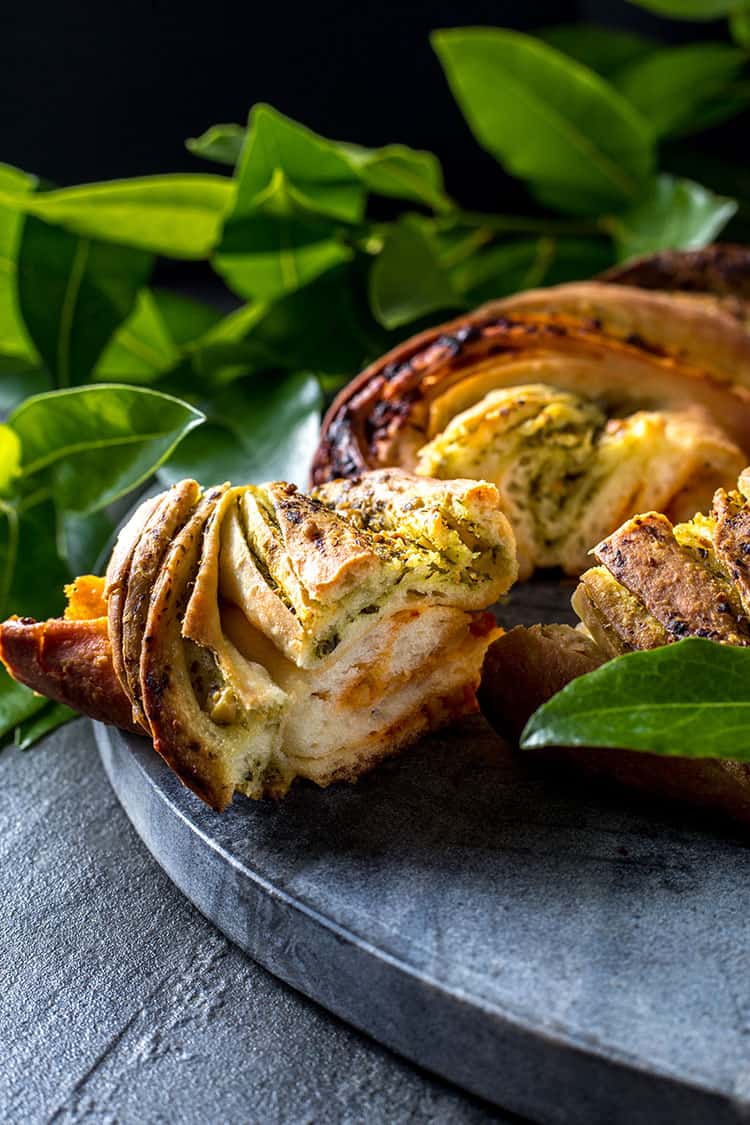 Get the recipe
INGREDIENTS
1

tablespoon

active yeast

2

teaspoon

sugar

400

ml

warm water

(14oz)

¼

cup

extra virgin olive oil

4 ½

cups

high grade flour

about 620g/1.4lb (+ more for kneading)

2

teaspoon

salt

½

cup

red pesto

(see recipe notes)

½

cup

green pesto

(see recipe notes)

6

pitted black olives

to garnish (optional)

Bay leaves

to garnish (optional)
INSTRUCTIONS
Mix the yeast and sugar with the warm water and set aside for 5 minutes to dissolve and begin to activate.

Put the flour and salt into a large mixing bowl. Add the olive oil to the water and yeast mixture, then tip into the flour bowl. Stir to combine, then tip the dough out onto a floured benchtop to knead.

Knead the dough for 5-10 minutes until it is smooth and elastic. Sprinkle the dough with

a little extra flour every now and then while kneading, to prevent it becoming too sticky.

Put the dough into a large bowl, drizzle with a little olive oil and turn the dough to coat it in oil. Cover with plastic wrap or a damp tea towel and set aside in a warm place for an hour, or until the dough has roughly doubled in size.

Use your fist to punch down the dough, then remove it from the bowl and cut into two equal portions. On a floured benchtop, roll each portion out into a large rectangle. Spread red pesto over one piece, and green pesto over the other piece.

Roll each piece lengthwise into a long snake, then cut in half lengthwise. Transfer one green and one red half-snake to a baking tray and and loosely twist them together, keeping the cut sides up. Arrange the twisted snake into a circle and tuck the ends under to create a tidy wreath. Repeat with the remaining two half-snakes.

Let the assembled wreaths rise again for about half an hour. If you like, garnish the wreaths with 3 olives by pushing them lightly into the dough, towards the bottom of the wreath.

Bake wreaths at 200C (390F) fanbake, or 220C (430F) regular bake, for about 25 minutes or until golden brown.

If you like, garnish the wreaths with a few bay leaves poked into the folds of the bread, around the olives.
RECIPE NOTES
Nutrition information is estimate. 
This recipe makes two wreath loaves. 
Use your favourite store bought red and green pestos to save time, or try using home made kale pesto and muhammara dip. I used store bought dairy free basil pesto and sundried tomato and cashew pesto. 
NUTRITION INFORMATION
Calories:
1742
kcal
|
Carbohydrates:
257
g
|
Protein:
39
g
|
Fat:
59
g
|
Saturated Fat:
9
g
|
Cholesterol:
9
mg
|
Sodium:
3484
mg
|
Potassium:
389
mg
|
Fiber:
12
g
|
Sugar:
11
g
|
Vitamin A:
1650
IU
|
Vitamin C:
2.4
mg
|
Calcium:
206
mg
|
Iron:
15.8
mg