Making your own coconut butter has to be one of the simplest and most rewarding things you can do in the kitchen.
Okay, so I'm the first to admit this is really not a recipe. Did you know that coconut butter only has one ingredient? Yup, you guessed it. It's coconut. Dessicated coconut, the kind that comes in a bag.
To make coconut butter out of it, wait for it, you put it in your blender or food processor and turn it on. And that's it. Holy heck.
And that is exactly what I was saying to myself as I watched the magic unfold. Dessicated coconut turns into butter SO VERY EASILY that I will never be tempted to buy it again. I have a high speed blender (an Optimum 9400) which made light work of it, turning the dessicated coconut into smooth liquid butter in about five minutes (stopping to scrape down the sides twice). I ran it for an extra minute or two to get it as smooth as possible, but it really was that easy.
You can definitely make coconut butter with a regular food processor too, it'll just take longer and you'll need to stop and scrape the sides down more often. Allow 10-20 minutes. It's done when it's liquid and fairly smooth. I doubt that it's possible to get it 100 per cent smooth at home.
So what can you do with coconut butter? It sets hard when chilled, just like coconut oil, but the key difference is that it's full of coconut flesh and fibre - not just the fat. This picture shows its hard and slightly flaky texture straight out of the fridge.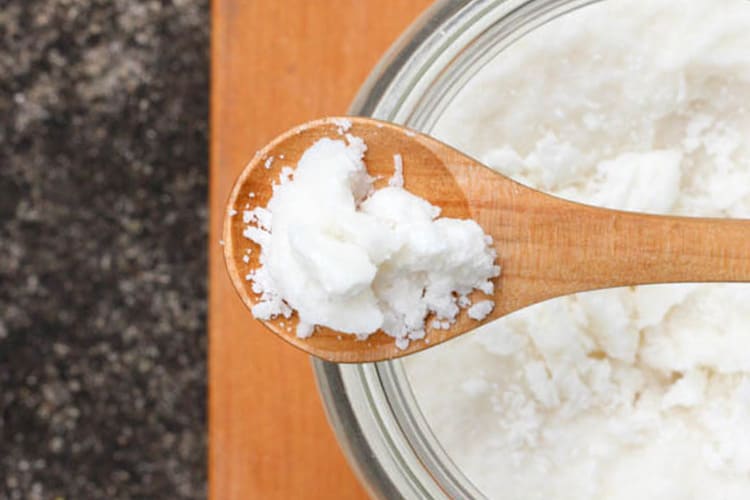 Coconut butter and coconut oil can be used almost interchangeably in a lot of recipes - particularly sweets and situations where you're using it as a setting agent. In things like bliss balls, you'd never be able to tell the difference. Add it to smoothies. Add it to soups, mashed veges, curries, or any situation where you might add coconut cream. Stick to coconut oil for frying and times that you want a perfectly smooth texture though.
Store at room temperature for a softer spreadable texture, or in the fridge if you prefer (there's really no need).
I really love how economical this is to make and can already imagine a thousand uses for it. Coconut butter, welcome to my life.
Get the recipe
INGREDIENTS
4

cups

dessicated or flaked coconut
INSTRUCTIONS
Blend, blend, blend.

Using a blender or food processor, blend the dessicated coconut until smooth and liquid with a fairly smooth texture, stopping to scrape down the sides as often as you need to.

Scrape into a clean jar or sealed container.

Store at room temperature.

Makes approximately 2 cups.
RECIPE NOTES
Nutrition information estimated, per tablespoon.
NUTRITION INFORMATION
Calories:
101
kcal
|
Carbohydrates:
3.7
g
|
Protein:
0.9
g
|
Fat:
9.2
g
|
Saturated Fat:
8.7
g
|
Cholesterol:
0
mg
|
Fiber:
1.8
g
|
Sugar:
0.9
g
Nutrition Facts
Coconut butter
Amount Per Serving
Calories 101
Calories from Fat 83
% Daily Value*
Fat 9.2g14%
Cholesterol 0mg0%
Carbohydrates 3.7g1%
Protein 0.9g2%
* Percent Daily Values are based on a 2000 calorie diet.