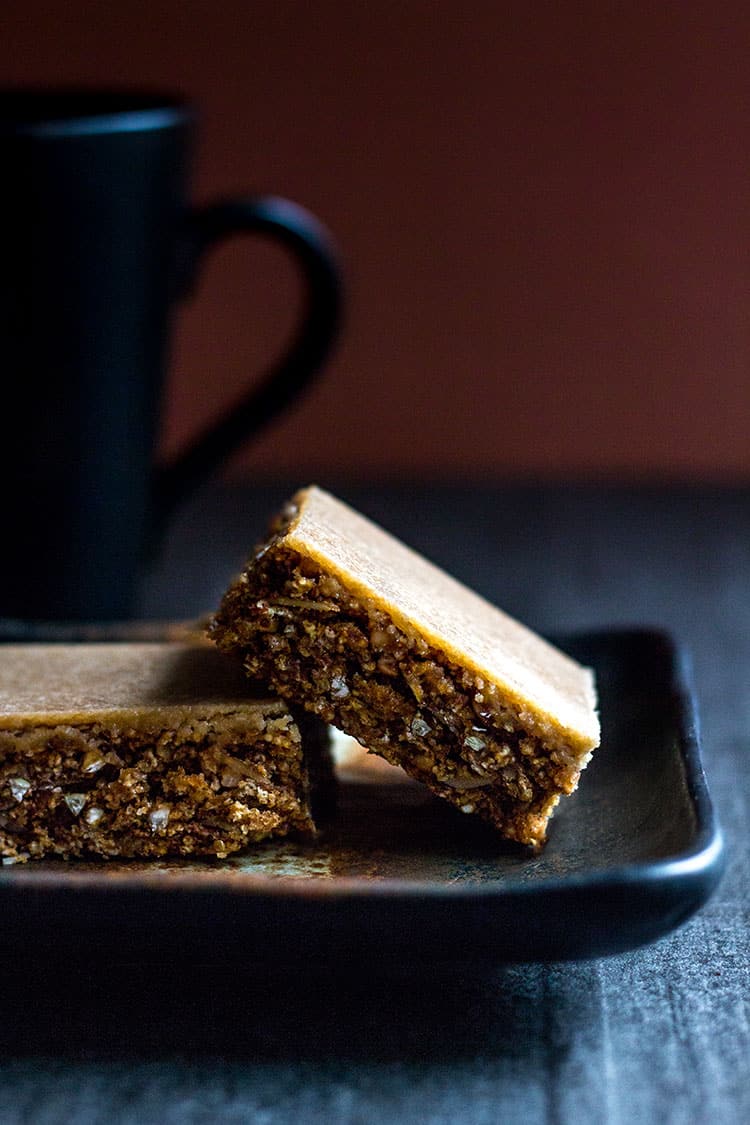 Dear Winter, I'm tired of you. In the midst of the heatwave last summer, your chilly embrace seemed so enticing. The first of the soups, fires and snuggly sweaters were indeed very cozy and I welcomed you into my home. Sadly, I've come to realise we just want different things. Your refusal to let me get the laundry dry has become more than tedious. Please find somewhere else to go, you've overstayed your welcome. Your vitamin D deprived friend, Amber x
Some adults only baking to cheer me up
Yup. I'm sick of winter and feeling rather low. What better (temporary) solution than a bit of home baking? And even better if it's just to suit myself. Kids, here's a carrot stick. I do love sweet treats laced with coffee (see
exhibit A
) and I've been thinking about creating some kind of baking with coffee for a while. I decided to refer back to two of my personal favourite recipes and adapt them to create this granola slice. Back when this blog was only a few months old I created these
man-friendly muesli bars
. They took a bit of tinkering to get right, but in the end the recipe was a real winner. I changed the ratios a bit and added coffee and cinnamon - happily this twist on the original is equally delicious. A good slice also needs a topping. Okay 'needs' might be overstating it. But I know how good the
peanut butter fudge topping of this slice is
, and made the safe assumption a coffee and almond version would do the trick nicely. I'd have liked to use almond butter in this topping, but had none left. I used ground almonds (almond meal) instead and it worked just fine - the topping isn't 100% smooth, but close enough for me. If you do have almond butter in the pantry, I'm confident it'll work perfectly, given the level 10 awesomeness of the original peanut butter recipe. The end result here is a maple sweetened, mildly coffee flavoured granola slice topped with a thin layer of fudgey coffee and almond frosting. On the day it's made, the granola slice is nicely crunchy. After a few days in the fridge it softens and becomes more cakey. Both ways are very nice. I highly recommend you find a comfy spot to enjoy a piece of this gluten free and vegan coffee granola slice, with a cup of Joe of course, and contemplate the sometimes eternally slow passing of the seasons.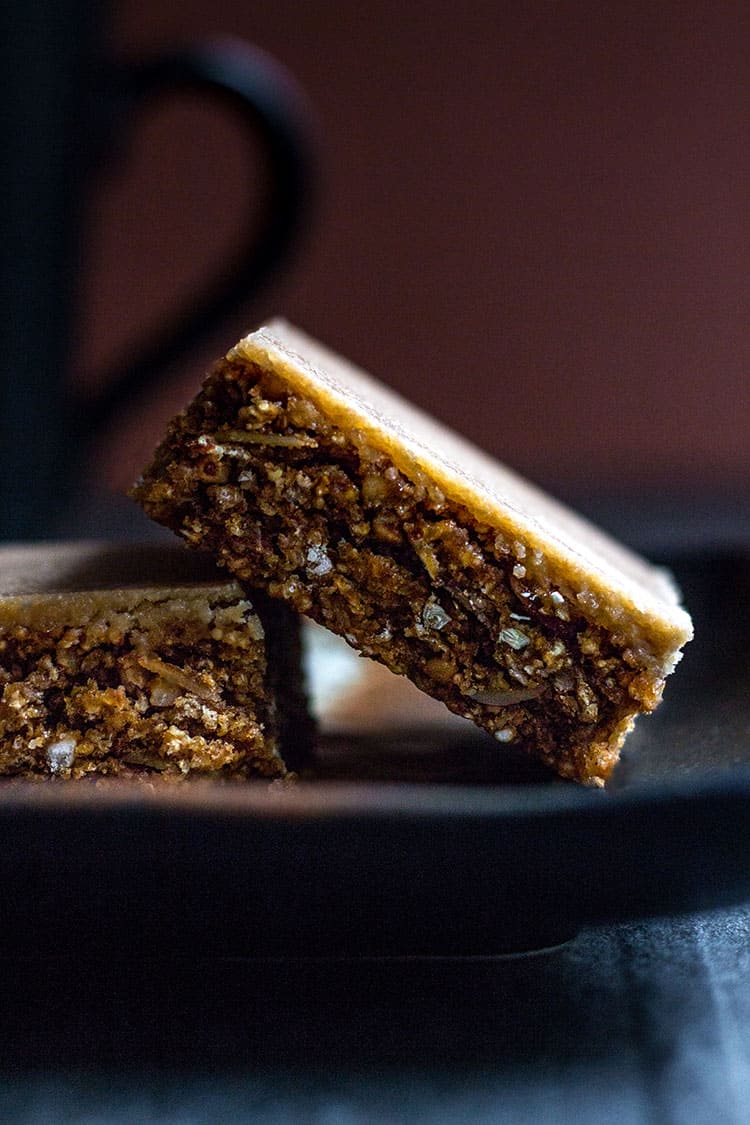 Get the recipe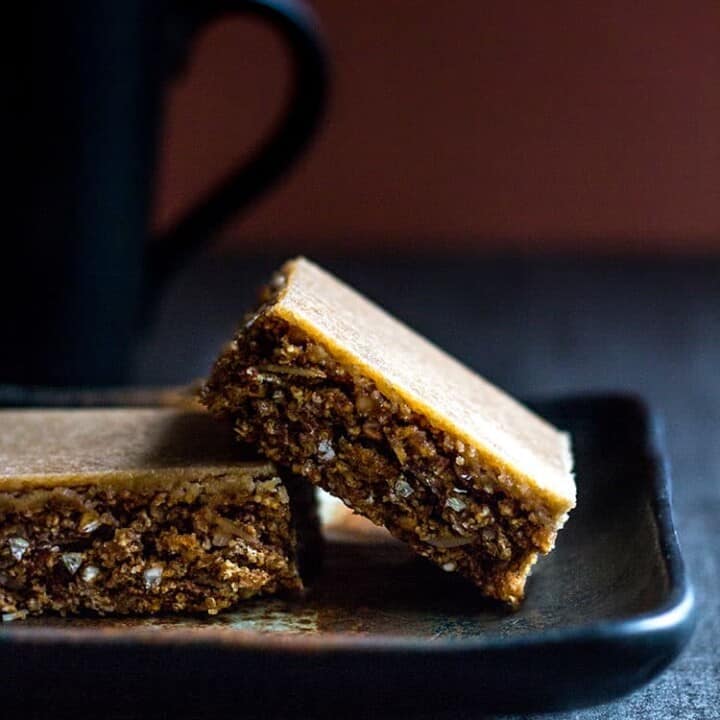 INGREDIENTS
For the base:
2

cups

puffed amaranth

(or puffed quinoa)

1

cup

rolled oats

(certified gluten free if required)

½

cup

buckwheat

(whole)

½

cup

sliced almonds

1

teaspoon

ground cinnamon

½

cup

tahini

½

cup

maple syrup

¼

cup

strong brewed coffee

2

tablespoon

coconut oil

1

teaspoon

natural vanilla extract
For the topping:
½

cup

coconut oil

¼

cup

strong brewed coffee

2

tablespoon

maple syrup

1

teaspoon

natural vanilla extract

½

cup

ground almonds
INSTRUCTIONS
Preheat oven to 180C (355F) and line an 18x27cm or similar sized pan (approximately 7x10.5 inches) with baking paper.

Mix the dry ingredients for the base (puffed amaranth, rolled oats, buckwheat, sliced almonds and cinnamon) together in a bowl.

Melt the wet ingredients for the base (tahini, maple syrup, coffee, coconut oil and vanilla extract) together in a small saucepan. Stir until combined and smooth.

Pour the wet mixture over the dry mixture and stir to thoroughly combine.

Press the mixture into the lined pan and smooth the surface using the back of a spoon.

Bake for 15-20 minutes, until golden and set. Remove from the oven and cool in the pan.

To make the topping, melt the coconut oil, coffee, maple syrup and vanilla together, then stir in the ground almonds. Set aside to cool a bit - the mixture will thicken as it cools. The ideal pouring consistency is when the mixture is warm, but not too hot or liquid.

Pour the topping over the slice base. Spread evenly and smooth the surface if required. Refrigerate for an hour or until set.

Slice with a hot knife and serve with a cup of coffee.
RECIPE NOTES
Unless you're living in a cold climate (or winter) the slice will need to be stored in the fridge to prevent the topping from melting. 
The slice will be crunchy on the day it's made, and will soften after a few days in the fridge. Both ways are very nice. 
NUTRITION INFORMATION
Calories:
267
kcal
|
Carbohydrates:
24
g
|
Protein:
5
g
|
Fat:
17
g
|
Saturated Fat:
8
g
|
Cholesterol:
0
mg
|
Sodium:
6
mg
|
Potassium:
177
mg
|
Fiber:
3
g
|
Sugar:
7
g
|
Vitamin A:
5
IU
|
Vitamin C:
0.3
mg
|
Calcium:
63
mg
|
Iron:
1.6
mg
Nutrition Facts
Coffee granola slice
Amount Per Serving
Calories 267
Calories from Fat 153
% Daily Value*
Fat 17g26%
Cholesterol 0mg0%
Sodium 6mg0%
Potassium 177mg5%
Carbohydrates 24g8%
Protein 5g10%
Vitamin A 5IU0%
Vitamin C 0.3mg0%
Calcium 63mg6%
Iron 1.6mg9%
* Percent Daily Values are based on a 2000 calorie diet.