A ridiculously delicious sandwich combo for the chilli lovers, featuring fiery Korean gochujang and peanut butter.
Nope. I haven't lost my marbles (I think there's at least one left). Yes, this is a recipe for a sandwich. There's no cooking involved and it takes less than five minutes to make, so there are no new techniques to learn here.
The newsflash is: gochujang and peanut butter. GOCHUJANG AND PEANUT BUTTER.
Did you hear me?
Let me say it again.
GOCHUJANG AND PEANUT BUTTER.
This is one for the chilli lovers. If you don't like it hot, this one is not for you. Go make a cup of tea and come back next week.
The (short) back story
I was scrolling through my social media feeds a few days ago and stopped on a post that asked people for their weird food combinations that are surprisingly good.
I did a double take when I got to the bit about having gochujang and peanut butter on a sandwich, with cucumber and coriander (cilantro). Bingo. Jackpot. Oh my gosh yes please.
I whipped one up for lunch and it was so good I knew I had to share it with you. This gochujang and peanut butter sandwich is savoury, salty, spicy, crunchy, fresh, and so very satisfying.
Peanut butter sandwiches just grew up and got interesting.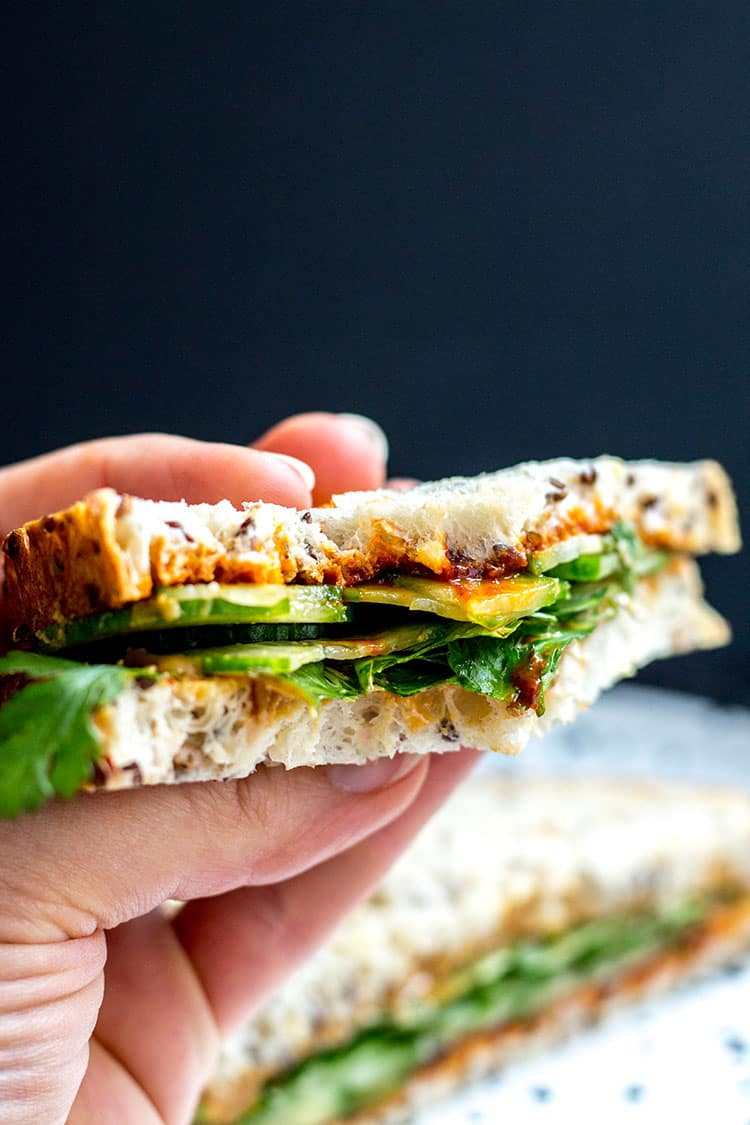 Go buy some gochujang
Korean gochujang chilli paste is one of my favourite things. It's a salty, spicy, deeply umami mixture of fermented chillies and soy beans, that's a bit like a fiery blend of marmite and miso paste. You can pick it up from Asian supermarkets and the ethnic food section of some regular supermarkets for about $4. A little goes a long way and it will last for ages.
Standard gochujang includes wheat as an ingredient, but gluten free Wholly Gochujang
 is available from Amazon if you need it.
Get the recipe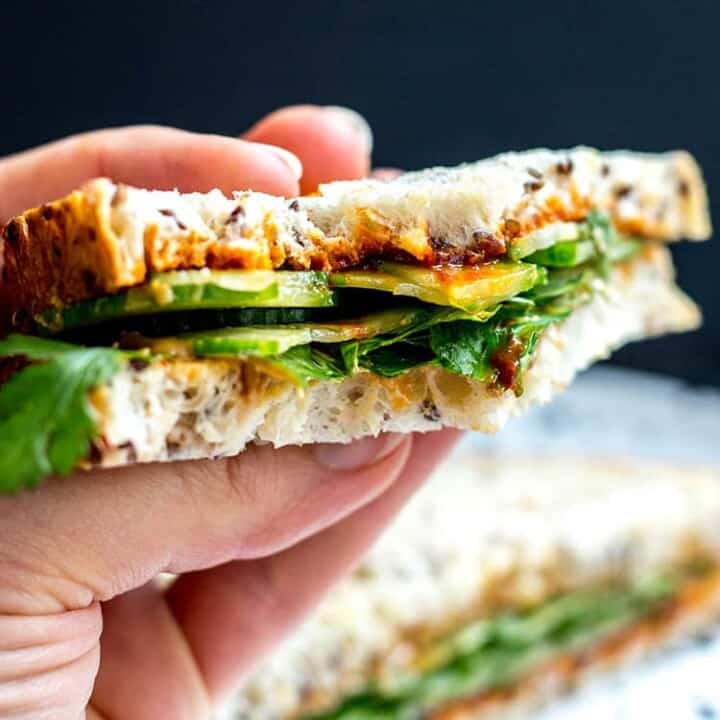 INGREDIENTS
2

slices

bread

1

teaspoon

gochujang chilli paste

(approx.)

1

tablespoon

peanut butter

(approx.)

Sliced cucumber

Coriander (cilantro) leaves
INSTRUCTIONS
Spread about 1 teaspoon of gochujang chilli paste on one piece of bread, and generously spread the other with your favourite peanut butter.

Fill sandwich with lots of sliced cucumber and coriander (cilantro) leaves, then devour.
NUTRITION INFORMATION
Calories:
250
kcal
|
Carbohydrates:
32
g
|
Protein:
9
g
|
Fat:
10
g
|
Saturated Fat:
2
g
|
Cholesterol:
0
mg
|
Sodium:
365
mg
|
Potassium:
205
mg
|
Fiber:
3
g
|
Sugar:
5
g
|
Calcium:
77
mg
|
Iron:
2.3
mg
Nutrition Facts
Gochujang and peanut butter sandwiches
Amount Per Serving
Calories 250
Calories from Fat 90
% Daily Value*
Fat 10g15%
Cholesterol 0mg0%
Sodium 365mg16%
Potassium 205mg6%
Carbohydrates 32g11%
Protein 9g18%
Calcium 77mg8%
Iron 2.3mg13%
* Percent Daily Values are based on a 2000 calorie diet.