Comforting creamed spinach gratin with a cauliflower and cashew-based sauce and topped with a golden seedy crumb, a perfect addition to your holiday table.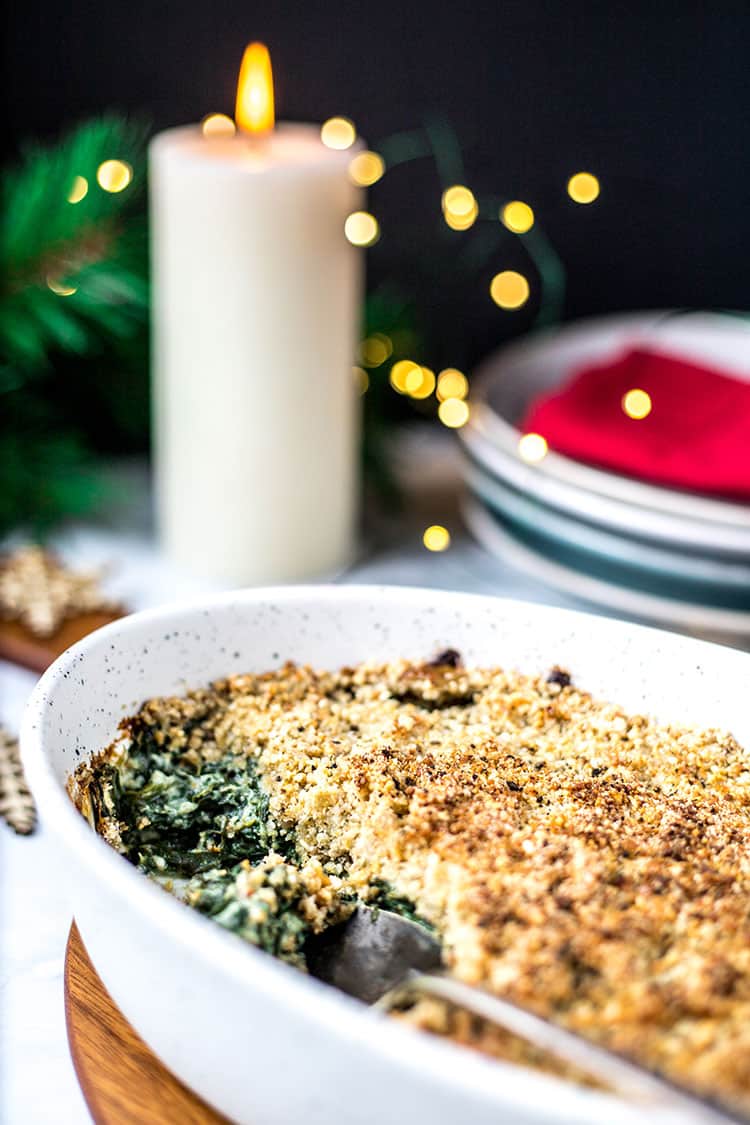 "And so this is Christmas, and what have you done...?"
I'm not a huge fan of Christmas carols, but this one is humming in my head this week and I can't say I mind. I've been feeling reflective this week. As I shop for gifts, plan food and organise time with friends and family, I've been very aware of our relative comfort and privilege in being able to spend Christmas however we please, with no fear or concern about how we're going to make ends meet.
At this time of the year my family also places some extra priority on supporting others. Typically we choose one local charitable cause or organisation to support, and one overseas. We use it as a learning opportunity with our daughters (the older more so than the smaller) and discuss why we're supporting the cause, and at the same time take a moment's pause to express our gratitude.
This year we are donating to Waikato Women's Refuge, Te Whakaruruhau, as our local cause. The refuge provides safe houses and crisis support for women and children experiencing domestic violence. The community based service is always under pressure, but never more so than at this time of the year when their safe houses will be full to over flowing, and their team will be trying hard to give the people they support the best Christmas they can.
If you're in a position to do so, please consider making a donation to help these families in crisis get the support they need.
Vegan creamed spinach gratin
My family will be coming together soon to celebrate Christmas with a long lunch under the trees at my parent's house, so menu planning is in full swing this week.
I've been thinking about vegetable side dishes and pulled together this lovely creamed spinach gratin. Creamed spinach dishes are typically made with lashings of cream, but I had an inkling it would also work really well with the cauliflower and cashew-based creamy sauce I often serve with pasta. I recommend making a full batch of the sauce, you can then use what you need for the spinach gratin and reserve the rest for another meal. It keeps well in the freezer for a quick weeknight meal.
Once you've got the sauce sorted, it's a simple matter of cooking an ocean of spinach with a little onion and garlic, mixing it with the sauce, topping it with a nice seedy crumb mixture and baking until golden.
This creamed spinach gratin is rich and comforting, actually really rather healthy, and is a side dish that can be enjoyed by everyone at your holiday table - vegan, vegetarian, or not.
My three year old gave me an impromptu thank you speech about how delicious it was, so I'd say it has the child seal of approval too. Who'd have thought?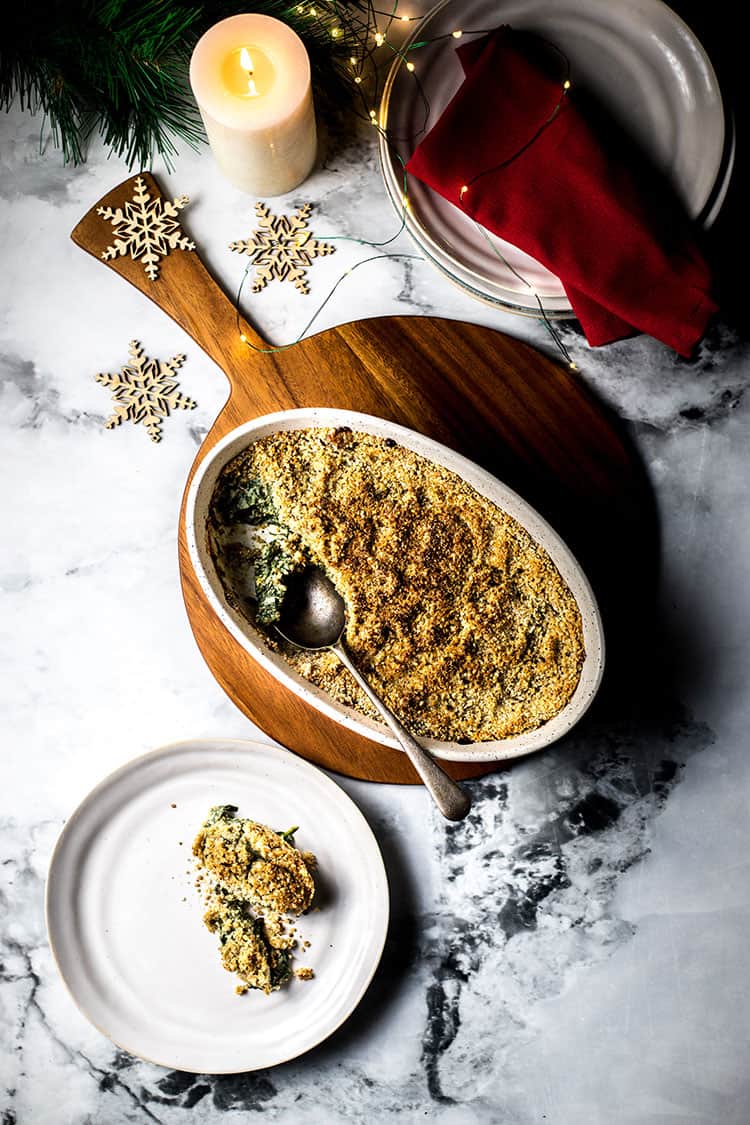 Get the recipe
INGREDIENTS
For the sauce:
600

g

cauliflower

(about half a cauliflower or 4-5 cups of small florets)

½

cup

cashews

soaked in hot water for 15-30 minutes

2

teaspoon

olive oil

1

onion

chopped

2

cloves

garlic

chopped

1

cup

vegetable stock

1

tablespoon

nutritional yeast

(optional, or add more if you like it)

Pinch

nutmeg

¼

teaspoon

salt

Good grind of black pepper
For the spinach:
1

clove

garlic

finely chopped or grated

1

onion

finely chopped

1

tablespoon

olive oil

500

g

baby spinach

(1lb) or more (see recipe notes), washed and roughly chopped

Pinch

nutmeg

¼

teaspoon

salt
For the crumb topping:
¼

cup

sunflower seeds

¼

cup

cashews

2

tablespoon

sesame seeds

1

tablespoon

nutritional yeast

(optional, or add more if you love it)

½

teaspoon

salt

Black pepper

¼

cup

gluten free bread crumbs

(I used storebought gluten free crumbs made from brown rice flour)

Olive oil

to drizzle (optional)
INSTRUCTIONS
For the sauce:
Bring a pot of salted water to the boil. Add cauliflower and cook for 10 minutes, or until soft.

While the cauliflower is cooking, heat olive oil in a frypan (skillet). Add onion and garlic and cook over a low to medium heat until golden and soft, but not browned.

Drain cauliflower and add to your blender, along with cooked onion and garlic mixture, drained cashews, vegetable stock, nutritional yeast, salt, pepper and nutmeg.

Blend until completely smooth.

This makes more sauce than you will need. Save the rest in the fridge or freezer to serve with pasta for a quick weeknight meal.
For the crumb topping:
Put sunflower seeds, cashews, sesame seeds, nutritional yeast, salt and a good grind of pepper into a food processor. Blitz until an even crumb has formed - not too chunky. Add the gluten free crumbs last and pulse once or twice to combine.
For the spinach:
Preheat oven to 220°C (430°F).

Heat olive oil in a large, deep frypan (skillet) or saucepan over medium heat. Add the onion and garlic and cook for 5-10 minutes, until softened and fragrant.

Add the spinach to the pan. You might need to do this a few handfuls at a time, waiting for it to cook down a little before adding more. Once all the spinach is added, cook for a few minutes until all the spinach has wilted and some of the liquid has cooked off.

If there is a lot of moisture in the pan, use tongs to push the spinach to one side, drain the liquid to the other side and remove the spinach to a mixing bowl.

Mix the spinach with 1 cup of creamy cauliflower sauce, a pinch of nutmeg and ¼ teaspoon salt. The quantity of spinach to sauce is flexible, you want it to be soft and creamy but not too runny. Taste and adjust seasoning with more or salt or pepper as desired.

Tip the creamy spinach mixture into a casserole dish and smooth the service. Top with a generous layer of the crumb topping (you might not need it all) and use your fingers to dimple the surface. Drizzle with a little olive oil for extra colour and flavour, if you like.

Bake for 25-30 minutes until the topping is golden brown. Serve hot.
RECIPE NOTES
Serves 8 as a side dish as part of a larger meal, or 4 more generous serves.  
You can use regular bread crumbs if you're not gluten free. 
This dish uses a lot of spinach, but you could easily add more. I used two family sized extra large packs of baby spinach from the supermarket, but I could have easily increased it to three packages (750g or roughly 1.5lb), with a bit more sauce, and still fitted it all into my casserole dish. You could of course also use spinach from your garden. 
If making ahead of time, prepare the sauce and spinach mixture then refrigerate. Add the crumb topping just before baking. 
Nutrition information is estimate and does not include olive oil for drizzling.
NUTRITION INFORMATION
Calories:
147
kcal
|
Carbohydrates:
12
g
|
Protein:
6
g
|
Fat:
9
g
|
Saturated Fat:
1
g
|
Cholesterol:
0
mg
|
Sodium:
410
mg
|
Potassium:
581
mg
|
Fiber:
3
g
|
Sugar:
2
g
|
Vitamin A:
5890
IU
|
Vitamin C:
33.9
mg
|
Calcium:
100
mg
|
Iron:
3
mg