Healthy cucumber sushi party snacks topped with a tasty cannellini bean dip, from There's a carrot in my piñata, by Jennifer Leckey and Judy Moosmueller.
There's a carrot in my piñata is a follow up to There's a beetroot in my cake, this time focusing on happy, sparkly and nourishing whole foods for little people's parties.
Jen and Judy's intro to the book nicely sums up the tension many parents feel about kids parties, and the party food. On the one hand, it's a party so let's enjoy the treats, and on the other hand, the parties are so frequent that these 'sometimes foods' are sneaking their way into our little people's diets all too often.
There is indeed a middle ground, and this new book from the duo has lots of ideas for party foods that are nutritious, while still being fun and a bit of a treat. The book caters to most dietary requirements and includes a good selection of vegetarian and vegan options. If your diet is more traditional and you just want your kids to get a bit more variety, you'll find lots of good ideas here too. Lots of the recipes are suitable for parties as well as everyday eating, which I also really appreciate.
Recipes that caught my eye as something my vegetarian kids would enjoy included sweet potato brownies (vegan), monster rocks - cheese puffs loaded with green vegetables (vegetarian), salted caramel clusters made with puffed millet and corn (vegan), pumpkin crispbread (vegetarian), gingerbread star pops (vegan), chocolate coated banana nice cream fingers (vegan), veggie filled homemade bread rolls (vegan), and of course the cucumber sushi that I tried below.
There are also some lovely drink ideas like sparkling water with kiwifruit, cucumber and lime; spiced Christmas milk; and mermaid bubbles made with a touch of spirulina powder.
The recipes are organised into sections for seasonal celebrations and gorgeously themed birthday parties - think 'by the sea', 'bohemian tribal' and 'into the woods'. I've never tried to pull off a highly stylised party like this for my girls, but if that's your thing you'll get some inspiring ideas for pretty tabletops and decorations from the beautiful photographs throughout the book.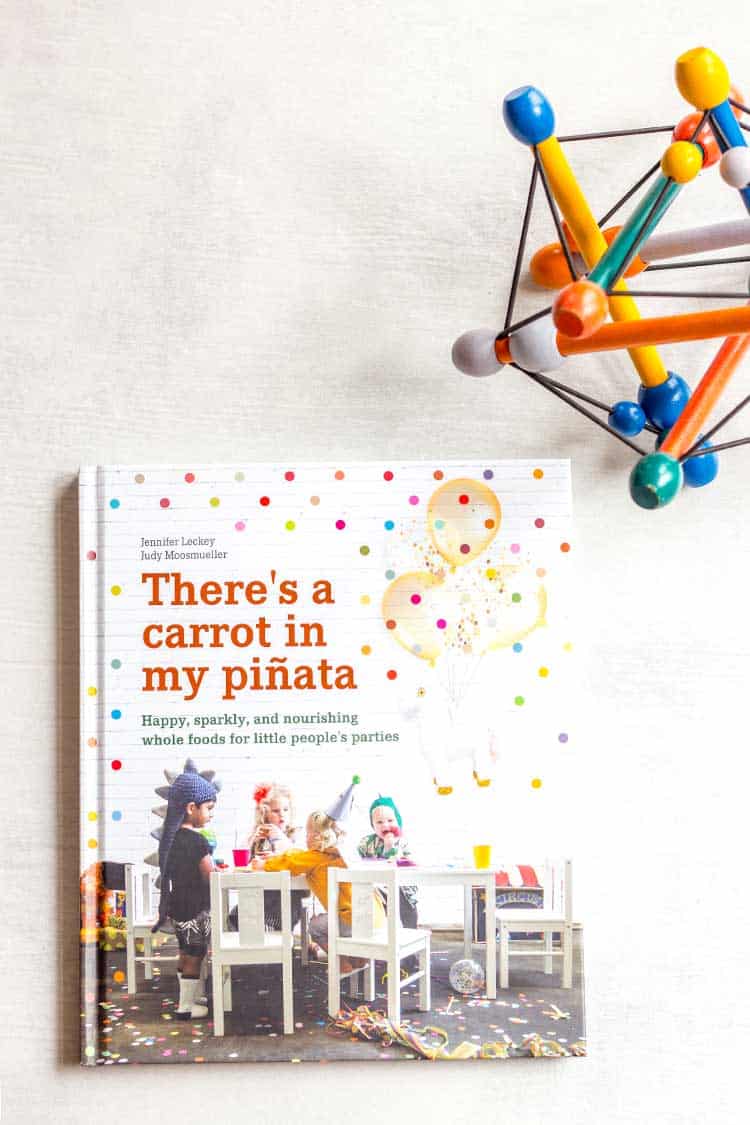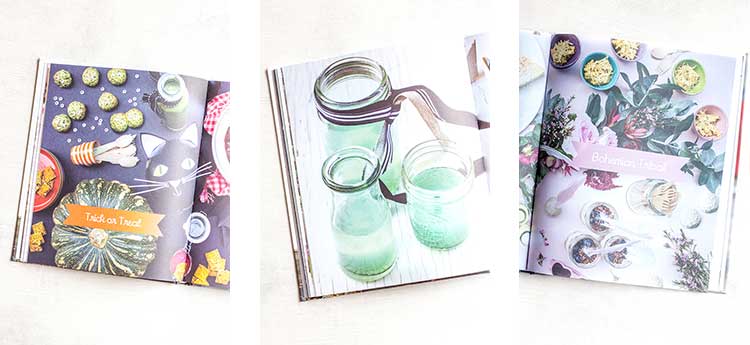 Cucumber sushi
I was drawn to this recipe for cucumber sushi because I was confident my littlest girl would like it, it's well balanced with some protein from the white beans and it's also perfect for the hot summer days we're having in New Zealand right now.
The white bean 'tuna' filling is quick and easy to make in a blender, and really yummy! Lightly smoky, a little tangy, and creamy smooth - with some bite from finely chopped celery.
Once the dip is made it's a simple task to assemble the sushi, though this is where the recipe fell down a little for me. The recipe suggests removing the centres from the cucumber rounds with a small cookie cutter - I didn't have one small enough so I did it with a knife which was a little fiddly. I then spooned dip into the rounds and refrigerated them for a few hours. Unfortunately, the mixture didn't set as expected which made these very messy to eat.
But you know what? It's no big deal. I'd definitely make these again, and next time I'd just cut the cucumber rounds a bit thicker, and scoop out a hollow for the dip rather than cutting them right through. My two year (nearly three!) year old loved these and gobbled up half a plate full for lunch that day, giggling about the mess.
Why didn't the dip firm up? I don't know. I used ¼ cup of mayo and 1 tablespoon of apple cider vinegar, which resulted in a thick and smooth dip - but one that didn't change consistency after a wee holiday in the fridge (not even overnight). It could just be that every mayo has a different consistency, and gives a slightly different result.
Get the recipe
INGREDIENTS
3

medium Lebanese cucumbers

1 ½

cups

cannellini beans

or baby lima 'butter' beans

½

cup

vegan mayonnaise

or mayo of your choice (up to ½ a cup)

1-2

tablespoon

apple cider vinegar

Juice of 1 lemon

½

teaspoon

smoked paprika

½

teaspoon

onion powder

1

cup

celery

finely chopped

¼

cup

parsley

finely chopped

Salt and pepper to season
INSTRUCTIONS
For the cucumber sushi:
Slice cucumbers into 1-1.5 centimetre slices. Remove the centre with a round cookie cutter. Fill with dip. (See notes).
For the dip:
Combine beans, half the mayo, apple cider vinegar, lemon, and spices in a high-speed food processor and process until smooth. Text texture, add more mayo if not smooth enough. Different brands give a different result. Dip will also harden once refrigerated. (See notes).

Add celery and parsley and combine by hand. Season to taste.
RECIPE NOTES
Recipe from There's a carrot in my piñata, by Judy Moosmueller and Jennifer Leckey. Republished with permission of the authors. 
Makes approximately 24 cucumber sushi rounds (dip recipe makes 1 ½ cups). Nutrition information is estimated per sushi round. 
Lebanese cucumbers can be substituted for 1-2 telegraph cucumbers. 
When made for this review, the dip did not harden once refrigerated. An alternative to cutting out the centres of the cucumber rounds would be to cut the rounds thicker, and scoop out a hollow to hold the dip instead. 
NUTRITION INFORMATION
Calories:
50
kcal
|
Carbohydrates:
4
g
|
Protein:
1
g
|
Fat:
3
g
|
Sodium:
31
mg
|
Potassium:
122
mg
|
Vitamin A:
130
IU
|
Vitamin C:
2.6
mg
|
Calcium:
17
mg
|
Iron:
0.5
mg
Disclaimer
I was gifted a copy of There's a carrot in my piñata to review. All opinions and words are my own.
Nutrition Facts
Cucumber sushi with white bean 'tuna'
Amount Per Serving
Calories 50
Calories from Fat 27
% Daily Value*
Fat 3g5%
Sodium 31mg1%
Potassium 122mg3%
Carbohydrates 4g1%
Protein 1g2%
Vitamin A 130IU3%
Vitamin C 2.6mg3%
Calcium 17mg2%
Iron 0.5mg3%
* Percent Daily Values are based on a 2000 calorie diet.