Crisp-on-the-outside, chewy-on-the-inside vegan chocolate chip cookies, just like Nana used to make. From Great Vegan Meals for the Carnivorous Family, by Amanda Logan.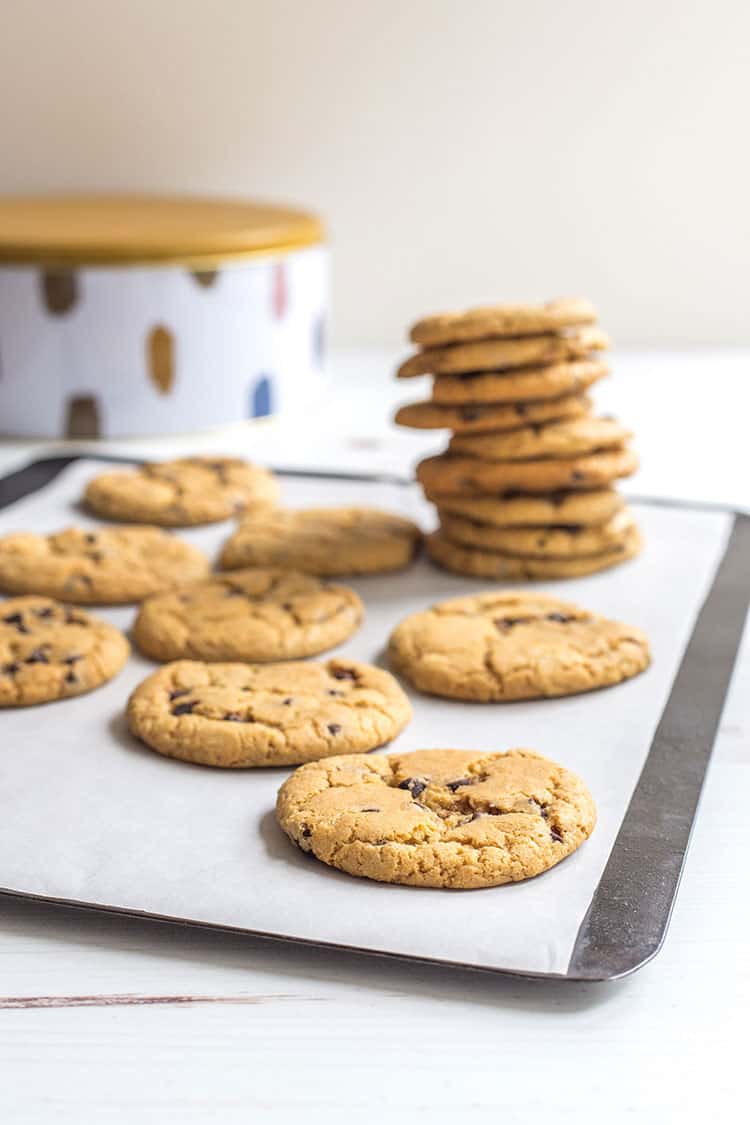 Amanda Logan is the creative genius behind My Goodness Kitchen, a plant-based recipe blog for vegans, carnivores and everyone in between. She's just released her first cookbook, Great Vegan Meals for the Carnivorous Family, and I'm so excited to add a copy to my ever-growing cookbook collection. It's going to get a lot of use.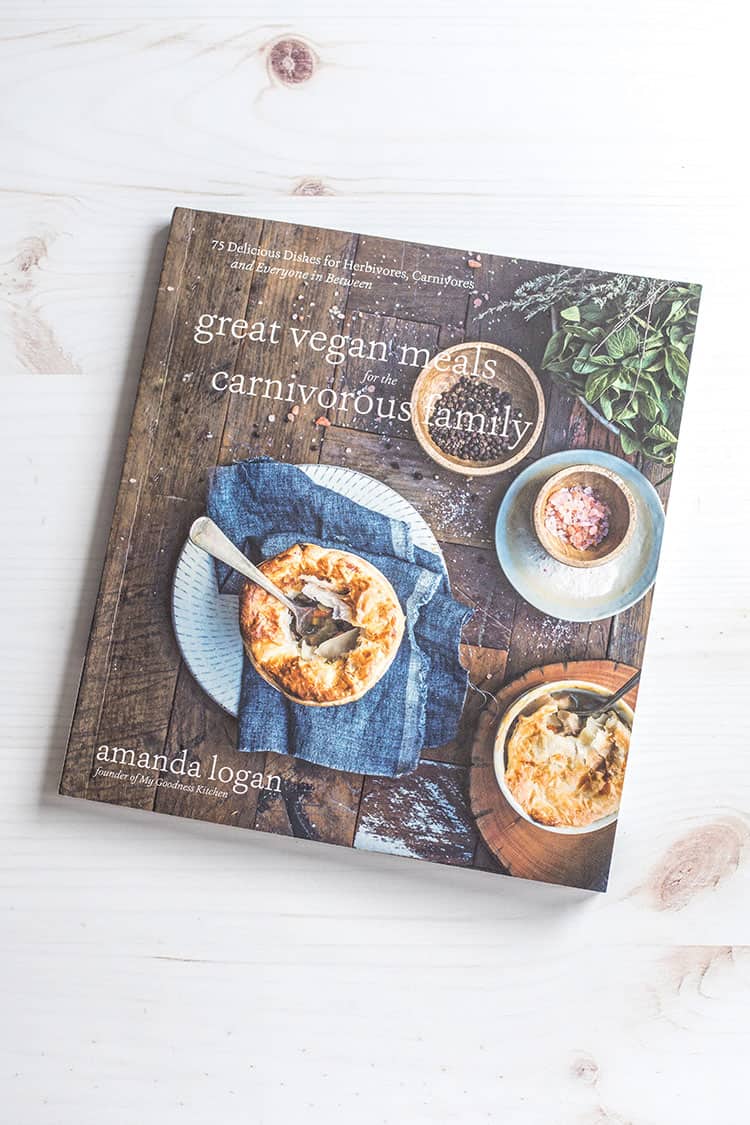 I've followed Amanda online for a few years now. I admire her creative and delicious recipes, and gorgeous understated photography style that's maybe best described as totally, absolutely, dreamy. When I heard she was working on her first cookbook I knew right away it would be a winner, and I was right.
This cookbook is full of recipes for food I want to eat. But even better, it's full of recipes for food my family will want to eat too. Like Amanda's family, my family has a mixed bag of eating styles and I don't love cooking multiple meals at dinnertime. My kids are vegetarian and fairly open minded about what they'll eat, but a common query/complaint from my eldest daughter goes something like "...Mum is this normal vegan food or weird vegan food...?" She fully supports the idea of a plant-based diet, but really just wants things to taste as 'normal' as possible, whatever 'normal' is supposed to mean, and may never give up cheese.
Amanda has done a stellar job at pulling together this collection of recipes that are adaptations of classic family meals, by replicating the flavours and textures of 'normal' food using mostly whole food ingredients from the plant kingdom.
Shredded mushrooms are used to great effect in the cover recipe Tastes like chicken pie and the dee-licious looking These po' boys are vegan, which tells me I'm going to need to get my hands on some king oyster mushrooms, as soon as I can.
The book includes sections covering breakfasts, lunch favourites, carnivore-approved mains, side dishes, sweets and basics. Some recipes are quicker than others, which means easy weeknights and slow weekends are both covered. There's nothing too complicated or scary for less experienced cooks, but still oodles of inspiration for those of us who would live in the kitchen if we could.
I have my eye on a few recipes to try sooner rather than later.
Birdless chicken noodle soup, made with shredded jackfruit and classic chicken soup flavours.
This lasagna can't be vegan, These po-boys are vegan, and Mind-blowing watermelon sushi, pictured below.
Chinese take-out noodles at home, because yum.
And Vegan banana sundae tarte tatin, to complete me.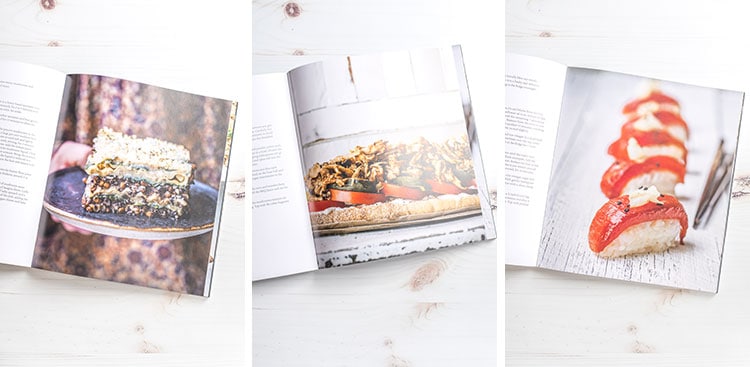 Pictured (left to right): This lasagna can't be vegan; These po' boys are vegan; Mind-blowing watermelon sushi.
You can order a copy of Great Vegan Meals for the Carnivorous Family, and really, you should.
Just like Nana's chocolate chip cookies
The summer school holidays have just finished in New Zealand and we're setting back into routine, which means packing lunch boxes again. Not my favourite thing.
I decided to lessen the pain by making a batch of Amanda's vegan chocolate chip cookies so that we had home made baking on hand, at least for the first week anyway (if they last that long!).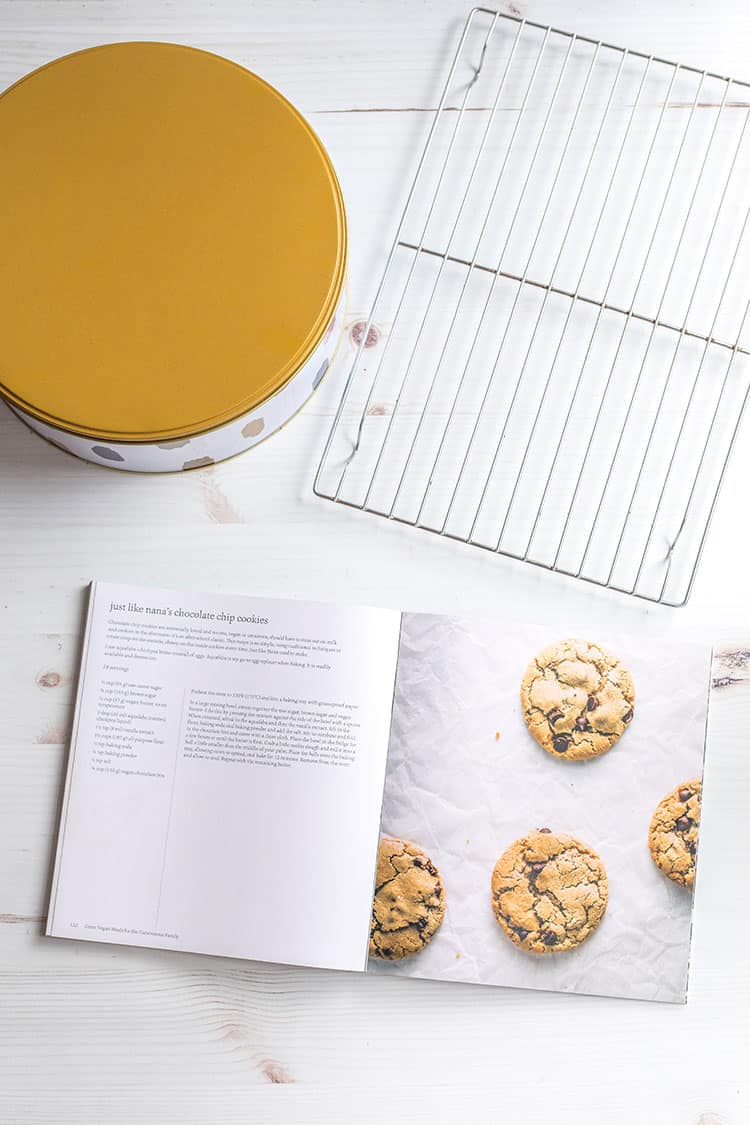 These cookies use the traditional technique of creaming (plant-based) butter and sugar, then folding through other 'normal' ingredients. They depart from tradition by using aquafaba, or canned chickpea liquid, as an egg replacer.
I love experimenting with aquafaba, so was really keen to give these a try. I'm intrigued by how well aquafaba works, love that it's vegan, and also suggest that if you're not vegan you're open minded to it because it's the ultimate frugal living ingredient - something that would otherwise be tipped down the sink, and much cheaper than free range eggs.
These vegan chocolate chip cookies are easy to make, pleasingly crisp-on-the-outside and chewy-on-the-inside, and mine came out looking pretty close to Amanda's. Winning.
Happily, both of my girls unreservedly LOVE these cookies. They're sweet, chewy, slightly caramelly, chocolatey - everything a home made chocolate chip cookie should be. They'll be added to the regular recipe rotation for sure, and next step will be getting my girls onto making them themselves.
Tips and tricks
My first tip to you is to read the recipe fully. Multi-tasking as usual, I missed the last sentence: 'Repeat with remaining batter'. Which meant my cookies ran into each other at the edges a bit. They'd have been perfect if I'd cooked half of the batch at once and allowed more room for them to spread.
My oven probably runs cooler than Amanda's, and I had to cook these for 18 minutes (rather than the 12 stated in the recipe) to get them lightly golden brown. Just keep an eye on them from 12 minutes and take them out once they're golden. They will be quite soft initially, but crisp up on the outside once cooled.
This cookie dough is the type that rests in the fridge before making, so I think you could probably make a double batch of dough and freeze some in portions for home made chocolate chip cookie emergencies.
I also have a hunch these vegan chocolate chip cookies would be very good served warm with Amanda's Twisted vanilla bean nice-cream.
Thank you Amanda.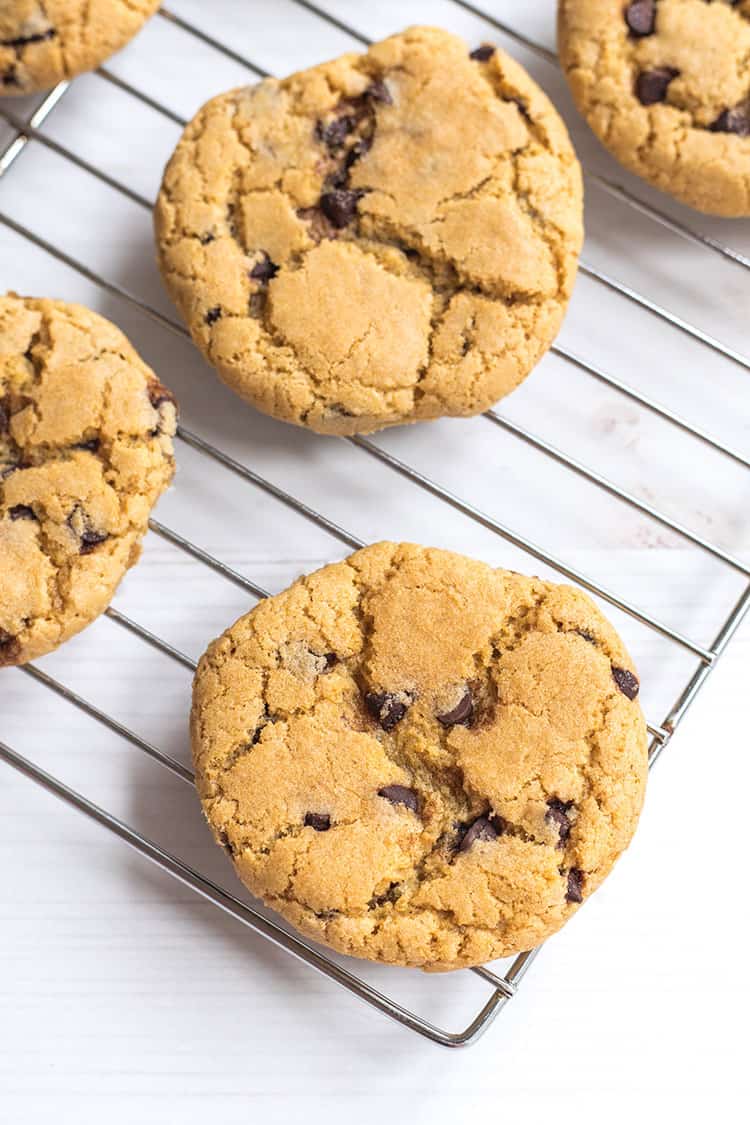 Get the recipe
INGREDIENTS
½

cup

raw caster sugar

(95g)

¾

cup

brown sugar

(165g)

½

cup

vegan butter

room temperature (57g)

3

tablespoon

aquafaba

(canned chickpea liquid) (45ml)

1 ½

teaspoon

vanilla extract

(8ml)

1 ½

cups

all-purpose flour

(187g)

½

teaspoon

baking soda

¼

teaspoon

baking powder

½

teaspoon

salt

¾

cup

vegan chocolate bits

(130g)
INSTRUCTIONS
Preheat oven to 350F (175C) and line a baking tray with greaseproof paper.

In a large mixing bowl, cream together the raw sugar, brown sugar and vegan butter - I do this by pressing the mixture against the side of the bowl with a spoon.

When creamed, whisk in the aquafaba and then the vanilla extract. Sift in the flour, baking soda and baking powder and add the salt. Stir to combine and fold in the chocolate bits and cover with a clean cloth. Place the bowl in the fridge for a few hours or until the batter is firm.

Grab a little cookie dough and roll it into a ball a little smaller than the middle of your palm. Place the balls onto the baking tray, allowing room to spread, and bake for 12 minutes. Remove from the oven and allow to cool. Repeat with the remaining batter.
RECIPE NOTES
You may need to adjust cooking time to suit your oven. The cookies are done as soon as they are lightly golden brown.
Nutrition information is estimate. 
Recipe republished with permission of Amanda Logan and Page Street Publishing Co. 
NUTRITION INFORMATION
Calories:
169
kcal
|
Carbohydrates:
27
g
|
Protein:
1
g
|
Fat:
6
g
|
Saturated Fat:
2
g
|
Cholesterol:
0
mg
|
Sodium:
143
mg
|
Potassium:
30
mg
|
Fiber:
0
g
|
Sugar:
18
g
|
Vitamin A:
240
IU
|
Calcium:
22
mg
|
Iron:
1.1
mg
Disclaimer
I was gifted a copy of Great Vegan Meals for the Carnivorous Family. All opinions and words are my own.