These crunchy candied peanuts are so moreish! Sweet and savoury with a toffee-like coating of sugar, salt, sesame and chilli, they're a brilliant edible gift for Christmas.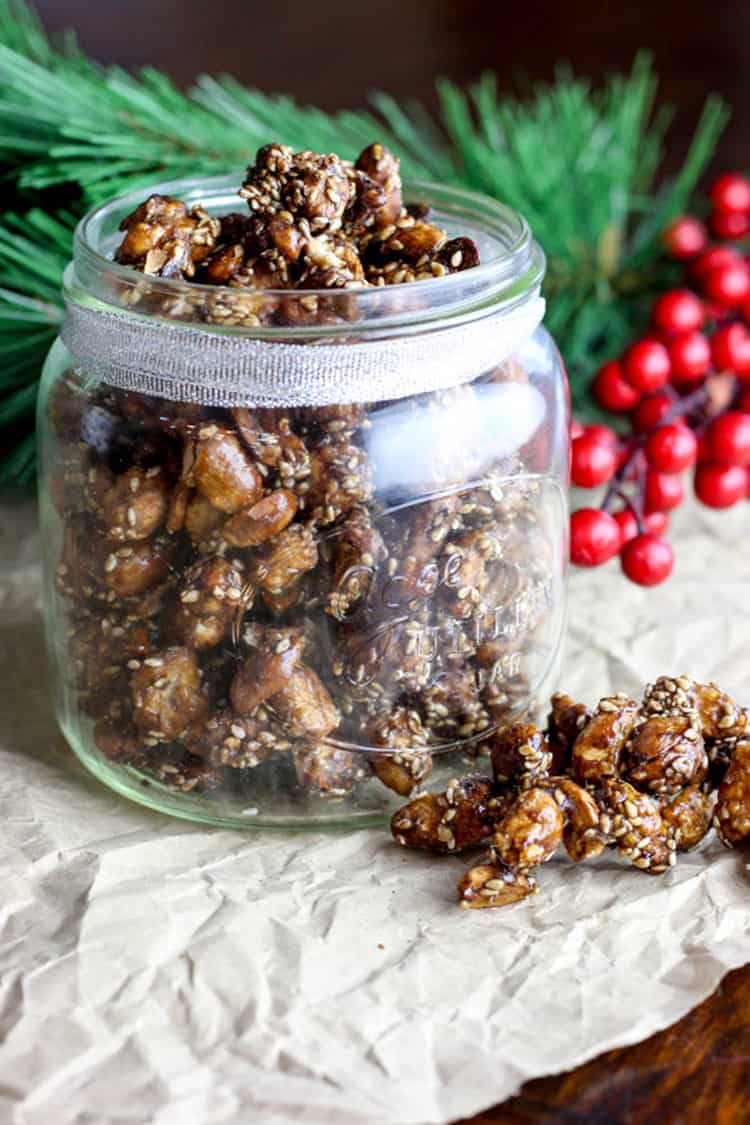 Today is the first day of December and I am officially in Christmas mode. Christmas mode involves a slightly panicky few weeks of trying to get ALL THE THINGS done before the summer school holidays begin about a week before the big day itself. Bundle that together with blogging, starting a new business (more on that another time), keeping my 10 month old baby out of trouble and life in general and no wonder I'm feeling a teeny bit busy!
So I'm breathing through it all and turning my thoughts to gift giving, catching up with special friends and family, The Menu, and eventually slowing down and taking a bit of a breather for a few weeks over Christmas and the New Year. I've been pottering in the kitchen and have some simple and delicious recipes lined up for holiday season.
Edible gifts are high on my agenda every year, and this year is no different. I really love being able to give away little handmade sweet treats, and I'm sure most people feel a bit special when they know you've made an effort. And making people feel a bit special is what it's all about after all, isn't it?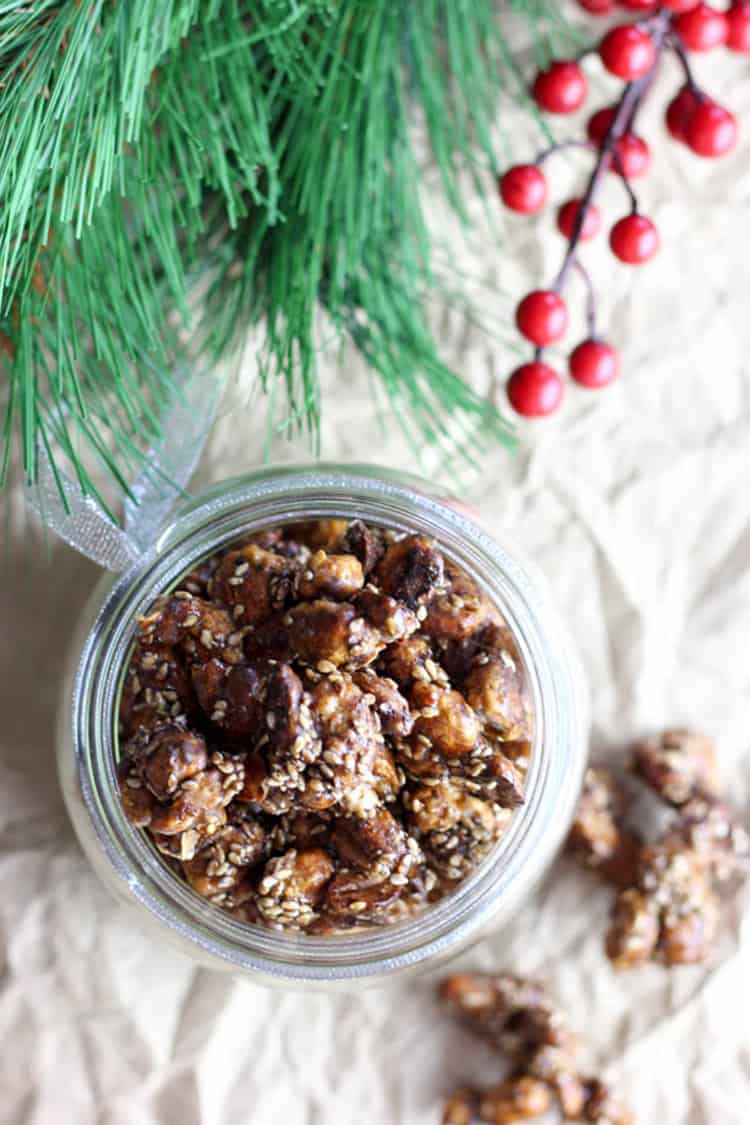 These nuts are absolutely designed with my Dad in mind. They're delicious and incredibly moreish so it's safe to say you could gift them to almost anyone. But I know my Dad will LOVE them. They're sweet and savoury at the same time, pleasingly crunchy and have a bit of zip with chilli included in the coating.
They're also really easy to make, and pretty inexpensive - an important consideration if you're planning to make edible gifts for lots of people.
This is one of those recipes that's a little bit of kitchen magic. You start with sugar and water, add the nuts, then stir and stir and stir. The sugar will go through a range of stages as it melts and caramelises (including a really weird crystallised stage) but trust in the process and keep going. In the end you'll have beautiful, darkly caramelised nuts. It's then a simple matter of quickly stirring through the extra flavourings, then out onto a silicon mat or baking paper to cool and harden up. You can then snap the peanuts into small clumps and package them beautifully. Easy as.
If you, or the person you're making these for, doesn't like chilli just leave it out. If you or they love it, add more! I used some Thai dried chilli flakes which are fairly medium in heat and a nice soft crumbly texture that's somewhere between chilli powder and whole chilli flakes. The cocoa is there for colour and a little bit of flavour - but these don't taste chocolatey at all. Go figure.
Get the recipe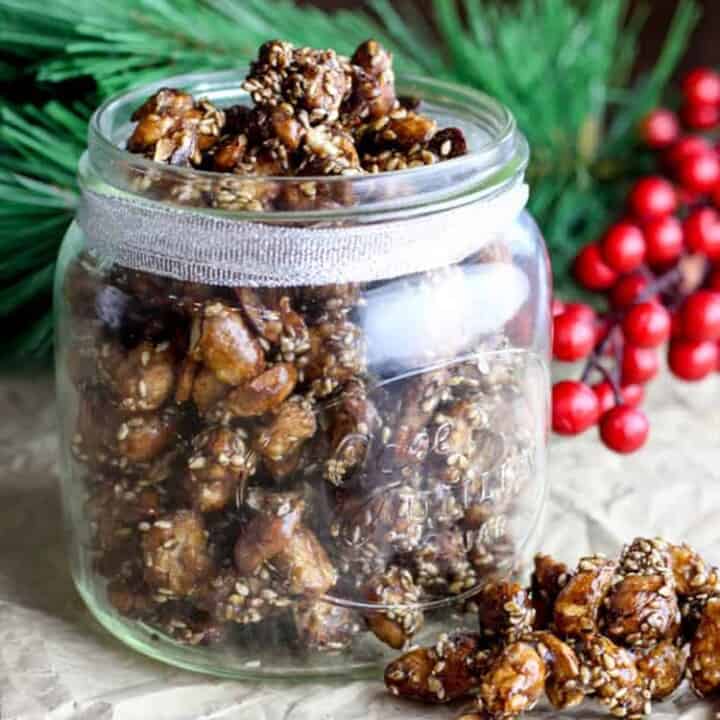 INGREDIENTS
2

cups

blanched peanuts

1

cup

white sugar

⅓

cup

water

½

teaspoon

salt

½-1

teaspoon

chilli flakes

1

teaspoon

cocoa powder

¼

cup

sesame seeds
INSTRUCTIONS
Put the sugar and water in a large non-stick frypan and stir over a low to medium heat until the sugar has dissolved.

Add the peanuts and keep stirring.

Stir, stir, stir.

Keep stirring for about 10-15 minutes. The sugar mixture will go through a range of stages as it melts and caramelises. You'll eventually end up with a dark, shiny and toffee like glaze which coats the peanuts perfectly. I like to take mine quite dark so that it has a little bittersweet flavour to it, but you have to be really careful not to burn the nuts at the end. If you're worried take them off the heat and stop once they're golden brown.

Quickly stir through the salt, chilli, cocoa and sesame seeds, then scrape the nuts out onto a silicon mat or baking paper.

Allow to cool and harden, then break the nuts into small clumps.

Makes approximately 2 cups. Depending on who you're making these for, you could make one, two, three or four gifts from this recipe. Dad will be getting a whole recipe's worth all to himself!
NUTRITION INFORMATION
Calories:
327
kcal
|
Carbohydrates:
32.1
g
|
Protein:
10.3
g
|
Fat:
20.2
g
|
Saturated Fat:
2.8
g
|
Cholesterol:
0
mg
|
Fiber:
3.7
g
|
Sugar:
26.5
g
Nutrition Facts
Dad's nuts
Amount Per Serving
Calories 327
Calories from Fat 182
% Daily Value*
Fat 20.2g31%
Cholesterol 0mg0%
Carbohydrates 32.1g11%
Protein 10.3g21%
* Percent Daily Values are based on a 2000 calorie diet.