A dense and fudgy dark chocolate beetroot cake with dairy free chocolate ganache frosting and marzipan eggs, perfect to celebrate Easter or any other cake-worthy life event.
Am I the only who one feels like it was Christmas last week? And yet here we are, with Easter in just a few days' time. I can't say I mind. As always, at this time of the year I'm looking forward to the seasonal change in our meals. I was also very happy to have an excuse to work on this celebration cake.
And oh my word, this chocolate beetroot cake is a celebration. Of chocolate, life, and all things good in this world. A lot of people in my life are having hard times at the moment, in all kinds of ways. If that's you too, then I suggest you whip up this fudgy chocolate beetroot cake over Easter weekend and call it medicinal. Trust me, you won't be able to think about anything else for at least the time it takes you to eat a piece.
It's chocolate cake, but not as you know it
I'm so very happy with the way this chocolate cake turned out: moist, dense, fudgy, intensely chocolatey and absolutely delicious. I don't think anyone would ever guess that it's also vegan, gluten free and allergy-friendly (with no dairy, egg, gluten, soy or nuts in the cake itself).
I drew the line at making this vegan chocolate cake refined sugar free though. The chocolate ganache topping uses store bought chocolate as an ingredient (with sugar), so there didn't seem much point. Baking without sugar also adds an extra level of difficulty, as aside from sweetening baking, its inclusion also creates structure. And it is Easter after all.
Baking without eggs or wheat flour mean this cake is a little crumblier than usual, but not enough so to be a problem in any way. The dense fudgy interior of this cake is reminiscent of brownie, but a little lighter in texture, and utterly decadent combined with the ganache frosting.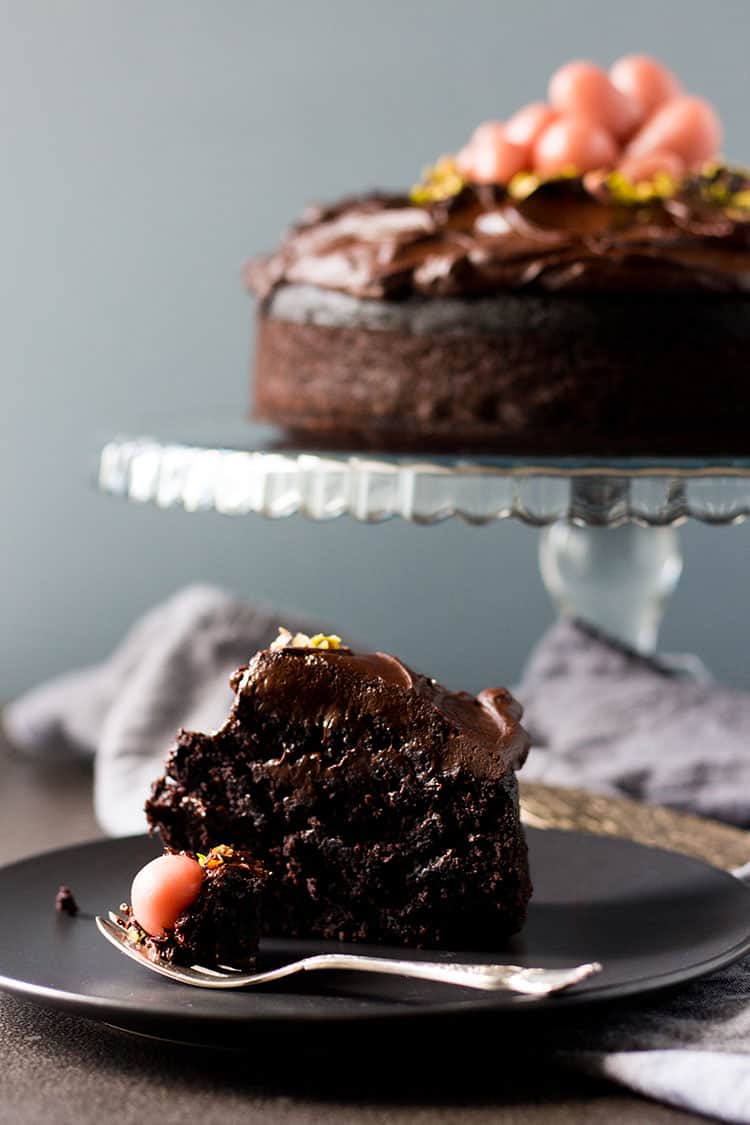 Chocolate beetroot cake
The unique ingredient in this cake is beetroot puree. I roasted two beetroot wrapped in foil for an hour, then skinned them, pureed them in the blender, and used the puree as an ingredient. The concentrated, sweet, earthy flavour of the beet works so well with rich chocolate, adding a complex base flavour that is not detectable as beetroot, and simply divine. I'm sure it also helps alot with that fabulous fudginess.
A combination of flours
I really like using oat flour in baking, after having great success with it in my chocolate and pear brownie and chocolate peanut butter fudge bars. Used on its own, I think it would be too heavy for cake, so in this case I used it alongside brown rice flour and tapioca flour.
Oat flour, brown rice flour and tapioca flour are available from better supermarkets, or from your local whole foods or bulk bin store (go to Bin Inn if you're in New Zealand). If you have a high speed blender, you can make your own oat flour in a few seconds, which is what I do. Simply put rolled oats in the blender and whizz for 10-20 seconds or until a fine powder has formed. I do the same to make my own ground flaxseed (linseed).
If you're unable to eat oats, I think you could substitute 2 ½ cups of a store-bought gluten free flour mix for the oat, brown rice and tapioca flours and expect good results. I haven't actually tested this though, so do let me know how it goes if you try it.
Topped with a vegan dark chocolate ganache
Chocolate ganache is usually made with cream and chocolate, so it's a very easy switch to make this ganache with coconut cream and a good quality dark chocolate to keep it dairy free. Use the best chocolate you can justify the purchase price of. I used Whittaker's Dark Ghana 72%, which I find perfect for baking and desserts, without costing the earth.
Make it extra pretty for Easter
If you'd like to go the extra mile and decorate this cake for Easter, you can do what I did and make some home made marzipan to craft some eggs, miniature fruit or other decorations with. Home made marzipan has just a few ingredients and takes less than two minutes to bring together. It's also not the sickly, over-almond flavoured stuff you might know from the supermarket.
The key ingredients are fine almond meal (almond flour) and icing sugar. I added a tiny bit of lemon juice, and just enough water to bring it together into a very thick paste. A moment or two of kneading it together, wrapping it in cling film to chill, and you're done. You could choose to replace some of the water with vanilla, almond extract, amaretto, rum, rosewater, maple syrup, or virtually any flavouring that takes your fancy.
To achieve the soft pink colour of my marzipan eggs, I added quarter of a teaspoon of the beetroot puree and kneaded it through the marzipan dough. You could try other natural colourings (blueberry for purple maybe?), or store bought food colouring, to create any colour you like. If the mixture gets too soft or wet, just add a little extra icing sugar.
The marzipan dough is best to work with once it has had time to chill, I chilled mine in the fridge overnight wrapped in cling film.
When it was time to assemble the cake, I sprinkled it with finely chopped pistachio nuts then carefully assembled the eggs in a little nest shape. I was going to use some pashmak, or Persian fairy floss, to create an actual nest but found that the package in my pantry had turned solid (it obviously doesn't store well once opened). You could also use traditional candy floss for a bit of drama.
I hope you enjoy this cake as much as I do! Have a happy Easter, full of belly laughs, chocolate and time with your loved ones.
Amber xx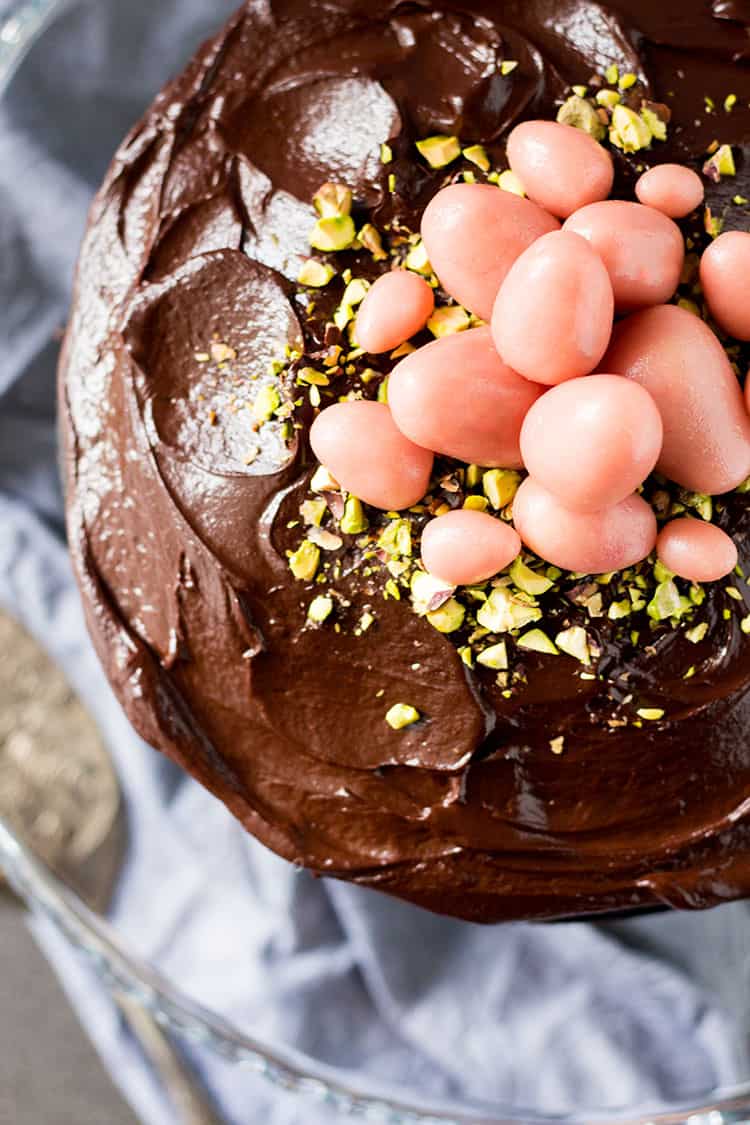 Get the recipe
INGREDIENTS
For the chocolate beetroot cake:
2

beetroot

3

tablespoon

ground flaxseed

(linseed)

1 ½

cups

sugar

1

cup

oat flour

(gluten free if required)

1

cup

brown rice flour

1

cup

cocoa

½

cup

tapioca flour

2

teaspoon

baking powder

(gluten free if required)

1

teaspoon

baking soda

¼

teaspoon

salt

1 ½

cups

almond milk

½

cup

coconut oil

melted if solid

1

tablespoon

natural vanilla extract

2

teaspoon

apple cider vinegar

1

teaspoon

instant coffee

dissolved in 1 tablespoon boiling water (or 1 tablespoon strong brewed coffee)
For the chocolate ganache:
250

g

dark chocolate

(8.8 oz) I used Whittaker's Dark Ghana 72%

1

cup

full fat coconut cream
For the marzipan:
100

g

almond meal

(3.5 oz) finely ground

70

g

icing sugar

(2.5 oz)

Pinch

salt

1

teaspoon

lemon juice

2-4

teaspoon

water
For decoration (optional):
Pistachio nuts

chopped

Pashmak or candy floss
INSTRUCTIONS
For the marzipan:
Start by making the marzipan, either the night before to give it plenty of time to chill, or earlier in the day on the day you plan to decorate the cake.

A smooth marzipan relies on finely ground almond meal. I recommend giving it a quick blast in your blender or food processor to make it extra fine, then sieve it to remove any chunky bits.

Combine almond meal and icing sugar in a bowl.

Add lemon juice, then 1-2 teaspoon of water and stir. Add additional water with extreme care, just one teaspoon too many can make the mixture too wet to work with. I found 3 teaspoon to be the perfect amount, allowing the dough to come together and be kneaded into a firm, pliable consistency.

You can replace 1 teaspoon of the water with vanilla, almond extract, amaretto, rum, rosewater, maple syrup, or another flavouring of your choice.

If your marzipan dough becomes too wet or sticky, knead in a little more icing sugar (a little at a time).

Wrap the marzipan dough tightly in cling film and refrigerate.
For the chocolate beetroot cake:
Preheat oven to 180C (350F) fanbake, and grease and line a 23cm (9") spring form cake pan.

Clean and trim the beetroot, then wrap tightly in foil. Roast for about one hour, or until tender when tested with a bread and butter knife. Open the foil and allow beets to cool enough to handle. Remove the skins (they'll just slide off) and puree the beet in a blender or food processor. If you're using a food processor, you might like to pass the puree through a sieve to make sure it's smooth. Scrape the puree into a bowl and set aside.

Turn oven temperature down to 170C (340F).

Mix 3 tablespoon of ground flaxseed (linseed) with half a cup of water and set aside. It will thicken and become gel-like.

Mix dry ingredients together in a large mixing bowl or stand mixer: sugar, oat flour, brown rice flour, cocoa, tapioca flour, baking powder, baking soda and salt.

Measure one cup of beetroot puree and put it back in the blender. Add almond milk, vanilla extract, vinegar and coffee. Blend to combine, then pour in melted coconut oil while the blender is running (this prevents it from setting or separating as it meets with cold ingredients).

Pour wet ingredients from the blender into the mixing bowl with the dry ingredients. Add the ground flaxseed and water, then beat until smooth and well combined.

Pour cake batter into greased and lined cake pan, then bake for an hour, or until a skewer comes out fairly clean. This is a moist, fudgy cake, so it will never be perfectly clean.

Remove cake from the oven and allow to cool completely in the cake pan. Don't be tempted to remove it too soon, otherwise it will break.
For the chocolate ganache:
When you are ready to decorate your room temperature cake, chop or break chocolate into small pieces and put in a mixing bowl.

Heat coconut cream in a saucepan until nearly simmering, but remove from the heat before it begins to bubble. Pour coconut cream over the chocolate and leave to sit for a few minutes.

Slowly stir the coconut cream and chocolate until well combined, thick and glossy (it will take a few minutes). Be gentle, chocolate likes to be treated with care.

If the ganache is thick enough, spread ganache thickly over the top of your cake. If it is too soft, leave it to cool for a few minutes first.

Decorate top of the cake with chopped nuts, pashmak or candy floss (optional).

If using marzipan decorations, roll small eggs or other shapes and arrange them on top of the nuts, pashmak or candy floss. For pink marzipan, knead a ¼ teaspoon of beetroot puree into the marzipan dough beforehand.
NUTRITION INFORMATION
Calories:
442
kcal
|
Carbohydrates:
54
g
|
Protein:
6
g
|
Fat:
24
g
|
Saturated Fat:
15
g
|
Sodium:
162
mg
|
Potassium:
417
mg
|
Fiber:
6
g
|
Sugar:
28
g
|
Vitamin A:
10
IU
|
Vitamin C:
1.1
mg
|
Calcium:
100
mg
|
Iron:
4
mg
Nutrition Facts
Dark chocolate beetroot cake
Amount Per Serving
Calories 442
Calories from Fat 216
% Daily Value*
Fat 24g37%
Sodium 162mg7%
Potassium 417mg12%
Carbohydrates 54g18%
Protein 6g12%
Vitamin A 10IU0%
Vitamin C 1.1mg1%
Calcium 100mg10%
Iron 4mg22%
* Percent Daily Values are based on a 2000 calorie diet.