Fiery, smoky and complex harissa is a North African chilli paste which has transformative powers over humble vegetables.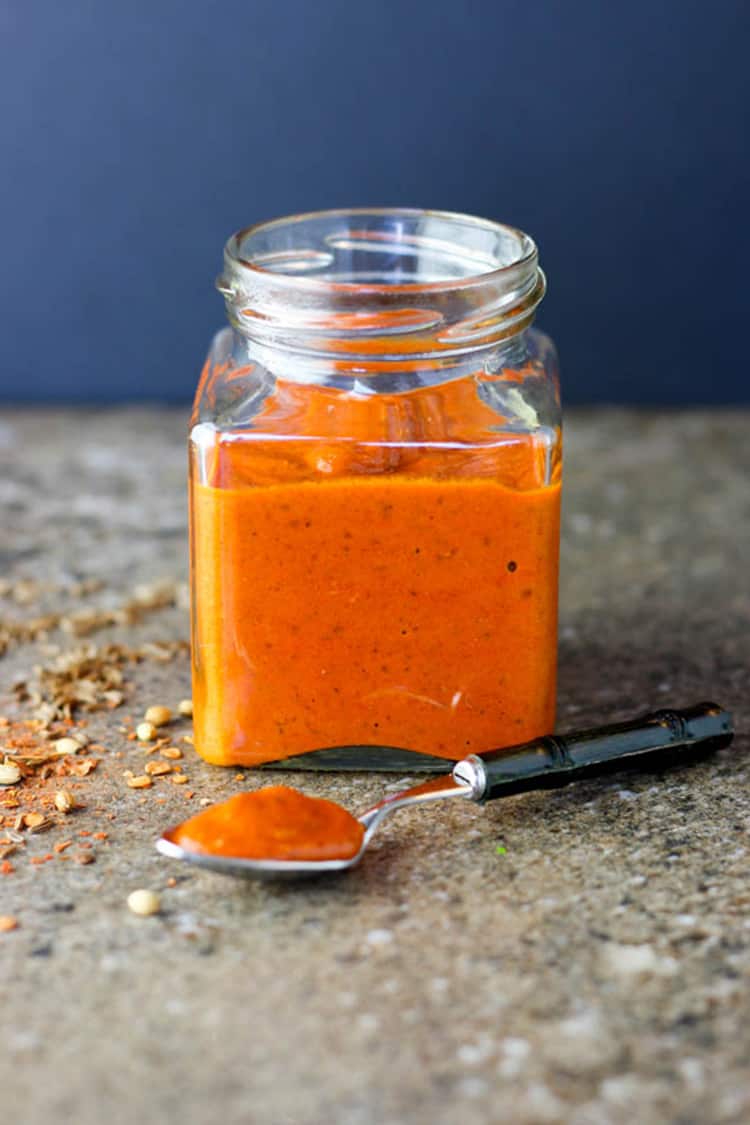 Harissa is a North African hot chilli pepper paste made of varying combinations of roasted red capsicum (red pepper), chilli peppers, spices like cumin, coriander and caraway seed, vegetable or olive oil, and sometimes garlic, lemon juice or vinegar.
I first came across harissa when I worked as a waitress at Hamilton's Metropolis Cafe back in the 90s. Nearly 20 years ago (can that really be true!?). Back then I was a young student freshly living away from the family home, excited to be working part-time in what was then one of Hamilton's most popular cafe's. Harissa was certainly not something I'd ever come across before, and I remember my first taste of it blowing my mind a little. It's a complex little number whose taste is definitely more than the sum of its parts.
Harissa is really versatile and can be used to bring lots of simple dishes alive. It's amazing added to soups and stews, as a flavouring for rice or couscous, added to dressings, as a sandwich spread or sauce in wraps (next level falafel, anyone?), and even as a rub for roasted vegetables (or meats). It's a magic match with carrots, in particular. And I have to admit it's kind of amazeballs with fries and mayo.
There are probably as many recipes for harissa as there are recipes for chocolate cake. I don't know if there's really a right or wrong, but this harissa recipe is delicious and easy to make with fairly common pantry ingredients.
I'd describe the heat level in this recipe as medium. There's some heat there but definitely not enough to blow your head off. I used some Thai chilli flakes which are fairly mild and a little bit smoky. If you like it hot, and live somewhere that allows you the choice (in New Zealand, not so much) then go ahead and add some fresh or dried serrano, ancho or chipotles too. On the flipside if you're nervous about spice, make the harissa without the chilli flakes, taste it, then add chilli a pinch at a time until it's at a heat level you're comfortable with.
I'll feature a few recipes using harissa soon, so if you like the idea of this - get making!
Update: In the original post I said this harissa paste could potentially keep for months in the refrigerator, with a thin layer of oil over its surface. There are no preserving agents in the recipe so this could be dangerous, and is untested by me. I have updated the recipe accordingly.
Get the recipe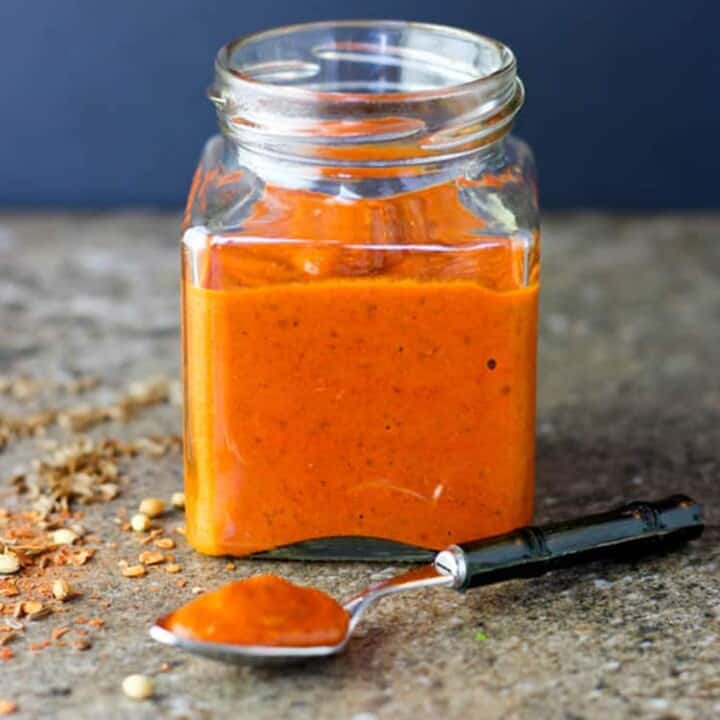 INGREDIENTS
1

chargrilled capsicum

(I used the kind that come in a jar or you can chargrill one yourself)

1

teaspoon

coriander seeds

1

teaspoon

caraway seeds

1

teaspoon

chilli flakes

1

teaspoon

smoked paprika

2

teaspoon

cumin seeds

½

teaspoon

salt

1

tablespoon

tomato paste

4

tablespoon

extra virgin olive oil

or vegetable oil of your choice
INSTRUCTIONS
Dry toast the coriander, caraway and cumin seeds one type at a time until fragrant. That means heating a small frypan to a medium heat, adding one lot of seeds and stirring them around for a minute or two, tipping them out then doing the next lot.

Grind the seeds in a mortar and pestle, or a coffee grinder. If you don't have either you can use them whole, there'll just be more texture to your harissa.

Put all ingredients into a blender or food processor, or container to use with a stick (immersion) blender. I made mine with a stick blender.

Blend until fairly smooth, taste and adjust seasoning or heat as you like.

Scrape harissa into a clean jar or sealed container and store in the fridge. If you pour a thin layer of oil over the surface it will help extend its shelf life. (Mine is always gone within a week).

Makes one small jarful, approximately 1 cup.
RECIPE NOTES
Nutrition information is approximate, per tablespoon.
NUTRITION INFORMATION
Calories:
56
kcal
|
Carbohydrates:
1.3
g
|
Protein:
0.3
g
|
Fat:
5.8
g
|
Saturated Fat:
0.8
g
|
Cholesterol:
0
mg
|
Fiber:
0.5
g
|
Sugar:
0.5
g
Nutrition Facts
Harissa paste
Amount Per Serving
Calories 56
Calories from Fat 52
% Daily Value*
Fat 5.8g9%
Cholesterol 0mg0%
Carbohydrates 1.3g0%
Protein 0.3g1%
* Percent Daily Values are based on a 2000 calorie diet.