This vegan and gluten free loaf is a celebration of lemon. Dense, moist and tart, it's perfect with a morning cup of tea (or, let's face it, as breakfast alongside a stiff cup of coffee).
Multiple layers of lemon - zest and juice in the batter, and fresh lemon poured over as a syrup - give this a strong and tart lemon flavour that I just love. I'm a total sucker for lemon in baking.
The fudgy texture of this loaf also lends itself well to being served as a dessert. A warmed slice served with ice (or nice) cream or coconut yoghurt would be sensational. It's also wonderful toasted.
However you serve it, just make sure you slice it nice and thick so that it holds together well for you. Being egg and gluten free means this loaf is a little more fragile than others and prone to breaking if sliced thin.
And on that. This loaf is egg, dairy, gluten and refined sugar free. With buckwheat flour, almonds and fruit, I think we can safely consider this a much healthier option.
Flax eggs are a mixture of ground flaxseed and water, which can be used as an egg replacer in some recipes. Just don't go trying to make a pavlova with them...! You can grind your own flax seeds using a coffee grinder or high speed blender, or buy them pre-ground from Bin Inn or other bulk wholefoods stores. Ditto the buckwheat flour and brown rice flour. Store ground flaxseed in the fridge.
Get the recipe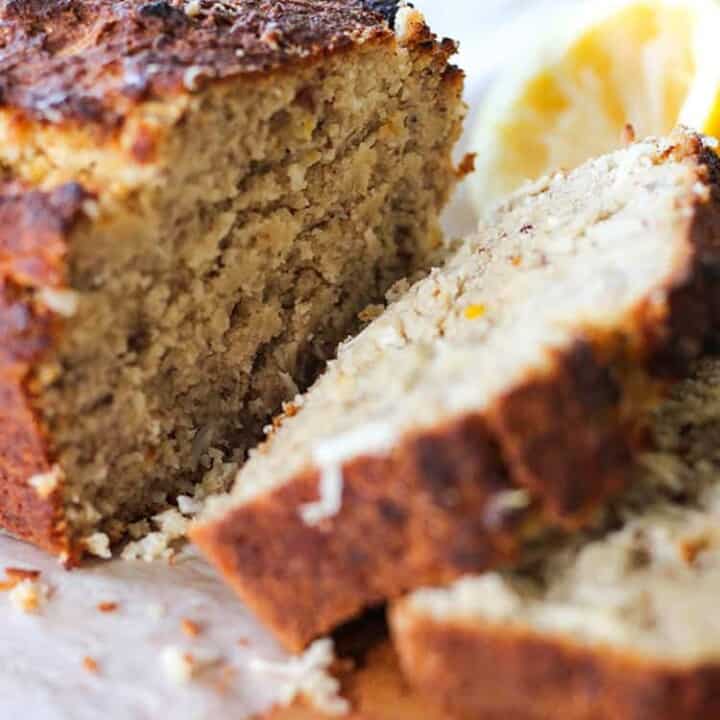 INGREDIENTS
Dry ingredients:
1

cup

ground almonds

1

cup

buckwheat flour

½

cup

brown rice flour

½

cup

coconut threads

1

teaspoon

baking powder

check label if gluten free

½

teaspoon

baking soda

check label if gluten free

½

teaspoon

salt

Zest of a lemon
Wet ingredients:
2

flax eggs

(1 tablespoon ground flax seed and 2½ tablespoon water for each flax egg)

½

cup

coconut oil

melted if solid

¾

cup

apple sauce

(store bought or stew some apples and puree them yourself)

½

cup

lemon juice

½

cup

soy milk

(or milk of your choice)

¼

cup

maple syrup

1

teaspoon

vanilla paste or extract

2

medjool dates

(or 4 regular dried dates soaked in a little boiling water first to soften them up)
Syrup:
½

cup

lemon juice

1

tablespoon

maple syrup
INSTRUCTIONS
Preheat oven to 190°C fanbake, and grease and line a loaf tin.

Make your flax eggs by mixing 2 tablespoon of ground flaxseed with 5 tablespoon water in a small dish. Leave it to sit for about 10 minutes while you're getting everything else organised. The ground flaxseed will swell and its texture will become jellyish.

Mix the dry ingredients together in a large mixing bowl.

Melt the coconut oil if solid, and set aside.

Add the remaining liquid ingredients, including dates, to a blender or food processor and blend until smooth. This isn't exactly essential but I wanted the dates incorporated as sweetener, rather than chopped. Though a bit of both would be quite nice too.

Add blended liquid ingredients, flax eggs and melted coconut oil to the dry ingredients and stir to combine.

Pour mixture into your greased and lined loaf tin and bake for 40 minutes or until dark and cooked through – a skewer will come out fairly clean. Don't be concerned by the dark colour of this loaf, it's not burned, buckwheat flour goes very dark when cooked.

Remove from the oven and poke holes in the loaf with a skewer. Mix together the lemon juice and maple syrup and pour evenly over the loaf. It will all soak in. Leave to cool in the tin, then remove to an airtight container. Just like all baking this tastes amazing hot, but because it's egg and gluten free this one is quite fragile until it's cooled down. So cool your jets and wait.