An addictive, café style peanut butter and jelly chocolate smoothie loaded with peanut butter and raspberry chia jam.
Some days are green smoothie days, and some days... Well some days are for comfort and chocolate.
I very rarely buy indulgent superfood smoothies because something in me just balks at their typical café price tag, when I know I could make them for a fraction of the price at home (even though I usually don't!).
I'm pretty sure this peanut butter and jelly smoothie would be right at home on any café menu. It's smooth and luscious, chocolatey, peanutty and a little salty, with bright fruit bursts from the chia jam. It's knock your socks off delicious and will see you scraping out every last bit of goodness from the bottom of your glass.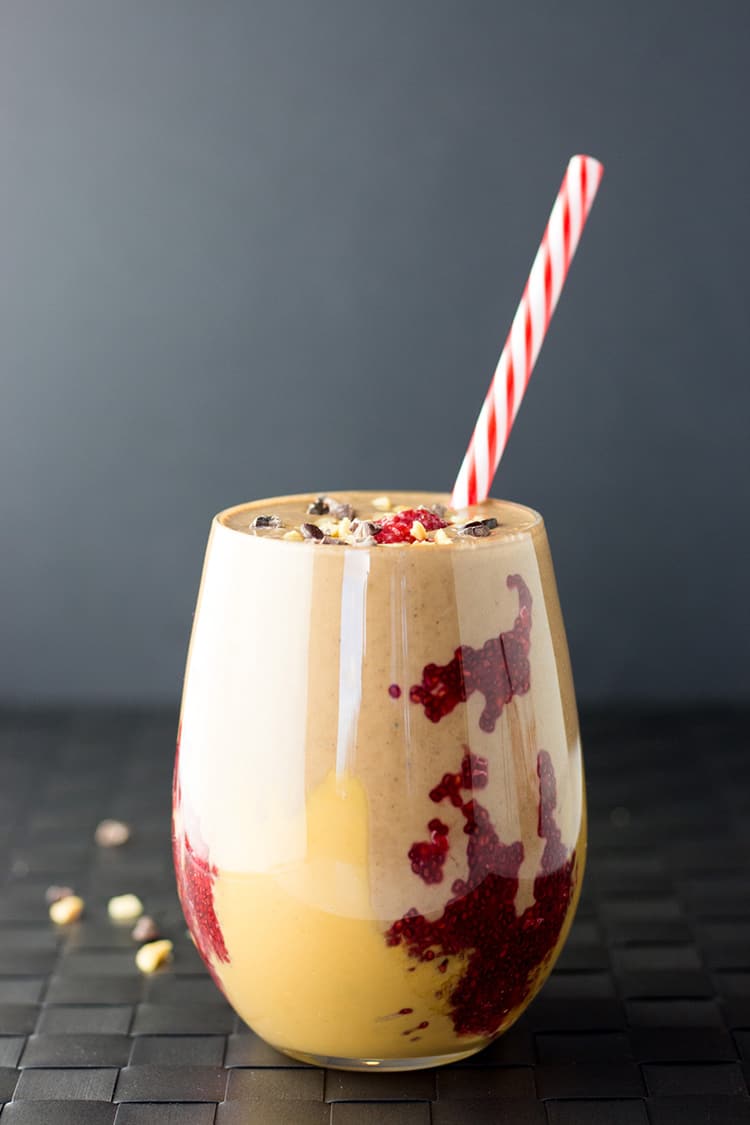 A deprived childhood
It may be laugh out loud ridiculous to my North American friends, but last year (as in 2015) was the year I tried peanut butter and jelly (or jam to my NZ kin) together for the very first time. I know y'all grew up on the stuff, but it's just seriously not a thing here in New Zealand. I'd heard of it, for sure, but never had it as a kid and just never really thought about it as an adult.
The recipe that tipped me over the edge into full blown peanut butter and jelly fandom was this Peanut Butter and Jelly Snack Bars recipe from the Minimalist Baker. It's amazing, and now there's just no going back. I'm a convert, and seeing as I spent my whole childhood without this magic combination, there's a lot of making up to do!
Peanut butter and jelly smoothie success
I used my favourite 'just peanuts' smooth peanut butter from Pic's, which was perfect in the smoothie and to smear up the sides of the glass. Use the best peanut better you can get your hands on, for the best results.
The chia jam is too heavy to float in the smoothie, so it also got smeared, before filling up the glass with smooth chocolatey goodness and garnishing with a few raspberries, chopped peanuts and cacao nibs.
Acknowledging peanut butter and jelly is not exactly the most healthy food choice to have on the regular, I loved being able to create this smoothie version which is lower in sugar and still just as delicious. With 14.3g of protein it's a great post-workout treat, and also has 60% of your calcium RDI and 24 per cent of your iron RDI.
Get the recipe
INGREDIENTS
For the chia jelly:
½

cup

frozen berries

(I used raspberries)

1

tablespoon

chia seeds

1

tablespoon

maple syrup
For the smoothie:
2

cups

almond milk

or milk of your choice

2

ripe bananas

(fresh or frozen, freeze them if you prefer a thicker smoothie)

3

tablespoon

cacao powder

or cocoa

¼

cup

smooth peanut butter

+ extra for smearing inside your glass

4

pitted medjool dates

(or 6 dried dates soaked a in little boiling water for a few minutes to soften)

1

teaspoon

natural vanilla extract

Pinch of salt
For the topping (optional):
A few whole berries

Chopped peanuts

Cacao nibs
INSTRUCTIONS
For the chia jam:
Defrost the berries at room temperature, or speed it up by microwaving them for 30 seconds.

Mash berries with a fork, then stir through the chia seeds and maple syrup.

Set aside to thicken. For best results, make the chia jam ahead of time and leave in the fridge to thicken for an hour or two. If you don't have time, 15-20 minutes on the countertop will be okay in a pinch.
For the smoothie:
Put all smoothie ingredients into your blender and whiz until smooth.

Smear a little peanut butter up the inside walls of your glass, then add half of the chia jam and smear it around too.

Pour the smoothie and garnish with toppings, as you like.
NUTRITION INFORMATION
Calories:
656
kcal
|
Carbohydrates:
116.2
g
|
Protein:
14.3
g
|
Fat:
22.4
g
|
Saturated Fat:
4.3
g
|
Fiber:
20.3
g
Nutrition Facts
Peanut butter and chia jelly cacao smoothie
Amount Per Serving
Calories 656
Calories from Fat 202
% Daily Value*
Fat 22.4g34%
Carbohydrates 116.2g39%
Protein 14.3g29%
* Percent Daily Values are based on a 2000 calorie diet.