Oven baked potato nests topped with crisp radish, apple and beetroot matchsticks are a welcoming change to traditional appetisers or hors dóeuvres for pre-Christmas entertaining.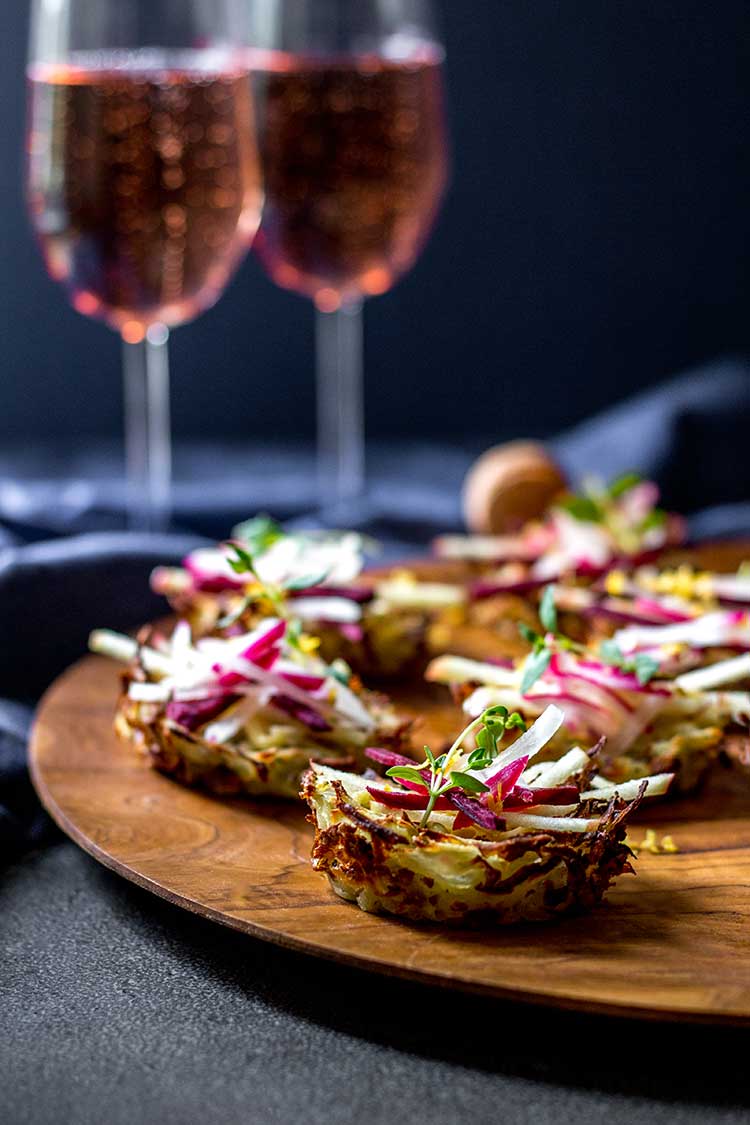 I can feel it. Can you? The pressure is building, the season has begun!
My work life is scheduled down to the hour right now, but I can clearly see the end in sight and I'm so looking forward to taking my foot off the gas soon and enjoying time celebrating with colleagues, friends and family, before taking a lengthy break over the New Zealand summer holidays.
As always at this time of year, I'm thinking about interesting snacks and plant-based hors dóeuvres. Last year's five seed crackers have been a runaway hit that's still going strong a year later, so clearly you're all into yummy nibbles too.
Today I'm sharing an easy recipe for potato nests with a crisp vegetable topping. They're fresh, relatively light and rather lovely to enjoy alongside a glass of your favourite bubbles.
Oven-baked potato nests
I can't take full credit for this idea - my husband has made these potato nests many times and they're incredibly versatile.
It's simply a case of grating floury potatoes, tossing them with seasoning and a little flour and packing them into greased muffin tins to bake until they're golden brown and crispy. I used rice flour to keep these gluten free, and white wheat flour works too.
I popped the nests out of the tin, then topped them with a little eggless aioli, matchsticks of raw radish, apple and beetroot, a sprig of thyme and a sprinkle of lemon zest. This is such a lovely flavour combination, and I really love the concept of creating a basically vegetable-only appetiser.
Goes to show you can achieve a lot with a little, by applying a little imagination.
Use the right potatoes
I can not emphasise strongly enough, how important it is to use the right potatoes for the job. That's true all the time, but especially with these potato nests.
It took a few attempts to get these right, because I lazily assumed the all-purpose potatoes I had in the pantry would be good enough for the job. Not so.
Too much oil, and the wrong potatoes, and you'll end up with a soggy mess of grated potato that doesn't stick together at all. Been there (round one).
Use floury potatoes, just a little oil, and you'll end up with perfectly bound, golden brown nests of potato that pop right out of the muffin tin and are easy enough to eat with one hand (round three)
In full disclosure, these photos are of nests made with the wrong potatoes (round two). I made this recipe three times before getting the nests perfect, but I'd run out of wine by then and didn't want to reshoot. The higher sugar content of waxier potatoes makes them brown more around the edges, while the floury potatoes I used on round three cooked to a uniform golden brown colour and created basically perfect potato nests. You'll have to take my word for it (and use the right potatoes!).
In New Zealand, agria potatoes are the best choice for a good floury potato. In the US, I think russet potatoes may be a good equivalent - if you're from the US let me know.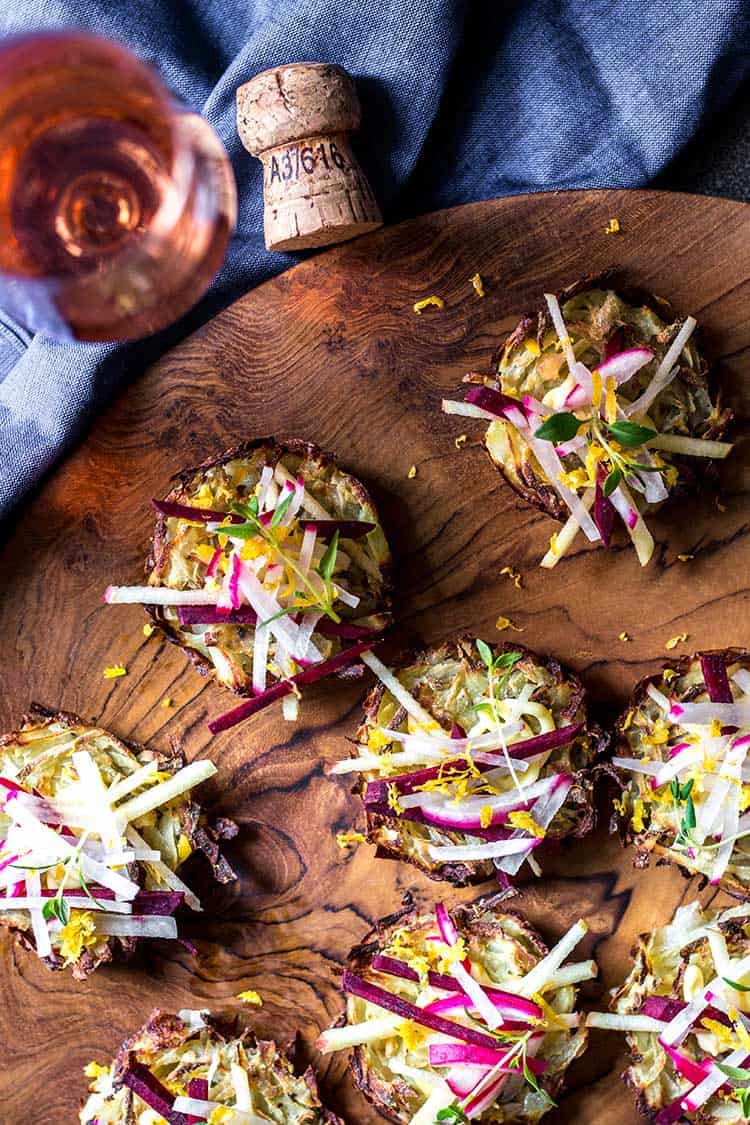 Alternative topping ideas
I really enjoyed the fresh combo of raw veges with lemon and thyme that I used here, but you can let your imagination run wild and top these potato nests with anything you like. Here are a few ideas.
Basil or kale pesto and cherry tomatoes.
Guacamole, fresh chilli and coriander (cilantro).
Salsa, black beans and coriander (cilantro).
Beetroot hummus and toasted seeds or nuts.
Olives, cherry tomatoes and basil.
Cheers to that.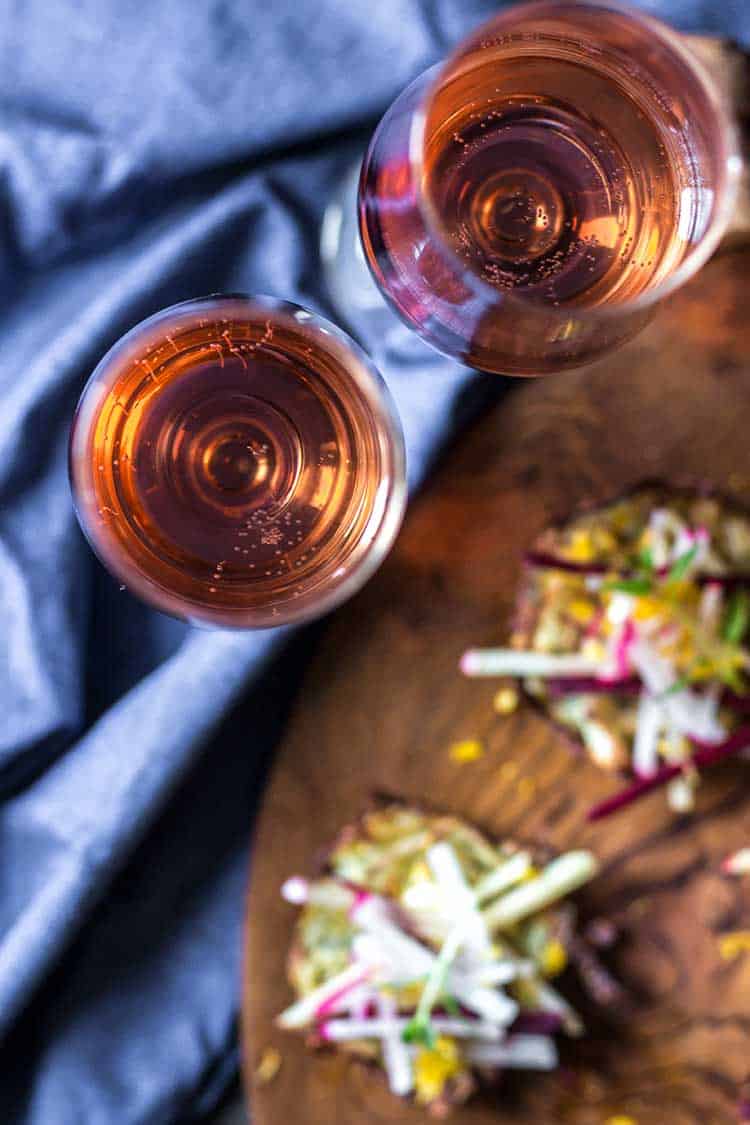 Get the recipe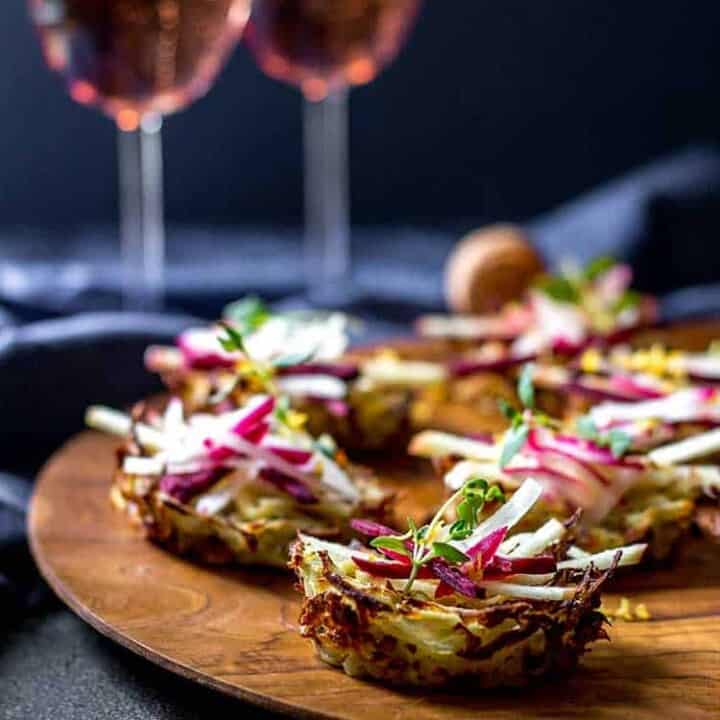 Servings:
12
potato nests
INGREDIENTS
1

tablespoon

extra virgin olive oil

4

large

floury potatoes

(approximately 700g or 1.5 lb, I used agria potatoes), peeled and grated

1

tablespoon

rice flour

(or plain flour if not gluten free)

½

teaspoon

salt

Freshly ground black pepper

Eggless aioli

or your favourite store bought aioli or mayonnaise

1

small

beetroot

peeled and cut into matchsticks

1

radish

cut into matchsticks

½

apple

cut into matchsticks

Fresh thyme sprigs

to garnish

Lemon zest

to garnish
INSTRUCTIONS
Preheat oven to 200C (390F) fanbake. Lined a 12 hole muffin pan with a little square of baking paper in the bottom of each hole, and lightly brush each hole with olive oil.

Grate the potatoes onto a clean tea towel, then use the tea towel to wring out all the excess moisture over your kitchen sink. Quite a surprising amount of liquid will be released. Tip the grated potato into a mixing bowl and sprinkle over the rice flour, salt and a good grind of black pepper. Stir to coat everything evenly, then press the potato mixture evenly into the greased muffin pan. Make a little depression in the middle of each - all the better to hold the aioli which will come later.

Bake for 20-25 minutes, until golden brown and crisp. Remove from the oven and pop each potato nest out onto a serving platter.

Top each potato nest with about 1 teaspoon of eggless aioli (or aioli/mayonnaise of your choice), and matchsticks of beetroot, radish and apple. Sprinkle freshly grated lemon zest over the top, and garnish with a sprig of fresh thyme.

Serve immediately, with a glass of your favourite tipple.
RECIPE NOTES
Makes 12 individual potato nests. 
If your thyme is young and soft, the sprig will be perfectly edible and delicious. If the thyme is from your own garden and/or older and woody, remove the leaves and sprinkle with leaves instead. 
Nutrition information is calculated per potato nest, based on approximately 1 teaspoon of aioli being used per potato nest. 
NUTRITION INFORMATION
Calories:
73
kcal
|
Carbohydrates:
9
g
|
Protein:
1
g
|
Fat:
3
g
|
Saturated Fat:
0
g
|
Cholesterol:
1
mg
|
Sodium:
146
mg
|
Potassium:
255
mg
|
Fiber:
1
g
|
Sugar:
0
g
|
Vitamin A:
50
IU
|
Vitamin C:
9
mg
|
Calcium:
22
mg
|
Iron:
2.1
mg
Nutrition Facts
Potato nests with radish, apple and beetroot
Amount Per Serving
Calories 73
Calories from Fat 27
% Daily Value*
Fat 3g5%
Cholesterol 1mg0%
Sodium 146mg6%
Potassium 255mg7%
Carbohydrates 9g3%
Protein 1g2%
Vitamin A 50IU1%
Vitamin C 9mg11%
Calcium 22mg2%
Iron 2.1mg12%
* Percent Daily Values are based on a 2000 calorie diet.