A simple and sweet raw buckwheat porridge topped with grilled bananas and peanut butter for a healthy, high protein start to the day.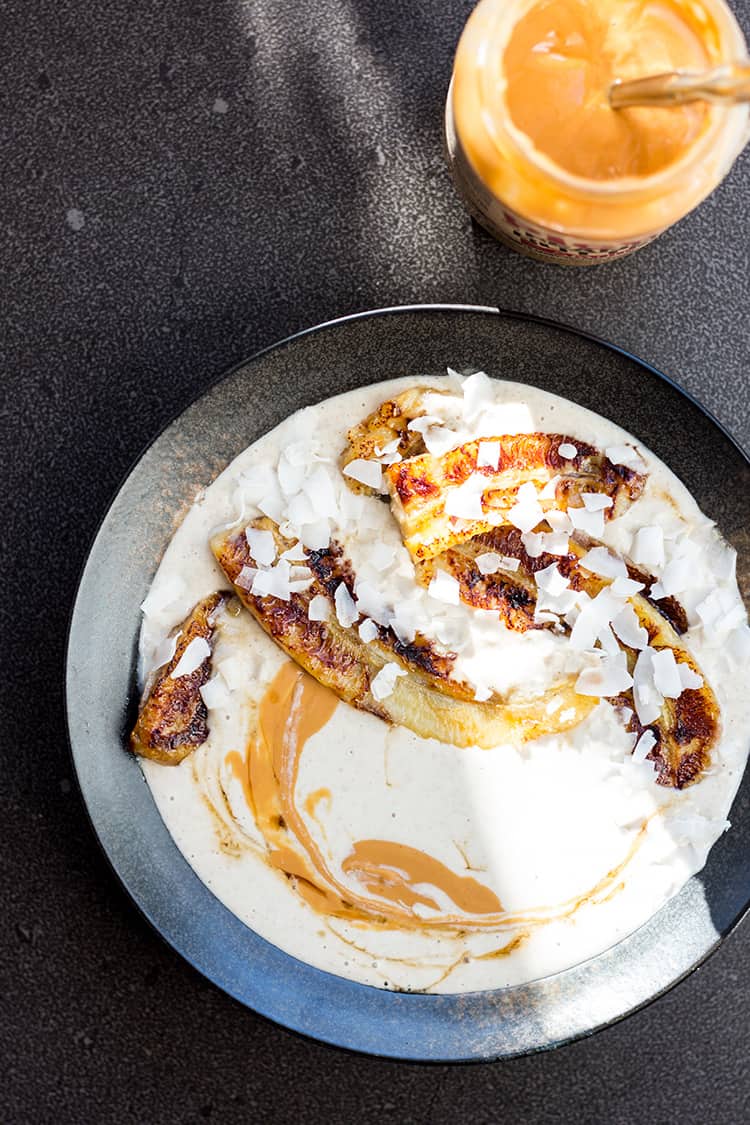 I'm sure I'm not the only one who gets stuck in a breakfast rut and finds it incredibly boring. I tend to fixate on one cereal or muesli (granola) and have it, with fruit, every weekday for months. A bit like the Bill Gates uniform thing, so I don't have to think about it or make a decision - which is frankly the last thing I have time for on most regular (tired, rushed) weekday mornings.
I know my excuses are a bit lame though. We're all busy. I know breakfast is a really important meal, and that setting myself up for the day by starting it with good nutrition will ALWAYS improve my mood, my appetite and my productivity. Muesli and fruit is not a bad choice, but good nutrition is also about variety. I really need to try harder!
Raw buckwheat porridge?
Raw buckwheat porridge is something I've seen before but never tried, so I thought it was about time to give it a go. It fits the bill, even for weekdays, because it's raw. Raw as in uncooked, and cold.
The porridge is buckwheat groats which have been soaked overnight, then blended with almond milk and other flavourings to make a smooth, slightly pudding-like 'porridge'. You can flavour it any way you like, and top it with whatever you like. If you don't like the idea of eating it cold, you can gently heat it (just add a bit more milk if it thickens too much).
I went with the simple flavours of vanilla, maple syrup, bananas and peanut butter, and I was pretty happy indeed. Yes sir.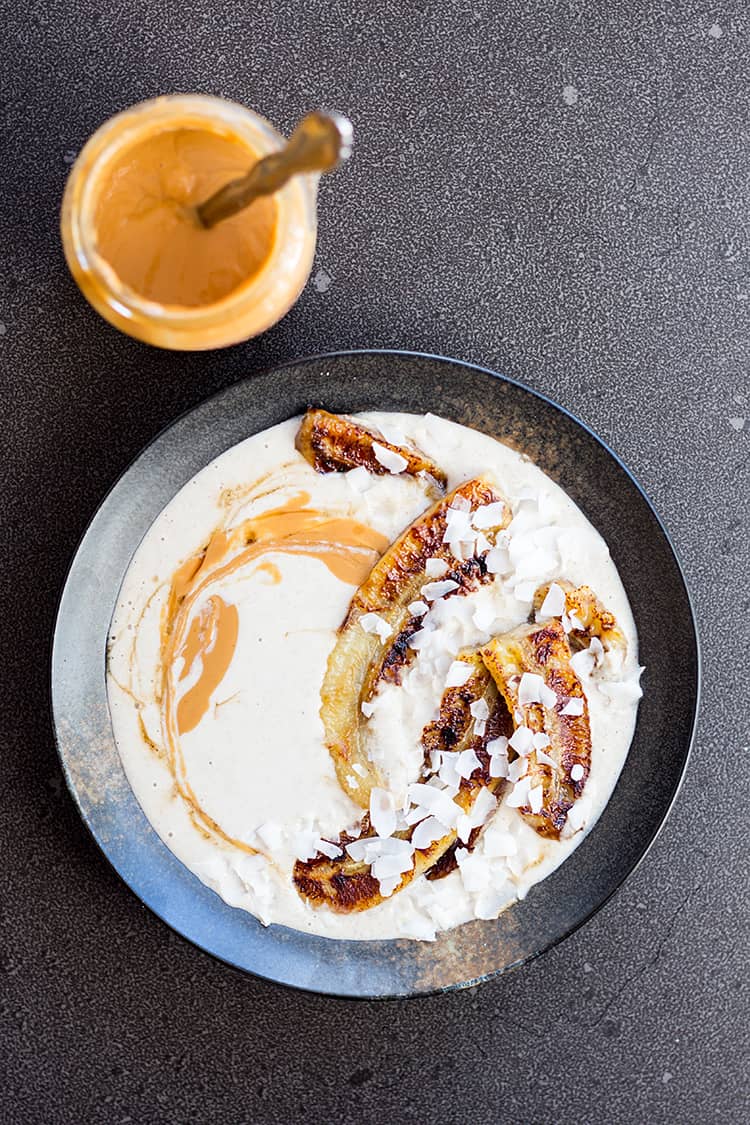 Hello, protein
I think my regular breakfast of muesli, fruit and soy/almond milk would come in at around 5g of protein. Give or take.
This buckwheat porridge instead comes in at 15g of protein, three times my usual for breakfast time, and about 30 per cent of the recommended daily intake (RDI). There's also a respectable 17 per cent RDI for calcium and vitamin C, and 16 per cent for iron. How great is that?
Only a little of that protein comes from my favourite Pic's peanut butter (about 3.5g per serve) - the majority is from the buckwheat itself, which is a bit of a wonder food. If you're not familiar with it, rest assured it's not wheat and is totally safe to eat if you follow a gluten free diet. Buckwheat is a seed, related to rhubarb, and a good source of protein, fibre, B vitamins and minerals like manganese, copper, magnesium and phosphorus.
Fast and simple
Making this raw porridge takes about the same time as making a smoothie. Maybe even less, considering there's none of the fruit prep that goes on when I do make a fruit smoothie for breakfast.
I'm going to be making this buckwheat porridge regularly, and particularly on the mornings I'm headed out for a run or need to be in top form for a day of back to back meetings.
This recipe serves two. If you're making it for one, just keep the other serve in a sealed container in the fridge for tomorrow's breakfast.
Remember to think ahead and soak your buckwheat overnight.
Get the recipe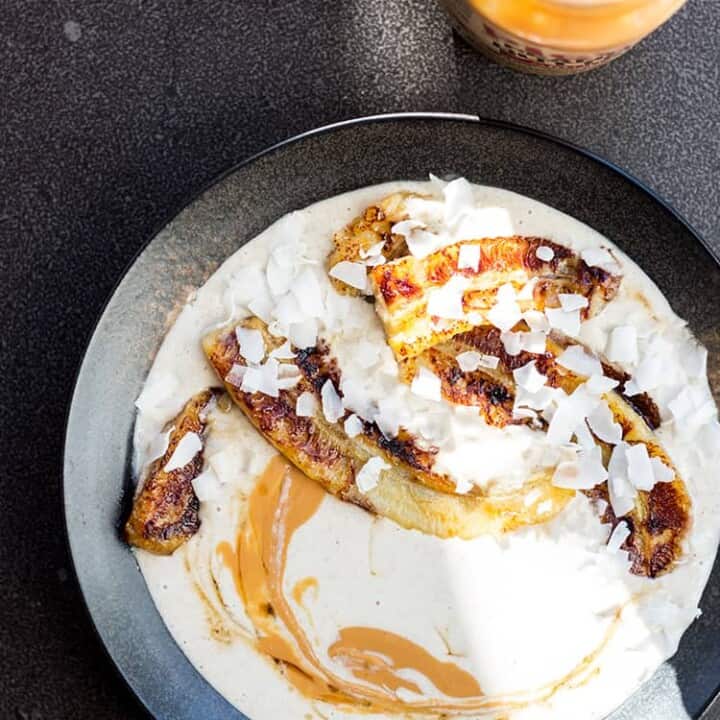 INGREDIENTS
1

cup

buckwheat groats

soaked in cold water overnight

½

cup

almond milk

or milk of your choice

2

tablespoon

maple syrup

+ extra for drizzling (optional)

1

teaspoon

natural vanilla extract

or paste

2

bananas

halved lengthways

A smidge of coconut oil

(½ teaspoon approximately)

2

tablespoon

smooth peanut butter

or almond or other nut butter

1

tablespoon

coconut flakes
INSTRUCTIONS
Heat a non-stick frypan (skillet) over medium-high heat. Add a smidge of coconut oil and the sliced bananas, cut side down. Let the bananas caramelise for a few minutes, without moving them, while you're making the porridge.

Drain and rinse buckwheat in a sieve under running water. It may be slightly slimy - don't worry this is just starch released during soaking.

Add drained buckwheat to the jug of a high speed blender or food processor.

Add almond milk, maple syrup and vanilla.

Blend until smooth. With a high speed blender it'll probably only take about 30 seconds, otherwise a few minutes in a standard blender or food processor.

Tip into serving bowls and top with hot bananas, a swirl of peanut butter, a drizzle of maple syrup and a scattering of coconut flakes.
RECIPE NOTES
Prep time doesn't include soaking time.
NUTRITION INFORMATION
Calories:
579
kcal
|
Carbohydrates:
106.6
g
|
Protein:
15
g
|
Fat:
14.4
g
|
Saturated Fat:
4.8
g
|
Fiber:
13.4
g
Nutrition Facts
Raw buckwheat porridge with grilled bananas
Amount Per Serving
Calories 579
Calories from Fat 130
% Daily Value*
Fat 14.4g22%
Carbohydrates 106.6g36%
Protein 15g30%
* Percent Daily Values are based on a 2000 calorie diet.