Light as air rice paper crisps topped with a Vietnamese inspired mix of peanuts, fresh and fried shallots, spring onion, coriander, chilli and a quick tamarind sauce.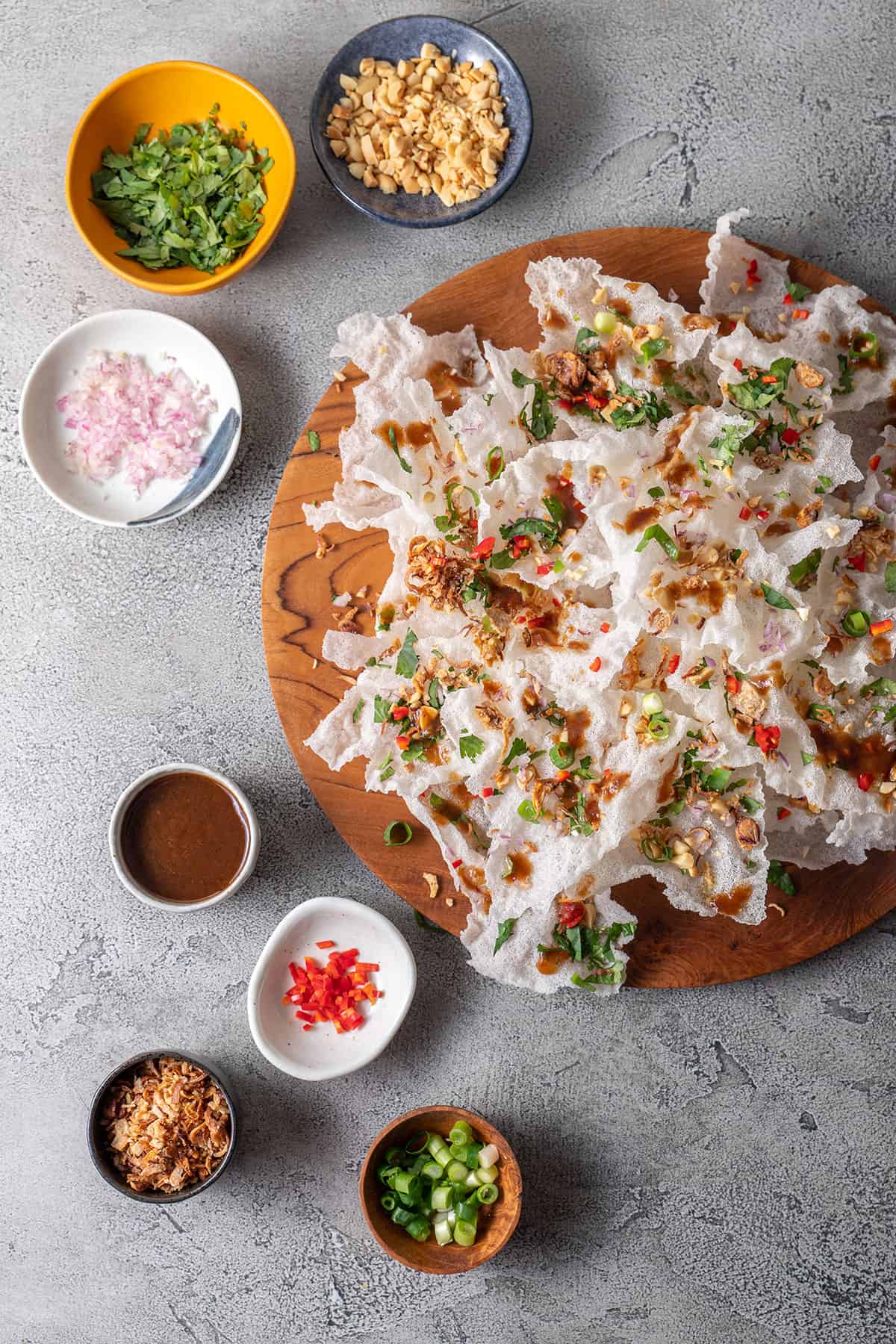 Oh 2020, how tiresome you are. You're like a bad neighbour - I wish you'd leave but I'm nervous about who might move in next.
Back in January, if someone had told me how this year was going to unfold I wouldn't have believed them. 2019 was a really challenging year, and 2020 was set to be a year of change. Time to move forwards, embrace the future and have some adventures. Yup, I know. Best laid plans and all that.
I've been feeling sad and struggling with the many small griefs this bombshell of a year has brought. This week I should have been arriving home from Vietnam, after enjoying an epic break away with my closest girl friends. We saved for the trip for years, to mark some collective birthday milestones. We had visions of motorbike street food tours, palm trees and poolside cocktails.
Is it okay to grieve for lost opportunity, when others are grieving for lost lives or livelihoods? I don't know, but I'm sure I'm not alone in resenting lost freedoms and defunct plans. How do we learn to ride this crazy wave?
Vietnamese rice paper crisps
Like a sucker for punishment, I'm craving all things Vietnamese right now. Fresh, fragrant and spicy, it's one of my all time favourite cuisines.
I've been pondering this idea of fried rice paper crisps for a while. I knew rice paper would fry to create a light as air crisp, and thought a playful sort of 'Vietnamese nacho' would be fun to try.
Turns out making these rice paper crisps was the best fun I've had in the kitchen in a while.
I started with a packet of standard rice paper rounds - the same kind you use to make summer rolls.
I heated oil in a pan until hot, then slid a piece of rice paper in. It instantly puffed and sizzled to life as a light as air crisp. I giggled maniacally and fried some more, while nibbling on the first.
Yes, I know deep fried food isn't the healthiest choice. I'm not suggesting you eat these every day. But if you fancy a bit of fun in the kitchen and a delicious nibbly treat, read on.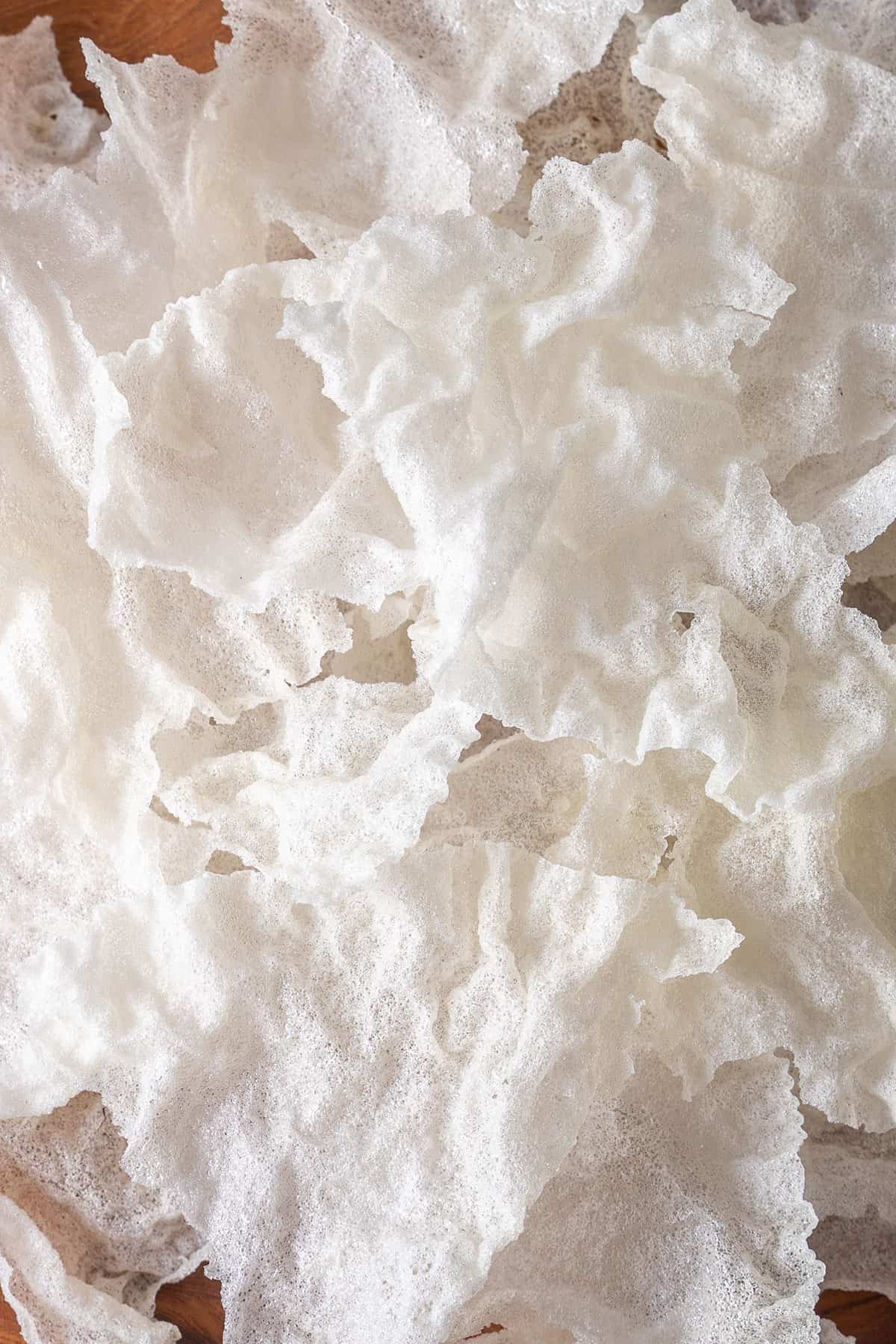 My top tips for frying rice paper crisps
It's really very easy to fry rice paper to make crisps, but there are a few things to know up front.
Use neutral flavoured cooking oil (I used grape seed oil), and don't skimp on how much oil you put in the pan. If the oil is too shallow, as the rice paper curls up parts of it won't cook.
You don't need a deep fryer or fancy equipment here. I put about 1cm of oil into a frypan (skillet) large enough to hold one piece of rice paper, and heated it for a few minutes before testing the heat. You can test the heat by breaking a small piece off a sheet of rice paper and lowering it in - it'll bubble and crisp immediately once the oil is hot enough.
If you end up with a few un-puffy, kind of shiny patches on your rice paper crisps, it means they didn't get enough direct contact with the hot oil (see point #1 above) and didn't cook. Try carefully turning the crisp to refry that part. If it doesn't work, cut your losses and throw it out. Uncooked or partly uncooked rice paper is chewy and unpleasant to eat.
Rice paper cooks fast. Really fast. Don't walk away, don't look at your phone, stay right where you are and pay attention. Once you slide a piece of rice paper into the hot oil, it'll be done in about 5 seconds. Done means puffed and crisp, but white. Much longer and it will start to brown, which isn't what you're looking for here.
Drain your rice paper crisps on paper towels. They will hold a little oil, but not too much.
Cook your rice paper crisps immediately before serving. They're fragile and I really don't think they'll keep well.
Allowed guests in your part of the world? Invite everyone into the kitchen to marvel at how cool it is to make these. No guests allowed? Bring in your kids. This recipe will win you instant cred with the littles, trust me.
Vietnamese inspired toppings
Once you've made your rice paper crisps, break them into manageable pieces and mound them up on a platter or board, then go to town on the toppings.
I opted for:
chopped roasted peanuts
fried shallots
fresh shallots
spring onion (scallion)
fresh chilli
coriander (cilantro)
tamarind sauce.
All together, each mouthful had the perfect mix of salty, crunchy, fresh, spicy and sour. Not exactly authentically Vietnamese, but nevertheless a very successful shout out to all those Vietnamese flavours I love so much.
You could also try using:
sriracha or other chilli sauce
chilli flakes
kewpie mayonnaise
Vietnamese coriander
bean sprouts
cashews
fried crumbled tofu.
You get the idea - spicy, tangy, salty yummy bits and pieces are where it's at. Try these with a cold lager or a glass of bubbles and go to your happy place.
You might also like
Get the recipe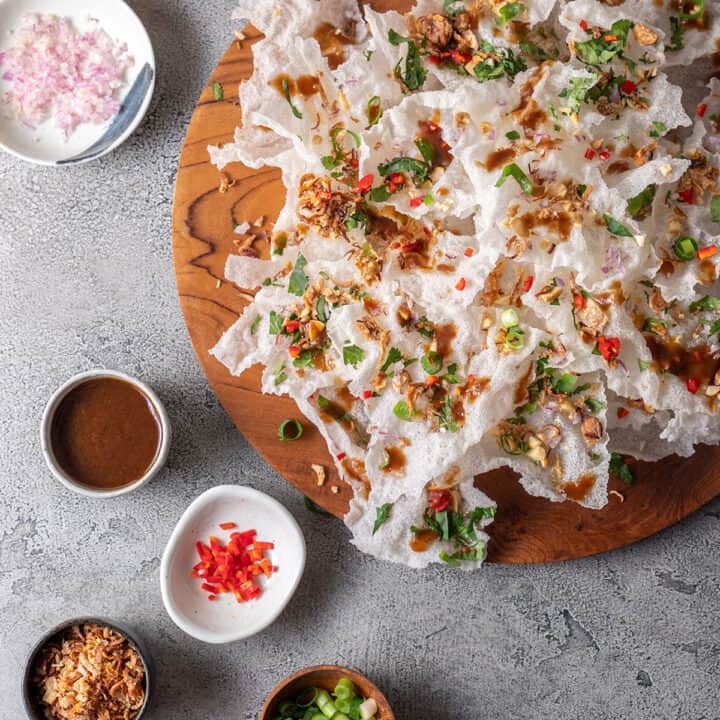 INGREDIENTS
For the tamarind sauce:
2

tablespoon

tamarind puree

2

tablespoon

soft brown sugar

2

tablespoon

water
For the toppings:
2

tablespoon

roasted peanuts

finely chopped

2

tablespoon

fried shallots

2

tablespoon

fresh shallots

(or red onion) finely chopped

2

tablespoon

coriander

(cilantro) roughly chopped

1

spring onion

(scallion) thinly sliced

1

fresh chilli

seeds removed and finely chopped
For the rice paper crisps:
6

rice paper rounds

Neutral oil

for frying (I used grape seed oil)
INSTRUCTIONS
Start by making the tamarind sauce and preparing your toppings so that they're ready to go once the rice paper crisps are cooked.

Stir together tamarind puree, brown sugar and water until the sugar is dissolved. Set aside.

Heat about 1cm (a bit under half an inch) of oil in a frypan (skillet) wide enough to hold a rice paper round. Heat for a few minutes then test the heat by dropping in a small piece of rice paper. If the oil is hot enough the rice paper will puff and crisp immediately. Cook the rice paper rounds one at a time until puffed and crisp, then drain on paper towels for a few minutes. They'll cool very quickly.

Break rice paper rounds into manageable sized pieces and arrange on a platter or board. Sprinkle toppings over the crisps and drizzle with tamarind sauce. Enjoy!
RECIPE NOTES
Recipe quantities are flexible. 
Nutrition information is estimate based on this recipe serving four people, and approximately 2 tablespoon oil being retained by the rice paper crisps. 
Left over oil can be cooled, filtered through a clean cloth and kept for future use. 
NUTRITION INFORMATION
Calories:
210
kcal
|
Carbohydrates:
26
g
|
Protein:
4
g
|
Fat:
11
g
|
Saturated Fat:
1
g
|
Cholesterol:
2
mg
|
Sodium:
154
mg
|
Potassium:
158
mg
|
Fiber:
2
g
|
Sugar:
11
g
|
Vitamin A:
151
IU
|
Vitamin C:
17
mg
|
Calcium:
25
mg
|
Iron:
1
mg