Tender baked sweet potato with crunchy paprika chickpeas and dollops of lemony parsley and walnut pesto make a delicious one bowl meal.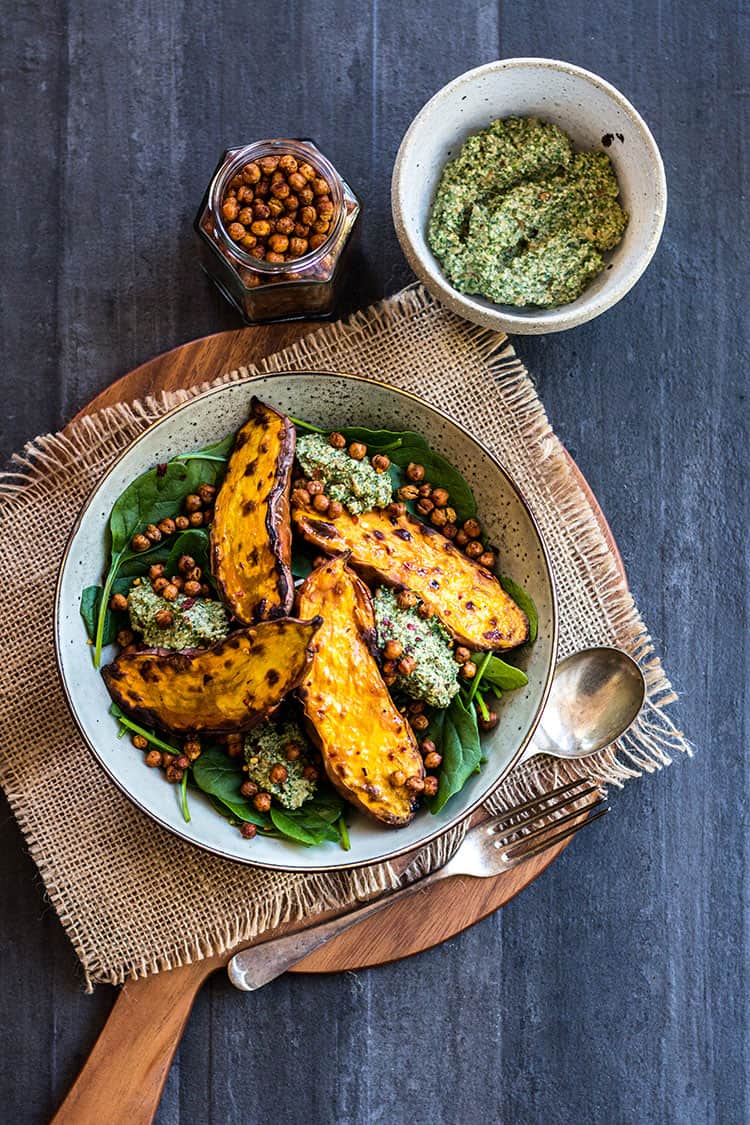 Apologies for last week's doom and gloom. In a beautiful twist, that dreary week ended with two full days of spectacular late winter, early spring weather. It was still chilly, for sure, but the skies were blue, the sun shining, and perky daffodils were signposting that spring is indeed nearly here.
Thank you and hallelujah.
I took the opportunity to get out into my backyard garden, where months of winter neglect had taken their toll. I weeded, trimmed, fertilised, composted and planted. There is always something so grounding and satisfying about getting your hands dirty with a bit of old fashioned hard work. It was just what I needed.
The only thing that made the cut in the vege garden were some of the herbs, including an abundance of parsley.
Parsley, walnut and sunflower pesto
I'm sure some people are a bit meh about parsley. Sure it lacks the aroma of basil or freshness of mint, but I still love it. I even buy parsley when there's none in the garden. It's great in classic salads like Middle Eastern taboulleh, as a garnish of course, and I also like it a lot in pesto.
Snubbing my nose at tradition, I reckon pesto can be made with whatever you have on hand. All you need is something green, something nutty or seedy, garlic and olive oil. Salt is essential, and I like a bit of acid like lemon in there sometimes too. Cheese is definitely not essential - I've been making dairy-free pesto for years. If you like a bit of cheesy flavour in there, you can add a bit of nutritional yeast.
Today I made this pesto in my food processor with handfuls of parsley, walnuts and sunflower seeds, sharpened it with lemon and threw in a sprinkle of chilli flakes for good measure. The result is a thick and full flavoured pesto that's an excellent dip, spread or topping for a one bowl meal. For an even richer flavour, try toasting the walnuts and sunflower seeds first.
Pro tip: parsley is a good source of folate, iron and vitamins A, C and K. Tick.
How to make crunchy chickpeas
Crunchy chickpeas are one of my go-to components for fast one bowl meals, salad toppers, snacks or packed lunches. It took me a while to figure them out, they were never crunchy enough.
Turns out they're not that complicated, they just need to be oven baked low and slow for long enough to dry out.
I drain and rinse canned chickpeas before tipping them out onto a tea towel to dry them off a bit. Then they go into a baking dish with a little olive oil and seasoning. Simples.
Today I used paprika to flavour the chickpeas. You could also go for plain salted, or sub another spice or seasoning of your choosing.
Do as I do and double the batch so that there are plenty of leftovers for the week ahead. Once they've cooled down, crunchy chickpeas store well in a jar or sealed container for a week or so.
Baked sweet potato one bowl meal
Once pesto and crunchy chickpeas are ready and waiting for you, it's very easy to whip up a nutrient packed one bowl meal. It couldn't get much simpler than this one, which is high in iron and vitamins A and C.
I had some small sweet potatoes in the pantry, perfect for roasting. I love leaving the skin on so that it's caramelised and chewy, with charred edges.
You could swap out any root vegetable you like here. Pumpkin or potato would be winners, and how about roasted beetroot? That would make a pretty bowl indeed.
Serve it all up on a bed of baby spinach or greens of your choice, and call it a job done.
Get the recipe
INGREDIENTS
For the crunchy chickpeas:
1

can

chickpeas

1

teaspoon

olive oil

2

teaspoon

paprika

Salt
For the parsley pesto:
3

large handfuls

parsley

(about 60g/2oz)

½

cup

walnuts

¼

cup

sunflower seeds

1

clove

garlic

peeled and roughly chopped

¼

cup

olive oil

2

tablespoon

lemon juice

2

tablespoon

water

½

teaspoon

salt

¼

teaspoon

chilli flakes
For the sweet potatoes:
8

small

sweet potatoes

(about 1kg/2lb) washed and halved lengthways

Olive oil spray
To serve:
Baby spinach

or salad greens of your choosing
INSTRUCTIONS
For the crunchy chickpeas:
Preheat oven to 160C fanbake (convection).

Drain and rinse chickpeas before tipping them onto a clean teatowel to dry them off.

Transfer the chickpeas to a baking dish, drizzle over the olive oil then use your hands to rub the oil over the chickpeas. Season with paprika and salt.

Bake for 50-60 minutes, giving them a shake every 20 minutes or so. They're done when they're golden and crunchy. The chickpeas will also crisp up a little more once they've cooled.
For the sweet potatoes:
Turn oven up to 220C/430F fanbake (convection).

Arrange halved sweet potatoes on a baking tray and coat with a little olive oil spray, or rub with a little liquid olive oil.

Bake for 20-30 minutes, until tender, blistered and a bit charry around the edges.
For the parsley pesto:
Make the pesto while everything else is cooking. Put all ingredients into a food processor and blitz to combine. You'll need to stop and scrape down the sides a few times.

Taste and adjust seasoning as needed, before scraping the pesto into a serving bowl or jar to store in the fridge.

The pesto will thicken a bit on standing.
To serve:
Arrange baked sweet potatoes on a bed of baby spinach or salad greens of your choosing. Top with dollops of pesto and plenty of crunchy chickpeas.
RECIPE NOTES
If you're not using fanbake (convection) then increase the oven temperatures by 15C or 25F. 
If you don't want to cook the chickpeas and sweet potato separately, put the sweet potatoes into the oven when the chickpeas are about 40 minutes into their cooking time. When you remove the chickpeas from the oven, turn the temperature up to 220C/430F for about 15 minutes to finish cooking the sweet potatoes. 
NUTRITION INFORMATION
Calories:
507
kcal
|
Carbohydrates:
57
g
|
Protein:
9
g
|
Fat:
29
g
|
Saturated Fat:
3
g
|
Cholesterol:
0
mg
|
Sodium:
465
mg
|
Potassium:
1237
mg
|
Fiber:
10
g
|
Sugar:
11
g
|
Vitamin A:
40150
IU
|
Vitamin C:
37.5
mg
|
Calcium:
149
mg
|
Iron:
4.4
mg
Nutrition Facts
Baked sweet potato with crunchy chickpeas and parsley pesto
Amount Per Serving
Calories 507
Calories from Fat 261
% Daily Value*
Fat 29g45%
Cholesterol 0mg0%
Sodium 465mg20%
Potassium 1237mg35%
Carbohydrates 57g19%
Protein 9g18%
Vitamin A 40150IU803%
Vitamin C 37.5mg45%
Calcium 149mg15%
Iron 4.4mg24%
* Percent Daily Values are based on a 2000 calorie diet.