A quick and easy weeknight dinner, this flavour packed Thai curry noodle soup can be pulled together with pantry and freezer ingredients and a few fresh greens.
Disclosure: This recipe has been sponsored by Vegie Delights. All opinions are my own. Thank you for supporting brands that help support Quite Good Food.
Friends, I'm really excited about the recipe I'm bringing to you today, which we'll get to in a minute. But I'm also really excited to be partnering with a brand that has been part of my food journey since I first became vegetarian - when I was 15 years old.
I remember announcing to my parents that I'd no longer be eating animals. I'm pretty sure they thought it was Just A Phase. It wasn't. They were pretty supportive, but Mum did get me onto cooking my own meals more regularly to avoid complicating the family dinner situation. I didn't mind at all and quickly got used to experimenting with all kinds of things in the kitchen. But of course a busy teenager with no less than four extra-curricular activities, and a busy family, can't churn out creative healthy cooking every night of the week.
Having convenient vegetarian options available in the freezer was a lifesaver. Vegetarian sausages and hot dogs made a regular appearance for the rest of my teenage and student years.
These days, I'm a better cook and definitely more able to whip up something healthy in a flash, but we still use Vegie Delights products often. Both of my girls are vegetarian (they've never eaten meat) and I take pride in the balanced, healthy diet they enjoy. But let's temper that with reality. I run my own business (and this blog), my husband travels often, and my time-pressured evenings often fall well short of the harmonious family life we all dream of when we start having babies. Tired toddlers (and parents) aren't conducive to amazing cooking every night of the week - particularly weeknights. We're really happy supplementing our diet, which is vegetable and whole food heavy, with convenient pre-prepared products like burger patties and sausages some of the time.
I'm actually really excited to see a bigger range of veg products than ever before available on the supermarket shelves. Aside from convenience, they're a great bridge for people transitioning to a more plant-based diet. And frankly, for those of us who are already there, it's nice to have a break from thinking hard about every meal.
Vegie Delights Thai chilli and lime cakes
Vegie Delights has just launched a range of new frozen products in New Zealand, and I'm thrilled. Their ingredients are ethically sourced and GM-free, fortified with iron, zinc and vitamin B12, and the whole range has been updated to be 100% vegan. Well done, guys.
In my mind, the most exciting of the new products are these Thai chilli and lime cakes. In spirit they're a replacement to fish cakes, and in practice they're flavoursome little treats. About half the size of a typical burger pattie, they're really well suited to enjoying with a dipping sauce as part of a nibbles platter, or as a side with a Thai inspired meal. They're not too spicy, which means they're a really family friendly choice too.
Want to try them? The Vegie Delights frozen range is available from New World and PAK'nSAVE supermarkets in New Zealand.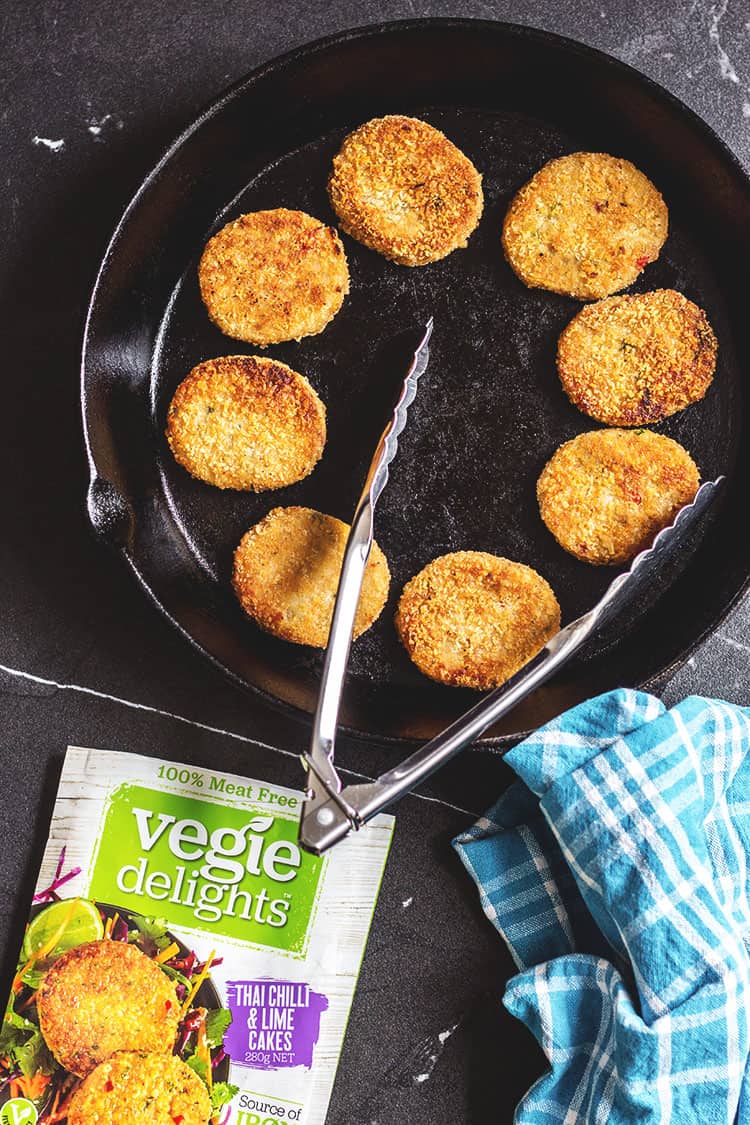 Thai curry noodle soup
One of the things I love about Thai cooking is that with a curry paste in hand, you can pull off something really delicious, really fast.
In the time it takes to cook the Thai chilli and lime cakes, you can cook rice noodles and green vegetables, and create a Thai-inspired soup using vegetable stock, coconut cream, ginger, garlic and pre-prepared curry paste.
I used two tablespoonfuls of Thai red curry paste to make a mild soup - mild enough for my kids to happily consume. I'd double the amount of curry paste if I was making it just for the grown ups. Adjust the quantity of curry paste to suit your taste, starting light - you can always add more if it's not spicy enough for your liking. (Check the label if vegan, as some red curry paste includes shrimp paste).
Ladle the soup over the noodles, top them with your favourite green vegetables and a few garnishes, and you'll have a delicious meal on the table in less than 20 minutes. I used blanched snow peas, bean sprouts, spring onion, green chilli and lime. It was a delicious combination that I'd repeat in a heartbeat.
Vegie Delights Thai chilli and lime cakes would also be delicious with:
Get the recipe
INGREDIENTS
For the Thai curry noodle soup:
2

cloves

garlic

peeled and thickly sliced

1

thumb sized piece

ginger

peeled and thickly sliced

1

can

coconut cream

4

cups

vegetable stock

2-4

tablespoon

Thai red curry paste

(check label if vegan)
For the toppings:
1

pack

Vegie Delights Thai chilli and lime cakes

(8 patties)

400

g

Thai rice stick noodles

(about 14oz)

2

cups

snow peas

(approx) or your choice of greens

2

cups

mung bean sprouts

(approx)

1

spring onion

(scallion) finely sliced

1-2

green chillis

finely sliced (optional)

Handful

coriander

(cilantro) roughly chopped

2

limes

halved, for squeezing
INSTRUCTIONS
Put all soup ingredients into a large saucepan and stir to combine. Bring to a simmer and leave to cook over a gentle heat while preparing the rest of the meal.

Cook the Vegie Delights Thai chilli and lime cakes from frozen, according to packet directions: Either pan fry with a little oil until golden on both sides, or oven bake at 180C (350F) for 15-18 minutes, turning mid-way through cooking.

While the chilli and lime cakes are cooking, cook the rice stick noodles according to packet directions. I cooked mine for 3-4 minutes in boiling water, until soft, then drained them and served into noodle bowls.

Blanch snow peas or greens of your choice for 1-2 minutes in boiling water then drain.

Top the rice noodles with ladles of soup (leaving the sliced ginger and garlic in the pan), a handful of bean sprouts, blanched greens and cooked Thai chilli and lime cakes. Garnish with spring onion, green chilli, coriander, and lime halves for squeezing.
RECIPE NOTES
If you're not lucky enough to have Vegie Delights Thai chilli and lime cakes available to you, try replacing them with slices of pan fried tofu. 
Nutrition information is estimated and does not include oil for pan-frying the chilli and lime cakes. 
NUTRITION INFORMATION
Calories:
597
kcal
|
Carbohydrates:
111
g
|
Protein:
16
g
|
Fat:
8
g
|
Saturated Fat:
1
g
|
Sodium:
1607
mg
|
Potassium:
239
mg
|
Fiber:
8
g
|
Sugar:
9
g
|
Vitamin A:
2260
IU
|
Vitamin C:
49
mg
|
Calcium:
70
mg
|
Iron:
6.4
mg
Nutrition Facts
Thai curry noodle soup with chilli and lime cakes
Amount Per Serving
Calories 597
Calories from Fat 72
% Daily Value*
Fat 8g12%
Sodium 1607mg70%
Potassium 239mg7%
Carbohydrates 111g37%
Protein 16g32%
Vitamin A 2260IU45%
Vitamin C 49mg59%
Calcium 70mg7%
Iron 6.4mg36%
* Percent Daily Values are based on a 2000 calorie diet.