Rich and indulgent, these dark chocolate pots made with just a few simple ingredients can be customised to suit your own personal taste.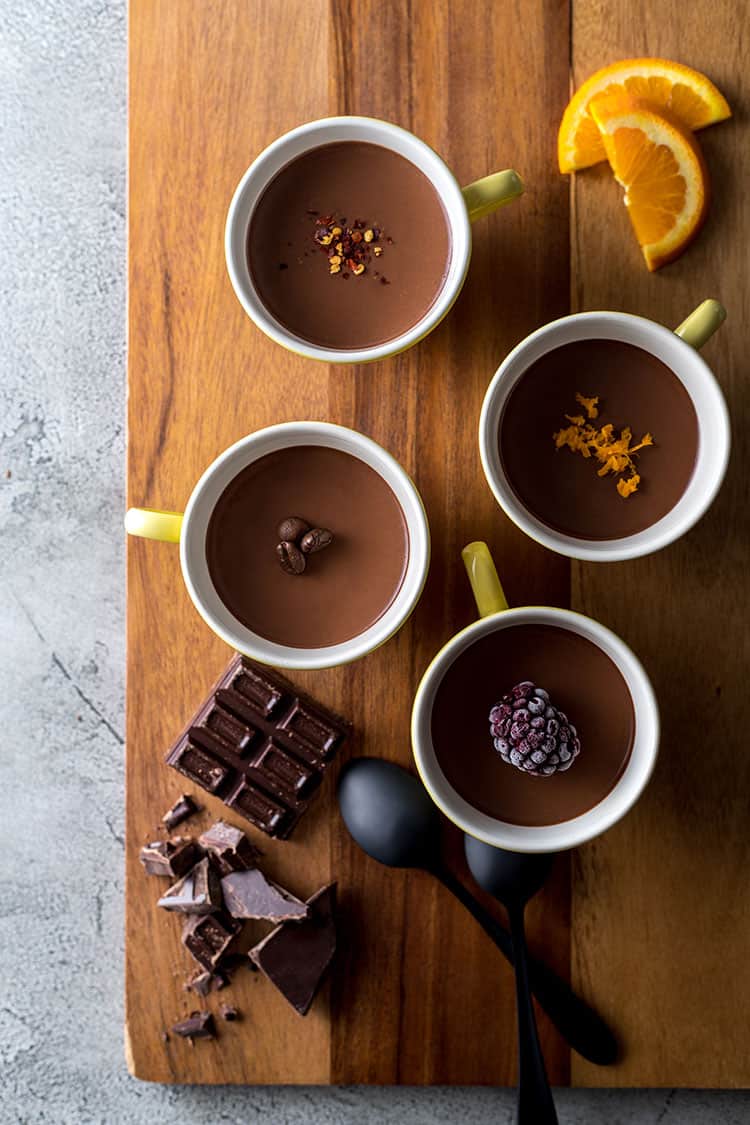 Well here we are. It's Easter weekend already and I'm running a little behind schedule. That's nothing new really, but I do have a lovely chocolatey recipe for you and it's better late than never, right?
These dark chocolate pots look so innocent, but boy do they pack a punch. Rich, creamy, indulgent, they're a stunning dessert that takes all of five minutes to make, and uses just a few simple ingredients. They're ideal if Easter kind of snuck up on you too, but you'd still like to create a gorgeous dessert to enjoy with friends or family.
The basic recipe here is coconut cream and dark chocolate, melted together in just the right ratio then chilled to set to a perfectly 'firm but soft' spoonable consistency. I add a little vanilla and salt to bring out the flavour of the chocolate, and that's all there is to it.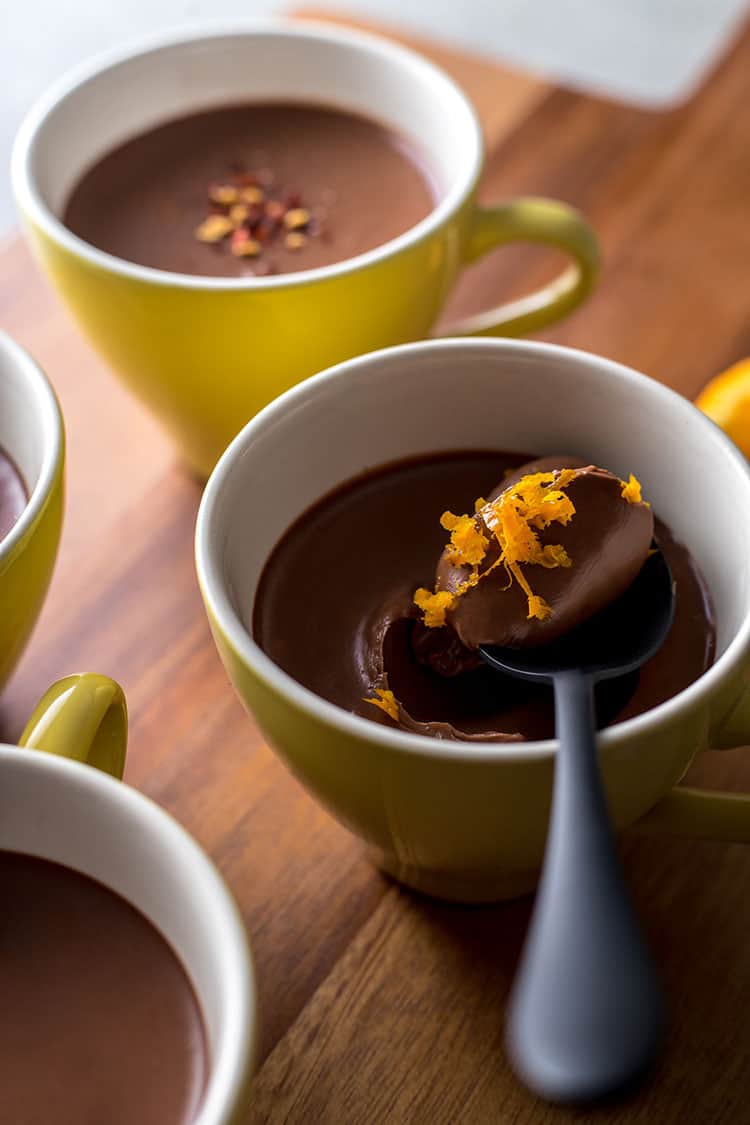 Get creative with flavours
The basic recipe for these dark chocolate pots is incredible, but one of the amazing things about basic recipes is that you can use them as a launching pad and exercise your creativity with flavours. Here are four of my favourites.
Classic - serve the basic recipe with fresh or frozen berries, they're beautifully refreshing with the rich chocolate.
Jaffa - add the finely grated zest of an orange to the pot with the chocolate and coconut cream, and garnish with a little extra zest to serve.
Mocha - add ½ teaspoon instant coffee to the pot with the chocolate and coconut cream, and garnish with a few whole coffee beans to serve.
Mexican - add a small pinch of chilli powder and ¼ teaspoon of ground cinnamon to the pot with the chocolate and coconut cream, and garnish with some dried chilli flakes to serve (if you dare!).
You could try adding a wee splash of whiskey, rum or a fruit liqueur for a boozy version, or experiment with adding a little something to the bottom of each chocolate pot as a wee surprise. Crumbled cookies, caramel sauce or even a little raspberry jam would be pretty delicious.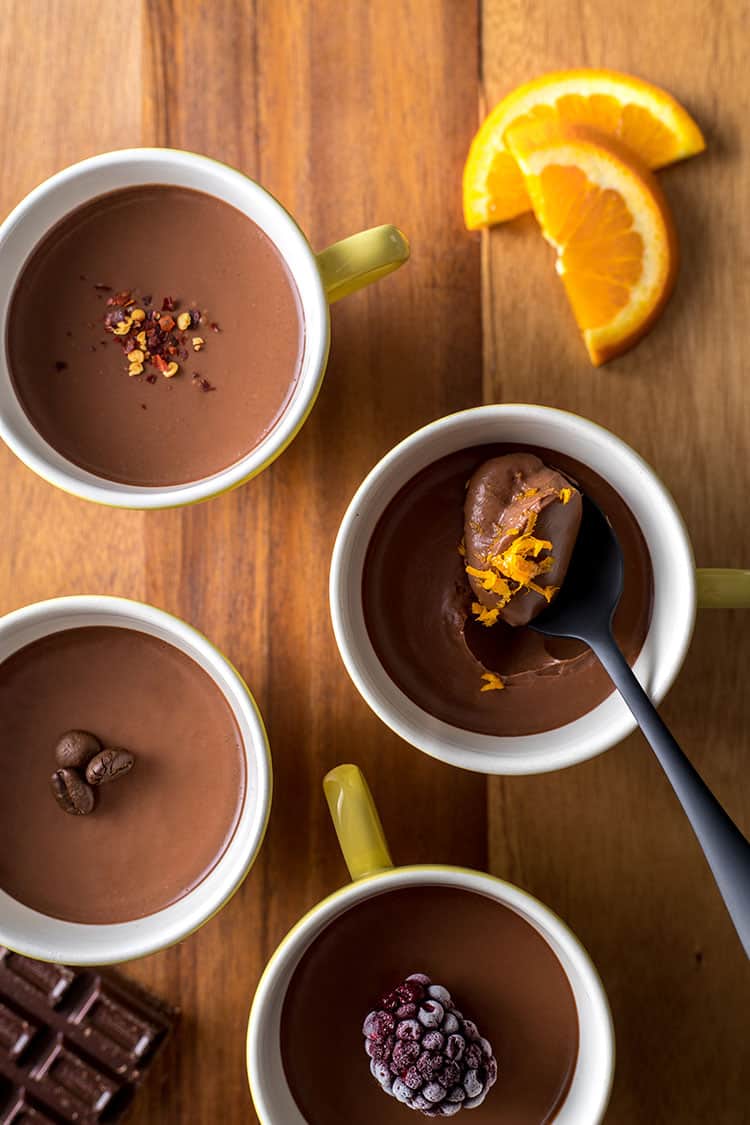 Choose your ingredients well
Because these puddings use only two main ingredients, I do think it's important to choose your chocolate wisely and use full fat coconut cream to ensure your chocolate pots have a luscious, silky texture.
I recommend using a good quality dark chocolate you like the taste of and would be happy to eat just as it is. I used Whittaker's 50% dark chocolate - I like the flavour, it's dark, but not too bitter. A higher percentage dark chocolate might just be a step too far, taking the chocolate pots from rich and indulgent, to just TOO much.
This recipe makes four generous serves, but if you want to whoa back on the indulgence a little, you could reduce the serving size by making six, and still enjoy a really lovely dessert.
You might also like
Get the recipe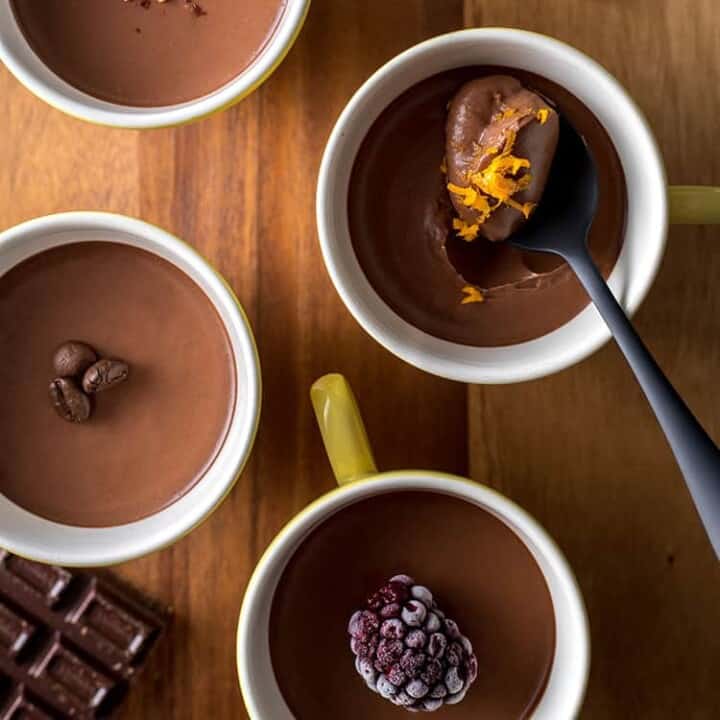 INGREDIENTS
Basic recipe:
400ml

can

full fat coconut cream

(14oz)

½

teaspoon

natural vanilla extract

Pinch

salt

200

g

dark chocolate

roughly chopped (7oz)
Flavour options:
Zest of

one

orange

(Jaffa flavoured)

½

teaspoon

instant coffee

(Mocha flavoured)

¼

teaspoon

ground cinnamon

(Mexican flavoured)

Small pinch

chilli powder

(Mexican flavoured)
INSTRUCTIONS
Heat coconut cream, vanilla, a pinch of salt (and any of the optional flavour add ins) in a small saucepan until it just begins to simmer.

Turn the heat down to low, add the dark chocolate to the pot and let it sit undisturbed for a minute to melt.

Over the heat, whisk the chocolate and coconut cream mixture together for a few minutes, until the chocolate is completely melted and the mijxture is dark, glossy and evenly combined.

Tip into 4 ramekins or tea cups and refrigerate for at least 4 hours, or overnight, to set.

Serve plain, or garnish with your choice of berries, orange zest, coffee beans or chilli flakes.
NUTRITION INFORMATION
Calories:
630
kcal
|
Carbohydrates:
29
g
|
Protein:
7
g
|
Fat:
55
g
|
Saturated Fat:
42
g
|
Cholesterol:
1
mg
|
Sodium:
14
mg
|
Potassium:
682
mg
|
Fiber:
7
g
|
Sugar:
12
g
|
Vitamin A:
20
IU
|
Vitamin C:
2.8
mg
|
Calcium:
48
mg
|
Iron:
8.2
mg