Vegan kedgeree of spiced basmati rice and lentils with tender chunks of marinated jackfruit as a substitute for smoked fish.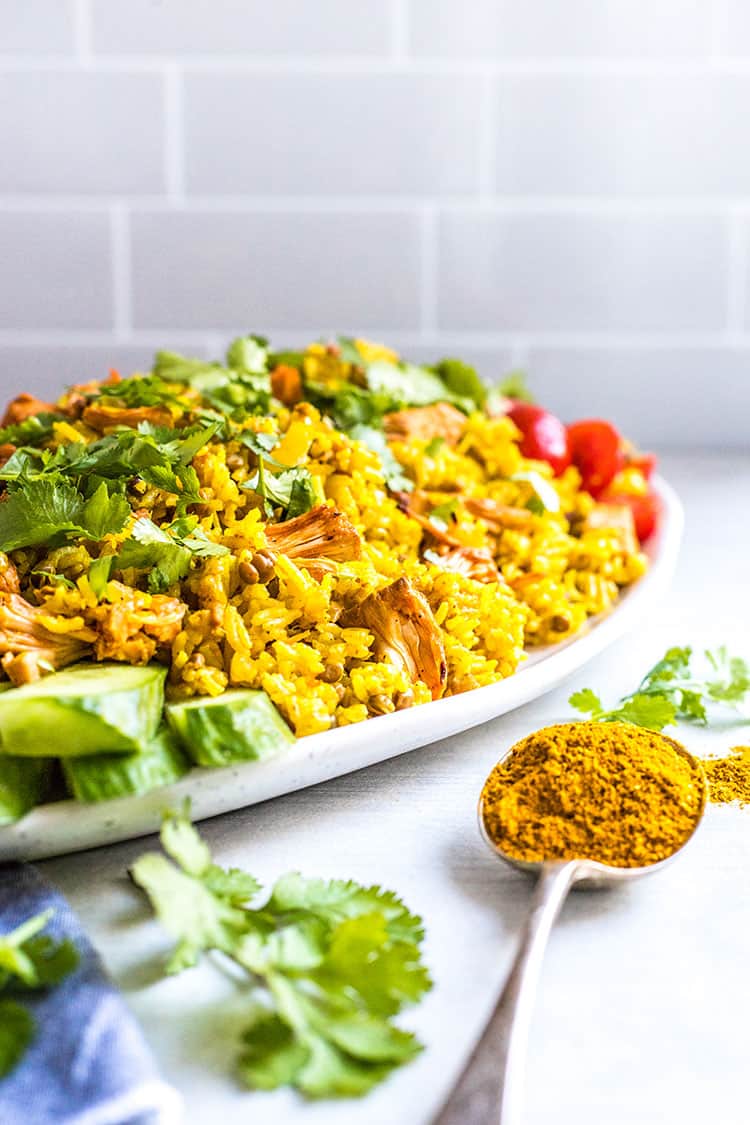 Traditional kedgeree is a mildly spicy rice dish served with smoked fish and boiled eggs - a tasty combo of fairly simple ingredients that looks and tastes great.
Kedgeree was originally created for the British during India's colonial days as a variation on kichiri, a comforting Indian dish of rice and lentils.
Fish has popped in and out of my diet over the years, but it's out now and I do miss it in dishes like kedgeree. It's been on my mind lately and I've been pondering how to achieve a similar end result that's more than just rice and lentils. Enter jackfruit.
Jackfruit as a replacement for smoked fish
Jackfruit is a massive, spiky, tropical fruit available throughout Asia. When it's ripe, its orange lobes are sweet and juicy. When it's young and unripe, its innards are white, fibrous and an excellent stand in for meat in many dishes.
The reason jackfruit is such a popular meat replacer is because of its fibrous texture, cut into chunks it really does mimic the texture of meat and you can even make 'pulled pork' with it.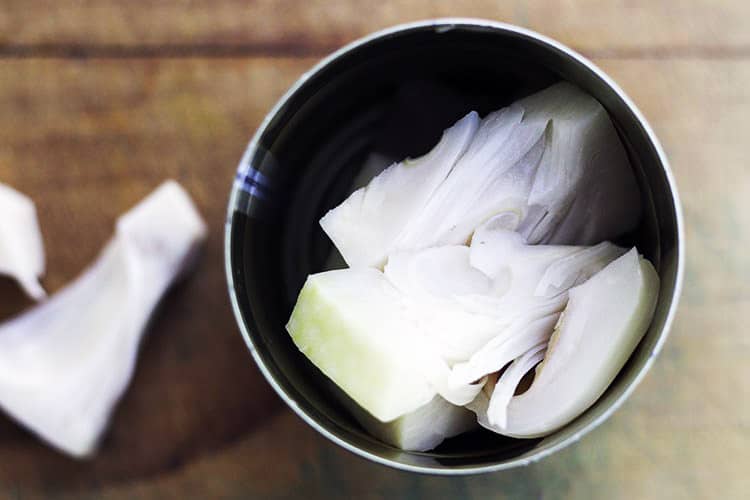 In Asia you can find young jackfruit freshly cut at early morning markets, and it's often served in curries. Outside of Asia it's available canned from Asian grocers and an increasing number of regular supermarkets. Be careful to buy young, unripe jackfruit in water or brine - not ripe jackfruit in syrup, which is delicious but not useful in recipes like this.
Jackfruit is low in fat and protein, but high in fibre, vitamins and minerals. It is fruit, after all. It also doesn't have a lot of flavour - it's up to you to add flavourings to suit the dish you're serving it with.
For this vegan kedgeree, I marinated chopped chunks of jackfruit in a combo of olive oil, lemon juice, smoked paprika and liquid smoke before baking it for long enough to infuse the flavours and dry out a little.
I'm really happy with the end result: tender, moist, slightly oily chunks of jackfruit with a sharp, salty and pleasingly smoky flavour. Does it taste like fish? No. But its texture, flavour and even colour is a great stand in, and I found myself searching for chunks of it as I ate.
This vegan alternative to smoked fish works surprisingly well, and I'll make it again to use in salads and other recipes that might usually use smoked fish.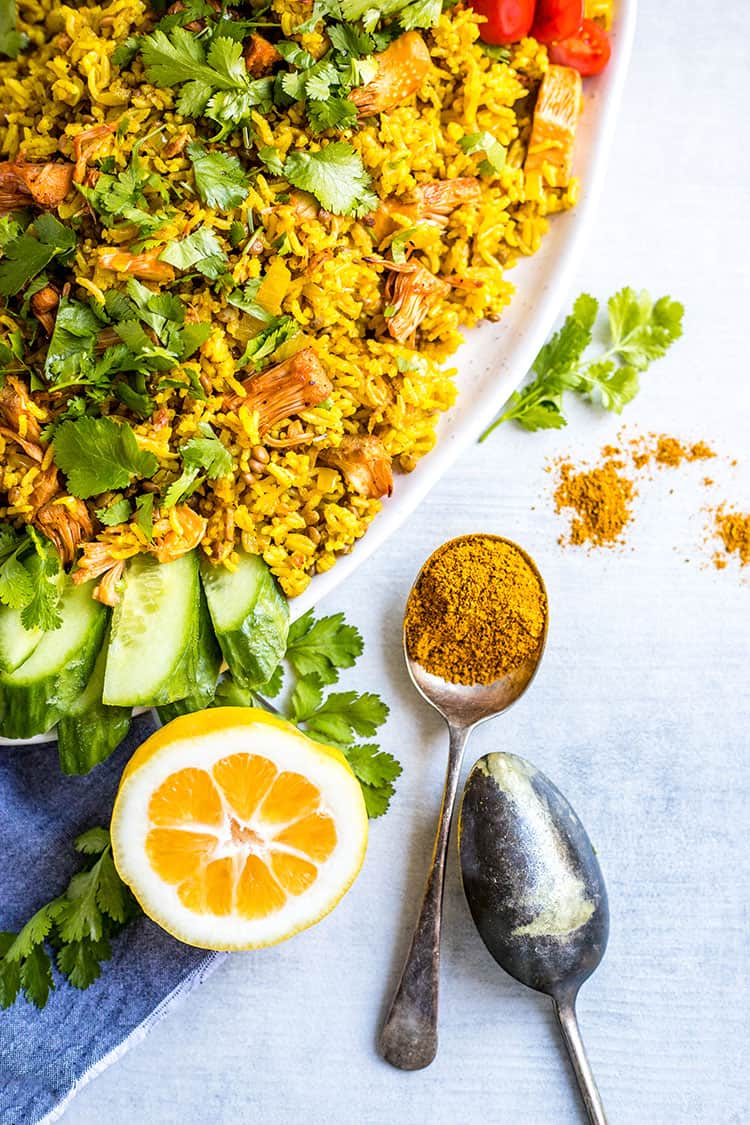 About liquid smoke
Liquid smoke is a liquid flavouring that is made by passing wood smoke through a chamber that captures and collects the vapour. The ingredients are literally smoke and water, and it is this smoky essence that is the ingredient in most storebought foods that have a smoky flavour.
I like to have liquid smoke in my pantry because just a few drops in some recipes is enough to add real interest and complexity to the flavours, without having to bust out a smoker or grill. If you don't have it, you can leave it out as there will be some smoky flavour from the smoked paprika.
Is liquid smoke safe? Pretty much, yes. All smoke contains carcinogens (polycyclic aromatic hydrocarbons, or PAHs to be precise). We should avoid consuming too many PAHs for sure, but it's important to keep it in perspective and realise that the amount contained in a few drops of flavouring is pretty insignificant.
According to this excellent article, naturally smoked or barbecued meat contains significantly higher quantities of PAHs than liquid smoke, so personally I'm relaxed about using it from time to time.
In New Zealand you can buy liquid smoke from The Cruelty Free Shop, and if you're elsewhere Amazon is your friend. A little goes a very, very long way – I think I've had my current bottle for about two years. If you're new to using liquid smoke, go light, you can always add more but you can't take it back out if you use too much. And too much tastes really bad, you have been warned.
Get the recipe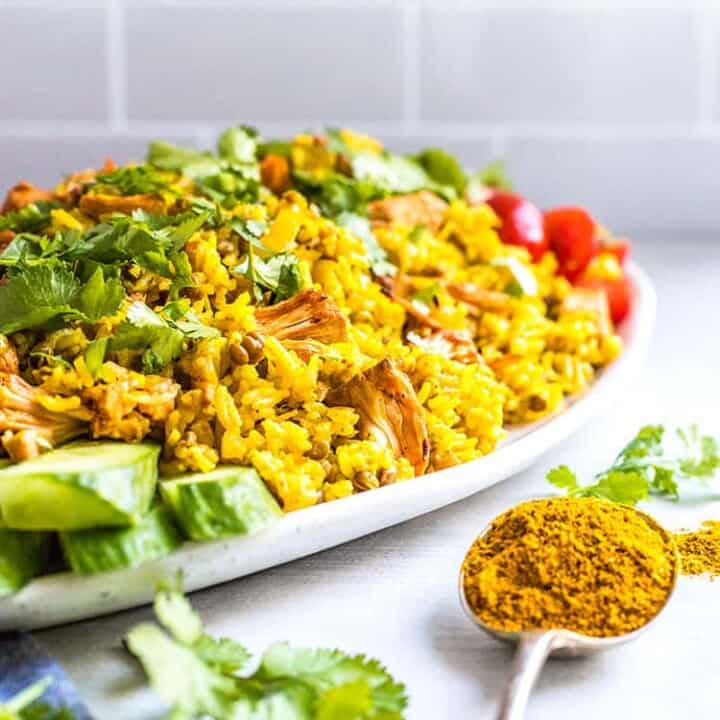 INGREDIENTS
For the jackfruit:
1

can

unripe jackfruit

(565g/20oz) drained

2

tablespoon

olive oil

1

tablespoon

lemon juice

1

teaspoon

brown sugar

½

teaspoon

smoked paprika

¼

teaspoon

liquid smoke

(optional)

¼

teaspoon

salt

¼

teaspoon

ground pepper
For the kedgeree:
1

cup

basmati rice

1

tablespoon

cooking oil

1

onion

finely chopped

1

clove

garlic

grated or finely chopped

Thumb-sized piece of fresh ginger

grated or very finely chopped

1

tablespoon

curry powder

(see recipe notes)

¼

teaspoon

salt

2

¼

cups

boiling water

1

can

lentils

(400g/14oz) drained and rinsed
To serve:
A handful of cherry tomatoes

halved

1

cucumber

sliced

Lemon wedges

for squeezing

Handful of coriander or parsley

chopped
INSTRUCTIONS
Preheat oven to 220C (430F).

Chop each chunk of jackfruit into 3-4 smaller pieces and discard any seeds you may come across. Combine marinade ingredients and pour over the jackfruit. Use your hands to rub it in and break up the jackfruit a little. Set aside to marinate for around 30 minutes if you can (see notes).

While the jackfruit is marinating, rinse the rice and set aside to soak in plenty of cold water for 15-30 minutes.

Bake the jackfruit for 20-25 minutes, giving it a stir halfway through cooking, then remove from the oven. You're looking for it to have dried out a little, but still be juicy and with a little colour around the edges.

To make the kedgeree, heat the oil in a saucepan that has a lid, over medium heat. Add the onion, garlic and ginger and cook for a few minutes, until softened and fragrant. Add the curry powder and salt, and cook for another minute or two.

Rinse the rice in a sieve until the water runs clear, then add it to the saucepan with 2 ¼ cups of boiling water. Stir to combine, then cover with a lid. Turn down the heat to low and cook for 15 minutes, until the rice is cooked and the liquid has evaporated.

Turn off the heat and let the rice sit, with the lid on, for another 5-10 minutes. Remove the lid and use a fork to gently fluff up the rice. Taste and season with more salt and pepper if needed.

Add the jackfruit and lentils to the rice and gently stir to combine. The heat of the rice will warm the jackfruit and lentils through.

Assemble the kedgeree on a big serving platter, or individual plates, by spreading out the spiced rice and topping it with coriander or parsley, lemon wedges, cherry tomatoes and sliced cucumber.
RECIPE NOTES
Use your choice of mild, medium or hot curry powder depending on your taste for spicy food. Made with mild curry powder, this recipe is child friendly.
Marinating the jackfruit will help infuse the flavour, but if you're short on time it's not essential - just combine the ingredients and get them in the oven.
Use freshly cooked brown or green lentils if you prefer, about ¾ cup.
Serves four as a meal, or more as a side dish.
NUTRITION INFORMATION
Calories:
548
kcal
|
Carbohydrates:
100
g
|
Protein:
14
g
|
Fat:
12
g
|
Saturated Fat:
1
g
|
Sodium:
327
mg
|
Potassium:
817
mg
|
Fiber:
12
g
|
Sugar:
6
g
|
Vitamin A:
400
IU
|
Vitamin C:
18
mg
|
Calcium:
127
mg
|
Iron:
5
mg