A non-traditional boozy vegan tiramisu made with coffee-soaked vanilla cake, kirsch and cherries, layered with a luscious vanilla filling.
Last week I found myself hiding from Christmas. I really AM looking forward to it, but the lead up and to-do list can be overwhelming, especially if you're a bit of an introvert. With most Christmas parties now done and dusted, I'm wrapping up work for the year and Christmas with my family is starting to feel a lot more exciting.
I've been dreaming of desserts for weeks. Fragments of ideas have been coming and going. Cherries. Chocolate. Booze.
Finally I found my way to this outrageously decadent vegan tiramisu. It's non-traditional, for sure, but it absolutely ticks all the boxes with coffee and kahlua-soaked vanilla cake, layered with kirsch-soaked cherries and luscious vanilla cheesecake filling (also spiked with more kirsch). Dusted with cocoa and garnished with a few perfect cherries, these individual tiramisu desserts are elegant, decadent, very adult and utterly delicious.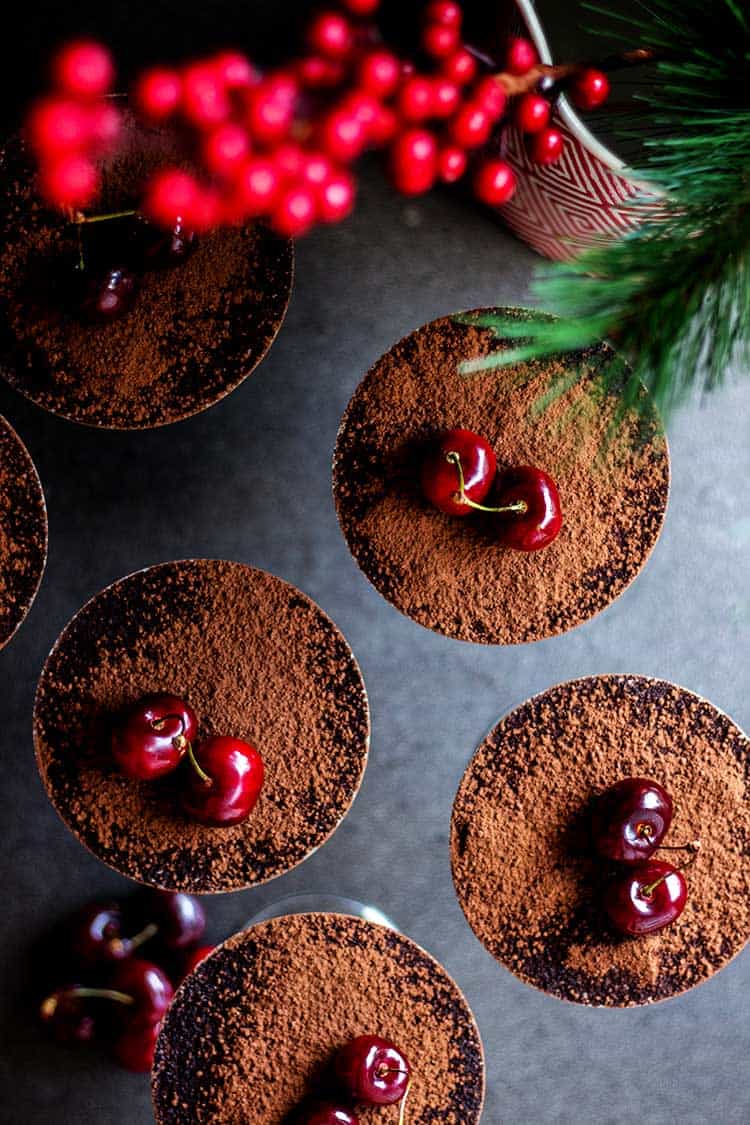 Let us eat cake
My biggest challenge with this dessert was coming up with a replacement for the (non-vegan) savoiardi biscuits (lady fingers, or sponge biscuits) that are traditionally used in tiramisu. I contemplated making some from scratch using aquafaba (might have worked, but it seemed a bit experimental and I didn't have time for that).
I'd have preferred to use something store bought, to be honest, to keep this vegan tiramisu as simple to bring together as possible. If you're ok with eating egg, then go for it and buy store bought savoiardi. If you're not, then I'm pleased to say a basic vanilla cake works fantastically here.
I used Sam Turnbull's recipe for The Best Vanilla Cake, from her cookbook Fuss-Free Vegan that I recently reviewed (p165). It's basically the same as the cupcake recipe on her website. I was so pleased with this cake, which is quick and easy to make, and comes out light, moist and everything cake should be. It's so quick to make that I was able to whip it up and get it in the oven while I was waiting for my husband to get out of the shower so I could leave the kids with him and go for a run. By the time I got home again it was cool and ready to go.
If you're planning to use Sam's vanilla cake recipe, I made the full cake recipe (from the book) and used about half of the cake to make the tiramisu. The cupcake version of the recipe (available online) is already half the quantity so probably about perfect - just bake it in a cake tin until it's golden and a toothpick comes out clean.
Cherries and kirsch, and substitutions
I adore cherries and look forward to their brief season at Christmas each year. They are however outrageously expensive, so I was sparing in the quantity I used. If you have easy access to them (or plenty of cash), use more.
I admit I don't know if cherries are seasonal or available elsewhere in the world right now - if not I think you could substitute maraschino cherries from a jar, fresh raspberries, or perhaps even preserved black doris plums.
The flavour of the cherries is heightened with the use of kirsch in this tiramisu. Kirsch is a clear, distilled spirit made from cherries. It's not very sweet, and has a slight almond edge to its subtle cherry flavour - which I really enjoy. I macerated a heaped cup of pitted cherries in a splash of kirsch while I was getting everything else ready. It really brings out the intensity of their flavour. For more about kirsch, check out this excellent article by David Lebovitz.
If you don't have kirsch available, you could substitute framboise (raspberry liqueur), raspberry infused vodka, or a fruit brandy. If, heaven forbid, you want to make this boozy dessert alcohol free, a splash of orange juice would work pretty well I think.
Luscious vanilla filling
My lime and vanilla cheesecake recipe is one of the most popular recipes on this blog, so I knew just where to turn for a creamy vegan tiramisu layer. I made small tweaks to the recipe (lemon instead of lime, a little less of it, and a big splash of kirsch). It worked incredibly well, and sets beautifully once it's had time to chill.
For the sceptical, DO NOT FREAK OUT when you see this recipe has tofu in it. It's not traditional, that I know, but it does work very well as the base for a creamy dessert, and there's not a hint of tofu-taste to this when finished.
So many options for presentation
I was frozen with indecision when it came to assembling this beauty of a dessert. I ended up with pretty much all my glassware lined up, as well as a trifle bowl, spring form tins and other serving dishes.
Finally I decided to go with martini glasses, and I have to say I really love how elegant the tiramisu looks when presented this way. You could also make individual serves in ramekins, small bowls or wine glasses for a similar effect.
If you have a trifle bowl, then go large and make this tiramisu family-style. You could also slice the cake into layers and assemble it back in the cake tin as a layered torte, served sliced into wedges once set. The moral of the story is that you can assemble the tiramisu components in anything really - use what works for you, and have fun.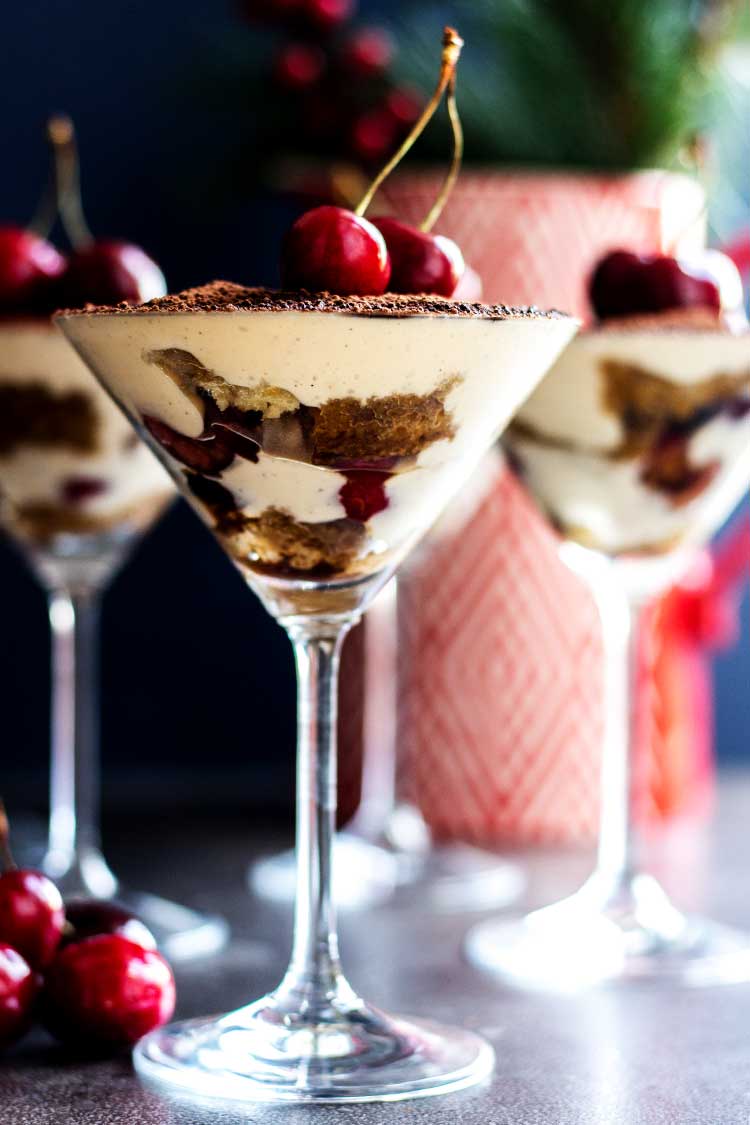 Get the recipe
INGREDIENTS
For the cake layers:
Basic vanilla cake

(by Sam Turnbull)

1

cup

strong brewed coffee

(cooled)

¼

cup

kahlua

(or other coffee liqueur)

1

tablespoon

maple syrup

(or sweetener of your choice)
For the cherries:
1

heaped cup

fresh cherries

pitted (around 200-250g/7-9oz)

1

tablespoon

kirsch

1

teaspoon

raw sugar
For the vanilla cheesecake filling layers:
½

cup

cashews

(soaked for 2-4 hours)

500

g

soft tofu

drained (approx. 1.1lb)

½

cup

coconut oil

(melted if solid)

¼

cup

maple syrup

¼

cup

lemon juice

freshly squeezed

3-4

tablespoon

kirsch

to taste

1

teaspoon

vanilla paste

(or natural vanilla extract)
To garnish:
Fresh cherries

¼

cup

cocoa

for dusting (approx.)
INSTRUCTIONS
Start by making the cake, using Sam Turnbull's recipe for basic vanilla cake. Make the cake in a single cake tin, and check for doneness from about 20 minutes onwards. The cake is done when golden and a toothpick comes out clean. Cool on a cake rack, then cut into 2-3cm/1in thick chunks or slices.

While the cake is cooking, brew some strong coffee and set aside a cup of it to cool in a shallow mixing bowl. Add the kahlua and maple syrup to taste.

Pit the cherries by slicing them in half and removing their stone. Toss with 1 tablespoon of kirsch and 1 teaspoon of raw sugar, then set aside. Give them a stir every now and then while you're getting everything else ready.

Make the cheesecake filling by blending everything except the coconut oil until smooth. Adjust flavour with a little more kirsch if desired. Then pour the coconut oil in while the blender is running, and blend until combined.

To assemble the tiramisu, very briefly dip the cake chunks/slices into the coffee syrup (or drizzle it over the cake if you're using larger slices), then arrange them in the bottom of serving glasses or a larger serving dish. You want the cake to be moist but not soaked. Sprinkle about half of the cherries over the cake, followed by a generous layer of vanilla cheesecake filling. Repeat the layers, finishing with a layer of vanilla cheesecake filling.

Dust the top of the tiramisu with cocoa, using a sieve to sprinkle it evenly. Wipe the edges clean if necessary, then chill for at least six hours or overnight until set.

Garnish with fresh cherries and serve.
RECIPE NOTES
Serves 10 individual martini glass sized portions.
Prep time is based on hands-on time - it does not include soaking, cooling or chilling time. 
NUTRITION INFORMATION
Calories:
436
kcal
|
Carbohydrates:
46
g
|
Protein:
6
g
|
Fat:
23
g
|
Saturated Fat:
10
g
|
Sodium:
285
mg
|
Potassium:
276
mg
|
Fiber:
1
g
|
Sugar:
30
g
|
Vitamin A:
25
IU
|
Vitamin C:
6
mg
|
Calcium:
56
mg
|
Iron:
1.8
mg
Nutrition Facts
Vegan Christmas tiramisu with kirsch and cherries
Amount Per Serving
Calories 436
Calories from Fat 207
% Daily Value*
Fat 23g35%
Sodium 285mg12%
Potassium 276mg8%
Carbohydrates 46g15%
Protein 6g12%
Vitamin A 25IU1%
Vitamin C 6mg7%
Calcium 56mg6%
Iron 1.8mg10%
* Percent Daily Values are based on a 2000 calorie diet.