Oven-baked cajun polenta fries with a quick and easy smoky tomato sauce.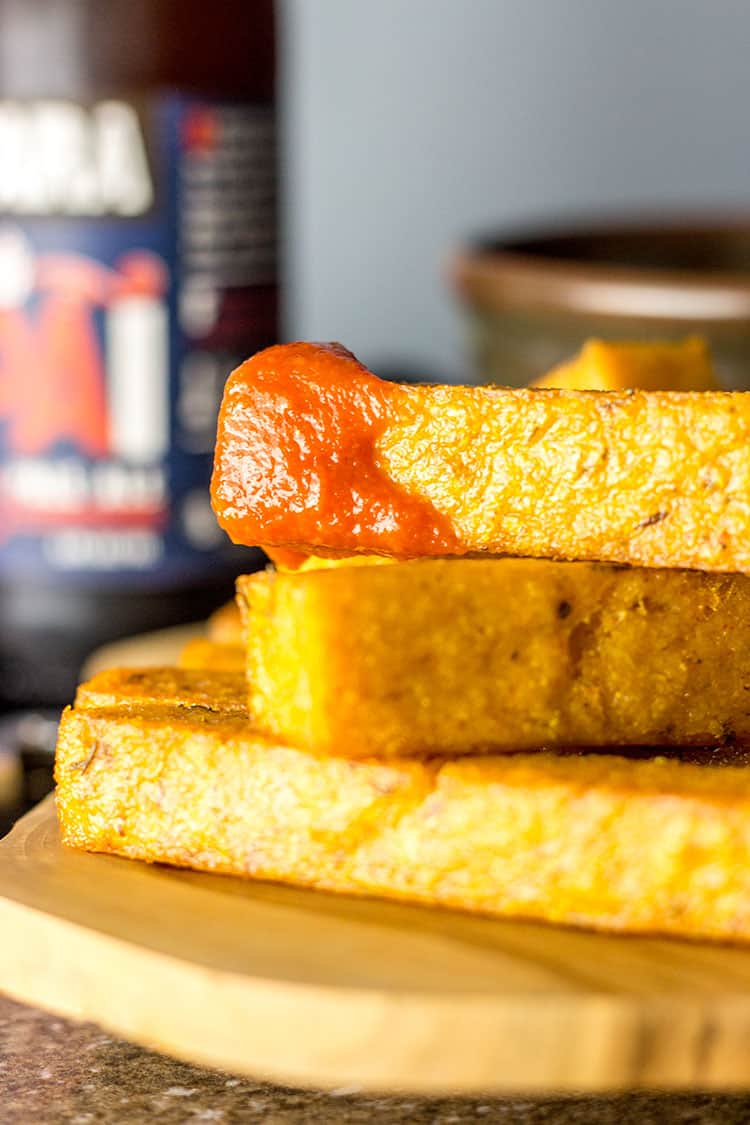 Spring in New Zealand is a rollercoaster ride of days so warm you can get sunburned, and days where we have no choice but to light the fire and cook something cosy. Warmer weather is tantalisingly close, but still so far away.
I optimistically headed out for an early morning walk today, but within five minutes the weather was closing in with icy, fat drops of rain that felt perilously close to turning into hail. I wasn't in a 'brave the weather no matter what' kind of mood, so back home I went.
Grey weekends call for cosy food, and this batch of cajun spiced polenta fries was just the ticket. A quick and easy home made tomato sauce and aquafaba aioli were the perfect accompaniments, alongside a cold beer.
Cajun polenta fries
Polenta, or cornmeal, can be served soft as an alternative to vegetable mash, or allowed to set then cut into shapes before frying or baking. This natural setting ability makes it ideal to slice into chunky polenta chips or fries, which crisp up beautifully in the oven.
I use instant polenta, which cooks in just a few minutes. The basic method is 1 part polenta to 3 parts liquid (I use vegetable stock). It's a simple matter of adding the polenta to the boiling liquid, then turning the heat down and stirring for a few minutes until the mixture is extremely thick. At that point it's spread evenly in a baking tray and set aside to cool.
All manner of flavourings can be added to the basic polenta mixture. Inspired by my recipe for cajun chilli fries, I added a selection of cajun spices to the cooking liquid, which infused a beautiful savoury flavour through the cooking polenta. My kitchen smelled amazing.
If you're served polenta chips in a pub or restaurant, they'll have been deep fried to perfect crispiness. Go ahead and use your fryer if you have one, or if you'd prefer to use less oil then oven bake them as I did. I only used about 1 tablespoon of olive oil, brushed lightly over the chips, and they came out beautifully golden and crisp.
Smoky tomato sauce
You can of course serve these fries with any store bought sauce. But if you'd like to make something yourself, this recipe for smoky tomato sauce is really quick and easy, and comes together entirely from store cupboard ingredients.
I simmered a can of chopped tomatoes with smoked paprika, chipotle chilli, maple syrup, garlic and a splash of red wine vinegar until it had thickened, then blended it until smooth. The chipotle chilli (canned in adobo sauce) gives it quite a kick, but you can leave it out if you prefer a mild sauce.
I like this sauce because it has a fresher, brighter taste than a traditional ketchup, and significantly less sugar. I served it cold, but it's pretty tasty hot too.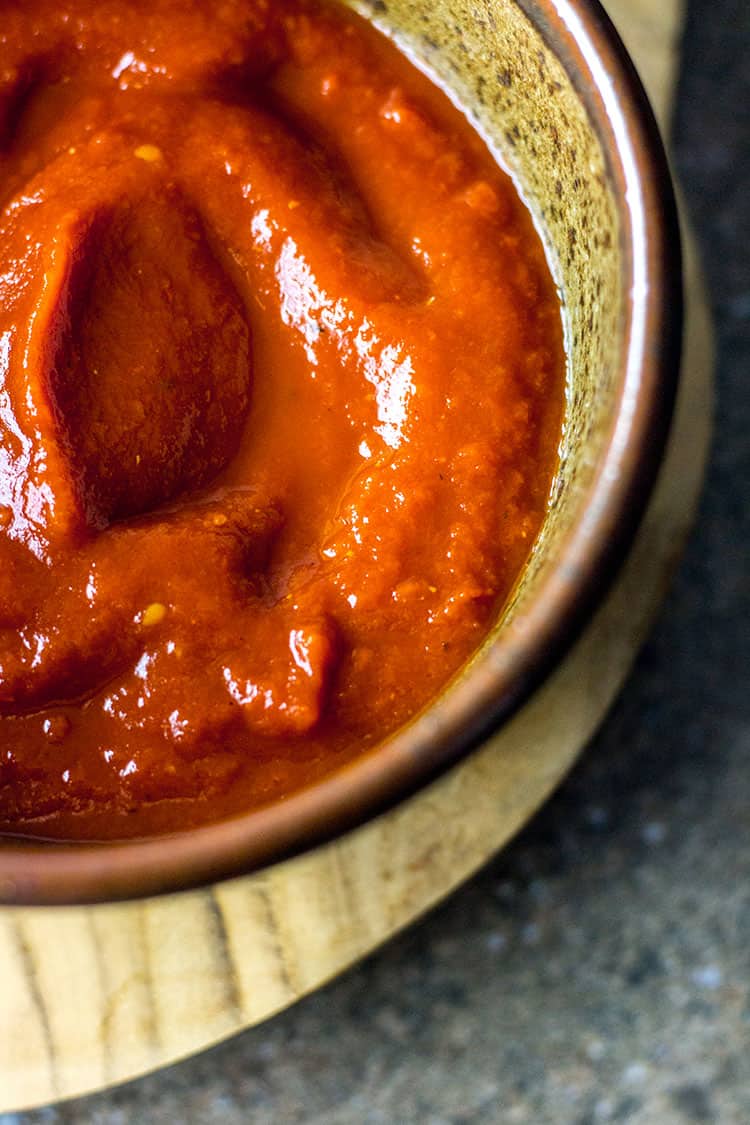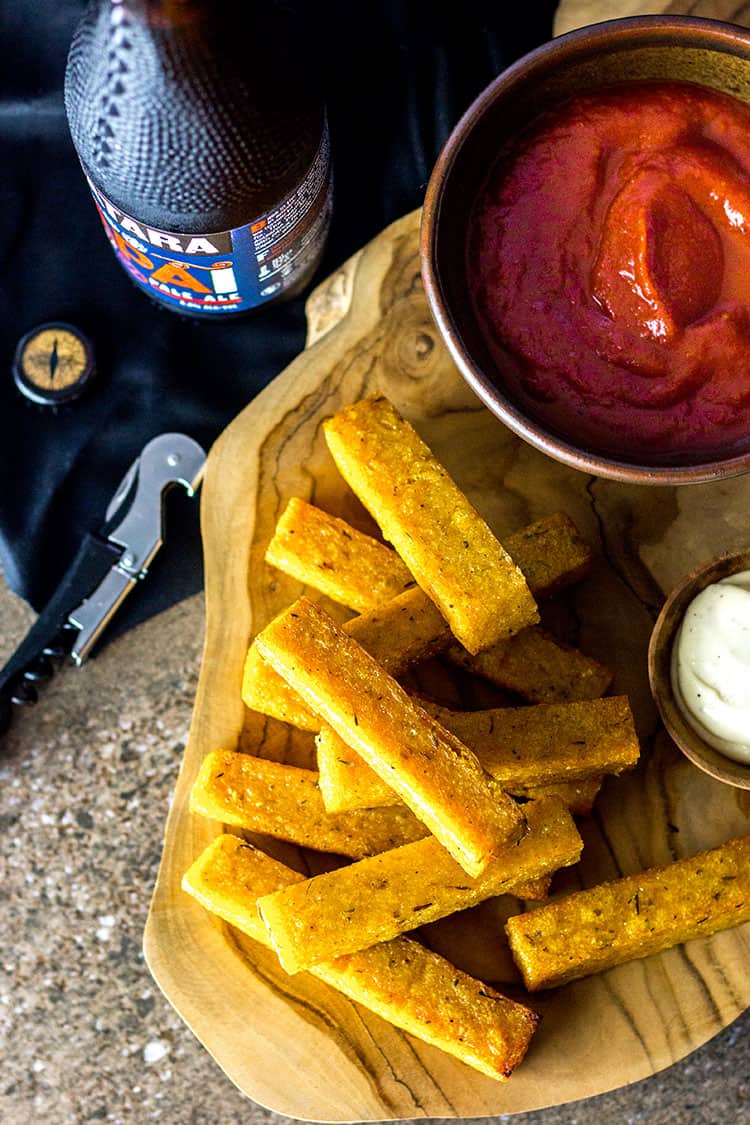 Get the recipe
INGREDIENTS
For the smoky tomato sauce:
1

can

chopped tomatoes

2

tablespoon

maple syrup

1

chipotle pepper

(canned in adobo sauce - optional)

1

teaspoon

red wine vinegar

1

clove

garlic

crushed or finely grated

½

teaspoon

smoked paprika

¼

teaspoon

salt

¼

teaspoon

black pepper
For the cajun polenta fries:
4 ½

cups

vegetable stock

1 ½

cups

instant polenta

2

tablespoon

olive oil

(divided)

1

teaspoon

smoked paprika

1

clove

garlic

crushed or finely grated

½

teaspoon

dried oregano

½

teaspoon

dried thyme

¼

teaspoon

salt

¼

teaspoon

black pepper

⅛

teaspoon

cayenne pepper

(optional)
INSTRUCTIONS
For the smoky tomato sauce:
Put all ingredients into a small saucepan, stir and bring to a simmer. Cook for about 15 minutes, until fragrant and thick. Blend until smooth (I used a stick blender), then set aside to cool.
For the cajun polenta fries:
Put vegetable stock, 1 tablespoon of olive oil, spices and seasoning into a saucepan. Bring to a boil, then add the polenta in one go, stirring constantly to avoid creating lumps. Turn the heat down and cook for another 3-4 minutes, stirring constantly, until the mixture is very thick.

Spread the cooked polenta out evenly in a lined 18x27 cm baking pan (approximately 7x10.5 inches) or similar sized. Refrigerate until cool - about an hour.

Preheat oven to 220C (430F) fanbake.

Lift the cooled polenta out of the pan and onto a chopping board. Use a large, sharp knife to cut it into evenly sized chips or fries. Arrange the chips evenly on a lined baking tray and lightly brush with the remaining 1 tablespoon of olive oil.

Bake for 30-35 minutes, turning regularly, until golden brown and crisp.

Serve immediately, with smoky tomato sauce and any other sauces of your choosing.
RECIPE NOTES
Smoky tomato sauce recipe makes about 1 cup - more than you'll need. 
Cajun polenta fries recipe makes about 24-30 chunky chips, depending how you slice them. Serves four as a snack or side dish. 
NUTRITION INFORMATION
Calories:
346
kcal
|
Carbohydrates:
62
g
|
Protein:
6
g
|
Fat:
7
g
|
Saturated Fat:
1
g
|
Sodium:
1501
mg
|
Potassium:
308
mg
|
Fiber:
2
g
|
Sugar:
11
g
|
Vitamin A:
1205
IU
|
Vitamin C:
10
mg
|
Calcium:
43
mg
|
Iron:
1.9
mg
Nutrition Facts
Cajun polenta fries with smoky tomato sauce
Amount Per Serving
Calories 346
Calories from Fat 63
% Daily Value*
Fat 7g11%
Sodium 1501mg65%
Potassium 308mg9%
Carbohydrates 62g21%
Protein 6g12%
Vitamin A 1205IU24%
Vitamin C 10mg12%
Calcium 43mg4%
Iron 1.9mg11%
* Percent Daily Values are based on a 2000 calorie diet.