Italian-style chickpea farinata topped with charred broccoli, lemon and capers is a very simple to make but deeply satisfying meal.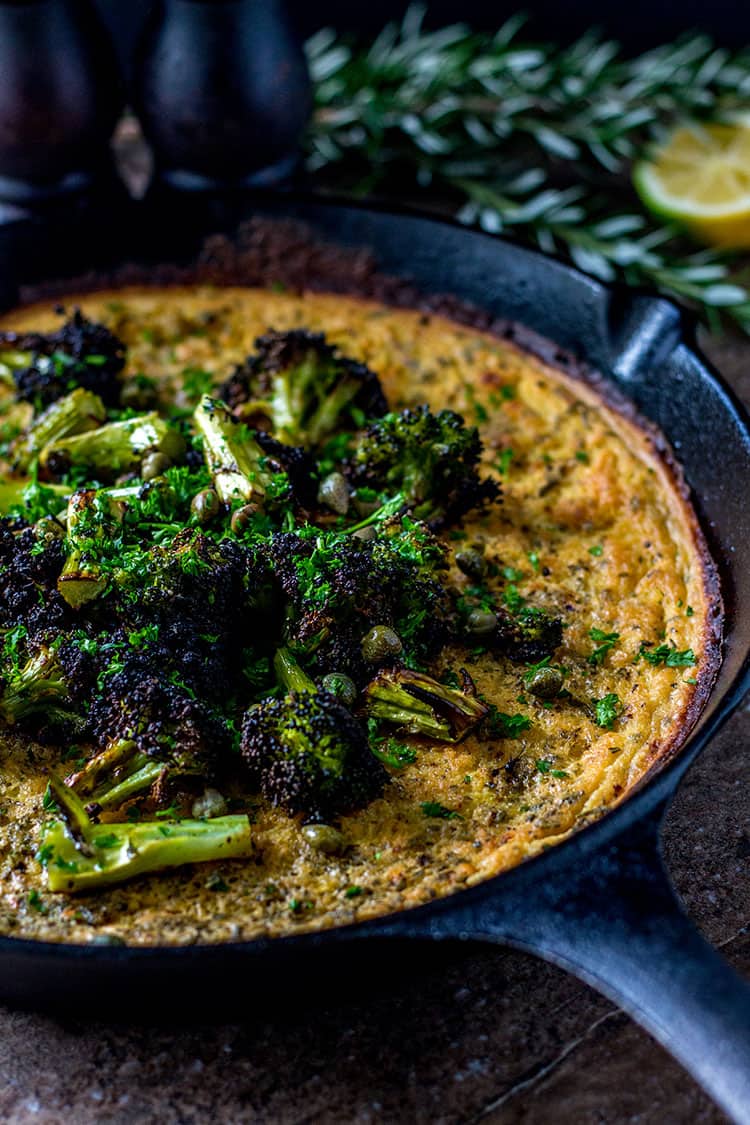 The past month has been a challenging one. It's been the beginning of the downwards slide to winter, with autumn leaves dropping and the skeletal branches of trees standing grim against the grey sky. It's cold.
After our glorious months in Indonesia, I've returned to working big hours for valued clients. It's rewarding work, but I've found the adjustment hard. I'm tired, yet not sleeping well.
My diet has been swinging wildly between 'anything on toast' and 'I'm going to pass out if I don't eat something green' healthy soups like this one.
I've been learning new skills and revisiting old ones, keeping myself very busy making videos for some of my most popular recipes (cheesecake, kumara cakes and cauliflower sauce, I hope you like them).
And then last week Quite Good Food turned two years old. Two! Instead of posting a new recipe and some thoughtful words like I did last year, I took a few hours off and went and had a massage. It felt so good to stop running as fast as I can to do ALL THE THINGS and to just have some time out. It's a rare and beautiful thing, and it was just what I needed.
A little bit of self-care can work wonders. If you're also struggling with over-committment and balance, I urge you to take some time out. If you feel you just can't manage it, it probably means you need it more than ever. Do something you love. Congratulate yourself on everything you've achieved, then stop for a minute. Be thankful, and regroup.
Refreshed and reinspired for the week, I turned to the kitchen. I've tried making farinata (also known as socca) a few times over the years with pretty limited success. I'm delighted to say I've finally nailed it.
Italian-style farinata (or socca)
Farinata is pretty unique. Made with just a few simple ingredients, it cooks up as a thick, almost eggy-textured, savoury pancake-like creation.
The critical ingredients are chickpea flour, water and salt (complicated, huh?). They're whisked together to create a smooth, very thin batter, then set aside for a few hours for the chickpea flour to fully hydrate (this step is essential, trust me).
Herbs and spices of your choosing can be added to the batter too. Rosemary is traditional (and delicious), and I love it with a little lemon zest and chilli flakes for good measure too.
To cook the farinata, you need an ovenproof heavy frypan (skillet) that can be heated to a very high heat (cast iron is ideal). The pan and oil are heated to smoking hot, the batter poured in, then put on a high shelf in a very hot oven on grill (broil) until it's deeply golden, crispy on top, with lacy edges pulling away from the sides.
Farinata is absolutely delicious sliced into wedges and served as a snack, a gluten free pizza alternative, or to have in place of bread with soup.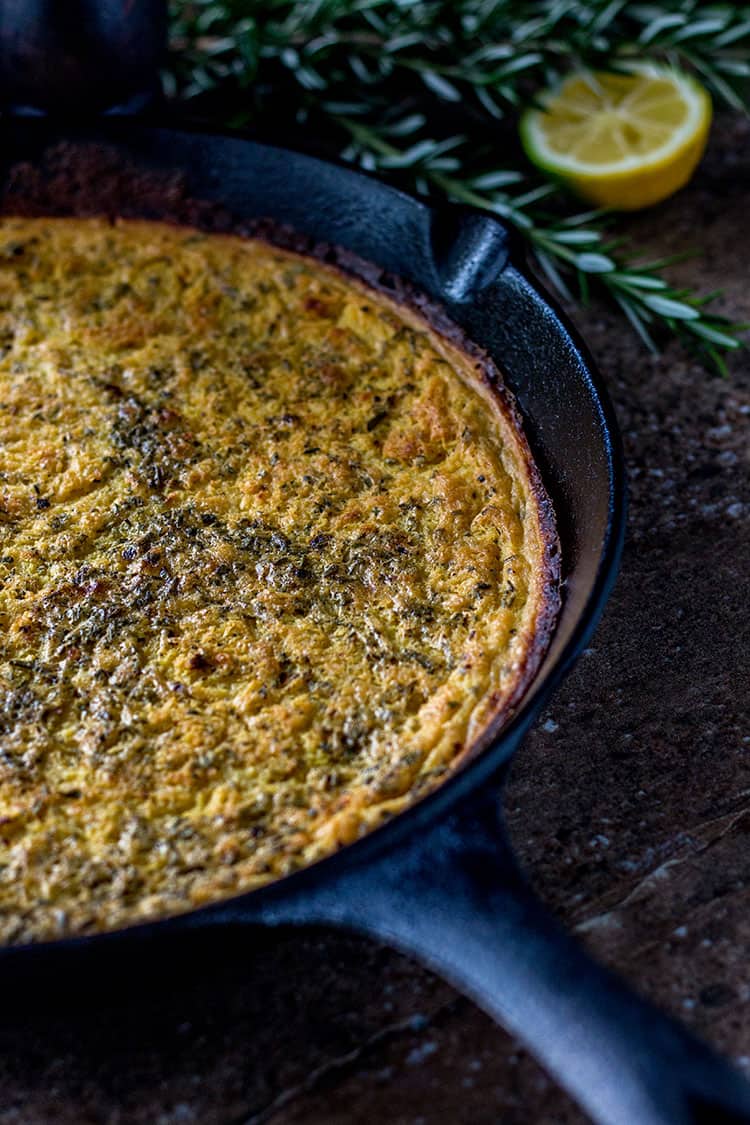 Farinata topped with charred broccoli
Naturally vegan and gluten free, farinata is high in protein, incredibly satisfying and really well suited to all kinds of toppings.
In spring or summer I'd love it with something light and fresh like this herb and bean topping or an heirloom tomato salad. In cooler months it's outstanding with roast vegetables.
My current favourite is charred broccoli. There aren't many things that aren't improved with a little charring, including broccoli. The high heat intensifies the flavour, creates a little crispyness and makes eating a whole head of it an absolute afterthought. What a way to eat your greens.
Farinata piled up high with charred broccoli, a scattering of capers and parsley, and a big squeeze of lemon, is utterly delicious. The slight bitterness of the charred broccoli, with the salt and sharp of the capers and lemon, is the perfect balance to the richness of the farinata. You'll be going back for more.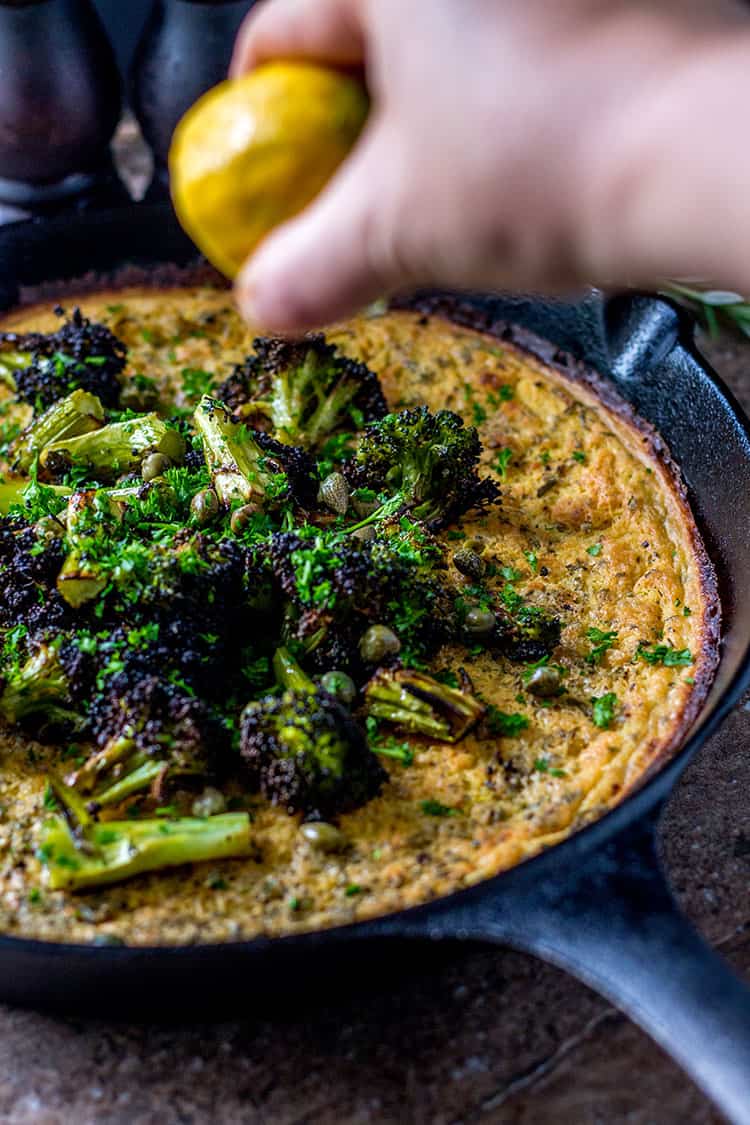 Which oil to use?
Farinata is traditionally made with olive oil. I've made it with olive oil, and it was delicious.
But, if you've been paying attention you'll have noticed I mentioned the pan and oil need to be heated until smoking hot. Many people believe olive oil begins to break down when heated to its smoke point, and that it may even become toxic. This article at Serious Eats goes into more detail.
Personally, I'm not sure who to believe.
In the interests of science (ahem, eating) I cooked this farinata using coconut oil, which is known for its high smoke point and suitability for high-heat cooking. The result? A perfectly cooked farinata, that was just as crispy round the edges and utterly delicious as the olive oil version.
So use olive oil, or coconut oil, whichever you have, prefer, or feel safer with. Both options work perfectly.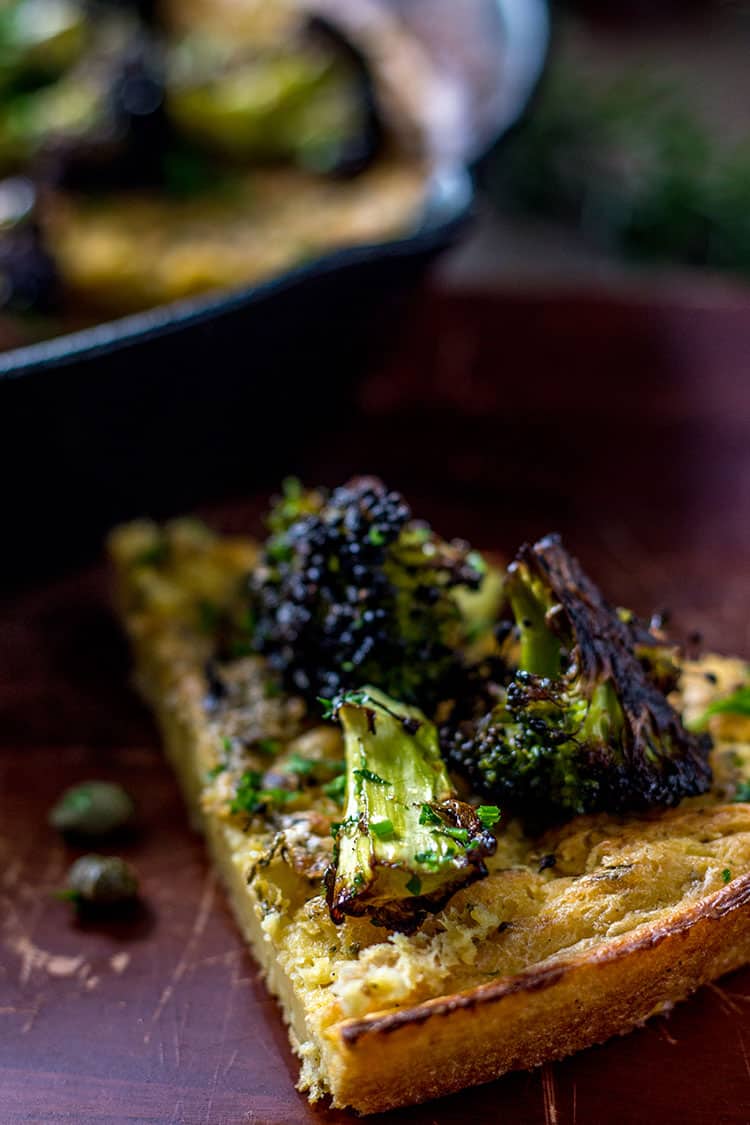 Get the recipe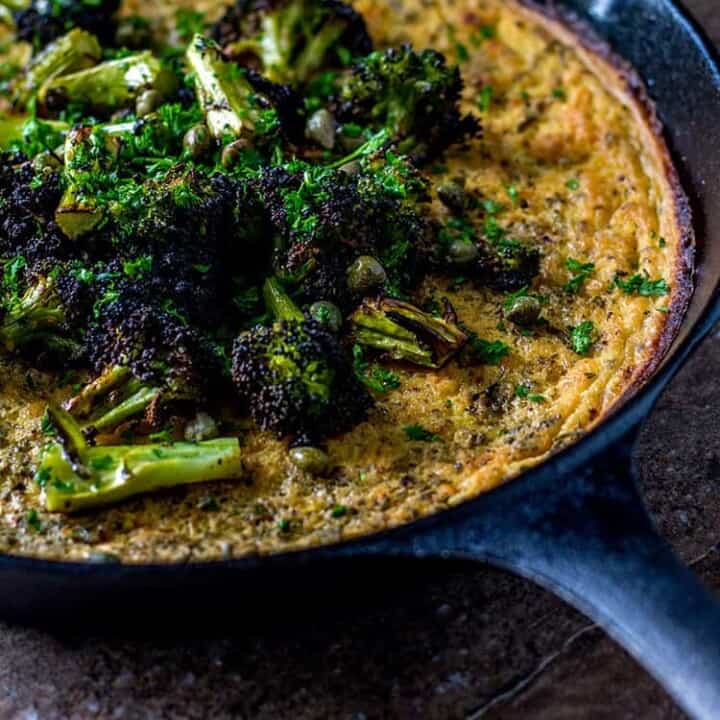 INGREDIENTS
For the broccoli:
1

head

broccoli

1

tablespoon

coconut oil

(or olive oil)
For the farinata:
2

cups

chickpea flour

(about 225g)

3

cups

water

1

teaspoon

salt

1

sprig

rosemary

finely chopped (about 1 ½ tbsp)

½

teaspoon

chilli flakes

(optional)

Freshly ground black pepper

Zest of one lemon

(about 1 tsp)

3

tablespoon

coconut oil

(or olive oil)
To serve:
1

tablespoon

capers

Small handful fresh parsley

finely chopped

Fresh lemons, for squeezing
INSTRUCTIONS
Make the farinata batter ahead of time. Whisk chickpea flour, water, salt, rosemary, lemon zest, chilli flakes and a good grind of black pepper together until smooth, then set aside, covered, for a minimum of two hours.

Preheat oven to 250C (485F) fanbake, with a shelf towards the top of the oven (either the top shelf, or next one down) and a shelf in the middle.

Wash broccoli and trim off any tough or knobbly bits from the stalk. Chop florets and stems into even sized pieces. Put them in a bowl, pour over coconut oil and toss gently to coat. Tip out onto a baking tray, season well with salt and pepper, then put in the oven on the middle shelf.

When the broccoli has been cooking for 10 minutes, heat your frypan (skillet) to a very high heat. Add 3 tablespoon coconut oil, and when it reaches smoking point, quickly pour in the farinata batter. The oil will swirl around and through the batter, leaving some on the surface.

Carefully transfer the hot pan to a high shelf in the oven, and switch the oven to grill/fan grill (broil). This is a good opportunity to give the broccoli a shake too, it should be colouring up nicely.

Let the farinata cook for 10-12 minutes, or until deeply golden and pulling away from the edges of the pan. It should have no 'jiggle'. Don't be concerned if it puffs up while cooking, it will flatten again when removed from the oven.

Remove farinata and broccoli from the oven. Pile charred broccoli on top, sprinkle with capers and parsley, a good grind of black pepper, and squeeze fresh lemon juice over everything. Slice into wedges and serve immediately, while everything is hot.
RECIPE NOTES
Preparation time does not include resting time for the batter. 
NUTRITION INFORMATION
Calories:
390
kcal
|
Carbohydrates:
43
g
|
Protein:
17
g
|
Fat:
18
g
|
Saturated Fat:
12
g
|
Sodium:
741
mg
|
Potassium:
966
mg
|
Fiber:
10
g
|
Sugar:
8
g
|
Vitamin A:
1205
IU
|
Vitamin C:
141
mg
|
Calcium:
105
mg
|
Iron:
4
mg
Nutrition Facts
Farinata with charred broccoli, lemon and capers
Amount Per Serving
Calories 390
Calories from Fat 162
% Daily Value*
Fat 18g28%
Sodium 741mg32%
Potassium 966mg28%
Carbohydrates 43g14%
Protein 17g34%
Vitamin A 1205IU24%
Vitamin C 141mg171%
Calcium 105mg11%
Iron 4mg22%
* Percent Daily Values are based on a 2000 calorie diet.