Creamy avocado, fresh spinach and mint are the stars of this refreshing green smoothie packed with health-giving properties.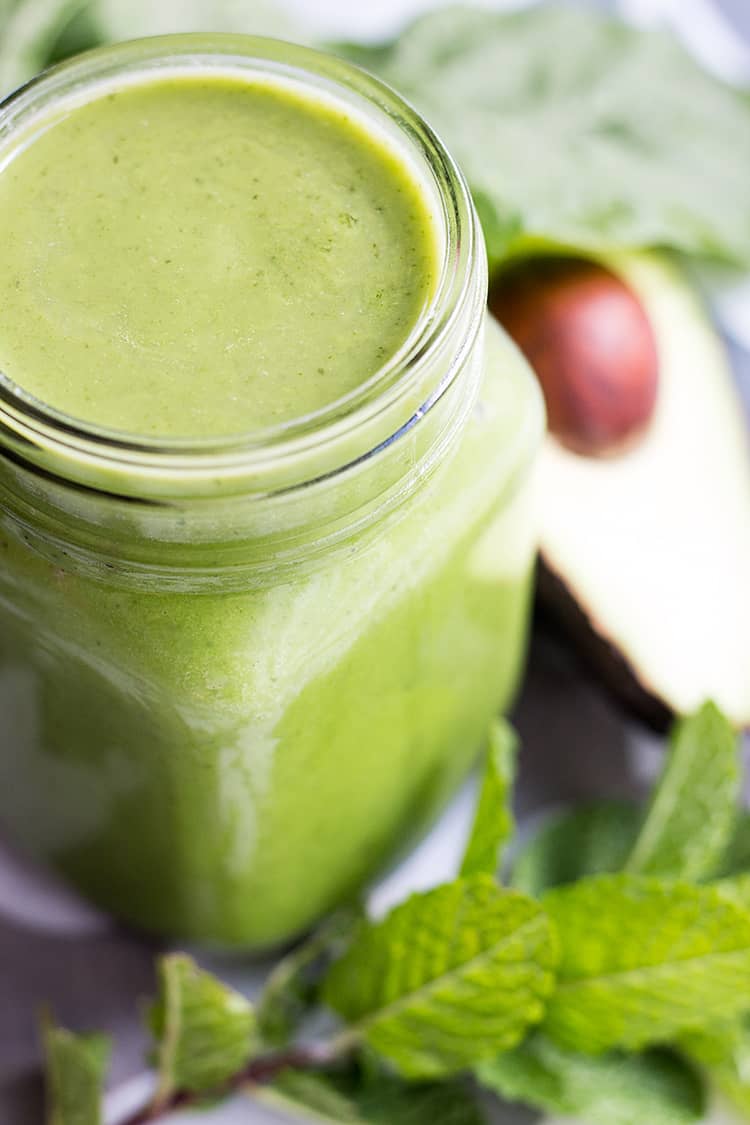 I'm very grateful for my generally very good health. I rarely get sick and winter colds and flus are uncommon for me. Lucky, yes, and I like to think my generally good diet plays a part too. But we should never take our health for granted, and I was bluntly reminded of that last week with a rare (for me), vicious change of season cold which included losing my voice. What a rough week it was.
I'm starting to feel (and sound) like myself again now and I'm feeling the need to nourish my body and give it a little extra love and encouragement.
I've been enjoying this immune boosting beauty of a green smoothie over the last few days, and it's so lovely I thought you might like to try it too.
A for avocado
I'm new to using avocado in smoothies, and I'm really liking the smooth, creamy texture it adds. If you're new to it too, don't worry, this does not taste like runny guacamole. Half an avocado isn't noticeable at all in terms of flavour, and it provides a beneficial serve of healthy fats, 48% RDI for vitamin B6, 34% for folate, and a range of other nutrients too.
I've been trying a home delivery avocado service and I have to say I'm a total convert. Perfect fruit is picked, packed and shipped direct to you - so no over handling, no cool stores, just utterly perfect avocados you can ripen at your own pace. For my New Zealand friends, check out The Avo Tree if you'd like to get in on the action. Be warned, easy access to lots of avos in your fruit bowl may increase your risk of turning into one (or at the least, gaining legendary avo toast making skills).
Lots of greens and vitamin C
I'm totally at home throwing a huge handful of spinach into my smoothies, and I usually stop there. This week I was out in the vege garden picking spinach, and noticed the mint has taken off with lots of new spring growth. So I picked a huge handful and threw it in the blender too. I couldn't be more pleased with the cool, refreshing vibe it adds. Mint's another good for you green too, known for its ability to boost digestion while soothing the stomach. It's also high in vitamin A, and perhaps surprisingly, iron.
Vitamin C helps us get the most out of non-haem iron (plant based, or non-animal sources of iron). It's easily done - squeeze a lime into this smoothie and you've instantly boosted the vitamin C and your body's ability to absorb the iron. It's delicious too! The lime adds a really nice bit of zing to this smoothie, and I also love it in my other favourite green smoothie recipe.
I'm sweet enough already
Fair warning in advance, this smoothie isn't very sweet. I added an over-ripe banana and found the sweetness of the smoothie to be just right for me, but if you've got more of a sweet tooth you might like to add a few dates, or a splash of maple syrup. Taste it and see how you go.
A green smoothie a day keeps the doctor away
Well maybe. It's gotta help anyway. This one is quite a package with 74% RDI for vitamin C, 42% for iron, 38% for calcium and 33% for vitamin A.
Forgetting the statistics for a minute, this avocado and mint smoothie is a glass of good health. Its creaminess is somehow comforting, and it will definitely leave you feeling better for including it in your day. Over and out.
Get the recipe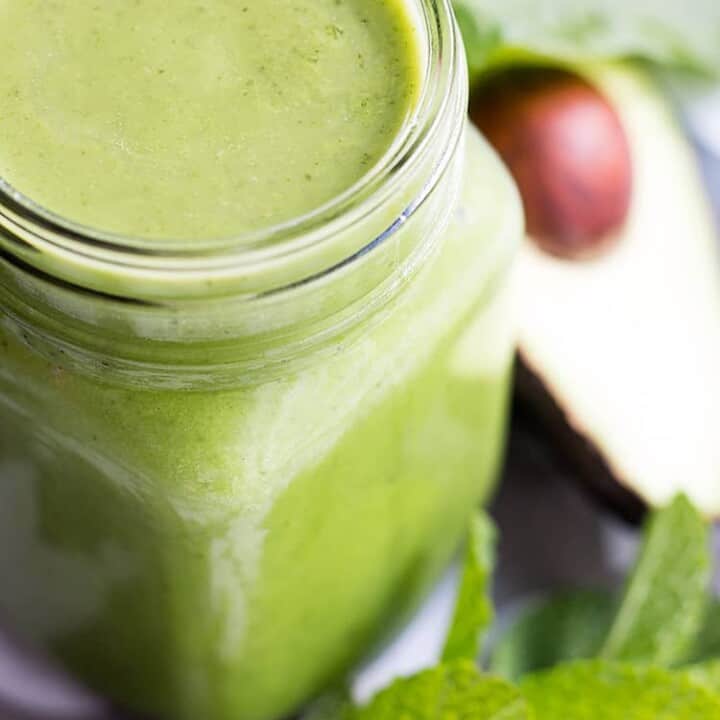 INGREDIENTS
½

a ripe avocado

1

over-ripe banana

fresh or frozen

1

cup

spinach leaves

(about 3-4 large leaves or a big handful of baby spinach)

½

cup

fresh mint leaves

Juice of one lime

(about 2 tbsp)

½

cup

almond milk

or water
INSTRUCTIONS
Put all ingredients into a blender, blend until smooth.

If you prefer your smoothies very cold, use frozen banana, or add a few ice cubes (and a little less almond milk to make up for the extra liquid).
NUTRITION INFORMATION
Calories:
318
kcal
|
Carbohydrates:
43.8
g
|
Protein:
6.5
g
|
Fat:
16.9
g
|
Saturated Fat:
2.4
g
|
Cholesterol:
0
mg
|
Fiber:
15.1
g
Nutrition Facts
Avocado and mint green smoothie
Amount Per Serving
Calories 318
Calories from Fat 152
% Daily Value*
Fat 16.9g26%
Cholesterol 0mg0%
Carbohydrates 43.8g15%
Protein 6.5g13%
* Percent Daily Values are based on a 2000 calorie diet.