Crunchy home made vegan nuggets made with jackfruit and chickpeas, a tasty savoury snack or child-friendly dinner idea.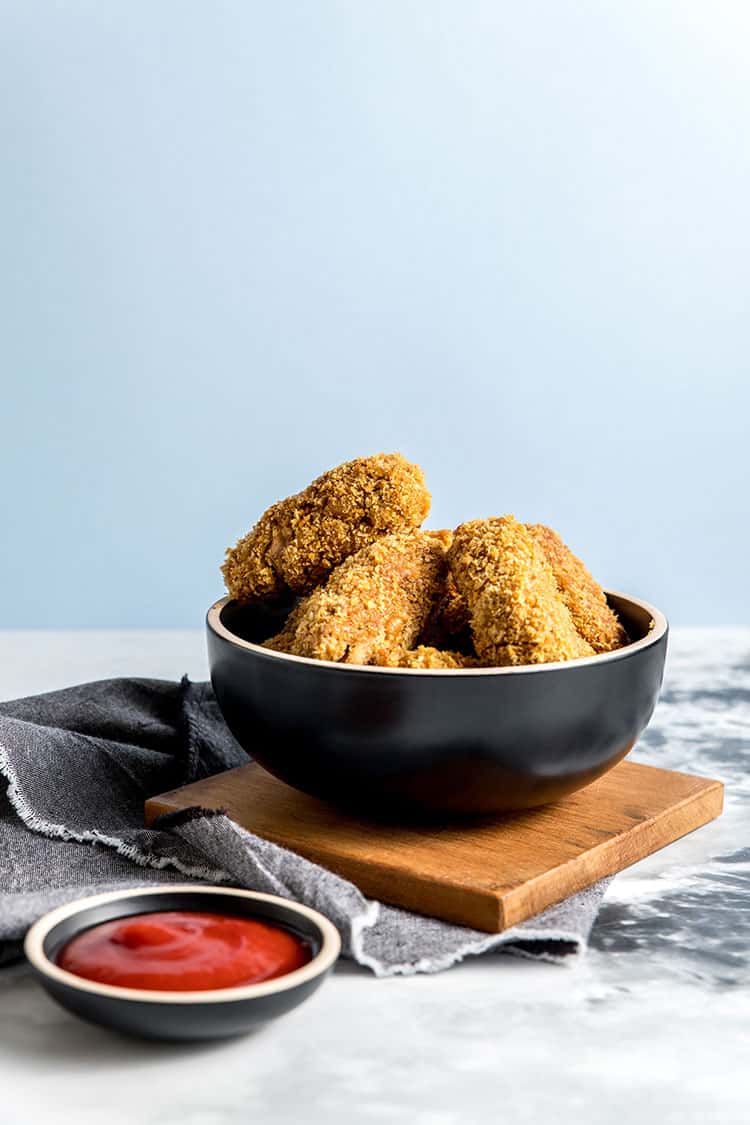 Hello my friends. Spring has sprung here in the southern hemisphere and I couldn't be happier. As I write this at my desk, the door to our back yard is open and a gentle breeze is directing the heady fragrance of grapefruit blossoms my way. Our ancient but huge grapefruit tree is in full flower, swarming with happy bees and it's absolutely glorious.
Behind the grapefruit tree are my vegetable gardens, with newly planted seedlings all in a row, representing both the hard physical work of getting the gardens ready for spring and the promise of screamingly fresh homegrown produce to come. This year I'm growing a variety of heirloom tomatoes, eggplants, chillies, capsicums, courgettes, carrots, radishes, cucumbers, lettuce and plenty of herbs. It's been a joy to get back into the garden, which I always find very grounding and calming.
My girls have been enjoying helping choose what to plant and doing the odd bit of watering (funny how they were less interested in digging in the compost... hmm). This week I decided to do some experimentation in the kitchen that was fully focused on them.
I make home made burgers often, but haven't ventured into nugget territory despite store bought vegan nuggets being very popular with the little people. So I decided it was time.
What makes a good vege nugget?
Good question isn't it? I thought about this for a few days. I think a good vegan nugget needs to:
be moist inside, but not mushy
have some texture
have a crunchy exterior
taste generally savoury, but not strongly flavoured with a particular herb or spice
not be a variation on falafel
not be a variation on a vege burger
stack up nutritionally and include some protein
be easy to make.
Would you agree?
Jackfruit and chickpeas for the win
Jackfruit is a massive, spiky, tropical fruit available throughout Asia. Unripe or green jackfruit is a darling of the plant-based eating world for its texture and ability to mimic meat in a range of dishes.
Outside of Asia it's available canned from Asian grocers and an increasing number of regular supermarkets. Be careful to buy young, unripe jackfruit in water or brine – not ripe jackfruit in syrup, which is delicious but not useful in recipes like this.
I really enjoy jackfruit and love playing around with it. It takes on other flavours easily, and the texture is really quite unique.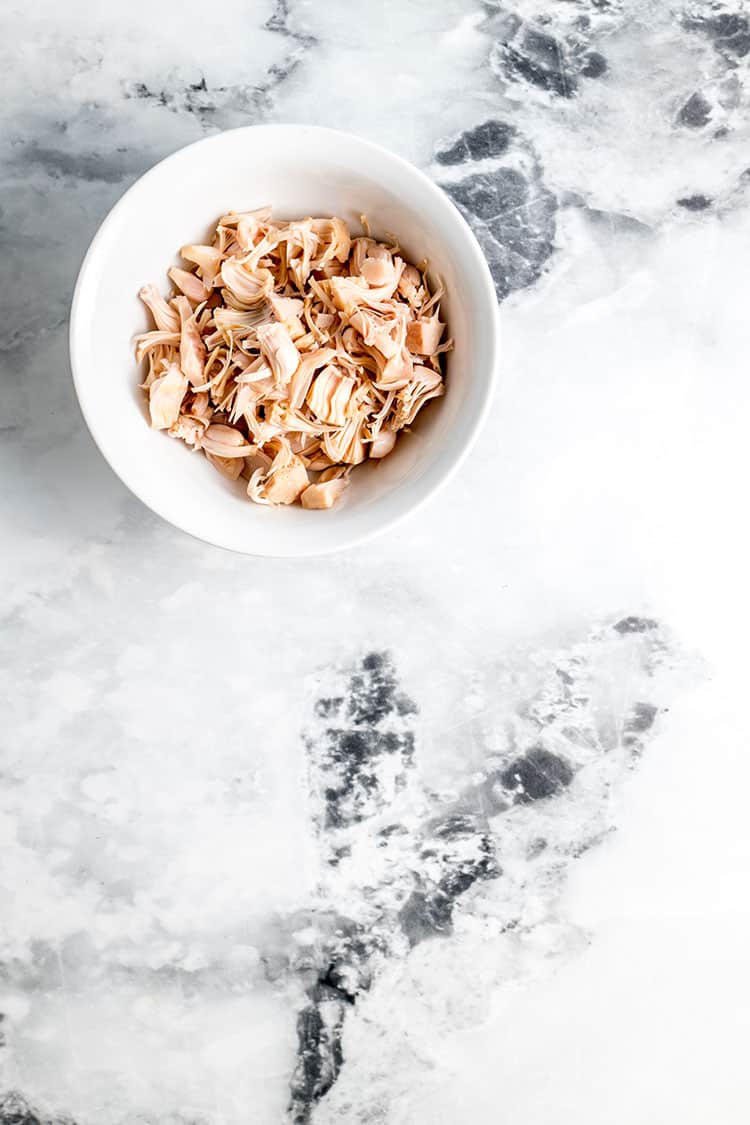 I knew jackfruit could provide the moisture and texture I wanted to see in a home made vegan nugget, but by itself, it wouldn't deliver on nutrition as it's low in protein - it is fruit, after all.
Canned chickpeas are a store cupboard staple for us, so they were my first choice as a plant-based protein addition to this nugget recipe. I didn't need to look any further.
Roughly processed to a chunky texture and combined with shredded jackfruit, chickpea flour, aquafaba and seasonings, the chickpeas add just the right amount of texture, flavour and protein to these nuggets.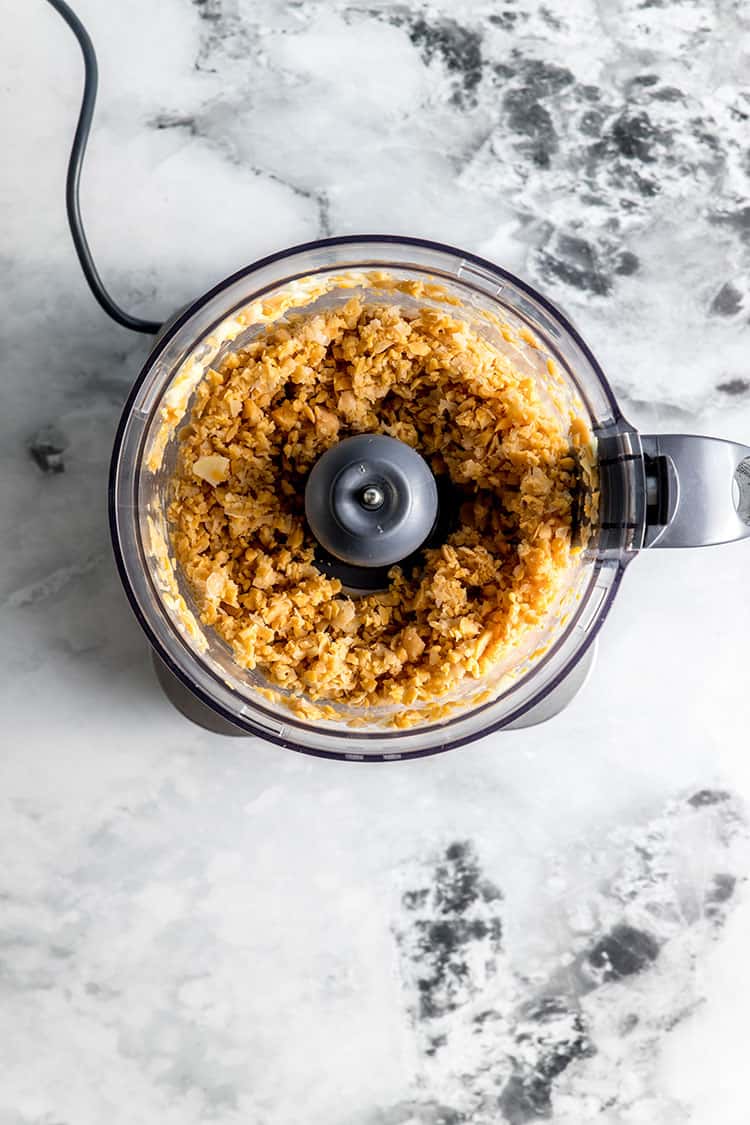 For flavouring, I used garlic, miso paste, apple cider vinegar, just a little turmeric and dried sage, and a few drops of liquid smoke. Together these ingredients are warming and savoury without leaning too far in any particular direction. The liquid smoke is optional and can easily be left out, but I do think it rounds out the flavours perfectly.
In New Zealand you can buy liquid smoke from The Cruelty Free Shop, and if you're elsewhere Amazon is your friend. Not sure about liquid smoke? Read more about it in my vegan jackfruit kedgeree recipe post.
A perfect golden coating
Any self respecting nugget needs a perfect golden coating. I pre-toasted some panko crumbs to a uniform golden colour, before using them to crumb coat the nuggets. This little trick makes a big difference to the look of the final product.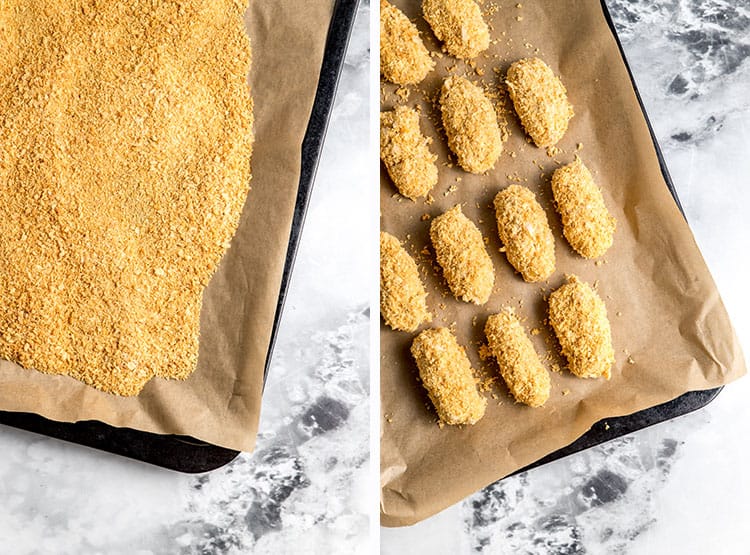 For the best results, I recommend shallow frying the nuggets in a neutral oil until crisp and golden brown. They can also be sprayed with oil and oven baked. Oven baking works well, but takes longer to achieve the same crispy outer, and the longer cooking time dries out the inside a little.
Either way they're cooked, my little people enjoyed these a lot. I did have to do a bit of explaining to the little one, who felt they looked too much like actual chicken nuggets. Is that a win or a fail?
We served these vege nuggets with a big salad, tomato sauce (ketchup) and aioli for dipping. Delicious.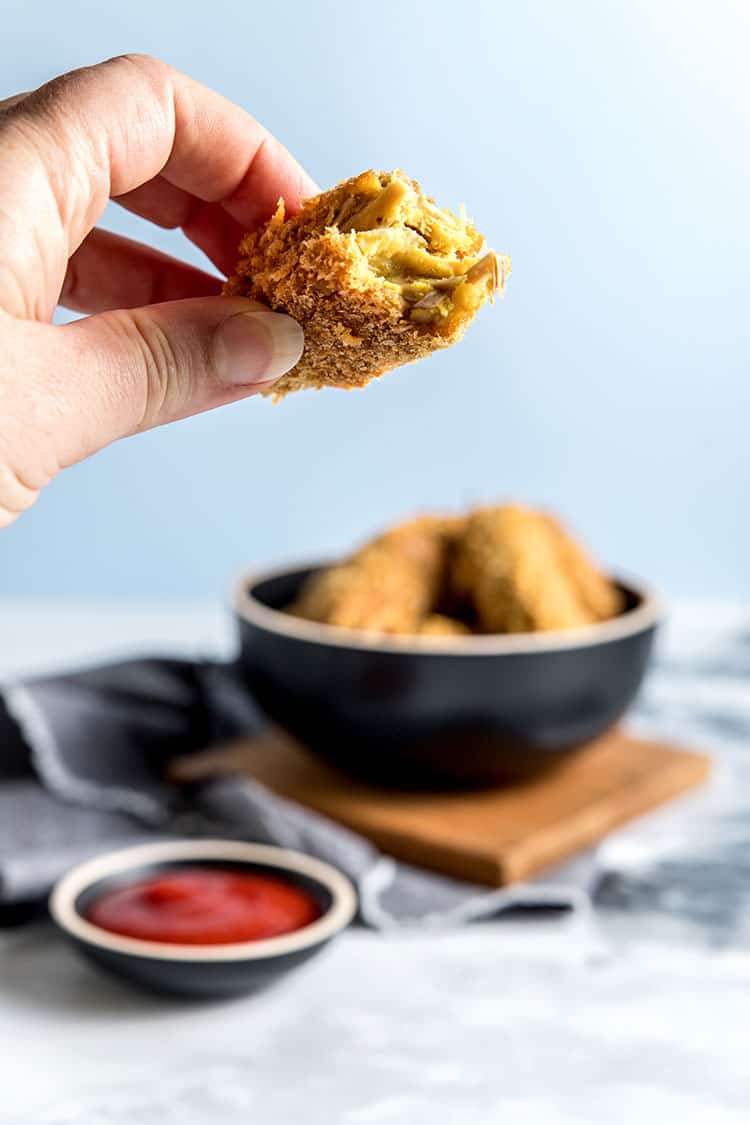 Get the recipe
INGREDIENTS
1

cup

panko crumbs

(use gluten free crumbs if required)

1

can

young jackfruit

(400g/14oz), drained

1

can

chickpeas

(400g/14oz), drained and liquid reserved

½

cup

chickpea flour

¼

cup

aquafaba

(from reserved canned chickpea liquid)

1

tablespoon

white miso paste

(gluten free if required)

1

clove

garlic

finely chopped or grated

1

teaspoon

olive oil

1

teaspoon

apple cider vinegar

(or substitute white vinegar or lemon juice)

½

teaspoon

dried sage

½

teaspoon

liquid smoke

(optional, see recipe notes)

¼

teaspoon

ground turmeric

¼

teaspoon

salt

Oil for frying, or spray oil for oven baking

(I used grape seed oil)
INSTRUCTIONS
Preheat oven to 180C (350F).

Spread panko crumbs on a baking tray and bake for 5 minutes, stirring once or twice, until an even pale golden brown colour. Remove from oven and set aside to cool. If you're going to pan fry the nuggets, you can turn the oven off now. If you're going to oven bake them, turn the temperature up to 200C (390F).

Drain and rinse the jackfruit, then use your hands to pull it into pieces, discarding any seeds and tough bits as you find them.

Add chickpeas to the bowl of a food processor and pulse until a coarse but even texture. Don't over process them.

In a mixing bowl, stir chickpeas and jackfruit pieces together until evenly distributed.

In a small mixing bowl, combine aquafaba (the reserved liquid from the canned chickpeas), white miso paste, garlic, olive oil, vinegar, sage, liquid smoke, turmeric and salt. Stir until the miso paste has dissolved into the liquid.

Sprinkle the chickpea flour over the chickpea and jackfruit mixture, pour over the liquid mixture, then stir to combine everything evenly. The mixture will be very thick and sticky.

Use your hands to squeeze heaped tablespoonfuls of mixture into oblong nugget shapes. Push any chunky bits of jackfruit on the outside into the inner part of the nugget, so the outside holds together evenly. Roll the nuggets in the golden panko crumbs and set aside until ready to cook (at this stage you can put them in the fridge for up to a day, I haven't tested freezing them).

If frying, heat a neutral flavoured oil (such as grape seed oil) in a frypan (skillet) until hot. Fry nuggets in batches until golden on all sides.

If oven baking, spread crumbed nuggets on a baking tray, spray with oil and bake for 20 minutes, turning halfway through cooking time, until golden brown and crispy.

Serve nuggets while hot, with your favourite dipping sauce.
RECIPE NOTES
Recipe makes 16 nuggets.
Liquid smoke can be left out if you don't have it. In New Zealand you can buy liquid smoke from The Cruelty Free Shop, and if you're elsewhere Amazon is your friend.
Nutritional information is estimate and calculated per nugget.
Nutritional information does not include aquafaba, or oil for frying or baking - you decide how much you'd like to use. 
NUTRITION INFORMATION
Calories:
79
kcal
|
Carbohydrates:
15
g
|
Protein:
3
g
|
Fat:
1
g
|
Saturated Fat:
1
g
|
Sodium:
178
mg
|
Potassium:
101
mg
|
Fiber:
2
g
|
Sugar:
1
g
|
Vitamin A:
4
IU
|
Vitamin C:
1
mg
|
Calcium:
28
mg
|
Iron:
1
mg